This post contains affiliate links. Please read my disclosures.

Years ago when my mum was going through a bit of a clear out of a forgotten part of the attic, she came across my father's old collection of food magazines from the 1980s. With no interest in them herself she offered them to me which I thrillingly accepted and I have been lugging them around with me ever since from house to house, bookshelf to bookshelf, much to my husband's consternation.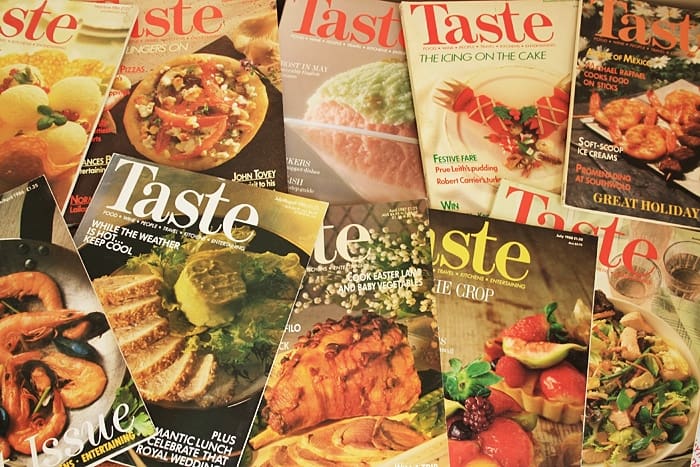 They are an absolutely fascinating read and I pick them up every so often when I need a little bit of inspiration that pinterest and my many food blogs sometimes can't give me with their wonderfully retro recipes and advertisements for Ambrosia custard. Last week I was thinking about the current food revolution in the UK but these magazines go to show that most of us have always cared about the provenance of food and great recipes.
These Taste magazines feel very different to today's Olive, Delicious or Observer Food Monthly, there are a huge amount of lengthy articles, illustrated recipes and not much in the way of news and only a little on restaurants. Plus, for the most part, the photos, when they are not amusing in their rigid construction with the cooks hovering over the dining tables with magnificent perms and billowing blouses, are frankly a little off putting. I can while away hours flicking through these magazines, some of the articles are still relevant and there is just the same breadth of culturally diverse recipes as modern magazines cover today. Our generation didn't invent the foodie, they have always existed but now they are just a bit louder, more demanding and they write food blogs.
I got a little bit lost in some of the magazines again this morning when I revisited them. Topics covered within the pages range from sections tasting the best supermarket canned sardines. There are articles extolling the virtues of cream, a lovely account of a visit to Beatrix Potter's country garden and a very detailed piece on drying herbs. Another piece written about modern technology champions the microwave and there is also a hard hitting investigation on whether a couple can live on one 3 kg chicken for a week. Spoiler, they could but they wouldn't want to. Nail biting stuff.
The recipes themselves range from an exploration of food on sticks to a complicated dish of jellied seafood followed by chicken mousse, which they claim is perfect for a romantic lunch to celebrate the royal wedding. Having spent the week making endless use of the blackberries which I have been foraging there is a lovely looking blackberry and caramel soft scoop ice cream recipe which I wish I had seen a few days ago. Although I did turn my nose up rather snobbishly at a hot potato and frankfurter salad and a low fat recipe for hollandaise which recommends replacing the butter with margarine, eww.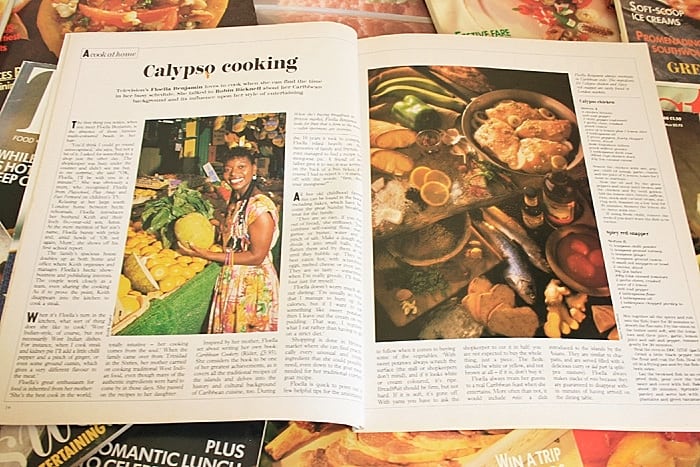 However, this recipe for Calypso Chicken which was nestled in a piece about Floella Benjamin's Caribbean food heritage leapt out at me as soon as I read it. I didn't think I had ever braised chicken in rum before but suddenly as I began to imagine the possibilities the whole world made total sense. It used creamed coconut, an ingredient which is more than often replaced in modern recipes with coconut milk. Plus angostura bitters is one of my favourite things to use in the kitchen, I usually add it to my fruit pie fillings but I can be more liberal now I know how much it lends to savoury dishes too. Alcohol plus cooking only signals good and tasty things.
I have been messing around with the recipe a little bit, changing the chicken breast to chicken legs to garner more flavour, and upping the quantities of some of the ingredients for more impact. The rum, ahem. It is a brilliant chicken recipe, so easy to put together with a perfect balance of spice in the rich coconut rum sauce. I have been serving mine with crisply fried plantain and fresh chillies sprinkled on top which sparks it off deliciously and have made it several times in the past couple of weeks.
Expect to see more 80s recipes soon, now I have started I am going to find it difficult to stop. And I haven't even begun discussing the crazily elaborate desserts, suffice to say they involve a lot of moulds, jellies and unnecessary garnishes.
Calypso Chicken
Adapted from Taste magazine, March 1987
Serves 4
4 chicken legs, boned
1 tsp ground cumin
1 tsp garlic powder
½ tsp chilli powder
½ tsp salt
black pepper
2 tbsp olive oil
1 onion, sliced
1 green pepper, de-seeded and sliced
500ml chicken stock
50g creamed coconut
3 tbsp dark rum
good dash of angostura bitters
pinch of saffron
Chopped fresh chilli and parsley to serve
Mix the cumin, garlic powder, chilli powder and salt and pepper together then rub generously over the chicken legs.
Heat the olive oil in a large casserole dish on the hob and as soon as it's hot add the chicken, skin side down.
Fry the chicken for 10-12 minutes until the skin is crisp and golden. Then with a pair of tongs remove the chicken, set aside and add the onion and green pepper to the casserole dish.
Heat the stock in a small saucepan until boiling, then remove from the heat and add the creamed coconut, rum, angostura bitters and saffron until they are well mixed together.
As soon as the onion and green pepper has softened and are staring to colour in the casserole add the stock mixture, stirring in well with the onions and peppers. Bring up to a gentle boil, then turn the heat down to a simmer. Add the chicken on top of the stock, flesh side down and simmer for 40 minutes until the sauce has reduced to thick and creamy.
Sprinkle with chopped fresh chilli and parsley, then serve with crisp plantain.