This post contains affiliate links. Please read my disclosures.
This Cashew Chicken Satay is my favourite food on a stick, made superior with a delicious cashew satay dipping sauce and a flavourful Carrot and Coriander Salad.
The deli counter was a big thing growing up. It was my favourite destination during our weekly trips to the supermarket and it was here that my sister and I were allowed to choose one treat to snack on in the car on the way home. I always, without a doubt, chose the chicken satay. Thinly skewered pieces of cooked dry chicken covered with a tasteless spices and rammed onto cocktail sticks. I loved them. I have no idea if you can still buy them anymore but I remember as soon as Mum had loaded the car up with the shopping, I would rummage carelessly through them for my promised chicken satay. As I clambered into the car I was already tearing the label in half which held the wimpy plastic deli bag together and brandishing my prize. Before the car engine had even been started the skewer had been devoured in one, two, three bites and the wooden stick tossed with abandon over my shoulder (until I was told off by Mum for littering the car and made to reclaim it dutifully).
My love of chicken on a stick has not diminished into adulthood. I usually wait until summer's barbecue season before overindulging in chicken kebabs but as soon as the first of January hit I have been hankering after the chicken satay skewers of yore, except done, hopefully, a little better.
I am still coming to terms with my horrendous computer crash, which I suffered just before Christmas. One of the most frustrating things about losing all my work is all the recipes which I had great ideas for that have now been lost in the ether. Hopefully though if I thought of them once, I might recall them one day again. There are some ideas though that even though they went down with my hard drive they have never been relegated to the recesses of my mind. These, must have been the best of the bunch and are the ones I am now excited to share.
This Cashew Chicken Satay is one of those recipes. I don't know when I first thought of it but like all my greedy thoughts it was hastily typed into my laptop and saved into a list of hundreds of recipes, destined for the kitchen far into the future. However, for some reason, this recipe has stayed with me and has been saved from destruction by my memory.
I was so happy then when it worked out just as I had hoped it would, in fact, if I may be so bold I think it worked out better and is definitely going to become a regular part of my mid-week repertoire. Cashew nuts are just as tasty as the more traditional peanuts in a satay. They are slightly sweeter so they lend a more tempered and delicately flavoured result but one I actually think I prefer despite being a fully paid up member of the Peanut Butter Forever fan club. This also means it's suitable for most January detoxes which tend to eschew peanuts. There is nothing I like better than adapting a recipe for a healthy eating plan and finding you have lost nothing at all in the translation.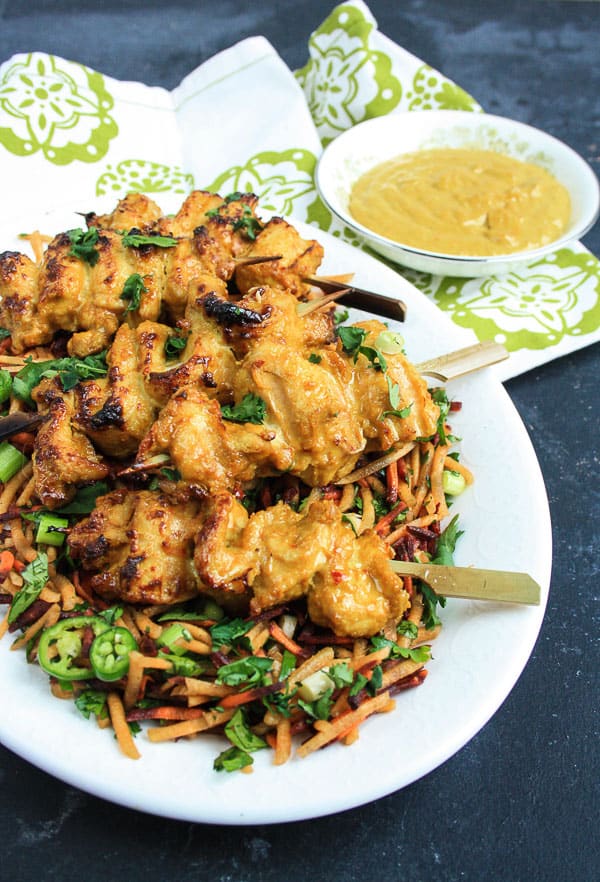 I paired my Cashew Chicken Satay with a bright rainbow carrot salad, singing with fresh coriander, the bite of spring onions ,the occasional heat of green chilli and the zing of lemon juice. This kind of salad is perfect for January as it's robust and crunchy and jam packed full of drizzly rain busting flavour and colour.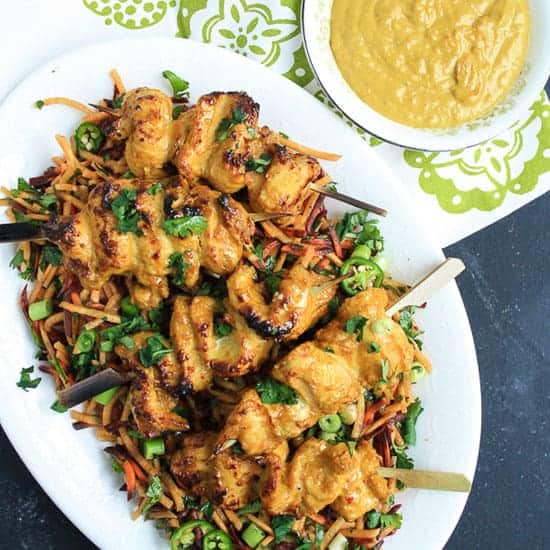 Cashew Chicken Satay with Carrot and Coriander Salad
This Cashew Chicken Satay is my favourite food on a stick, made superior with a delicious cashew satay dipping sauce and a flavourful Carrot and Coriander Salad.
Ingredients
Cashew Chicken Satay:
2

chicken breasts

100

g

cashew butter*

1

inch

fresh ginger

-

peeled

2

cloves

garlic

-

peeled

2

shallots

-

peeled

1

red chilli

1

stalk lemongrass

-

outside woody part removed

½

teaspoon

ground coriander

1

teaspoon

ground turmeric

1

tablespoon

coconut or olive oil

1

tablespoon

soy sauce or coconut aminos or tamari

2

teaspoons

honey

100

ml

coconut milk
Carrot and Coriander Salad:
2-3

large carrots

-

grated

Handful of fresh coriander leaves

-

roughly chopped

Spring onions

-

roughly chopped

Green chilli

-

sliced thinly

1

teaspoon

lemon juice

¼

teaspoon

ground coriander

¼

teaspoon

salt

black pepper

1

tablespoon

extra virgin olive oil
Instructions
Pre-heat the oven to 180°C.

Slice the chicken into strips and set aside whilst you prepare the satay sauce.

Add the cashew butter, fresh ginger, garlic, shallots, red chilli and lemongrass into the mixer and pulse everything together until smooth.

Then add the ground coriander, turmeric, coconut oil, soy sauce and honey and mix again until you have achieved a smooth paste.

Reserve 3 tablespoons of the satay sauce and set aside for making the pouring sauce later, cover and put in the fridge. Pour the rest of the satay sauce over the chicken pieces and rub into the chicken so that it's thoroughly coated. Cover and place in the fridge for at least four hours but preferably overnight to marinate.

Before you cook the chicken you can prepare the salad.

Mix together the carrots, coriander, spring onions and chilli together in a large bowl.

To make the dressing pour the lemon juice into a small glass and whisk up with the ground coriander, salt and pepper until the salt has dissolved. Carefully pour the olive oil in, whisking all the while until the dressing has emulsified. Pour over your salad and set aside whilst you finish the satay chicken.

Turn your grill or griddle on to a high setting. Remove the chicken from the fridge and thread onto skewers until all the chicken has been used up. Place the chicken skewers under the grill and cook for 3-4 minutes each side.

Whilst the chicken is cooking you can make the pouring satay sauce by taking your reserved 3 tablespoons of satay sauce and placing it in a small saucepan with 100ml coconut milk. Stir together and heat gently until it reaches a gentle boil. Remove from the heat.

Serve your cashew chicken satay skewers over the carrot and coriander salad and drizzle over the satay pouring sauce.
Notes
Nutrition
Calories:
868
kcal
Carbohydrates:
37
g
Protein:
61
g
Fat:
56
g
Saturated Fat:
18
g
Cholesterol:
145
mg
Sodium:
1119
mg
Potassium:
1633
mg
Fiber:
4
g
Sugar:
12
g
Vitamin A:
10475
IU
Vitamin C:
43.1
mg
Calcium:
77
mg
Iron:
6.6
mg
Have you tried this recipe?
Head to the comment section and let me know what you think!