This post contains affiliate links. Please read my disclosures.
Orange, Ginger and Sesame Chicken is an easy stir-fry, so convenient for week night dinners and delicious either by itself or with fragrant basmati rice.
I have been cooking stir-fries since I was a student so I know by now exactly how I like them. I always cook off the meat first. This is for a few reasons, mainly so the meat doesn't overcook, as there is nothing worse than dry chicken in your stir-fry. However, by cooking it in the pan first it will leave behind important flavour for the vegetables to cook in, especially if it's marinated meat. If it's beef you are using you can ensure it's cooked exactly to the rarity you like just by searing it off first thing, but when you add it back in at the end make sure the heat is off so it doesn't continue cooking.
My stir-fries contain a lot of vegetables so it's also important that the meat has been set aside; I want them to be free to roam the pan so they don't steam cook, piled on top of each other, jostling for space with the chicken. My final tip is to only add the vegetables to a hot pan with hot oil, as I want them to be cooked hard and fast so they retain bite and don't get into a soggy mess. This is why I usually blanch my broccoli for a couple of minutes before adding to the stir fry as otherwise it has too much bite and is a bit of a mouthful.
It's Day 5 of the Whole30 for me and the main ingredients in this chicken marinade are orange juice and coconut aminos. Orange juice is allowed on the Whole30 but only in cooking and not as a drink. Fruit juice in fact is the only sweetener that's allowed on the plan, but I'm sure we're expected to use that knowledge responsibly. Besides, here, it's just involved in a marinade so not all of the juice makes it into the final dish. The coconut aminos is my new friend who arrived into my house only this week as a substitution for soy sauce and tamari which are not allowed on the Whole30. You can buy coconut aminos from Amazon or a very good organic food shop but it isn't cheap. However, you don't need much to flavour a recipe and I think it is worth the investment if you are wondering how to get through 30 days without soy sauce.
This was a quick dinner one evening, late after a personal training session, and I was so hungry that I only took a perfunctory photo, I made it again the next night but it was also late and so no pictures. I did want to include the recipe here though as it is one of my old faithful recipes just slightly adapted for the Whole30 plan. Previously I have made this with soy sauce and sherry so it was a bit of an experiment to substitute the soy with my new coconut aminos and to disinvite the sherry. I used the coconut aminos as a straight swap and I have to say I didn't notice a difference, the marinade tasted just the same as when I have made it before with soy. I compensated for the lack of sherry by adding some sesame seeds which has actually improved the dish immeasurably. I normally do splash some sweet sherry into my stir-fries at the end of cooking but adding sesame instead not only made my dinner suddenly Whole30 compliant but added a lovely crunch to the vegetables.
The Whole30 plan currently doesn't allow rice but this stir-fry is so full of lovely vegetables, protein and flavour that you can absolutely get away without it. However, if I wasn't on Whole30 then for sure I would be serving myself a half portion with plenty of fragrant basmati rice.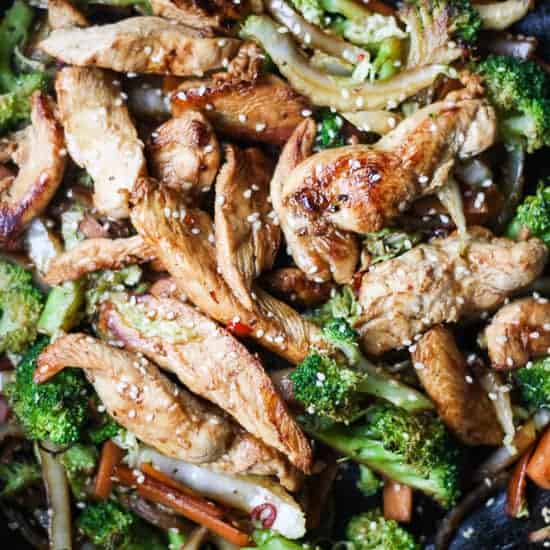 Orange, Ginger and Sesame Chicken
Orange, Ginger and Sesame Chicken is an easy stir-fry, so convenient for week night dinners and delicious either by itself or with fragrant basmati rice.
Ingredients
2

chicken breasts

-

cut into thin strips

60

ml

coconut aminos

-

or tamari or soy sauce (if not gluten-free or Whole30)

60

ml

orange juice

2

garlic cloves

-

crushed

2

tablespoons

coconut oil

1

onion

-

sliced

1

inch

fresh ginger

-

cut into matchsticks

1

red chilli

-

finely chopped

½ head of broccoli florets

-

blanched

2

carrots

-

peeled and cut into thin batons

Handful of shredded chinese leaf

2

tablespoons

sesame seeds
Instructions
Pour the coconut aminos, the orange juice and the garlic into a medium sized bowl then add the chicken and mix to combine. Leave the chicken to marinate for at least an hour but overnight if possible.

Heat a tablespoon of coconut oil in a wok over a medium flame until hot.

Remove the chicken from its marinade with a slotted spoon and add to the wok, cooking for 5-10 minutes until the chicken has just turned golden. Remove from the wok and set aside.

Add the rest of the coconut oil to the wok and then when hot add the onion, ginger and chilli and cook until the onion is starting to brown.

Then add the rest of the vegetables and the sesame seeds. Stir fry for 5 minutes on a high heat.

Re-introduce the chicken, combining everything together and serve piping hot with another splash of coconut aminos on top.
Nutrition
Calories:
531
kcal
Carbohydrates:
26
g
Protein:
51
g
Fat:
24
g
Saturated Fat:
14
g
Cholesterol:
145
mg
Sodium:
989
mg
Potassium:
1282
mg
Fiber:
4
g
Sugar:
9
g
Vitamin A:
10535
IU
Vitamin C:
58.7
mg
Calcium:
128
mg
Iron:
2.5
mg
Have you tried this recipe?
Head to the comment section and let me know what you think!
SHOP THE RECIPE
Coconut aminos is a larder staple for me which is a gluten-free and soy-free alternative to soy sauce. I personally prefer the taste of coconut aminos to tamari (which is gluten-free but does contain soy) but it is a little pricier. The brand of coconut aminos I love is Cocofina Organic Coconut Amino - Alternative to Soy Sauce 250ml
which has a delicious flavour and is what I used in this recipe.
Some of the links above are affiliate links so if you decide to buy your flour using the link then I will get a small commission from Amazon at no cost to you. To learn more about how the data processing works when using these Amazon affiliate links then please visit my privacy policy page.
If you like this recipe then you may like...