This post contains affiliate links. Please read my disclosures.
Sriracha Honey Beef Stir Fry is the easiest gluten-free dinner, stuffed with veggies and packed with flavour.
Most nights I eat my dinner at 5pm with Cole. Not everyday though as sometimes he has dinner at nursery, other times I want to eat later on with Luke when he gets home or maybe I just want something a little more grown up or spicy for dinner. I am sure I have bored you all senseless on how trying I am finding our bedtime routine these days. It takes hours to get both Cole and Beau settled down for the night. Just when one has fallen asleep, the other wakes up and I have to begin all over again. It's so frustrating. When the ordeal is over I crawl back downstairs exhausted but desperate to have some time to myself. At this point I really don't want to start slogging away at the stove. I want to be on the sofa, Billy Buddy snoozing next to me, watching Queer Eye and stuffing my face with food.
So I've developed a handful of 10 minute easy gluten-free dinners that means I can spend as little time in the kitchen and as much time on my derriere as possible until I have to hit the hay at 9.30. Yes, I am indeed living quite the life at the moment.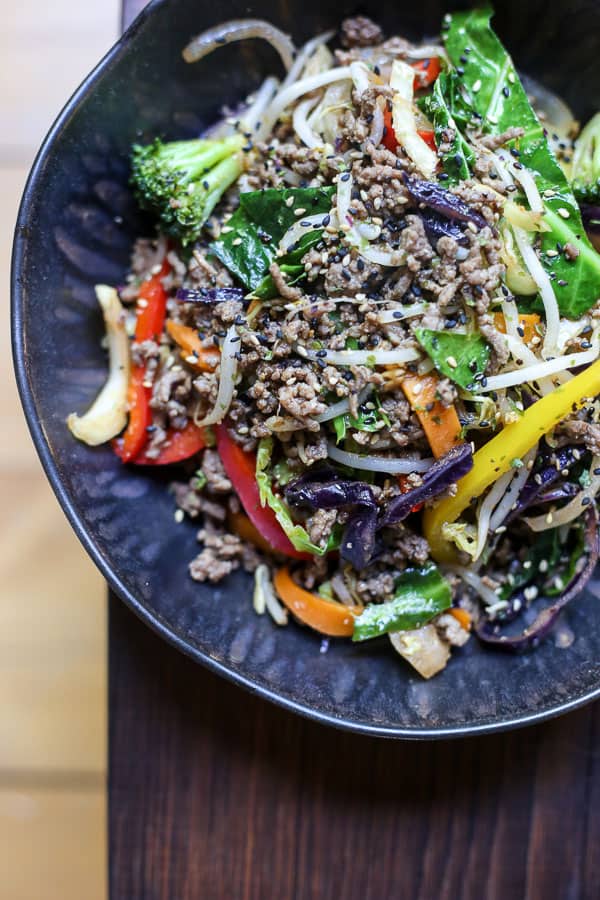 This Sriracha Honey Beef Stir Fry has so far been one of my favourite easy dinners yet. It's spicy, sweet and full of energy boosting protein and loads of veg. This gluten-free dinner has three main components, beef mince, which is ultra quick to fry, one of those stir-fry veg bags from the supermarket and a 30 second sriracha honey sauce to pull them both together.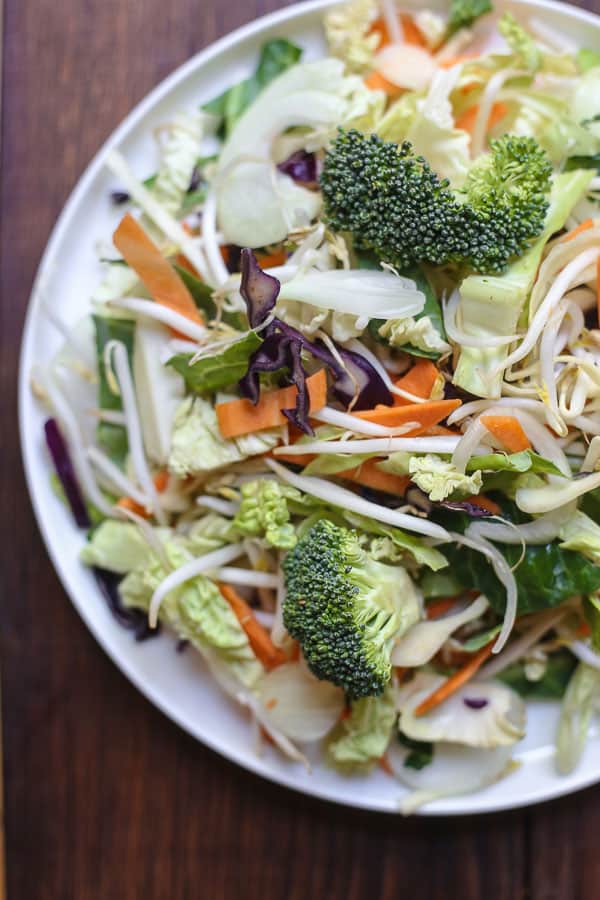 It has taken a lot of strength for me to admit defeat and buy one of these stir-fry veg bags as I prefer to prepare all my vegetables from scratch but my time is precious at the moment and I'm succumbing to shortcuts. The key to using these pre-prepared veg bags is to make sure all the vegetables are evenly cut. I often find I have to trim the broccoli up a bit and slimline the onion slices so everything is cooked evenly. I also pimped mine up by adding some sliced red and yellow pepper to my veg mix as I just can't let it lie. All the mixes are different though depending on the supermarket so you might be fine with yours just the way it is.
The other tip to this easy gluten-free dinner is to use really good beef mince, you just can't cut corners here. I have made this with beef mince from my local butcher, then made again with an organic beef mince from the supermarket. There was no comparison, the mince from the butcher was so much more superior (and cheaper!). The meat from the supermarket completely changed the dish since the mince was so watery. Instead of the sriracha honey sauce silkily coating the meat and vegetables, it pooled thinly in the bottom of the pan and a lot of the flavour was lost. So please, use good beef mince.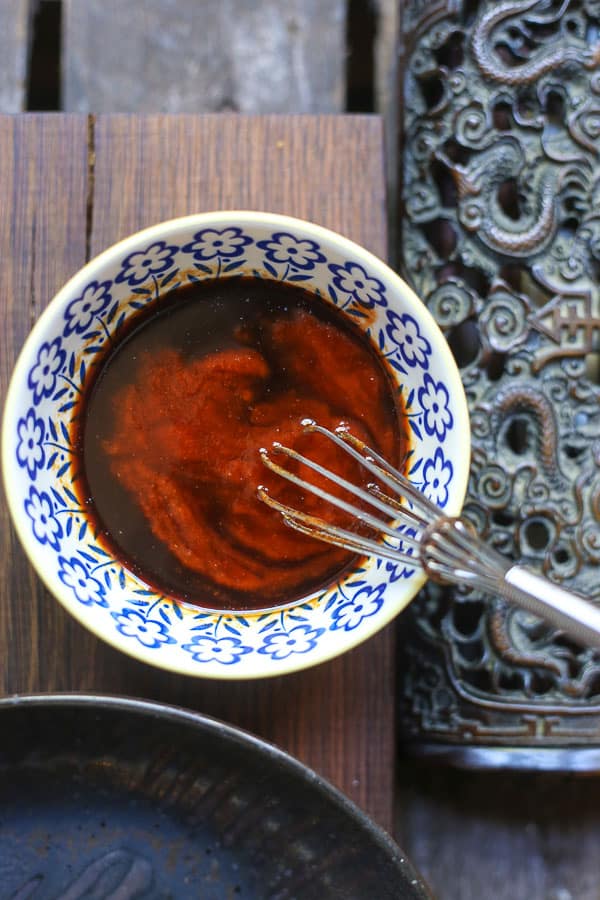 The Sriracha honey sauce is the best bit and uses just four ingredients, sriracha, honey, coconut aminos (or tamari) and sesame oil. It's so good and gives an otherwise hum drum stir fry an incredible punchy flavour.
I can make this dinner in 10 minutes from start to finish and choose to have it on the nights when I don't want carbs as they are not missed at all here. By all means though serve this bad boy with rice if you want to. If you add the carbs it will go further but dinner will take a smidge longer as you wait for the rice to cook.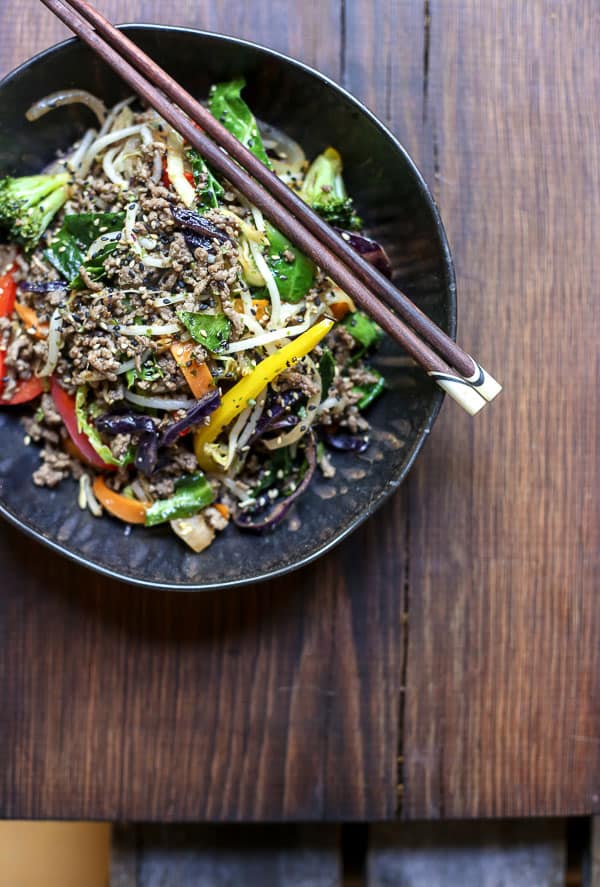 SHOP THE RECIPE >>> Coconut Aminos
If you like this recipe then you may like...
I urge you to give this Sriracha Honey Beef Stir Fry a try. If you do then please leave a comment below and give the recipe a rating which helps others find the recipe on Google. If you then go on to use this recipe as a launch pad for your own baking creation then I'd also love it if you'd share it and tag me on Instagram. It is so lovely for me to see your versions and variations of my recipes.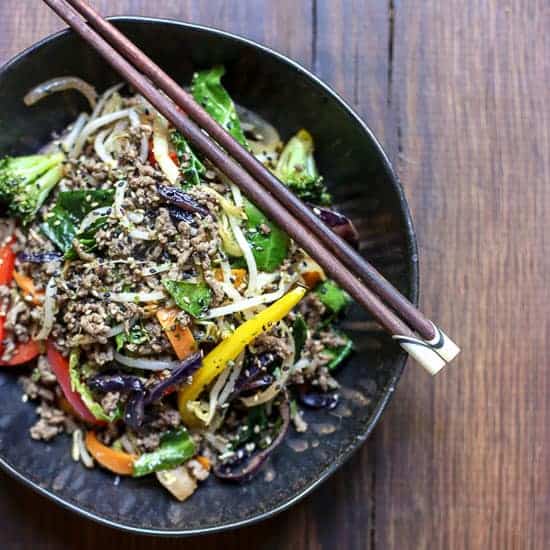 Sriracha Honey Beef Stir Fry
Sriracha Honey Beef Stir Fry is an easy gluten-free dinner, stuffed with veggies and packed with flavour.
Ingredients
1

tablespoon

olive oil

400

g

beef mince

1

teaspoon

garlic granules

½

teaspoon

salt

450

g

crunchy vegetable stir fry mix

2

tablespoons

sriracha

2

tablespoons

honey

2

tablespoons

coconut aminos

-

or tamari

1

tablespoon

sesame oil

2

teaspoons

furikake

-

optional but tasty and adds crunch
Instructions
Heat the olive oil in a large flat bottomed sauce pan or wok.

Add the beef mince, breaking it up into small pieces then sprinkle over the garlic granules and the pinch of salt. Continue frying for about 4-5 minutes until the beef mince has browned.

Meanwhile whisk together the sriracha, honey, coconut aminos and sesame oil and set aside for a moment.

Add the vegetable stir fry mix and cook on high heat for 5 minutes until the vegetables are just passed crunchy. Then pour over the sriracha honey sauce.

Stir everything together for a minute or so then remove from the heat and sprinkle over the furikake before serving.
Notes
Serve with or without rice, depending on your mood for carbs.
Nutrition
Calories:
809
kcal
Carbohydrates:
43
g
Protein:
36
g
Fat:
54
g
Saturated Fat:
17
g
Cholesterol:
142
mg
Sodium:
1555
mg
Potassium:
1296
mg
Fiber:
6
g
Sugar:
28
g
Vitamin A:
37590
IU
Vitamin C:
23
mg
Calcium:
110
mg
Iron:
4.6
mg
Have you tried this recipe?
Head to the comment section and let me know what you think!