This post contains affiliate links. Please read my disclosures.
These Juciest Burgers live up to their name. They are a little bit more effort than your average burger patty but they are so flavourful that it is totally worth it.
The original recipe for these Juciest Burgers was posted in 2014. I took new pictures using the Brazilian Cheese Rolls as a burger bun but the following words and the recipe for the burgers remains the same.
There is one burger in particular which I can blame for pretty much everything.
At 21 I was most of the way through a three month trip volunteering in Ghana. It wasn't an easy place to be if you are a picky eater, which I was (and still am although in a completely different way), although I didn't realise it at the time. Until Ghana I had spent the previous ten years shunning red meat. For what discernable reason I have no idea. I probably didn't even understand at the time why I was boycotting steak, lamb and of course, burgers. However, I don't remember missing meat at all, I think you have more important things on your mind when you are struggling through adolescence, trying to find out where you fit it, moving out of home, first to boarding school and then to university. First boyfriends, broken hearts, studying, exams and of course staying out late and drinking too much.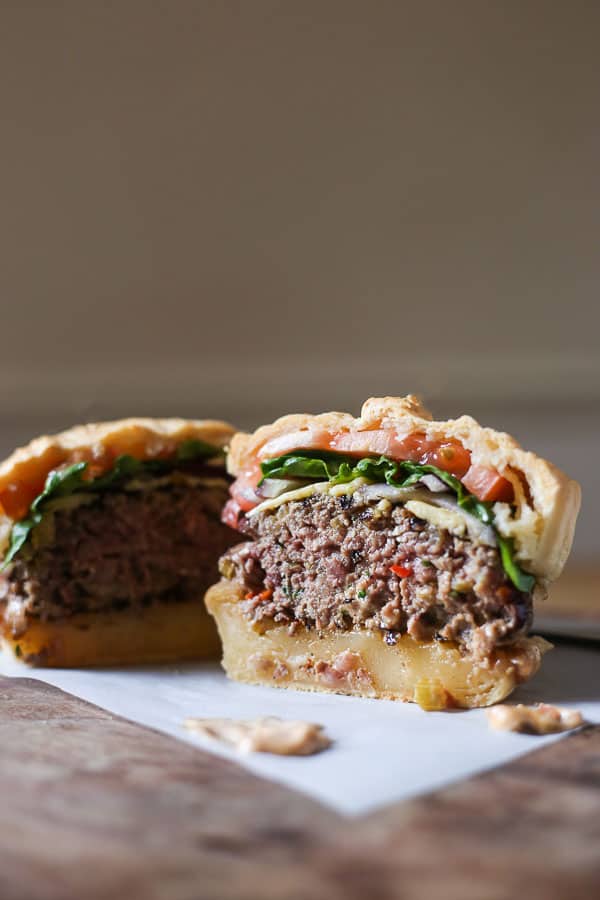 For the first couple of months in Ghana I had subsisted on jollof rice and chicken, one of the few local dishes I could eat that didn't involve some exotic starch like cassava or fufu which quite frankly frightened the life out of me. As I said, I was a pickly eater at the time I also didn't eat goat, another local protein, and vegetables weren't really accessible. In the evenings when my peers and I would get together at the local drinking hole they would be scarfing down the burgers with ease. There was always a chicken burger on the menu but whenever I asked for it the barman would shake his head sympathetically. Chicken was off that day. It was off everyday.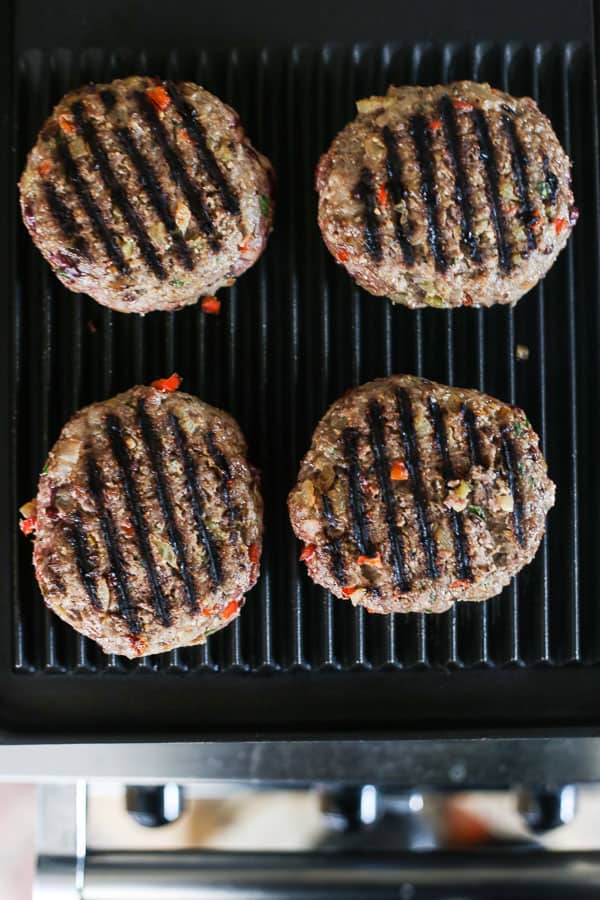 It was at Champs Sports Bar in Accra that my life and eating habits forever would change. It was a tourist bar in the north of the city, the one my fellow volunteers and travellers would all gather at on a Sunday evening to watch a film, drink beer, sing karaoke and eat junk food. One fateful night my roommate arrived late to the bar, sat down and ordered the burger and chips. For a couple of months now I had been watching all my friends eat burgers, laugh, joke and leave the bar with satiated bellies and I was fed up of just eating chips and ketchup. I was hungry and I have always been greedy. After my roommate's burger arrived she only took a couple of half hearted bites then placed it delicately back on the plate; she wasn't hungry after all. I gazed longingly at the discarded meal and feeling sorry for me she edged it in my direction. Have it if you want, she gestured magnanimously. I needed no further encouragement, I leapt upon that burger like a starved lion on a helpless gazelle. After ten years of radio silence that burger answered all of my food prayers and after that one moment of weakness I never looked back. From that moment on I was a fully paid up, card-carrying, pension-holding meat eater. The world was my meaty oyster after that. I discovered roast beef, slow cooked lamb shoulder, spaghetti bolognaise and boy oh boy…steak.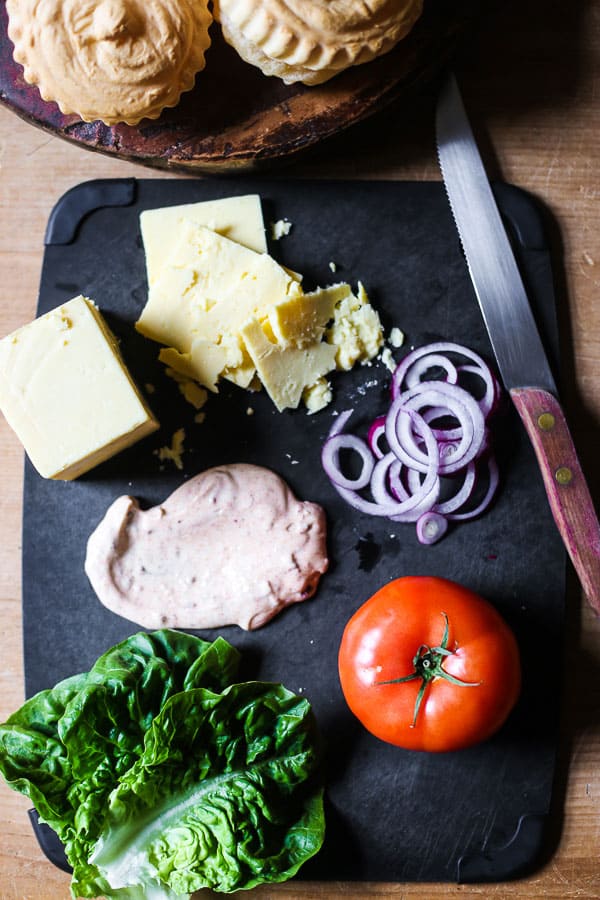 During my honeymoon in California almost 10 years ago I then discovered the American burger. Wha??? My mind was blown. These deliciously moist patties with the perfect amount of accoutrements and soft but sweet burger buns which soaked up all the beefy juices was out of this world. I ate a lot of them; at diners, at fast food restaurants and at one restaurant, high up in the cliffs of the Big Sur watching the waves crash underneath. My love of burgers had flourished again but I couldn't get them back home. I was thrilled when Meat Liquor and its contemporaries opened up in London a few years ago. Finally someone was listening to my pleas. I hear that people think that the burger revolution is on the wane. I hope not, I'm sure a new trend will be just around the corner but please don't take away my burgers. They changed my life.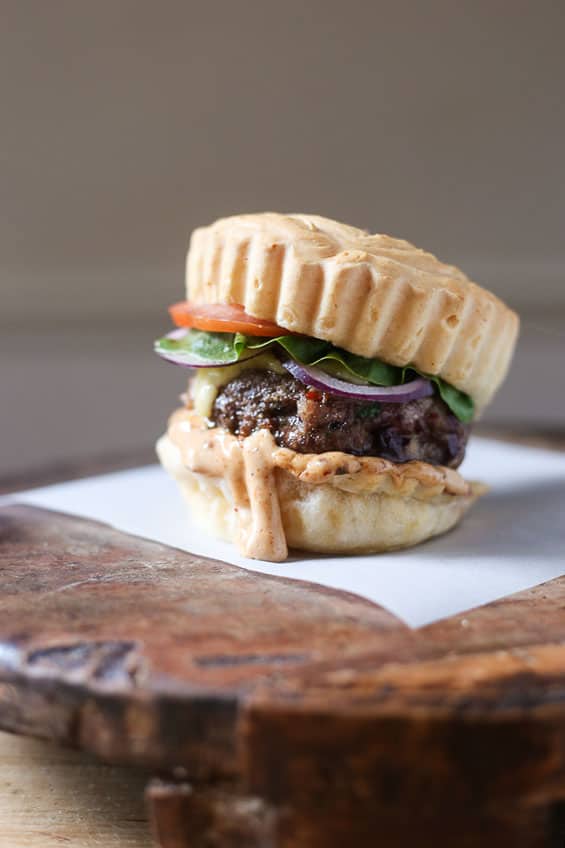 So, on my quest to develop the perfect burger for my fix at home there had only been one stumbling block, juiciness. Far too many of my home burgers have tasted great but have been a bit dry, too crumbly or dense. I realised the burger patty needed something other than the meat to bring it all together. Usually breadcrumbs would be used to trap the meaty juices within but here I have used soaked and blitzed cashews instead of breadcrumbs to reduce the gluten factor. To make these burgers completely gluten-free just make sure to use gluten free sausages or pork mince instead of the sausages. The chicken livers I include are absolutely vital as they give the burgers an intense meatiness without being overpowering. I am so proud of this recipe, it took a while to get here but these are definitely a new classic in our house and I plan on making them again and again.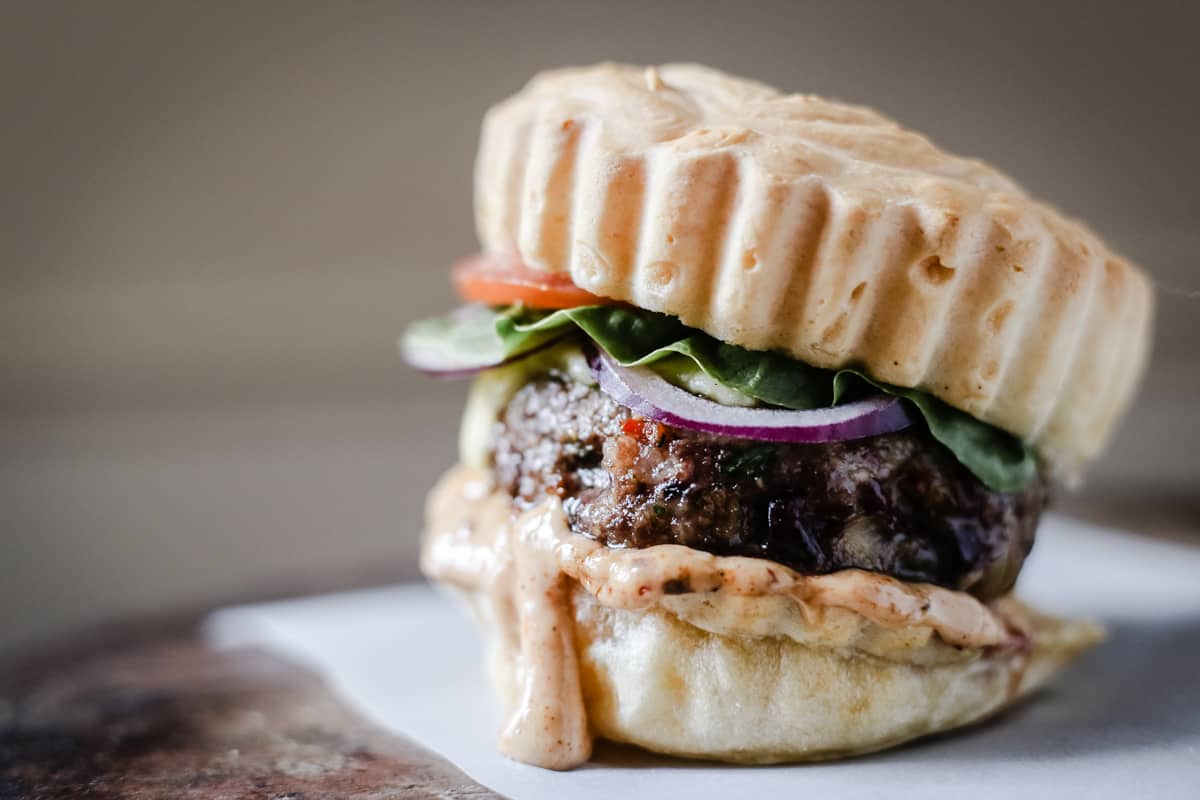 These are the kind of burgers you don't need a bun with. If you would like a gluten-free burger bun that I simply have to recommend making these Brazilian Cheese Rolls which are so delicious wrapped around these burgers. Complete your burger by using chipotle mayo, cheddar cheese, red onion, tomato and crisp lettuce. Everything you could possibly need in a burger, I still can't believe I went for so many years without.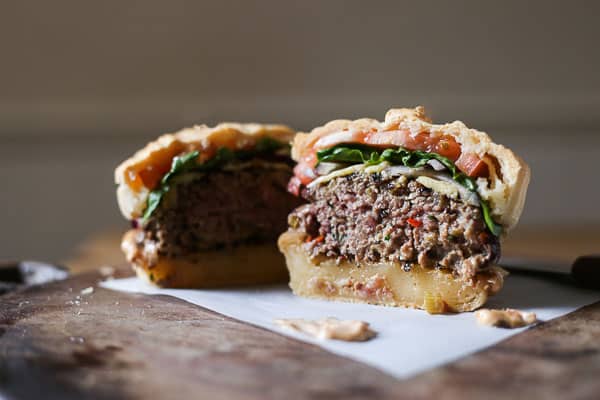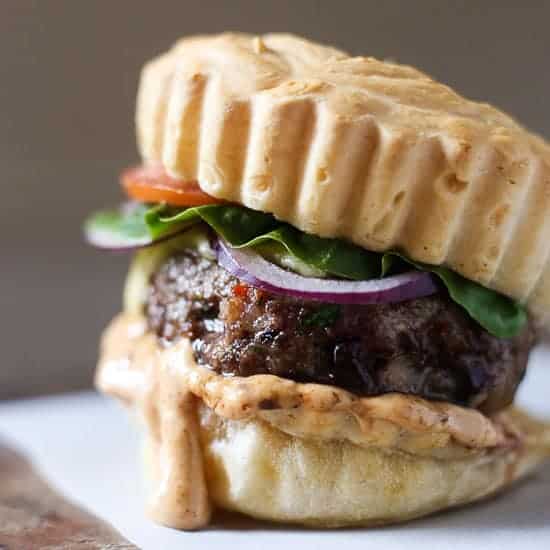 Juciest Burgers
These Juciest Burgers live up to their name. They are a little bit more effort than your average burger patty but they are so flavourful that it is totally worth it.
Ingredients
1

tablespoon

olive oil

1

small onion

-

diced very small

1

stick celery

-

diced very small

1

small red pepper

-

diced very small

1

clove

garlic

-

crushed

250

g

beef mince

250

g

gluten-free pork sausages

-

removed from their skins

50

g

chicken livers

-

diced finely

50

g

cashews

1

tablespoon

finely chopped parsley

½

teaspoon

ground cumin

Pinch of ground nutmeg

½

teaspoon

salt

¼

teaspoon

ground black pepper
Instructions
Place the cashews in a small bowl and cover with water. Leave soaking for at least three hours. Drain, then place in the food processor for 30 seconds or so until they resemble breadcrumbs. Set aside.

In a medium saucepan heat the olive oil then fry the onion, celery, red pepper, garlic on a low heat for around 15 minutes until completely softened. Leave to cool.

Place the beef mince, sausagemeat, chicken livers, cashew crumbs, parsley, spices and salt and pepper in a large mixing bowl. Mix together to form four patties.

Place in the fridge for 30 minutes to rest.

Heat a cast iron skillet with 1 teaspoon olive oil then griddle the burgers for 5-6 minutes on each side.

Tuck the burger straight into your bun with crisp lettuce, tomato, red onion rings, chipotle mayo and cheddar cheese.
Nutrition
Calories:
486
kcal
Carbohydrates:
8
g
Protein:
25
g
Fat:
38
g
Saturated Fat:
11
g
Cholesterol:
132
mg
Sodium:
744
mg
Potassium:
537
mg
Fiber:
1
g
Sugar:
3
g
Vitamin A:
2445
IU
Vitamin C:
44.3
mg
Calcium:
28
mg
Iron:
4.3
mg
Have you tried this recipe?
Head to the comment section and let me know what you think!