Try Bacon Salt on anything and everything. From sprinkling on chips to whisking into salad dressings and even adding to your margarita salt rim. It just makes everything taste better.
Bacon is brilliant and salt is marvellous so this recipe was always going to be a winning combination. I first had bacon salt a couple of months ago dredged onto my fries at Foxlow. It just made complete sense, adding a delightfully savoury saltiness. I have been meaning to have a go at it ever since and quite frankly since it was so easy I don't know what took me so long.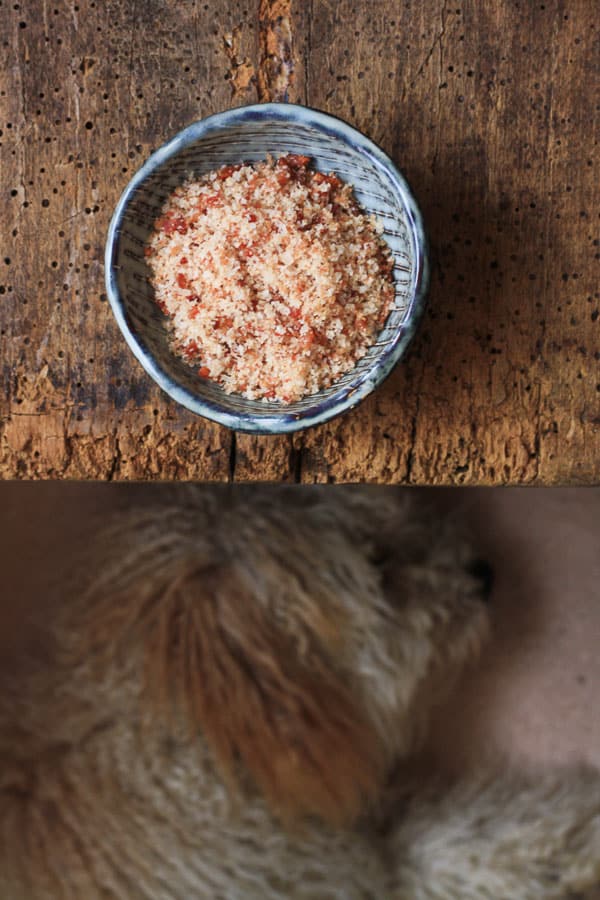 I just can't see how I can go back to ordinary salt. At the moment every meal I have is being improved by adding a smidge of bacon salt. This special umami dust is the magic ingredient sprinkled over my buttered popcorn as I'm settling down to watch True Detective on a Saturday night. My sweet potato wedges are heartily pepped up as bacon salt makes them the key feature of the meal instead of a lowly accompaniment and my lunchtime chicken and avocado salads are taken to another dimension, adding a curiously divine depth to the proceedings. A few nights ago, making a marinara sauce for my pasta I reached for the bacon salt instead when I was seasoning which completely transformed a plain jane dinner into blissful reflection.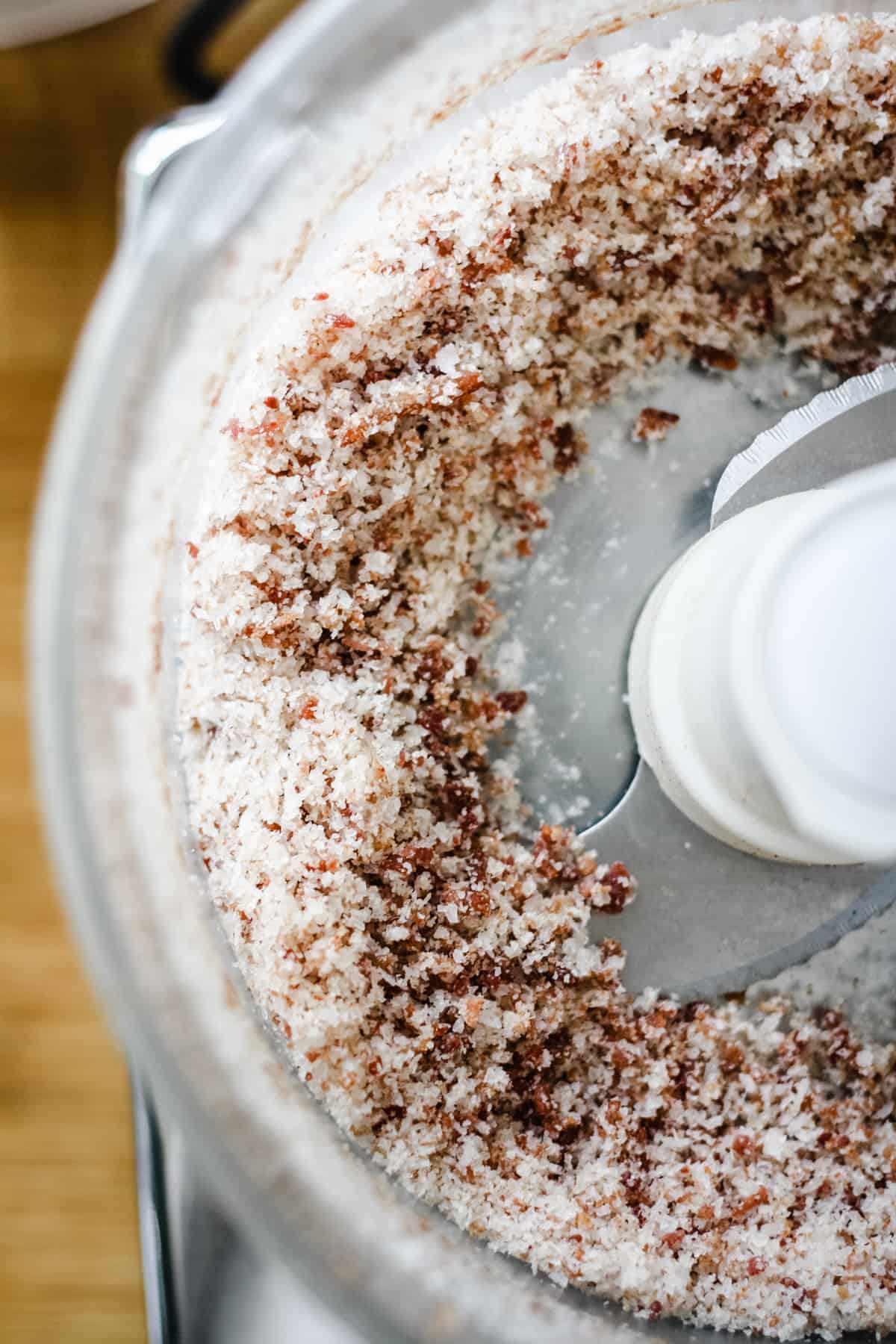 You can keep your bacon salt in the fridge for as long as you see fit. The proper advice is to eat within a week but since salt is a preservative then I find the bacon salt lasts a lot longer. I tend to use a whole batch within 2-3 weeks so it never gets to the point where I think to throw it away.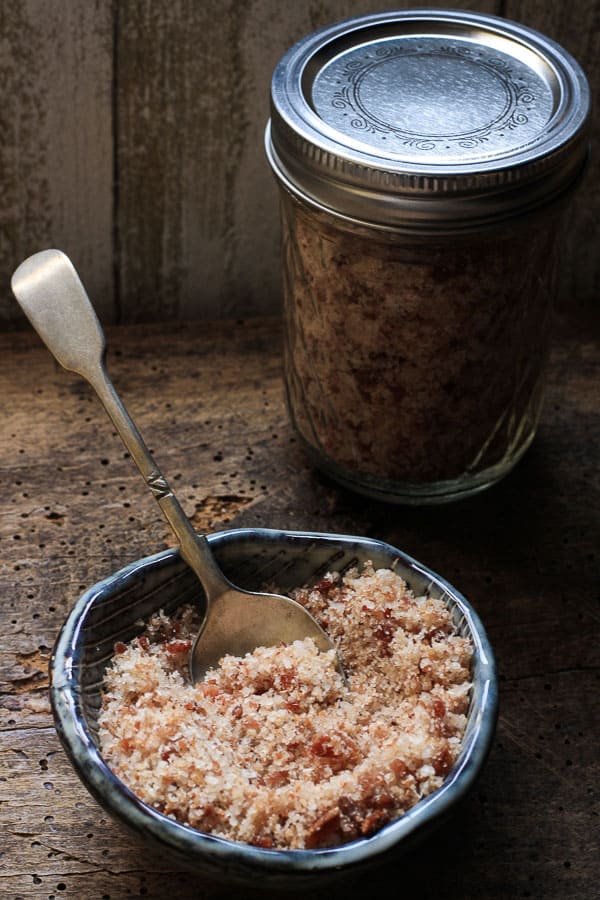 You can grill your bacon for this recipe which takes half as long as the roasting time given below and if I'm pressed for time then this is a fine option. However, it is nice to roast the bacon as the roasting dish hangs onto the bacon fat which renders off the meat. This bacon fat is a real added bonus to the recipe. I scrape the fat into a jar to keep in the fridge and if you do this every time you bake or fry bacon then you will build up a little store. Now that we all know that fat isn't the big scary health risk that we all once thought we can embrace the flavour that bacon fat gives to our cooking without repercussions. Have you tried bacon fat instead of butter when frying steaks or pancakes or as a base to your roux? It's how I do it in my weird little bacon obsessed world. And then I cement matters by sprinkling bacon salt over the top.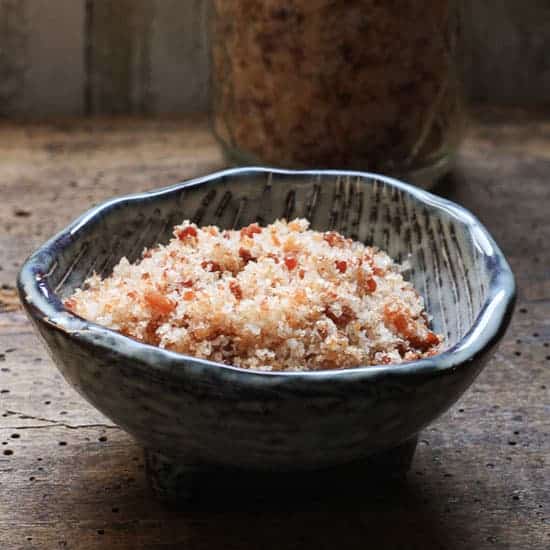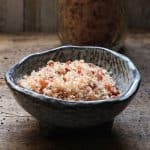 Print Recipe
Bacon Salt
From sprinkling on your chips to adding to your salad dressings and even adding to your margarita salt rim, bacon salt just makes everything taste better.
Ingredients
6

rashers smoked streaky bacon

135

g

maldon sea salt

¾

teaspoon

ground white pepper
Instructions
Place the bacon rashers on a baking tray and then into an oven, pre-heated to 180°C.

Bake for 20-25 minutes until just starting to turn crisp.

Remove from the oven and place the bacon rashers on some kitchen paper to dry.

Once cooled, place the bacon in a food processor. Whizz up until the rashers have crumbled into tiny shards.

Pour in the salt and the pepper and continue processing together until the bacon pieces are tasty meaty dots running through the salt.
Notes
Adapted from thewannabechef.net
Nutrition
Calories:
11
kcal
|
Carbohydrates:
1
g
|
Protein:
1
g
|
Fat:
1
g
|
Saturated Fat:
1
g
|
Cholesterol:
2
mg
|
Sodium:
1064
mg
|
Potassium:
5
mg
|
Fiber:
1
g
|
Calcium:
1
mg
SHOP THE RECIPE
The salt that I love to use for this recipe is Maldon Sea Salt Flakes, 250g
. The flakes are beautifully delicate and give a wonderful subtle taste.
The other product I would recommend which I used in this recipe is my Magimix 4200XL Food Processor – Satin
which I have easily had over ten years. It's an impressive piece of kit which even survived being dropped when we moved into our house (although it did have to have the motor replaced but that wasn't too expensive). I put all the attachments in the dishwasher and they come out brilliantly clean but it also gives just great results. I love my Magimix and along with my Kitchenaid is the piece of equipment I use most often (almost everyday) in my kitchen.
Some of the links above are affiliate links so if you decide to buy anything using the links given then I will get a small commission from Amazon at no cost to you. To learn more about how the data processing works when using these Amazon affiliate links then please visit my privacy policy page.