This post contains affiliate links. Please read my disclosures.
This Red Velvet Ice Cream takes all the personality of a red velvet cake and rockets it into summer. Velvety, tangy with plenty of cocoa kick.
I first tried red velvet ice cream a couple of years ago at Taste of London. It was definitely one of the most popular desserts of the day as everywhere you looked people were clutching at cones stacked high with beautifully scarlet ice cream. I don't know what it is about red food but it just looks terrifically inviting and we immediately scouted out where people were getting their ice creams from and joined the long long queue to get our own cones. It's just as well that I can't remember which restaurant was offering this ice cream as when we first took our first licks it was incredibly disappointing. Stunningly tasteless.
There are a few people who will probably shrug at this as red velvet cakes often seem to be more pomp than circumstance, relying on the food colouring for effect and the only taste really deriving from the cream cheese icing that always adorns them. However, I heartily disagree for I feel that red velvet cake is one of the most subtly complex cakes, blessed with the richness of cocoa, a hint of vanilla and light and tangy with the buttermilk. If you think the cake is tasteless then you are getting your red velvets from the wrong source my friend.
So, I was thinking about this bland red velvet ice cream, and how unfortunate it is when the taste of something doesn't marry with the beauty of it. It's been nagging at me for a while and I have been keen to improve my experience of red velvet ice cream and give it a go myself.
So I eventually arrived at this recipe after a lot of failed attempts and can decree that this ice cream really is what red velvet ice cream should taste like. It has a creamy custard base but the quantity of buttermilk used gives the ice cream such a delicately bright flavour. However, it's not the overriding element and the vanilla and chocolately background gives the ice cream depth and its incredible moreishness.
This ice cream is just wonderful by itself and the glorious ruby of it will pair beautifully with the colours of the season. You are taking the ice cream into another dimension though if you think of serving it with a good wodge of chocolate fudge cake, the ice cream will cut through the richness and I swear will leave you floundering for words.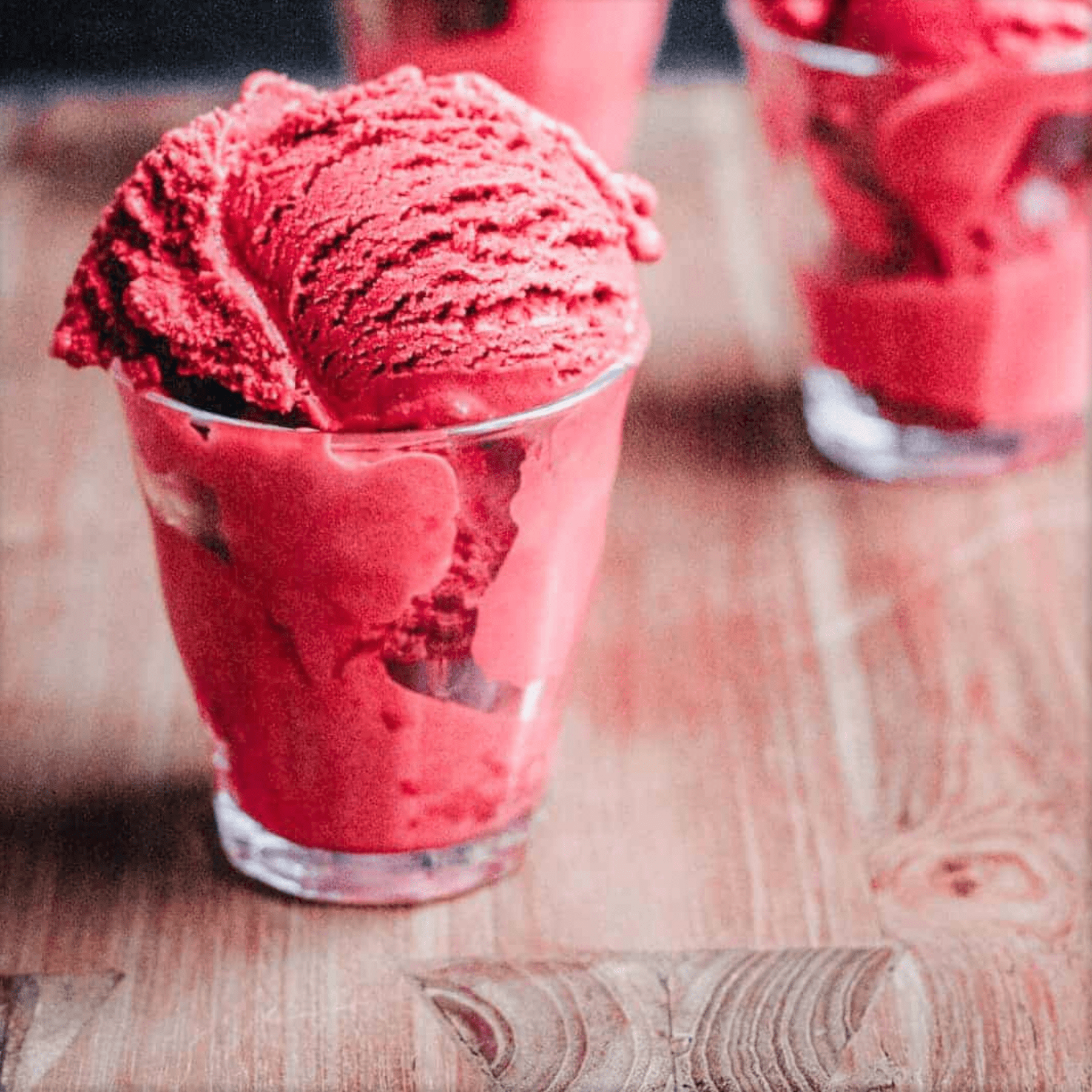 Red Velvet Ice Cream
This Red Velvet Ice Cream takes all the personality of a red velvet cake and rockets it into summer. Velvety, tangy with plenty of cocoa kick.
Ingredients
250

g

caster sugar

450

ml

double cream

250

ml

whole milk

35

g

cocoa powder

1

teaspoon

vanilla extract

1½

tablespoons

red food colouring

4

egg yolks

300

ml

buttermilk

1

tablespoon

lemon juice
Instructions
Heat the caster sugar, double cream and cocoa powder in a large saucepan and bring to boil. Make sure the cocoa has completely dissolved then remove from the heat.

Add the vanilla extract and food colouring.

Whisk the egg yolks in a large bowl until thick, then pour in the red velvet mixture in a thin stream, whisking all the while until everything has been mixed together.

Pour the red custard into a bain marie, then re-heat. Bring the custard up to 85°C but do not boil.

As soon as it has reached the correct temperature, pour the custard into a bowl set into an ice bath and carry on whisking until the custard cools.

Strain the custard into a large jug and set cling film over the surface to avoid a skin forming. Place in the fridge overnight to chill.

The next day remove the custard from the fridge and add the buttermilk and lemon juice. Pour into your ice cream machine and churn for 20 minutes until the ice cream is a thick milkshake consistency.

Decant into tubs and place in the fridge overnight to finish the set.
Nutrition
Calories:
398
kcal
Carbohydrates:
39
g
Protein:
6
g
Fat:
26
g
Saturated Fat:
15
g
Cholesterol:
182
mg
Sodium:
80
mg
Potassium:
211
mg
Fiber:
1
g
Sugar:
35
g
Vitamin A:
1070
IU
Vitamin C:
1.1
mg
Calcium:
132
mg
Iron:
0.8
mg
Have you tried this recipe?
Head to the comment section and let me know what you think!