This post contains affiliate links. Please read my disclosures.
This recipe is not yet gluten-free
If there is one plaintive cry that is often heard in this house, it's 'Why do you never make cookies?'
It's true that cookies are usually superseded by a sudden whim to make a cake or a brownie so they usually fall down the pecking order. Plus cookies are remarkably easy to eat aren't they? What is it about them that makes you believe it's okay to have two or three when you would normally only have once slice of cake.
It's probably because you have to eat one straight from the oven when the chocolate is oozing from within and they are still pretty dough like. Later on it would be churlish not to partake in a cooler cookie with your tea, letting your cup catch the crumbs so you can slurp them up later.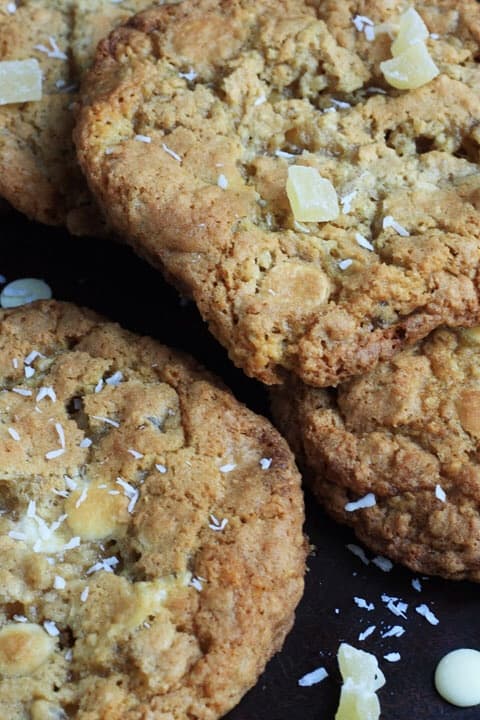 My husband is also a bit of a dried fruit fanatic, there are usually odds and ends of trail mix or some exotic papaya strips that never seem remotely appealing to me. However, these candied pineapple chunks have been winking at me for weeks begging to be used in a recipe.
I am not normally a pineapple junkie but I have found myself craving their sweet juicy acidity so whilst a few months ago I would have shuddered at including them in a bake, this time round they were the first ingredient on my list when preparing to make my cookies.
I think it's rude not to include chocolate in a cookie don't you? That's not to say I haven't enjoyed the odd oat and raisin number in my time but I usually think a bit of a chocolate addition would liven up the proceedings immensely. This time round I poured in a few handfuls of white chocolate chips, which are the type of chocolate oft neglected from my bakes, but here they seemed so right.
The desiccated coconut was added just because I cannot bear to bake or cook anything without coconut at the moment. I thought I would be bored by now after my endless forays of coconut oil, coconut flour, coconut flakes and coconut milk but it's just so damn versatile in all its different formats and there is usually a place for it in whatever I am cooking.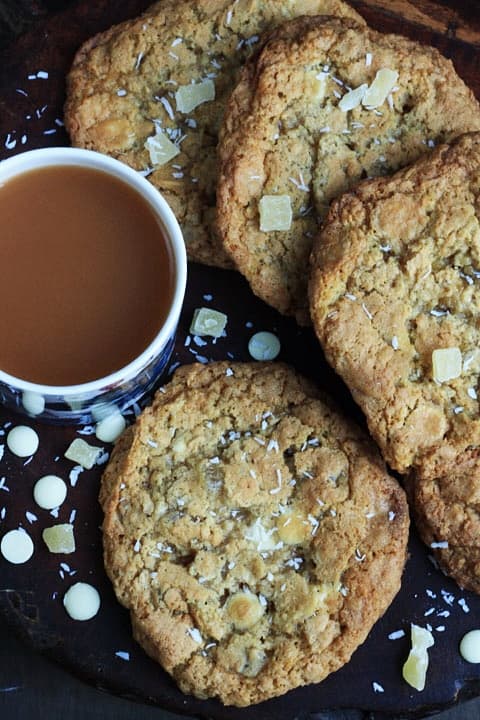 Now these cookies are huge, so make sure you space them apart a good distance in your baking tray. They are chewy but also a little crisp on the corners for the variety of texture which is so important in your daily cookie. The true test was whether they would pass the husband test and they did with flying colours. The only problem is that now he sees no excuse why there can't be cookies every day.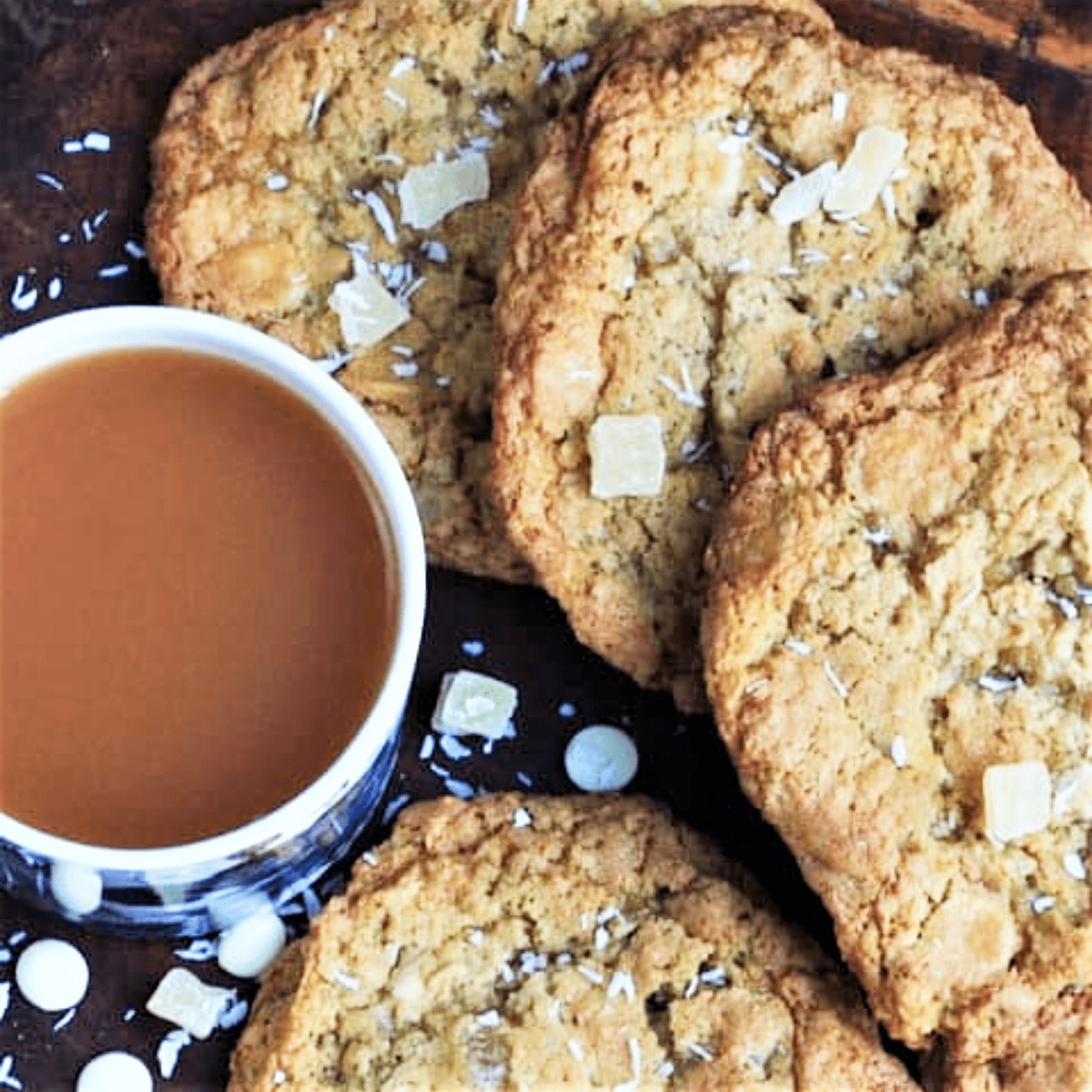 Pineapple, White Chocolate and Coconut Cookies
Delicious large oatmeal cookie made with coconut and packed with dried pineapple pieces, white chocolate chips and dessicated coconut (Contains gluten)
Ingredients
175

g

unsalted butter

175

g

soft light brown sugar

125

g

caster sugar

1

teaspoon

vanilla extract

2

eggs

200

g

plain flour

1

teaspoon

baking powder

1

teaspoon

bicarbonate of soda

¼

teaspoon

salt

150

g

jumbo rolled oats

75

g

desiccated coconut

125

g

white chocolate chips

125

g

dried pineapple chunks
Instructions
Pre-heat oven to 170°C.

Cream the butter and sugars together until very light and fluffy.

Add the eggs one at a time then the vanilla until completely combined.

In a large mixing bowl whisk together the flour, baking powder, bicarbonate of soda, salt, oats and coconut.

Add the flour mixture to the rest of the batter and mix until combined.

Finally mix in the chocolate chips and pineapple chunks until evenly dispersed.

Portion out the cookies by weighing out each one out to 100g then rolling into a ball.

Place each ball on large baking trays about 2 inches apart from each other and flatten each ball slightly with the palm of your hand.

Bake in the oven for 12-15 minutes until just turning golden brown.

Remove from the oven and leave to cool on the baking tray for 5 minutes until transferring to a cooling rack to finish cooling. Or, eat straightaway so the cookie is warm and the chocolate is still melting.
Nutrition
Calories:
452
kcal
Carbohydrates:
63
g
Protein:
6
g
Fat:
21
g
Saturated Fat:
13
g
Polyunsaturated Fat:
1
g
Monounsaturated Fat:
5
g
Trans Fat:
1
g
Cholesterol:
61
mg
Sodium:
169
mg
Potassium:
194
mg
Fiber:
3
g
Sugar:
39
g
Vitamin A:
407
IU
Vitamin C:
2
mg
Calcium:
71
mg
Iron:
2
mg
Have you tried this recipe?
Head to the comment section and let me know what you think!