Last Updated on by Georgina Hartley
These deliciously easy Barbecue Spare Ribs are the ultimate crowd pleaser and they are on constant rotation in our kitchen. The sweet smoky sticky sauce is juicy with tomatoes and full of body. It's an easy barbecue to sauce to knock up in minutes, then you can pop the ribs into the oven and more or less forget about them for three hours. An absolute favourite.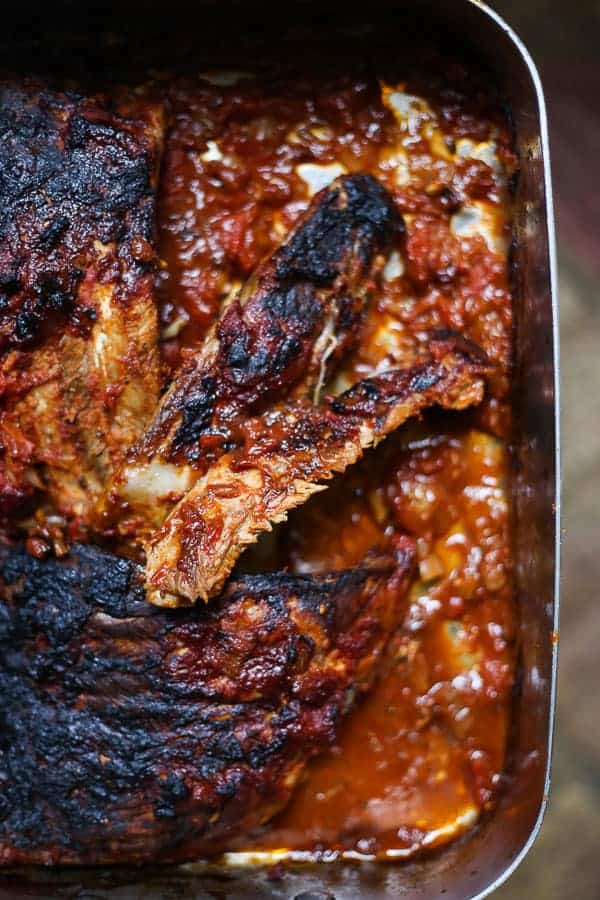 The current London obsession for all food American and BBQ'd does not seem to be on the wane.  On Saturday we went to the new barbecue restaurant, Q Grill, which has just opened in Camden.  On our way there in fact, just a few doors down was also another Memphis BBQ place, Porky's, which was heaving.  This trend is definitely not going anywhere for a while.  We had a great time at Q Grill, the waiting staff were nice and attentive, the cocktails were fun and the food was good.  In particular I had a seabass ceviche with spicy plaintain chips which kicked out plenty of chilli and citrus, definitely a reason to return.  We were disappointed though that they had already run out of the southern fried chicken with wild garlic green sauce by the time we had got there.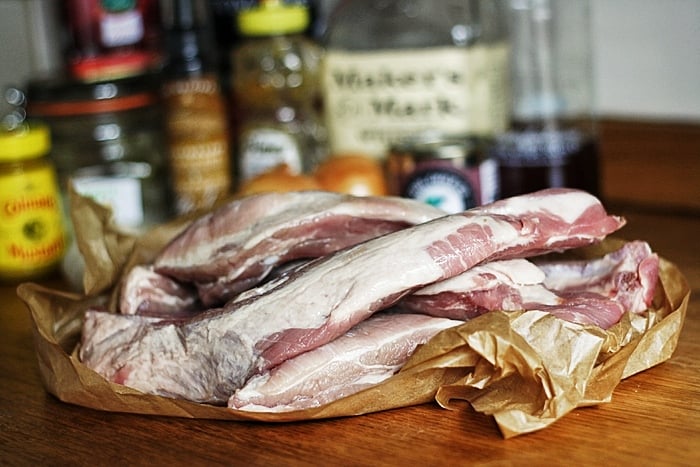 The Josper ribs were pleasant too but I do feel a little spoilt as I just kept remembering the lip smacking rustic portions of ribs from unassuming kitchens just off the interstate in Tennessee.  Now that was real soul food.  But what more can you ask for, this is London and Q Grill is a vibrant restaurant in the heart of Camden, I think they might be going for a different crowd.  We'll probably be back though since it's a hell of a lot closer than Tom's Bar-B-Q in Memphis, plus we still need to try that chicken.
However, just because rib shacks and brioche burger blowouts are so hot right now doesn't mean that these recipes have reared up from nowhere.  Spare Ribs, as we always called them at home, were an absolute childhood favourite of mine and I remember clamouring for them every Saturday night along with Dad's sweet potato mash.  Having had my fair share of American interpretations over the past couple of years, I have been hankering for these very particular spare ribs from my past.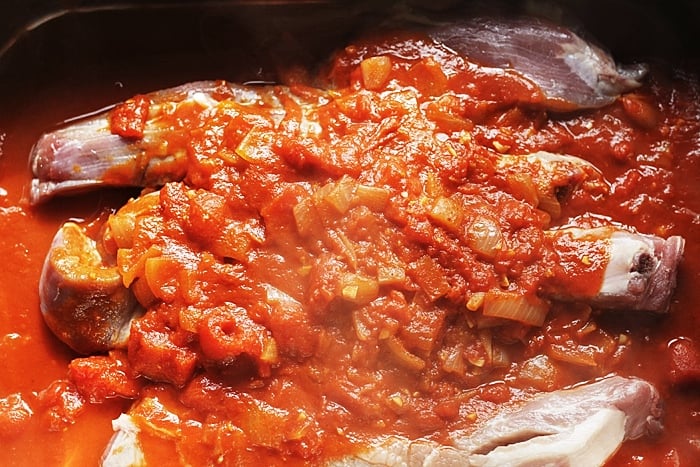 For some reason I just knew instinctively how to put this dish together, the memory of them is so ingrained that I reached for the ingredients automatically in my cupboard even though I have never made them before.  These Barbecue Spare Ribs are how I grew up knowing ribs to taste; sweet, sour and tomatoey.  I have added a few bits and pieces that definitely would not have been anywhere near my family's kitchen in the 1980s, like the liquid hickory smoke simply because it adds a wonderful smokiness which I have also bolstered by the use of chipotle instead of cayenne pepper.  The Kentucky bourbon is another nod to the current trend but I just couldn't resist adding it in as it really does add a warming depth.  Plus, y'know, any excuse.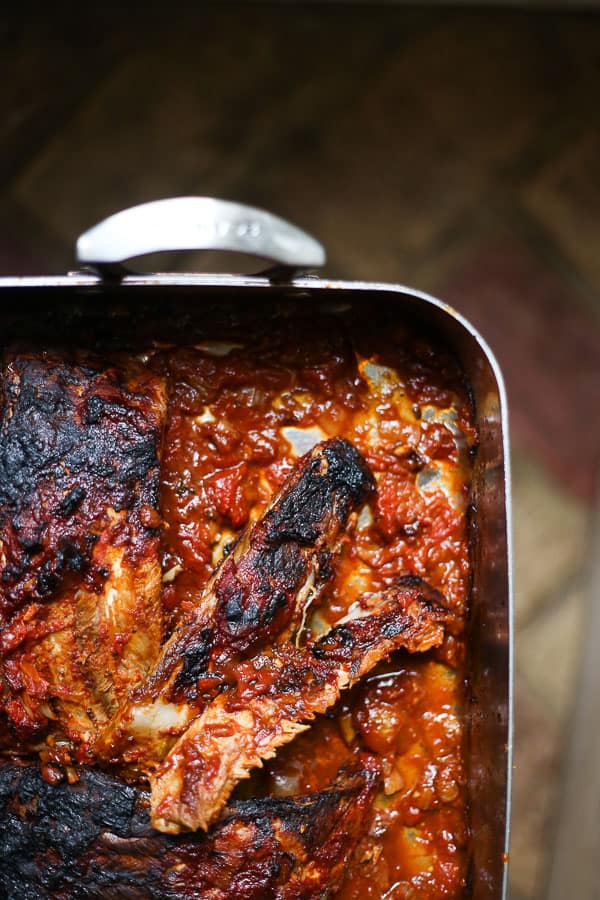 There has been a jar of apple sauce in my fridge all week and I needed to use it up before it went rotten so I popped a tablespoon of that in as well.  This is optional but it really gave the sauce a bit of fruitiness which was lacking as the only other sweetness was the honey.  I still had some local honey left from our time in Clarksdale, Mississippi so I thought it was fitting that I finish that off, but really any strong honey will do, this is no occasion for delicacy.
The result is like stepping back in time for me, but improved by my recently acquired knowledge of the American influence.  It is a perfect marriage of the hickory smoke and bourbon of the Deep South married to the heat of English mustard and tangy British Bramleys.  The rich tomato sauce provides a loving gravy to the ribs and mopping up the sauce with dirty rice or mashed sweet potato is an absolute treat.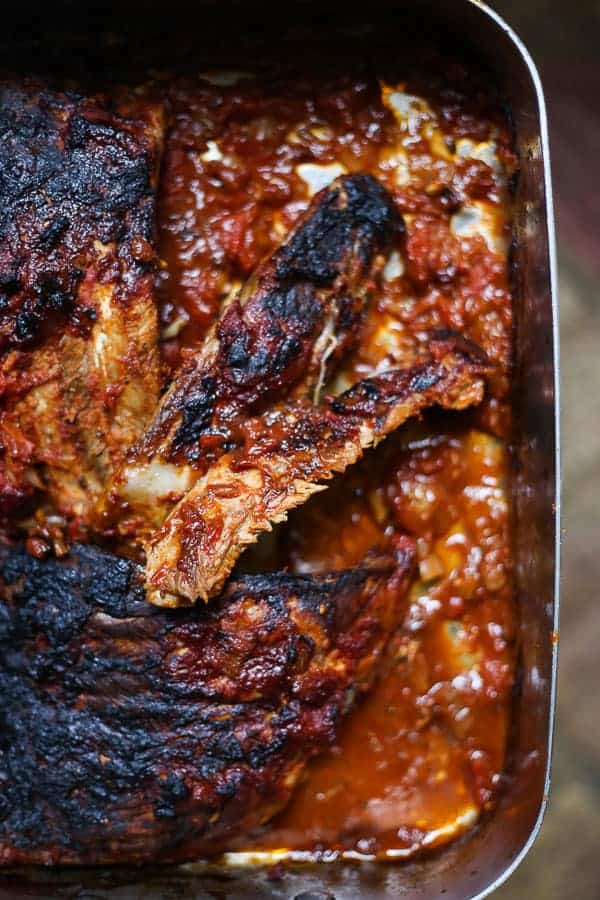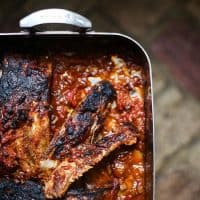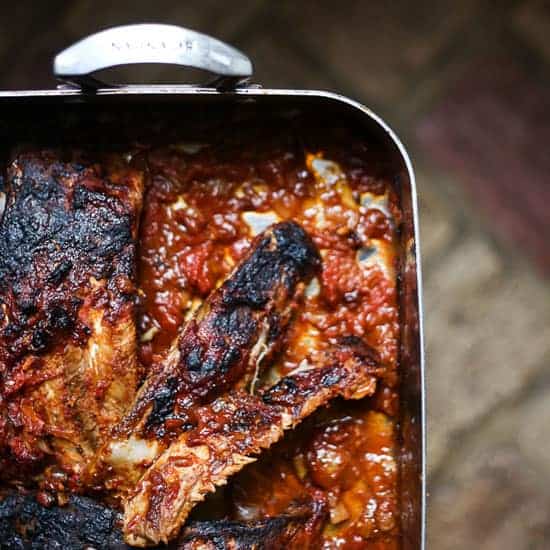 Barbecue Spare Ribs
This deliciously easy Barbecue Spare Ribs is the ultimate crowd pleaser
Print
Pin
Rate
Total Time:
3
hours
15
minutes
Ingredients
2

kg

pork spare ribs

2

teaspoons

olive oil

1

large onion

roughly chopped

3

garlic cloves

crushed

2

tins peeled plum tomatoes

4

squirts liquid hickory smoke

1

teaspoon

sweet paprika

½

teaspoons

chipotle powder

50

g

honey

50

ml

cider vinegar

1

teaspoon

English mustard powder

30

ml

bourbon

1

tablespoon

apple sauce

(optional)
Instructions
Pre-heat the oven to 160°C and place the spare ribs in a large roasting dish.

In a large saucepan heat up the olive oil, then add the onions and garlic. Cook on a gentle heat until the onions are turning translucent.

Add the tomatoes, cutting them up in the saucepan in a sophisticated fashion with a pair of scissors.

As you bring the sauce to the boil add the rest of the ingredients.

Simmer for 5-10 minutes, then pour the barbecue sauce over the spare ribs. Cover the baking dish loosely with foil and cook in the oven for 2 hours.

Remove the foil and turn the heat up to 180°C. Roast for a further hour until the meat can be pulled easily off the bone and the sauce has reduced a little.
Nutrition
Calories:
1519
kcal
|
Carbohydrates:
23
g
|
Protein:
80
g
|
Fat:
120
g
|
Saturated Fat:
38
g
|
Cholesterol:
400
mg
|
Sodium:
423
mg
|
Potassium:
1784
mg
|
Fiber:
3
g
|
Sugar:
18
g
|
Vitamin A:
41.8
%
|
Vitamin C:
38.6
%
|
Calcium:
10.7
%
|
Iron:
29.9
%