This post contains affiliate links. Please read my disclosures.
Banh Xeo are beautifully light and crisp savoury Vietnamese pancakes stuffed with pork, prawns and beansprouts. They are then wrapped in lettuce leaves with fresh herbs and dipped in a salty sweet dipping sauce.
There was only one real reason my husband and I travelled to Vietnam three years ago. As it turns out the people were so lovely and welcoming, the sight of millions of cycles whizzing past you in Hanoi as you fear for your life was exhilarating and the beauty of Halong Bay was breathtaking. But we went for the food.
The vivacity and balance of flavours used in Vietnamese cooking is wonderful. MSG is nowhere to be seen and salads, grills and gluten-free ingredients mean that not only is it delicious but healthy too. Without doubt, one of my favourite dishes is Banh Xeo.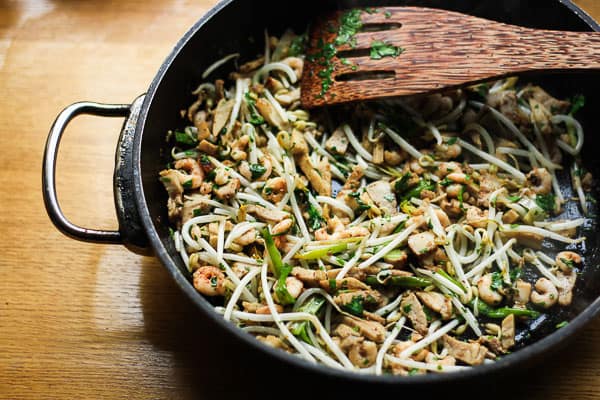 What is Banh Xeo?
Banh Xeo is a vietnamese savoury filled pancake. This thin lacy crisp pancake is naturally gluten-free since it is made from rice flour. The rice flour is whisked with turmeric, water and occasionally coconut milk, to form a batter which makes a crisp pancake. The pancake is then traditionally filled with juicy pork and tiny fried prawns, beansprouts, herbs and chilli.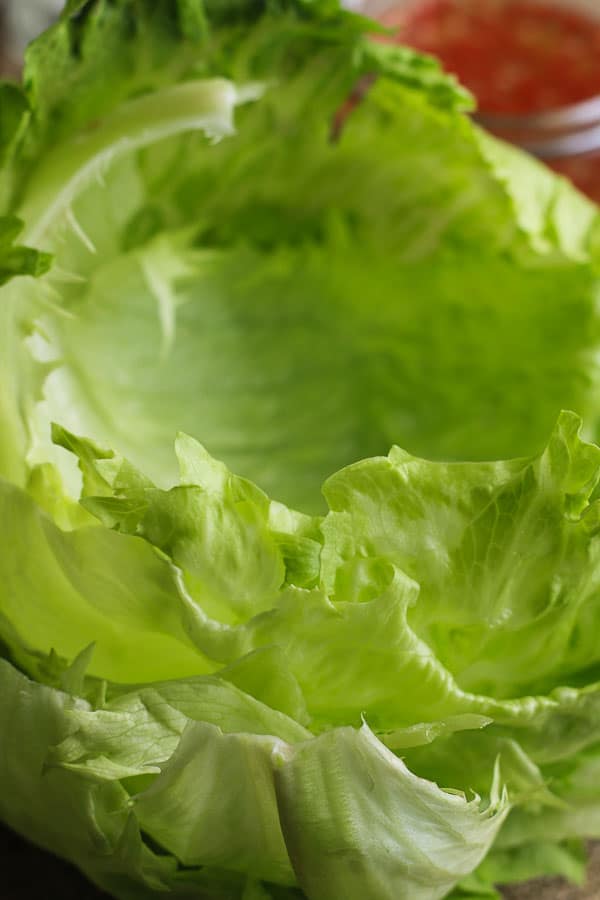 How to Eat Banh Xeo
The joy of Banh Xeo can not only be found in the delicious taste but also in the fun way it is served. Banh Xeo is usually accompanied with iceberg lettuce leaves which you wrap little cut sections of your pancake in, along with fresh mint, coriander and chilli. The pancake lettuce wraps are then dipped in nuoc cham, a traditional vietnamese dipping sauce.
Eating the pancake can get messy if your pancake doesn't hold together well but these Banh Xeo are absolutely perfect with no soggy tendencies.
Pro Tip - Use Soda Water
Add soda water to the batter for a really good crisp on these pancakes. It helps to counteract the thickness of the coconut milk and prevent a soggy pancake. How much soda water you need will depend on the brand you use. The coconut milks with little to no stabilisers will need less soda water as they tend to be thinner.
Can You Make the Pancakes in Advance?
Not really. These pancakes need to be eaten straightaway as they don't weather well as they cool. A great excuse for assembling everything you need around the kitchen, fill up those pancakes and dip them as you go. Nothing like supper at the stove.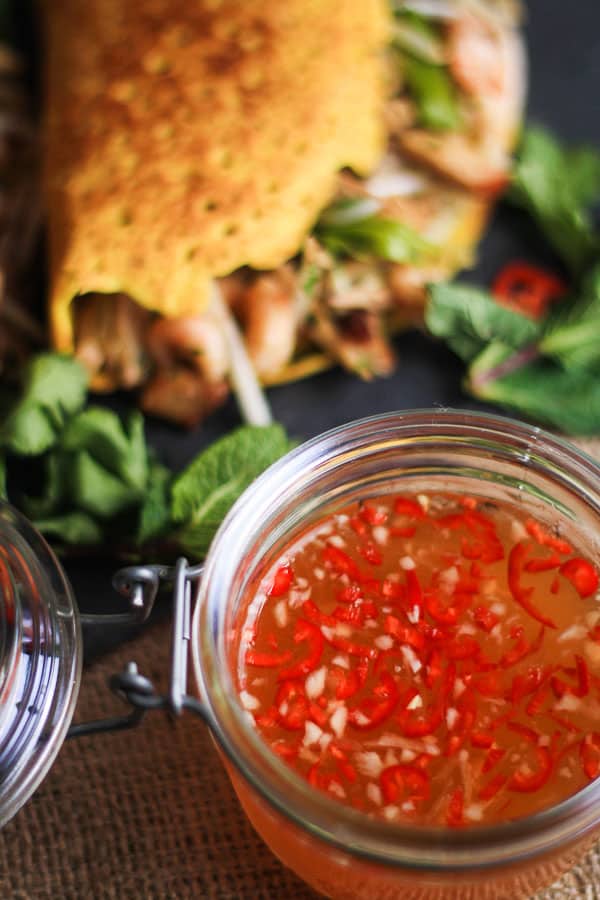 What is Nuoc Cham?
Nuoc Cham is a traditional vietnamese dipping sauce made from lime juice, sugar, fish sauce, garlic and chilli with a splash of water. It's a ubiquitous condiment in vietnamese cuisine which is very easily whisked together and deliciously sweet, salty, sour and spicy.
Vietnamese Fish Sauce
When we visited Phú Quốc we tried to bring some of the ubiquitous fish sauce they sell there back with us but we were told it was illegal to carry it on the plane and they don't export it at all. That was a few years ago now and luckily they have started to export it. This really is the best vietnamese fish sauce you can get and makes this Nuoc Cham dipping sauce so special. You don't have to use Vietnamese fish sauce if you can't get hold of it but it has a much more subtle taste than Thai fish sauce so dial it back a bit if you are substituting.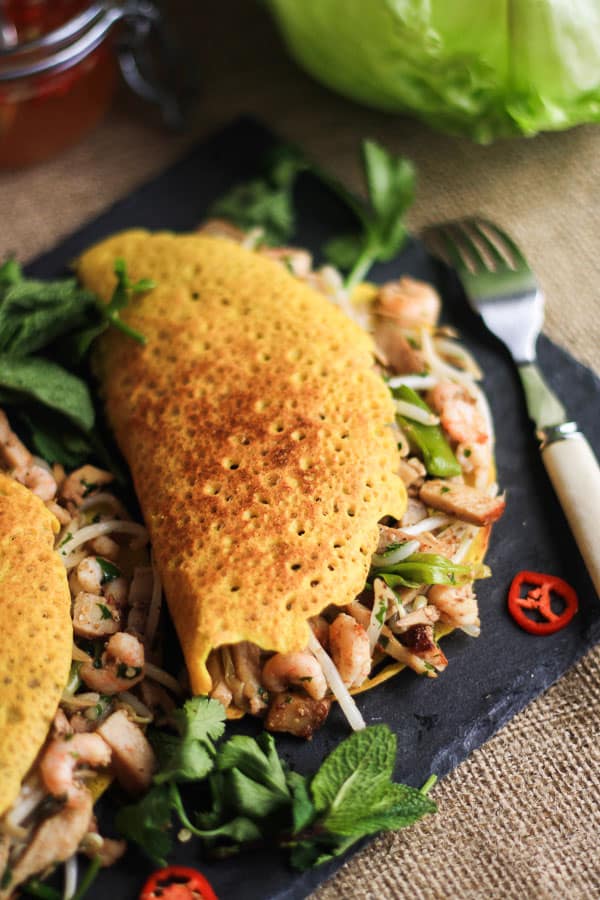 If you make this Banh Xeo recipe then please leave a comment below and/or give the recipe a rating. If you then go on to use this recipe as a launch pad for your own baking creation then I'd also love it if you'd share it and tag me on Instagram. It is so lovely for me to see your versions and variations of my recipes.
If you are looking for another delicious gluten-free dinner then have you seen this Lemon, Honey and Sesame Chicken recipe?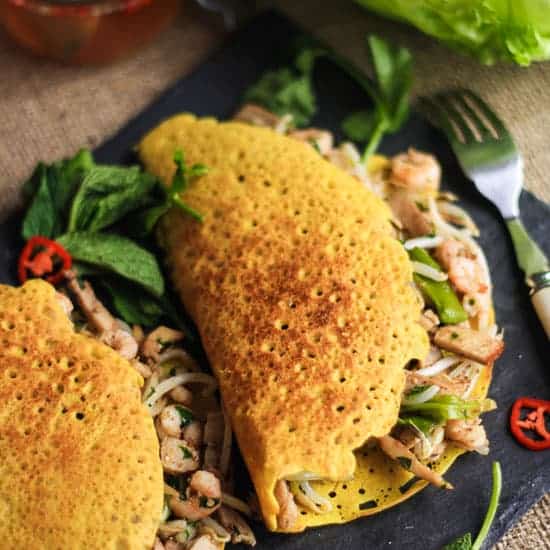 Banh Xeo
Banh Xeo are beautifully light and crisp savoury Vietnamese pancakes stuffed with pork, prawns and beansprouts. They are then wrapped in lettuce leaves with fresh herbs and dipped in a salty sweet dipping sauce.
Ingredients
Pork and Prawn Filling
1

tablespoon

olive oil

12

spring onions

-

halved lengthways

250

g

leftover roast pork

-

chopped small

200

g

cooked small prawns

2

teaspoon

5 spice powder

3

handfuls of beansprouts

A handful of mint leaves

-

roughly chopped

A handful of coriander leaves

-

roughly chopped
Nuoc Cham
2½

tablespoons

lime juice

-

about 1 lime

1

tablespoon

sugar

60

ml

water

2

tablespoons

Vietnamese fish sauce

1

garlic clove

-

crushed

½

red chilli

-

seeds removed and chopped
Pancakes
200

g

rice flour

1

egg

-

lightly beaten

½

teaspoon

salt

1

teaspoon

turmeric

300

ml

coconut milk

150–250ml

soda water

1

tablespoon

oil

Iceberg lettuce

-

each leaf removed individually for wrapping

Extra chilli

-

fresh mint and coriander to serve
Instructions
Pork and Prawn Filling
Heat the olive oil in a large flat bottomed saucepan.

Add the spring onions, the pork and the 5 spice powder and fry gently for a 3-4 minutes.

Add the prawns, beansprouts and herbs, mix together and fry for a couple of minutes until the prawns are heated through.

Remove from heat and serve inside the crepes.
Nuoc Cham
Mix all the ingredients together and set aside until the pancakes are ready.
Pancakes
Whisk the rice flour with the egg, salt and turmeric in a large mixing bowl and set aside.

Pour the coconut milk into a jug and whisk with 150ml of the soda water until completely combined.

Pour the coconut milk mixture gradually into the rice flour mixture until it forms a very smooth and light batter, about the consistency of single cream. If the mixture is too thick add more soda water.

Heat a frying pan with 1 tablespoon oil. When hot pour in about ½ ladle of batter. You want to pour the batter into a thin layer so start pouring carefully into the middle of the pan, then move the ladle around in a circular motion as you pour out the batter, increasing the circle of batter in the pan. Don't worry if there are a few holes in the batter, it just means the pancake will be crisper.

Bubbles will immediately form in the batter, leave for the heat to do its work for a few minutes, the batter is quite resilient and won't burn easily. Wait until the edges of the batter are curled up, then flip carefully over with a metal spatula. The bottom of the crepe should just be turning golden brown.

Cook for 2-3 minutes on the reverse side until it is also just turning golden brown.

Remove from the heat, pile the filling onto half of the crepe then fold over on itself to serve.

Let everyone cut their own crepes in half, wrap into a large lettuce leaf, adding more fresh mint and coriander and a bit of chilli if you like. Dip with glee into the nuoc cham. And repeat.
Notes
Pancake recipe adapted from Plenty by Ottolenghi
Nutrition
Calories:
663
kcal
Carbohydrates:
51
g
Protein:
28
g
Fat:
39
g
Saturated Fat:
20
g
Cholesterol:
211
mg
Sodium:
1462
mg
Potassium:
633
mg
Fiber:
2
g
Sugar:
4
g
Vitamin A:
470
IU
Vitamin C:
21.5
mg
Calcium:
149
mg
Iron:
6.1
mg
Have you tried this recipe?
Head to the comment section and let me know what you think!
This post is not sponsored but some of the links above are affiliate links which means if you decide you want to use these link to make your purchases then Amazon gives me a small commission at no cost to you whatsoever. I will only recommend products I use in my kitchen and love. To learn more about how the data processing works when using these Amazon affiliate links then please visit my privacy policy page.