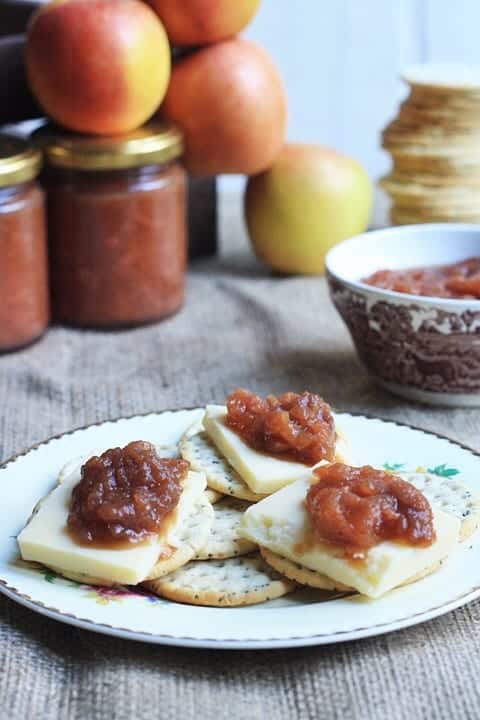 I have been making chutneys and jams for my friends and family for Christmas presents as long as I can remember. It's perhaps my annual ritual that I treasure the most. It signifies making the most of the autumnal farmers' market or foraging treasures and is one of the first steps I take each year when starting to plan for the festive season.
There was a time when I rotated the chutneys I made, perhaps an apple, pear and hazelnut chutney, often a piccalilli or even a traditional dowerhouse chutney. However since I developed this particular Apple and Stem Ginger Chutney a couple of years ago there has been absolutely no looking back. It has been one of my favourite kitchen creations and now I make it every single year to pass onto my loved ones, and of course to scoff myself with a mountain of cheese.
I rather like it as it's not one of those chunky chutneys that makes your sandwich all lumpy, or a chutney that is stuffed with little pops of sultanas making the whole affair too fruity. No, this chutney has the perfect balance of texture from the soft apples, of sweetness from the stem ginger and a warmth of spice from the root ginger, chipotle chilli powder, nutmeg and cinnamon.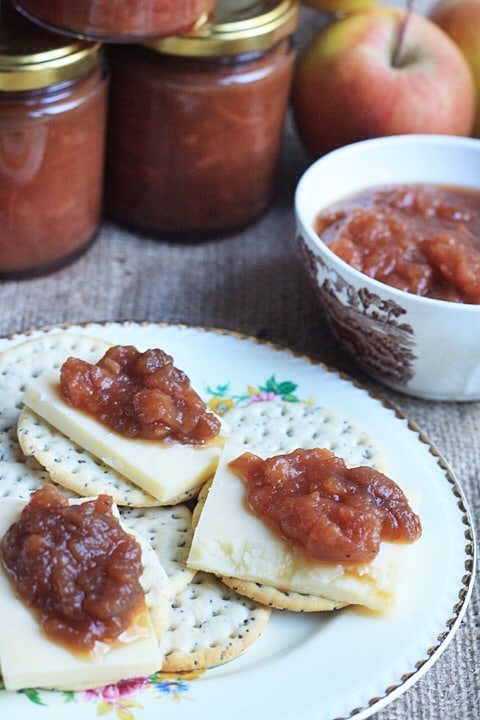 In fact I love this chutney so much that it became one of the first recipes to be cemented in my new preserves venture 'From The Larder'. I have made jars upon jars this year, so that I can spread the joy a little further than my friends and family and I will be selling it on all my market stalls leading up to Christmas. My inaugural preserves stall is at the Stroud Green Winter Fair this Saturday 22nd November at the Stapleton Tavern in Stroud Green and I can't wait to showcase all the lovely produce I have been foraging for, jarring and canning since the summer. If you are around then do drop by and pick up a jar of this Apple and Stem Ginger Chutney. However, if you are far away then don't fret as I've included the recipe below so you can make a batch of your own.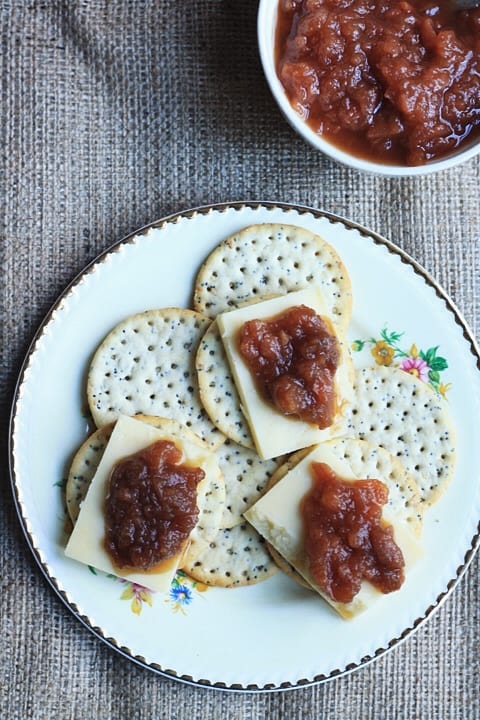 This chutney is perfect on your festive cheeseboard as it goes with pretty much any cheese. It's also incredibly addictive so don't be surprised if you find you are balancing more chutney on your cracker instead of cheese. This recipe makes a good few jars but it's perfect to give away as presents or to hoard yourself so you can keep your supplies well on the go until next year's batch.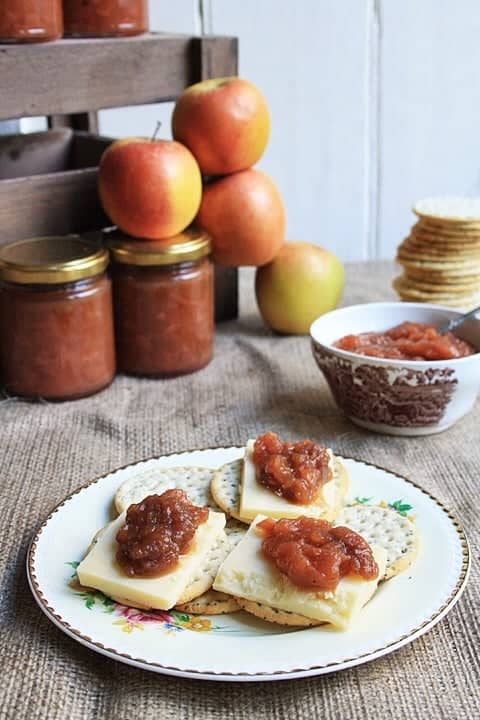 Apple and Stem Ginger Chutney
Makes 12 x 200ml jars
For the spice bag:
50g root ginger
2 teaspoons black peppercorns
1 teaspoon coriander seeds
1.5kg Bramley apples, peeled, cored and diced
1.5kg Cox Pippin apples, peeled, cored and diced
1kg white onions, diced
4 balls stem ginger (about 80g), finely chopped
500g soft light brown sugar
600ml cider vinegar
¾ teaspoon chipotle chilli powder
½ teaspoon ground nutmeg
1 teaspoon ground cinnamon
1 teaspoon of sea salt
Place the spice bag ingredients into a muslin bag and then put into a large preserving pan with the rest of the ingredients.
Bring slowly to the boil, then simmer for 2.5 hours.
Remove the spice bag then decant the chutney into sterilised jars.
Keep in a cool dark place for 2-3 months before eating.