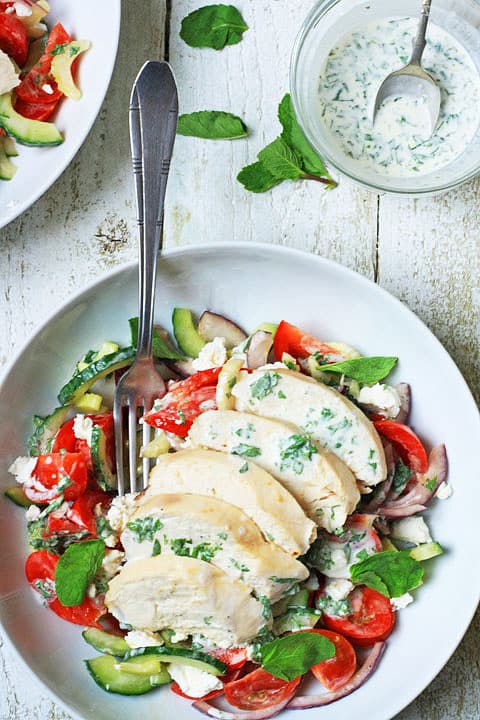 This salad was borne from a desire to use up leftover roast chicken but was such a treat that I made a huge batch of it again the next day, this time roasting up a couple of chicken breasts especially for the event.
Now, I'm not one for do-ahead salads. For starters I don't like cold salads, they need to be brought up to room temperature first so by the time you've decided you're hungry you might as well have knocked it together there and then rather than twiddling your fingers for half an hour whilst the chill is knocked off your lunch.
Pre-dressed salads are also usually a problem, as heavy dressings render delicate leaves a soggy mulch, or worse if there's garlic involved create a pungency to the whole affair which detracts from the light bright flavours you began with. My Chicken and Feta Salad with Minted Yoghurt encountered no such issues though and after having made a fair amount to last for a few days I popped it, dressing and all, into the fridge until I was ready to eat it over the next few days.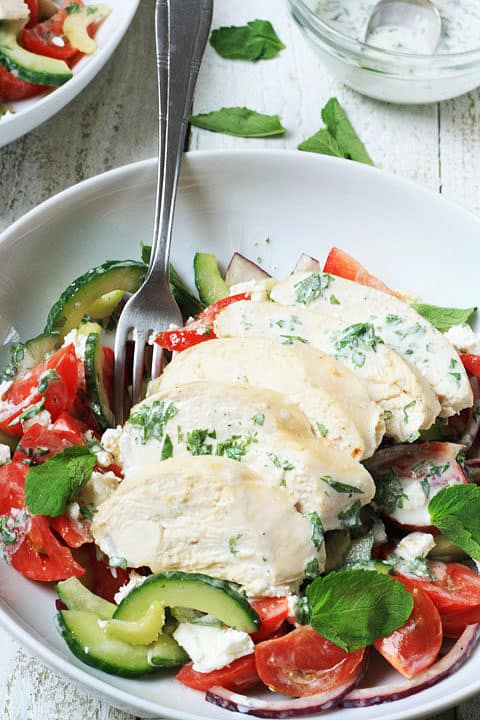 This salad holds no leaves to wilt or garlic to intoxify so the fresh flavours are kept intact. In fact, they are improved upon as the feta simply soaks up flavour so over the next couple of days it took on more depth from the lemon and mint. There is also no oil in the dressing so there is no chance of the dressing weighing down the other ingredients.
Okay, so I did have to take my salad out of the fridge for a bit so the flavours could re-ignite in room temperature but after about 15 minutes of impatience I dove in and found I hadn't lost anything in its preservation.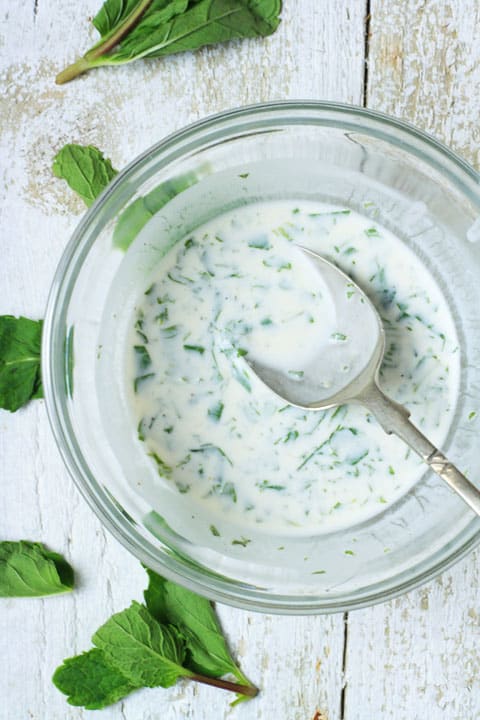 Now you must be fussy when gathering ingredients for this salad, not only should you insist upon the best tomatoes you can find and of course organic free-range chicken, bone intact and skin on so it retains moisture during its roasting, but this salad also benefits hugely from the inclusion of extremely good feta. Supermarket feta is so hit and miss, more often than not a bit dry and crumbly and until you've overdosed on the good stuff in Greece you may not even know how much you like it. I am lucky though to be within spitting distance of Ally Pally farmers' market on a Sunday where there is an excellent producer eager to offload his wonderful olives, pickled garlic and sundried tomato antipasti. It's his feta that is the star of the show though, tangy, dense and sublimely creamy, although you have to get to the market early as he always sells out.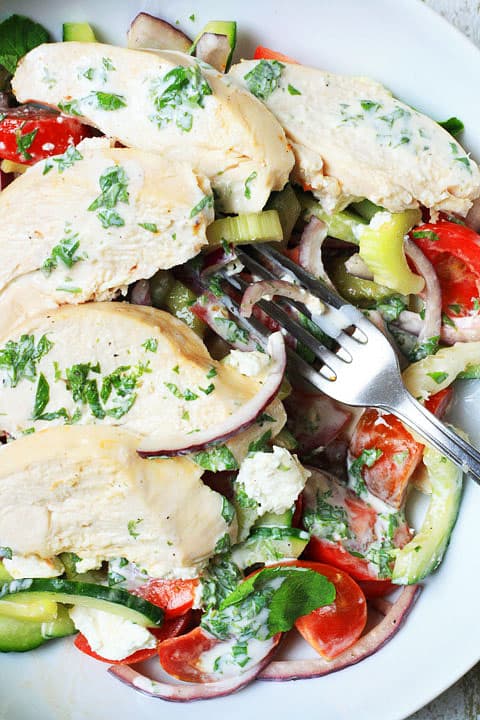 Roast Chicken and Feta Salad with Minted Yoghurt Dressing
Serves 2
2 chicken breasts on the bone
2 teaspoons olive oil
Juice of ½ lemon
150g cucumber, halved and de-seeded
200g tomato, roughly chopped
3 celery sticks, sliced thinly
½ red onion, halved and sliced thinly
120g feta
For the dressing:
1 tablespoon yoghurt
2 teaspoons mayonnaise
good handful of fresh mint leaves, diced finely
juice of ½ lemon
1/8 teaspoon salt
pepper
Pre-heat the oven to 180°C.
Mix the olive oil and lemon juice with some seasoning then rub all over the chicken breasts.
Place in a roasting tray and roast in the oven for 40 minutes, basting halfway through.
Remove the chicken from the oven and leave to rest whilst you prepare the rest of the salad.
Toss the cucumber, tomatoes, celery and red onion in a large bowl and crumble over the feta.
In a separate small bowl whisk together all your dressing ingredients and pour most of it evenly over the salad.
Toss it all together and heap into bowls.
Remove the chicken from the bone, then slice and serve over the salad, drizzling over a final bit of dressing.