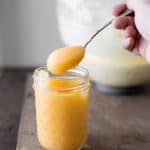 Print Recipe
Easy Lemon Curd
Lemon Curd is incredibly easy to make with only four ingredients in under 15 minutes. It's fresh and tangy and wonderful spread on crumpets, stirred into porridge or yoghurt or sandwiched
into the most delicious sponge cake.
3-4

lemons

200

g

caster sugar

60

g

unsalted butter

3

eggs

medium sized
Zest 2 of the lemons, then juice them and another 1-2 more. You need to end up with 125ml fresh lemon juice.

Pour the lemon juice, lemon zest, caster sugar and butter into a medium saucepan. Turn the heat on and whisk everything together whilst bringing to a gentle boil.

Break the eggs into a medium sized mixing bowl. Lightly beat together then pour a splash of the hot lemon mixture into the beaten eggs, whisking vigorously to avoid the egg scrambling.

Gently pour the rest of the lemon mixture into the eggs in a steady stream whisking all the time until the eggs and lemon mixture is completely combined.

Pour it all back into the saucepan and bring to a boil, still whisking all the time. Continue whisking for 3-4 minutes until the mixture thickens.

Remove the lemon curd from the heat and strain so the curd is very smooth. Pour the curd into a jar and place in the fridge to cool and set for at least a couple of hours.
Makes 400g Lemon Curd.
I use medium eggs in this recipe.
For the most gorgeous golden yellow colour for your curd use very good eggs with orange yolks. I recommend Burford Browns.
When you are adding the hot lemon mixture over the beaten eggs go very slowly. You do not want the eggs to start scrambling. I usually start with a small splash of the hot liquid to temper the eggs whisking vigorously before pouring in the rest of the liquid in a steady stream.
If the eggs do scramble a little, don't worry, you will be straining the curd at the end of the process so any small strings of cooked egg will be discarded.
If the egg completely scrambles then you may need to begin again.
I recommend pouring the hot lemon mixture into a jug so you can pour it into the eggs more carefully rather than direct from the saucepan.
Set the egg bowl on a damp cloth to steady it and avoid the bowl spinning around the work surface.
When you remove the finished lemon curd from the heat it will still be a little runny. This is normal, your curd will set and thicken further as it cools.
Lemon Curd will keep for up to 2 weeks in the fridge.
Calories:
149
kcal
|
Carbohydrates:
23
g
|
Protein:
2
g
|
Fat:
6
g
|
Saturated Fat:
4
g
|
Cholesterol:
62
mg
|
Sodium:
20
mg
|
Potassium:
63
mg
|
Fiber:
1
g
|
Sugar:
21
g
|
Vitamin A:
228
IU
|
Vitamin C:
17
mg
|
Calcium:
17
mg
|
Iron:
1
mg