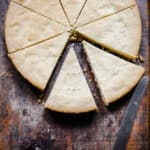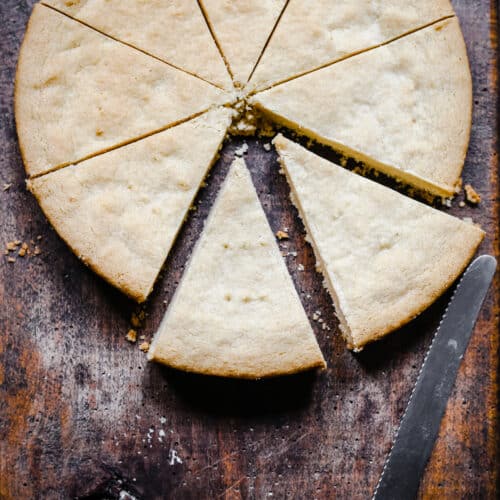 Print Recipe
Gluten-Free Shortbread
This Gluten-Free Shortbread is a melt in mouth buttery biscuit with a touch of crunch. A classic Scottish recipe using oat flour.
225

g

unsalted butter

100

g

caster sugar

1

teaspoon

vanilla extract

150

g

oat flour

125

g

very fine white cornmeal

50

g

tapioca flour

½

teaspoon

salt
Pre-heat the oven to 180°C/160°C fan assisted oven/gas mark 4.

Line and grease a 20cm (8 incround cake tin.

Beat the butter and sugar together for a couple of minutes until light and creamy.

Add the vanilla extract and stir to combine.

Sift together the oat flour, cornmeal, tapioca flour and salt then add to the butter and sugar. Beat until it is fully incorporated.

Tip the dough into the baking tin and press into the tin using your fingertips.

Using a sharp knife gently mark four lines across the diagonal of the shortbread to mark out the intended slices.

Pierce the surface of the shortbread with the tines of a fork a few times to let the air escape.

Bake for 30 minutes until the top is just starting to turn golden.

Rest the shortbread for an hour in the tin before removing. Leave to cool completely on a cooling rack before cutting into wedges.
Use good unsalted butter. This is the main taste of your shortbread so you need it to be the best you can find. Organic, unsalted butter direct from the farm if possible. You will notice the difference.
Use good vanilla extract. Not vanilla essence.
Cooling. Leave the shortbread too cool completely before cutting. It needs time to firm up otherwise it will be too crumbly to cut.
Calories:
410
kcal
|
Carbohydrates:
42
g
|
Protein:
5
g
|
Fat:
25
g
|
Saturated Fat:
15
g
|
Cholesterol:
60
mg
|
Sodium:
153
mg
|
Potassium:
146
mg
|
Fiber:
3
g
|
Sugar:
13
g
|
Vitamin A:
705
IU
|
Calcium:
19
mg
|
Iron:
1.4
mg