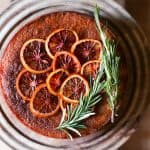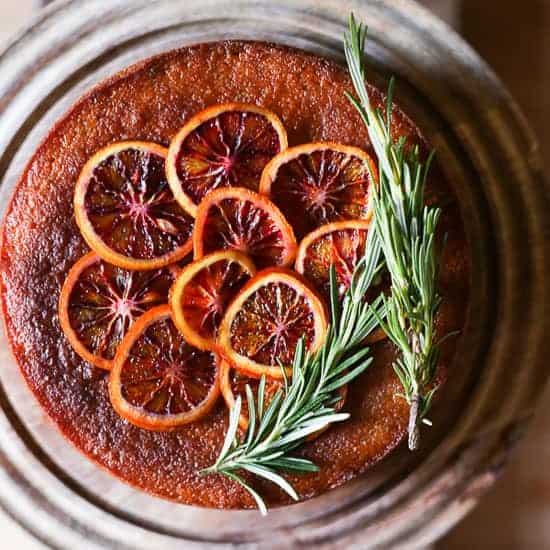 Print Recipe
Blood Orange Rosemary Polenta Cake
This Blood Orange Rosemary Polenta Cake is made with whole oranges boiled then pureed to create an incredibly moist and intensely citrusy cake spiked with a hint of rosemary.
For the caramelised blood orange slices
1

blood orange

120

g

caster sugar
For the cake:
450

g

blood oranges

(about 4 medium sized oranges)

6

eggs

250

g

caster sugar

125

g

polenta

125

g

ground almonds

1

tablespoon

baking powder

1½

tablespoons

finely chopped rosemary leaves

½

teaspoon

salt
Caramelised Blood Orange Slices
First prepare the caramelised oranges for decorating the top of the cake. Pour the extra 120g caster sugar into a medium saucepan with 120ml of water. Bring to a low boil until the sugar dissolves.

Cut the extra blood orange into thin slices then submerge into the sugar syrup. Bring the syrup back to a boil then simmer for 5 minutes. Turn the heat off.

Remove the orange slices from the sugar syrup (reserve the syrup for pouring over the cake later) with a slotted spoon then place on a baking tray lined with greaseproof paper. Bake for 10 minutes at 150°C. Turn the orange slices over and bake for a further 10 minutes. Remove from the oven and set aside whilst you make the cake.
The Cake
Place the whole oranges into a large saucepan and cover with water. Bring to the boil and then simmer for 1 hour.

Pre-heat the oven to 150°C and line and grease a 20cm round cake tin.

Remove the oranges from the saucepan and cut in half to remove and discard the pips.

Place the oranges into a blender and blitz until smooth.

Set the oranges aside for a moment whilst you beat the eggs and sugar in either a large mixing bowl or food mixer until pale and thick.

Then mix in the pureed orange.

Add the polenta, ground almonds, baking powder, rosemary leaves and salt. Beat until thoroughly incorporated.

Pour the batter in the prepared cake tin and bake for 10 minutes then turn the heat up to 160°C. Bake for a further 30 minutes until firm to the touch and an inserted toothpick comes out clean.

Once the cake is ready, remove from the oven and whilst the cake is still in the tin prick the surface all over with a cocktail stick. Pour the reserved blood orange sugar syrup all over the surface of the cake.

Let the cake cool in the cake tin before removing. Decorate with the blood orange slices and fresh rosemary then serve.
Original recipe adapted from Veerle de Pooter -  90 Years of KitchenAid-The Cookbook
Calories:
322
kcal
|
Carbohydrates:
56
g
|
Protein:
8
g
|
Fat:
9
g
|
Saturated Fat:
1
g
|
Cholesterol:
98
mg
|
Sodium:
155
mg
|
Potassium:
256
mg
|
Fiber:
3
g
|
Sugar:
42
g
|
Vitamin A:
5.6
%
|
Vitamin C:
30.1
%
|
Calcium:
11.5
%
|
Iron:
7.2
%