Last Updated on by Georgina Hartley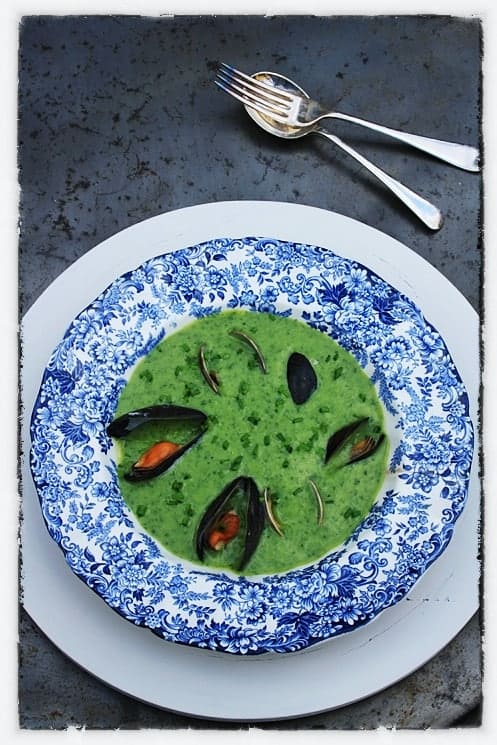 With this soup I wanted to recreate a wonderful velouté I had at Bonnie Gull at the weekend.  Bonnie Gull is a lovely cosy self-proclaimed seafood shack just north of Oxford Street.  We treated ourselves to a lunch there on Saturday and had such a relaxing time.  We forgot entirely that we were just a few minutes from the crowded hubbub of tourist town; instead it felt like mere footsteps from the bracing coastline.  We got thoroughly involved in trying all manner of catches of the day such as razor clams, hake, teeny tiny queenie scallops and this lovely wild garlic velouté with shellfish.  At Bonnie Gull they served their version with flakes of Arbroath Smokie along with squid ink gnocchi which added a rich and sweet smoky depth to the velouté.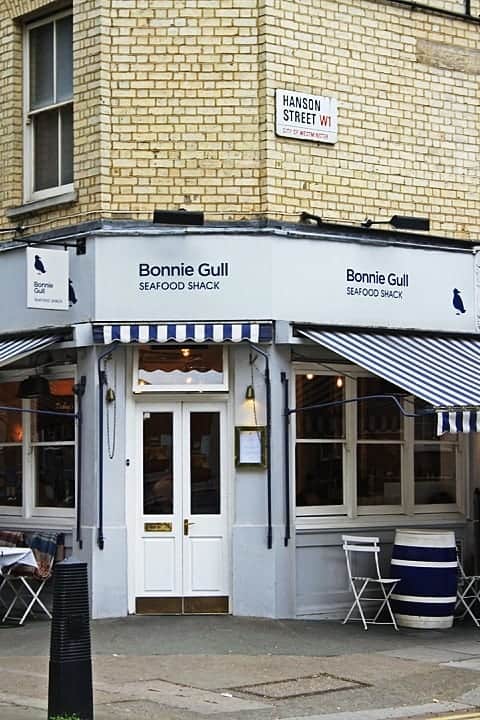 After our lunch at Bonnie Gull it was sheer chance that Alexandra Palace Farmers' Market had bunches of wild garlic on offer the next day as I'm sure I haven't seen it before, or maybe I was just a bit more susceptible to noticing it on Sunday.  I swooped in to buy a bag and next to it were some garlic chives so I picked up some of those as well to bring another dimension.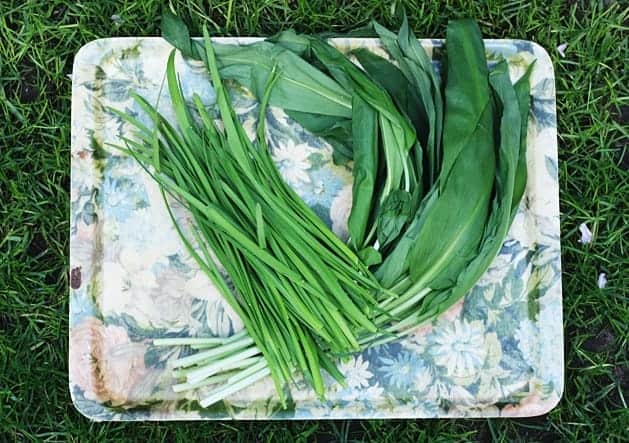 I also deviated from the original dish by making a soup rather than a velouté.  The difference being that a velouté is one of the five classic French sauces, with a roux base loosened with hot stock.  I didn't really fancy the flour so instead diced up a potato to use that as my thickener.  There is a definite difference in texture and taste.  The potato based soup tastes a little more homespun and less refined but that also achieved the right rustic charm I was after in my particular dish.
Any meal involving shellfish feels like a treat and this is no exception.  The vibrancy of the wild garlic and garlic chives provide the perfect bedrock to the seafood.  The plump mussel and clam morsels nestle deep into the soup, their shells catching hold of the liquid so you can merrily scoop up some smooth garlicky gravy when you dive in for a clam.
Now is the perfect season for wild garlic and garlic chives and in more rural areas they are easy to seek out and forage for free, so if you know where to pick some I encourage you to make haste and make this soup.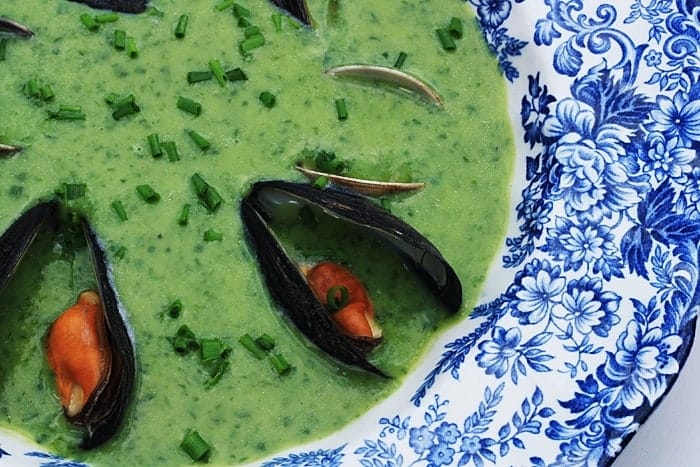 Wild Garlic and Garlic Chive Soup with Mussels and Clams
Serves 2 for a main dish and 4 for a starter
1 tsp olive oil
1 tsp butter
1 onion, diced
1 stick celery, diced
1 floury potato (about 225g), peeled and diced
40ml vermouth
1 litre chicken stock
80g wild garlic
50g garlic chives
2 tbsp crème fraiche
1 tsp butter
300g mussels, scrubbed and de-bearded
300g clams, scrubbed and de-bearded
40ml vermouth
1 tsp butter
½ clove garlic, crushed
In a large saucepan heat the olive oil and butter. Once melted, add the onion and celery. Cook gently for about 10 minutes until softened.
Add the potato and cook for a couple of minutes.
Add the vermouth and cook for a couple of minutes before adding the stock. Bring to the boil, then simmer for 30 minutes.
Add the wild garlic and chives and cook for a couple of minutes until wilted.
Remove from the heat and pour the soup into a blender. Blend until completely smooth.
Return to the saucepan and add the crème fraiche and butter. Stir in on a very low heat until the crème fraiche and butter have melted in.
Prepare the seafood by heating the vermouth, butter and garlic in a saucepan, when it has come to a gentle simmer toss in the mussels and clams and put the lid on. Cook for 2-3 minutes until all the shells have all opened. Discard the ones that haven't opened and serve on top of the soup.