This post contains affiliate links. Please read my disclosures.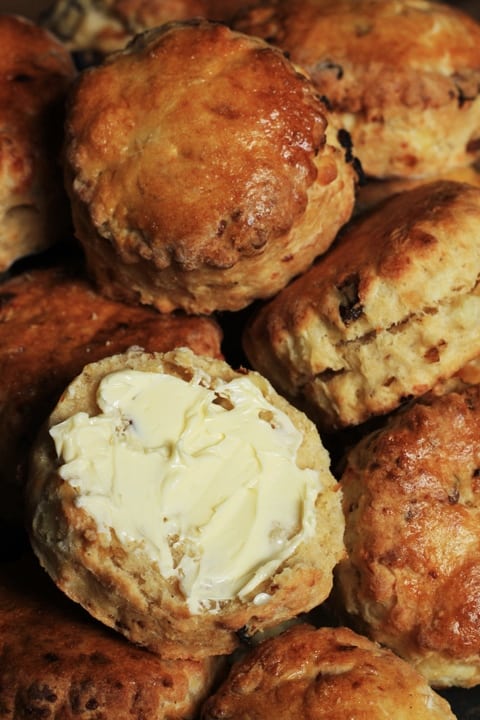 When I think of Wensleydale cheese I think of Wallace and Gromit and it's not long before I'm thinking of Wensleydale that my unique Yorkshire accent is produced for all and sundry to enjoy.  I love a good accent and take great pride in butchering every one I attempt.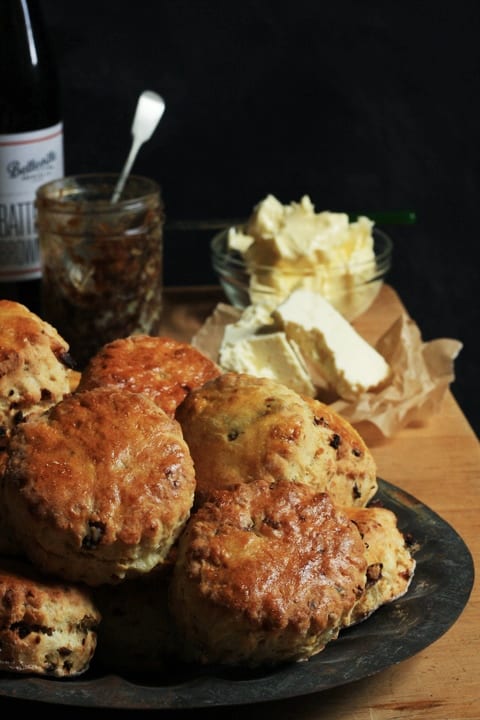 If you are not terribly familiar with Wensleydale it might be because you live in Stroud Green, it took me an absolute age to track down some of this wonderfully traditional British cheese that wasn't contaminated with cranberries or apricots.  This is such a delicate summery cheese that it's a shame it only comes into full force at Christmas as a novelty item on the cheeseboard.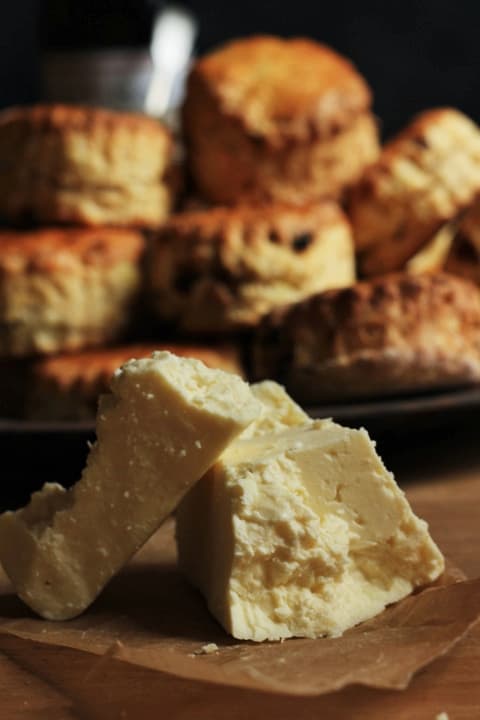 I was on the Wensleydale hunt particularly for this delicious scone recipe which I made for our last WI meeting.  We had thrown open our doors to the public for all and sundry to come and listen to author Gillian Tindall give a talk on our local historical building, Stapleton Hall, and we took pride in our WI reputation by providing homemade cakes and bakes for everyone to enjoy.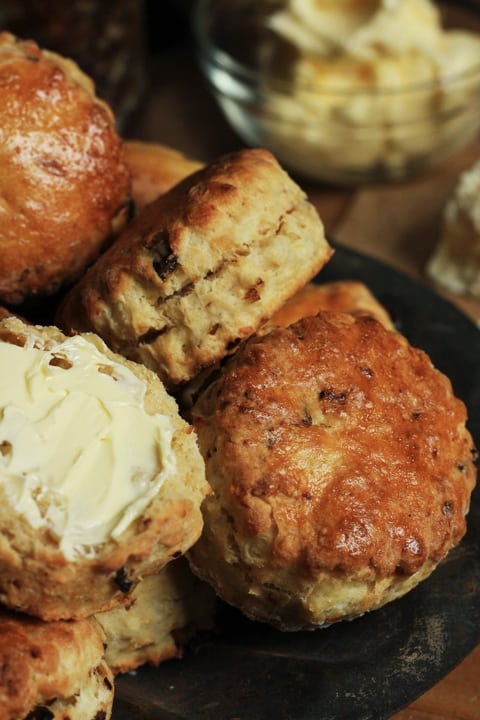 I will often take a punnet of scones to a potluck or a picnic as they transport excellently and if you stuff enough cheese into them they will always be better received than a sweaty cheese sandwich.  However, I wanted to add a bit of something extra this time round and bake the jam into the scone, which would certainly save room in the picnic basket.  If you have any bacon jam in the fridge, as you absolutely must if you have learnt anything from food bloggers over the last few years, then do use that, or have a go at my new bacon jam recipe which I posted yesterday.  I will confess now that I made the bacon jam especially for these scones.  I wanted a very British scone where the ale in the jam could pair delightfully with the Wensleydale baked into the dough.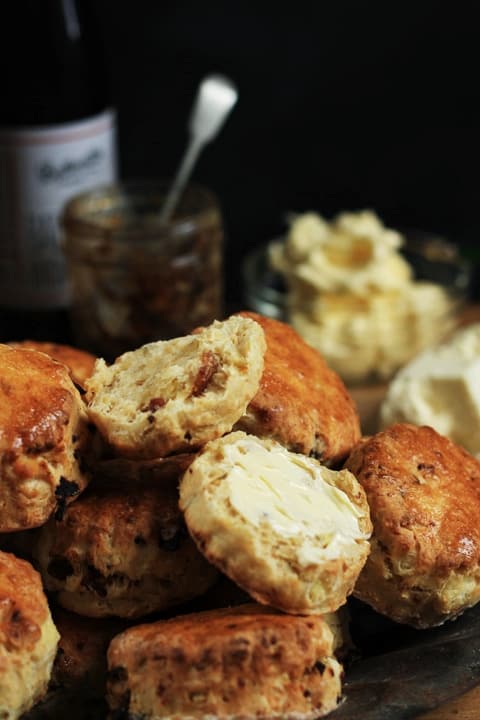 The only way to eat a savoury scone is to crack it open at the middle, pulling the warmed dough apart and liberally spreading with whipped butter.  As I say, to eat at a picnic is an absolute joy but to eat at home is a luxury as then you can warm your scones up lightly in the oven so the steam rushes out when you break it open and the butter melts with abandon.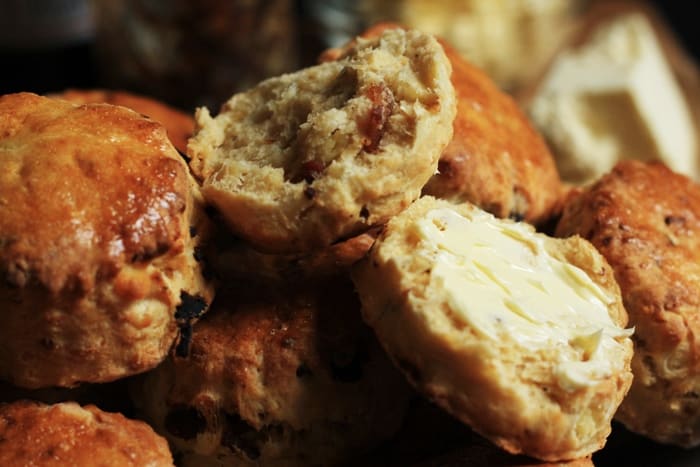 Wensleydale, and Bacon Ale Jam Scones
Makes about 18 scones
550g strong bread flour, plus a little extra for rolling out
80g unsalted butter, at room temperature
225g Wensleydale Cheese
Black Pepper
1 tbsp + 1 tsp baking powder
2 eggs, lightly beaten
125g Bacon Ale Jam
200ml milk
1 free-range egg, beaten, for the egg wash
Pre-heat the oven to 220°C and line two large baking trays with baking parchment.
Tip 500g of the flour into a large mixing bowl along with the butter then rub them together with your fingertips until they resemble breadcrumbs.
Crumble up the Wensleydale into the bowl with the black pepper. Rub the larger lumps of cheese in a little bit into the flour.
Then add the baking powder, mixing in well.
Pour in the beaten eggs and turn it into the mixture with a wooden spoon until completely incorporated.
Then add in the bacon jam and the other 50g of the flour. Use the flour as a carrier for the fat in the bacon jam and rub into the other ingredients.
Once the bacon jam is evenly dispersed, pour the milk in carefully, stirring in with a wooden spoon. The mixture will become quite wet.
Tip the mixture onto a floured surface and pat the mixture together, if the dough is still too wet add in a little more flour, folding and turning the dough until the flour is incorporated. You want to work this dough as little as possible.
Once the dough is dry enough to work with then roll out to 1 inch thickness and cut out circles using a 68mm round pastry cutter.
Place the scones on the baking trays, then brush with the egg wash.
Bake the scones in the oven for 12-15 minutes until risen and golden.
Serve with plenty of whipped butter.