No, the lack of sugar hasn't caused me to hurl myself off a cliff, if you're wondering why I haven't been documenting the last few days of my Whole30 journey. As it happens, I am doing quite well on Whole30 thanks for asking.   Well, in as much as I haven't fallen off the wagon but the mere mention of a gin and tonic or a Cadbury's Boost will send me apoplectic, so please don't. To revive myself for the second half of the Whole30 challenge I have had a mini break from the kitchen these past few days and have been eating other people's food. A veritable storm of working in Central London, fitting in some running, making all my meals and sorting out the three monsters, four if you include my husband, culminated in me throwing in the tea towel and hot footing it to the nearest paleo accommodating restaurants over the weekend.
I ate Vietnamese salads and stir fries at the Song Que Café on Kingsland Road and lots of vegetable tapas and grilled octopus at La Vina in Harringay. I even managed to find something at the farmers' market and enjoyed Moroccan tagine with salad instead of couscous in Ally Pally this Sunday. Perfectly doable but I have to say ordering soda water instead of a chilled glass of Chablis has been a little tough. Still, I'm almost halfway through so at least things are looking up.
Another key ingredient of making this diet bearable, besides letting someone else do the hard work for a couple of days, is when I can indulge in a bit of a paleo treat and this coconut crisp chicken really is that. This is something I have been making for a while anyway, way before my Whole30 kicked off. The recipe evolved when I started reading about southern fried buttermilk chicken and the buttermilk brine that is used to soak the chicken in overnight before the fry. This method of brining chicken is genius and makes it so tender and perfectly seasoned, especially with the addition of spicy chipotle powder and paprika. I have been working on adapting the buttermilk solution for coconut milk to fit in with a paleo lifestyle and have enjoyed it every time I have been slowly tweaking and perfecting the recipe over the past few months. I think with this final version I have cracked it and it may be my favourite recipe of Whole30 yet. It is utterly delicious accompanied by a zesty lime slaw made of chinese cabbage and sprinkled with coconut flakes to up the coconut ante.
When you think fried chicken it just carries such an air of unhealthiness to it that it puts people off. However, this recipe is using coconut oil and also, not as much as you think, just a couple of tablespoons melted into a wide bottomed pan are enough to aid the cooking and crisp up your coating. The ingredients here cover the gamut of coconut products lurking in my kitchen, as well as the coconut milk and coconut oil, we have coconut flour to dredge and desiccated coconut to bread the chicken. It's fragrant and wonderful but do bear in mind that the coconut crisp is a bit more delicate than if you made it with plain old flour and breadcrumbs so be gentle when removing it from the pan.
Oh, and Puppy joined Doggy Day Care this week and so I couldn't resist including this photo of the little tyke having the time of his life in the open fields of Hertfordshire.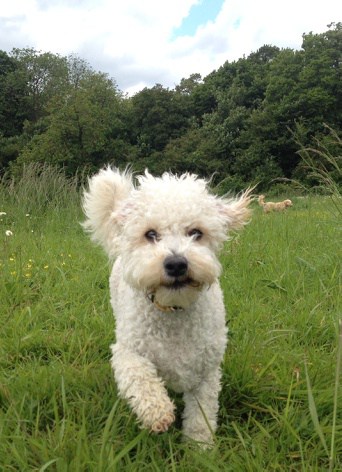 Coconut Crisp Chicken
Serves 2
2 chicken breasts
½ tin coconut milk (200ml)
1 tsp salt
1 tsp hot paprika
½ tsp smoked garlic powder
30g coconut oil
50g Coconut flour
1 egg, lightly beaten
50g desiccated coconut
In a large bowl whisk together the coconut milk, salt, paprika and garlic powder until combined.
Take your chicken breasts and with a meat mallet pummel them until they have flattened down to a 1.5cm even thickness.
Dunk the chicken into the coconut milk mixture and mix in to coat thoroughly. Place cling film on the top of the bowl and leave to marinate for at least 1 hour but overnight if possible.
Place the flour, egg and desiccated coconut in 3 separate bowls.
Bring the chicken out of the marinade, shaking off the excess. Dip the chicken first in the flour, coating on all sides, then the egg, and then the dessicated coconut, making sure it's evenly coated.
In a large frying pan heat the coconut oil, then when hot add the chicken. Cook for 3-4 minutes on each side. Remove from the pan and serve immediately.