This recipe is a culmination of all the lovely things I have been cooking and obsessing over these past few weeks and as they are all brought together in one dish it seems fitting that it is just in time for the Easter weekend as it will make a lovely alternative to the standard British roast, if you can tear yourself away from tradition.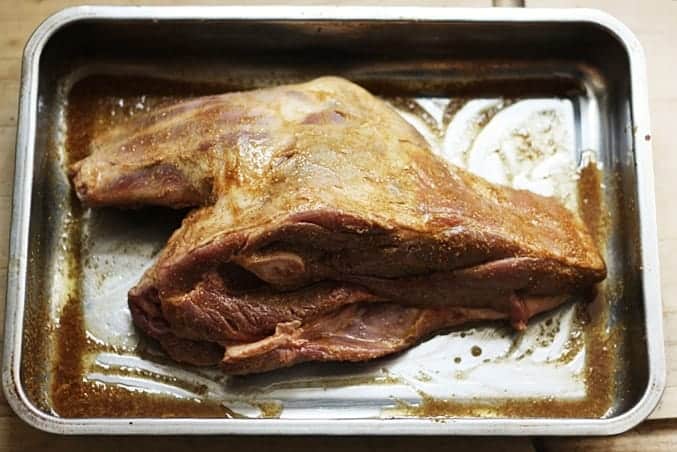 I have written before about how when I roast a joint or a bird I make sure I buy a beast large enough to fill twice the number of the original meal.  This is to ensure I achieve bountiful leftovers as there is nothing more rewarding the next day than throwing together a luxurious meal upcycled from yesterdays roast.  This lamb dish can go either way, it would work very well as one of those Easter Monday 30 minute meals or can equally hold its own as the very reason for roasting the joint in the first place.
Aside from the lamb itself there are three other components which I am just loving in my kitchen at the moment, the nutty crunch of almonds and pine nuts which I have toasted in abundance these past few weeks and have a nifty little jar now in my cupboard any time I need to pep up a salad or a side of rice.  I have also been caramelising onions like there is no tomorrow.  It is so worthwhile setting up a large saucepan and if your weeping eyes can handle it frying off a large amount of onions at a time, then sit them in the fridge as a little pick me up for any salad you might be preparing or as a quick go-to base for the evening's dinner.
Finally I reach the cornerstone of my recent diet which is this green tahini dressing.  I have been making it every day and eating it with everything.  Tahini by itself I do think is an acquired taste.  First you must fall in love with houmous which I think most of us have down pat by now, then if you strip out the chickpeas you are left with this core element.  Tahini is no longer defined by its houmous heritage as we are now learning from middle eastern cooking the delights of this ingredient on its own.  However, since tahini is the richer element of the houmous it needs definite lightening up so the addition of lots of fresh herbs and lemon juice lifts the sauce into a bold creamy dressing.
This makes a lovely salad on its own but is also an absolute feast if served with cumin roasted potatoes or buttered rice.
Slow Roasted Lamb with toasted almonds, pine nuts and a green tahini dressing
1.5kg lamb shoulder on the bone (for spice paste see below)
50g flaked almonds
50g pine nuts
1 tbsp olive oil
2 onions, sliced thinly
2 red peppers, deseeded and sliced thinly
fresh dill, mint and coriander to scatter
Lamb spice paste
½ tsp ground ginger
¼ tsp cinnamon
1 tsp ground coriander
½ tsp ground cumin
¼ tsp garlic powder
¼ tsp cayenne pepper
juice of ½ lemon
60ml olive oil
Green tahini dressing
3 tbsp light tahini
juice of 1 lemon
3 tbsp water
15g dill
28g coriander including stalks
10g mint leaves
Pre-heat oven as high it will go.
Mix together all the spice paste for the lamb.
Slash into the lamb shoulder several times with a sharp knife. Slather the spice paste all over the lamb, massaging into all the slashes you created.
Place the lamb on a roasting tray and cover with foil. Put the lamb in the oven, immediately turning the oven down to 170°C. Roast for 4 hours. Then remove from the oven and rest for 15 mins
Half an hour before you remove the lamb from the oven put the almonds and pine nuts in a medium saucepan on a low heat and toast gently until they are just about to turn colour. Transfer to a small bowl and set aside.
In the same saucepan heat the olive oil then add the onions and some seasoning. Cook gently on a very low heat for 20 mins until completely softened but not yet caramelised, then add the red peppers, stirring in. Cook for a further 10 mins until the peppers have softened and the onions have caramelised. Set aside.
To make the tahini dressing just whizz everything up in a food processor with seasoning until smooth.
After the lamb has rested, pull the meat off the bone. Mix with the onions and peppers, a slug of olive oil and a squeeze of lemon. Scatter the almonds, pine nuts and a few fresh herbs over the top.
Serve with the tahini dressing.