Steamed Chocolate Sponge Pudding with Chocolate Custard is the ultimate in pudding decadence. Warm and sticky gluten-free chocolate pudding steamed on the stove top then served with lashings of rich chocolate custard.
This Steamed Chocolate Sponge Pudding with Chocolate Custard takes me right back to childhood. I have been craving it for weeks but my irritating lack of time lately has meant the recipe has just sat taunting me on my laptop every time I switch it on. It was a pudding which was on constant rotation during school dinners at my primary school and I have been longing to recreate it in my own kitchen. I went to a small country primary school of only a hundred children. The school itself was just one small building with no separate dining room. We would all be seated on large tables of about 10 children, laid out in the assembly room through to the three classrooms, which were all more or less open plan. The dinner ladies called up each table one by one to line up for our hot lunch served by two cooks who always looked harassed. One tall and stern and the other short and jolly. We stood patiently at the front of the assembly room as they stood behind their trolleys dolloping out food from metals trays and huge mason cash mixing bowls.
First we would line up for our main course and I'm sorry to say I can't remember a single main meal that we had. Probably shepherds pie but after that I'm a bit stumped. I think it's very clear where my allegiances lay even in those early days as the puddings I have no problems recalling. After our main meal had been cleared away each table would be called up again to line up for our pudding. Always hot and always served with custard so thick you could stand a spoon up in it.
There was spotted dick or vicarage pudding (which was pretty much the same as spotted dick) or treacle sponge with vanilla custard, jam roly poly with strawberry custard or the pudding every child revered, chocolate pudding with chocolate custard.
Chocolate custard isn't something which you come across much these days. Pubs might serve a crumble with a bit of weak vanilla sauce if you're lucky, the likes of which would be laughed out the door at Chilton Foliat Primary School. Proper nursery custard that has body and a life of its own outside its sponge or crumble accompaniment is little seen. Let alone the rarity of a strawberry or chocolate custard. And forget Bird's custard (which I don't have an issue with as such) but homemade custard with double cream, eggs and sugar is a five minute job and in another world of its own. Add a bit of cocoa powder to proceedings and chocolate custard will suddenly become the most important food discovery to emerge from your kitchen since toast.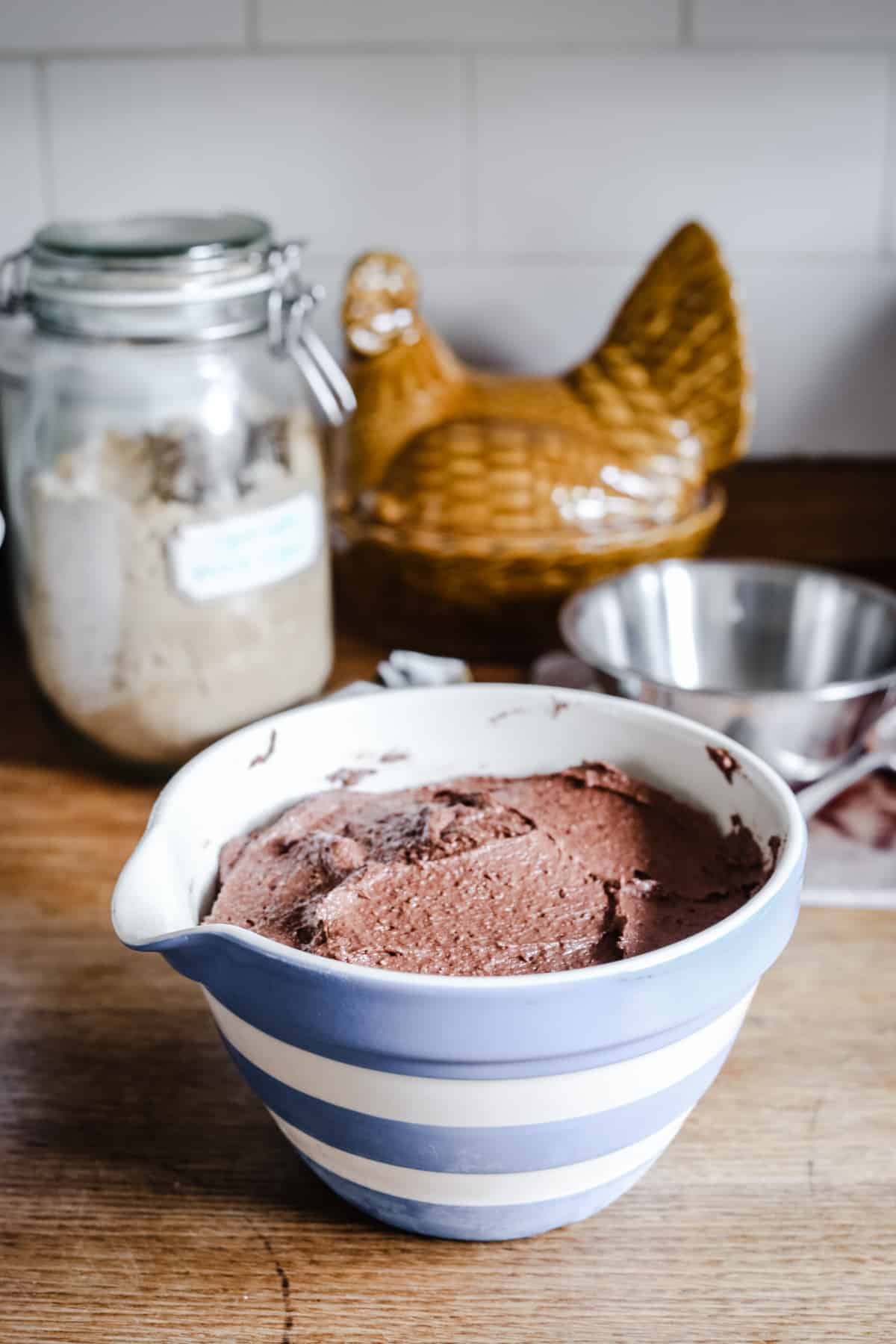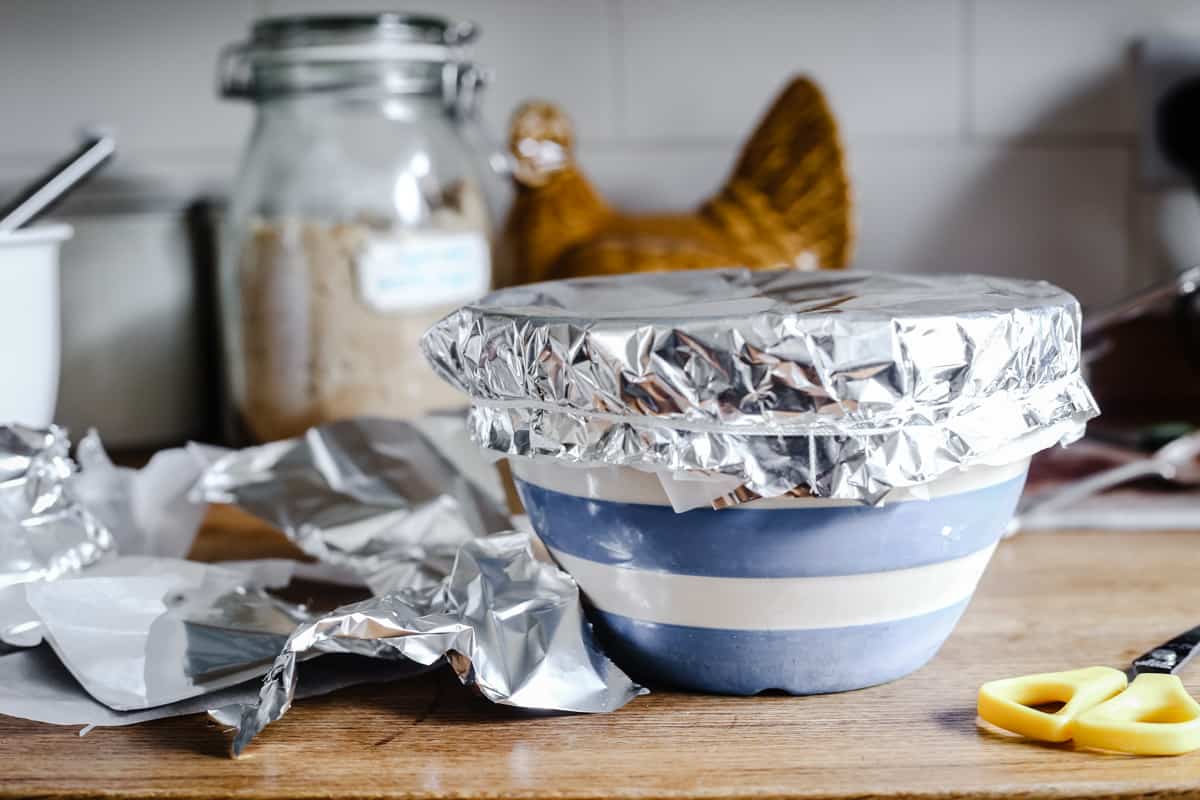 This Chocolate Sponge Pudding is old school as well. Steamed in a pudding basin, the old fashioned way. Steamed puddings are few and far between these days but this Chocolate Pudding will encourage you to rediscover them. It is so quick to pull together, perhaps a little bit faffy to sort out the lid of the pudding basin and make sure you have a big stockpot large enough to fit it in, but really only five more minutes of prep time. It does steam for 1½ hours so a little longer than a sponge you might bang in the oven but really there is no bother and technically no baking involved so a great pudding if your oven is on the blink.
That's not even to mention the sheer indulgence of the Chocolate Pudding itself. Sticky on the top from the rich ganache you cleverly nestled into the bottom of the basin which then soaked alluringly into the sponge during steaming. The pudding is moist and almost gooey in the centre and is the part you really want to get your spoon stuck into as you are serving it up. It's an ideal pudding in my chocaholic frame of mind and utterly lives up to all of my cravings. Steamed Chocolate Pudding with Chocolate Custard is exactly what weekend puds are all about.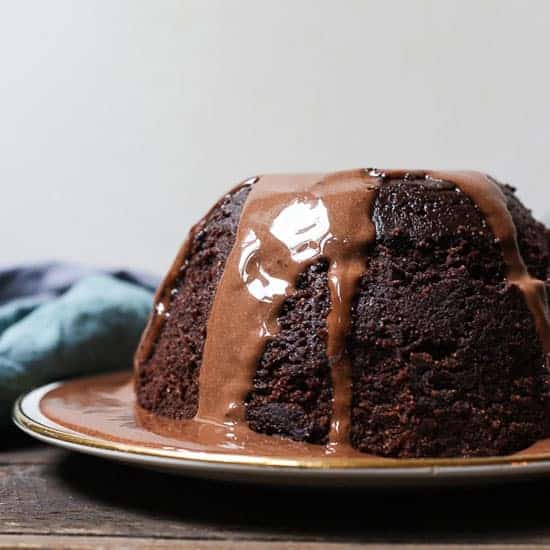 100

g

70% dark chocolate

100

g

double cream

2

teaspoons

golden syrup

200

g

unsalted butter

200

g

soft light brown sugar

4

eggs

1

teaspoon

vanilla extract

80

g

almond flour

70

g

sweet rice flour

50

g

oat flour

60

g

cocoa powder

2

teaspoons

baking powder

1

teaspoon

salt
300

ml

double cream

100

ml

whole milk

4

egg yolks

75

g

soft light brown sugar

20

g

cocoa powder
100

g

70% dark chocolate

100

g

double cream

2

teaspoons

golden syrup

200

g

unsalted butter

200

g

soft light brown sugar

4

eggs

1

teaspoon

vanilla extract

80

g

almond flour

70

g

sweet rice flour

50

g

oat flour

60

g

cocoa powder

2

teaspoons

baking powder

1

teaspoon

salt

300

ml

double cream

100

ml

whole milk

4

egg yolks

75

g

soft light brown sugar

20

g

cocoa powder
Prepare a 1.1lt pudding basin by placing a small circle of greaseproof paper into the bottom of the basin and greasing well.

Melt the chocolate in a bain marie or a bowl over a simmering saucepan of water.

Once melted stir in the double cream and golden syrup and pour into the bottom of the pudding basin. Set aside whilst you prepare the sponge.

Cream the butter and sugar together until light and fluffy.

Add the eggs one at a time and then the vanilla extract.

Sift together the flours, cocoa powder, baking powder and salt then beat into the rest of the sponge mixture.

Pour the sponge mixture into the pudding basin on top of the chocolate cream and smooth the top.

Cut a large circle of greaseproof paper and tin foil to fit over the top of the basin with a very generous overlap. Lay the tin foil on top of the greaseproof paper then make a pleat in the centre of the two.

Place the greaseproof paper/foil lid over the top of the basin, greaseproof paper down, and use string to secure the lid, tying the string just underneath the lip of the basin. Cut away the excess paper just underneath the string.

Place a metal trivet or a folded up tea towel in the bottom of a large stockpot or saucepan and then place the pudding basin on top so that it doesn't touch the bottom of the pot.

Fill the pot halfway up the sides of the pudding basin with boiling water then place the lid on the pot. Bring the water up to boil then turn down to simmer for 1½ hours. Check the water level every so often to make sure it doesn't boil dry.

Once ready, remove the pudding basin carefully from the stockpot, remove the paper/foil lid and turn upside down onto a serving plate. Serve warm with plenty of custard.
To make the custard, first whisk together the egg yolks, sugar, cocoa powder and a drop of the cream to make a thick paste.

Heat the cream up in a medium sized saucepan until just below boiling point then pour a small amount into the cocoa paste and whisk it in. Pour a little more hot cream in and then a little more, whisking all the while until all the cream has been added and the custard is smooth.

Pour back into the saucepan and heat up until just boiling, whisking all the time.

Remove from the heat and serve liberally over the chocolate pudding. I served mine with a little extra double cream poured over as well just to be audacious.
SHOP THE RECIPE
I love my Cornishware Blue and White Stripe Pudding Basin 1.1L 40oz
which I use for all my steamed puddings, it's so beautiful and sturdy and is about to really come into its own as I make my Christmas Pudding in the next couple of weeks.
It's not easy to buy certified gluten-free sweet rice flour in the UK, for some reason Bob's Red Mill is astronomically expensive. However I have finally found a brand which is 100% certified gluten-free and it's fantastic. The brand is yourhealthstore Premium Gluten Free Sweet Rice Flour (glutinous) 1kg
Oat flour can be picked up at most health food shops and if I run out that's where I head to. However, like all alternative flours it can be expensive so I find the most economical way is to buy it online. I go through bags of the stuff as it's the flour I use most regularly so I like to buy in bulk. My favourite brand is Bob's Red Mill Gluten Free Whole Grain Oat Flour 400 g (Pack of 4)
at a reasonable price. Even better if you go the subscribe and save option.
The almond flour I really love RealFoodSource Certified Organic Extra Fine High Protein Almond Flour (1KG)
. It is ground extra finely so produces very fluffy results.
This post is not sponsored but 
the images above are affiliate links which means if you decide you want to use these link to make your purchases then Amazon gives me a small commission at no cost to you whatsoever. I will only recommend products I use in my kitchen and love. To learn more about how the data processing works when using these Amazon affiliate links then please visit my privacy policy page.
IF YOU LIKE THIS RECIPE THEN YOU MAY LIKE…