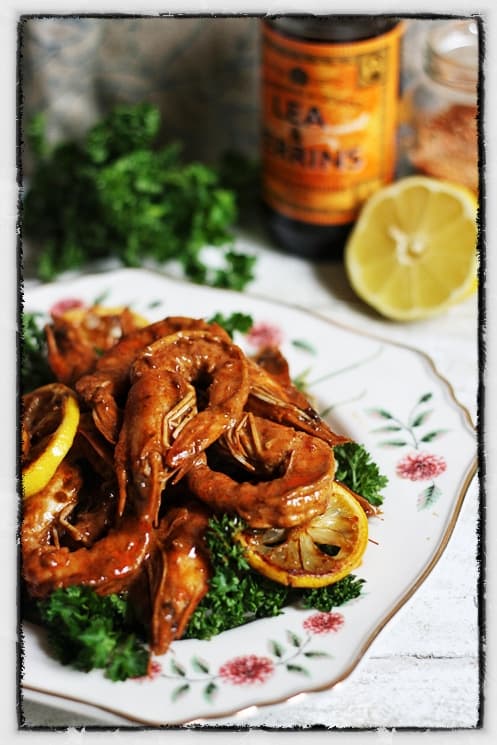 I had some trouble deciding whether to title this recipe as a shrimp or prawn dish. In Britain we think of shrimp as tiny and brown and often potted. In the USA shrimp basically means any kind of prawn. So because this is an American heritage recipe I will title the dish as shrimp but refer throughout my waffle to prawns so that will be nice and confusing for all involved.
It is food like this that we wanted to discover when we travelled to New Orleans last year and this particular dish was definitely one of the best food experiences in our entire trip to the Southern states. During our time in NOLA we stayed at a lovely guesthouse called The New Orleans Jazz Quarters. They have an excellent chef and we were treated to the most amazing breakfasts every morning. When we sought their good opinion for the best food to try during our trip, number one on their list was the barbecued shrimp at Mr B's. This barbecued shrimp was bigged up big style, although, unlike the name suggests, there isn't actually any barbecuing involved. Instead jumbo prawns are tossed in creole seasoning and then sautéed in peppery Worcestershire sauce and oodles of butter. Although a few places serve this dish in New Orleans we were promised that Mr B's was the one to beat so naturally we made a reservation straight away.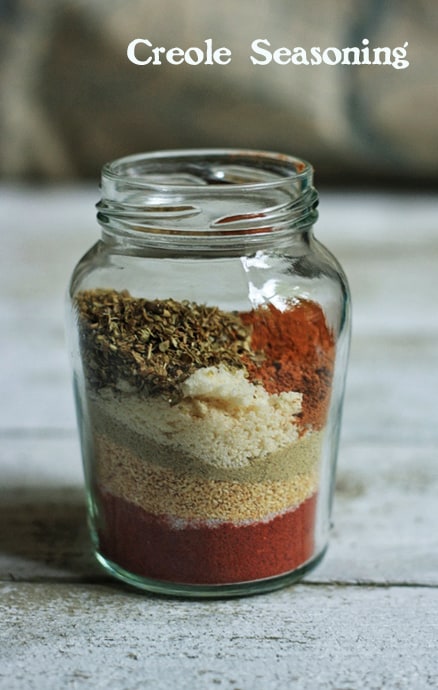 Mr B's is a lovely well-heeled restaurant in the French Quarter bursting with black tie waiters and a clientele dressed in their Saturday evening finery. So when plastic bibs were tucked quickly into our clothing as soon as our gleaming prawns were reverently placed before us it all seemed a bit incongruous, and we looked like the naughty children at a grown ups party. It soon made perfect sense though as in no time we made the kind of mess children make in high chairs as we were snapping off prawn heads, sploshing around in the spicy buttery sauce and dunking our bread in the excess. It was nice not to get it all over my pretty dress.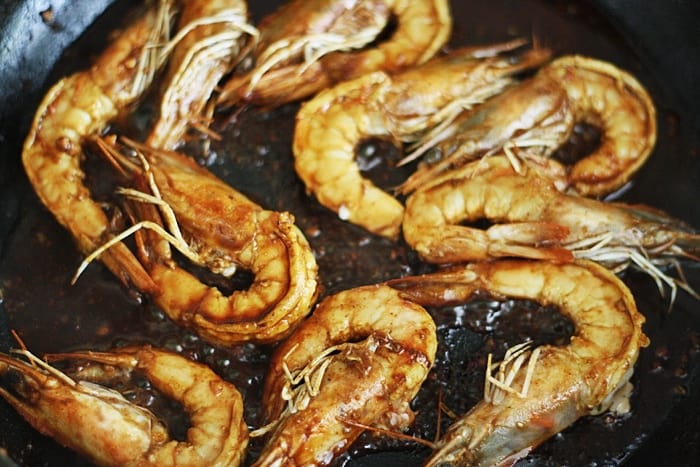 Since we came back from New Orleans, which was about nine months ago now, my husband has been needling me to recreate this prawn extravaganza in our own kitchen. I was obviously being a bit slack at getting round to it as at Christmas he encouraged me further by including a New Orleans cookbook in my stocking and we haven't been able to go past a fishmongers since then without him wondering out loud if they might have any tiger prawns in. To be honest I don't know what was holding me back, as it's such a quick dish to cook. The only real time consuming job is preparing the prawns. Ah, now I remember what was holding me back. I am embarrassed to admit that I am a little squeamish when it comes to fish and seafood. I think it might hark back to the childhood horrors of having to watch my mother gut the neverending stream of trouts that my grandfather used to bring back from his fishing trips. It's very odd as I have no problem with butchery but there are certain jobs which are just not my favourites and any sort of messing around with raw fish is one of them.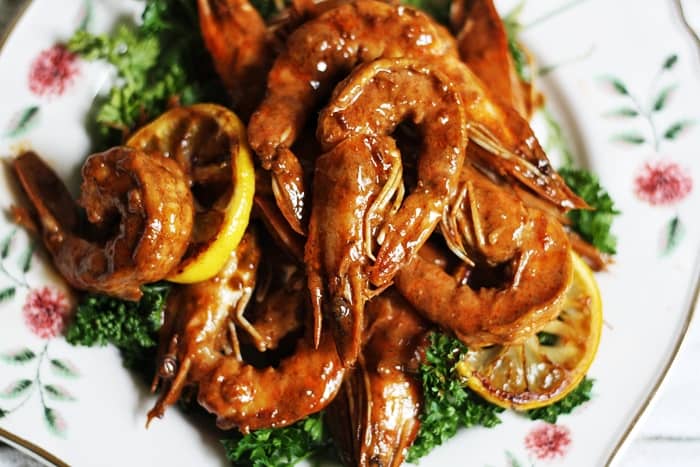 Nevertheless, if you don't mind staring at their beady little eyes then the job is simple enough. The first thing to do is to remove the intestinal tract, the grotty thin sack which runs the length of it's back. It's very easy to do so, just take a pair of very sharp kitchen scissors, insert at the tail where the shell begins and snip all along the back of the shell until you reach the head. Dip your fingers into the opening carefully and you will find the long stringy tract, it's easy to spot as it will be filled with black gubbins. Once you take hold of the end of it you will be able to pull the whole thing out without a problem. Then discard. I decided to serve the prawns with the head and tail intact but the shell of the body removed. This means that the sauce can coat the prawn flesh thoroughly and the head and tail help lend a bit more prawny flavour when you are making the sauce. But really it just looks a little more fancy and you don't have to get down and dirty with your prawn when you eat it since all the finicky bit has been removed. Use your scissors again to snip away the shell or just pull it away, along with the legs, as long as you are careful not to damage the head or tail.
I fiddled a bit with the amount of butter I was due to use in this recipe as something in me couldn't quite bring myself to add all the butter that was intended. Mr B's do not use the double cream at the end of their sauce but instead put in about another kilo of butter. I find that by reducing the butter and adding cream instead the sauce comes together quicker and lessens cholesterol worries by a tiny fraction, because let's face it the ingredients of this sauce are not for the faint of heart. This supper was very well received by my household and although I've staved off the pestering for a week or two I know it won't be long before I'm ushered back into the fishmongers to see if they have any tiger prawns in.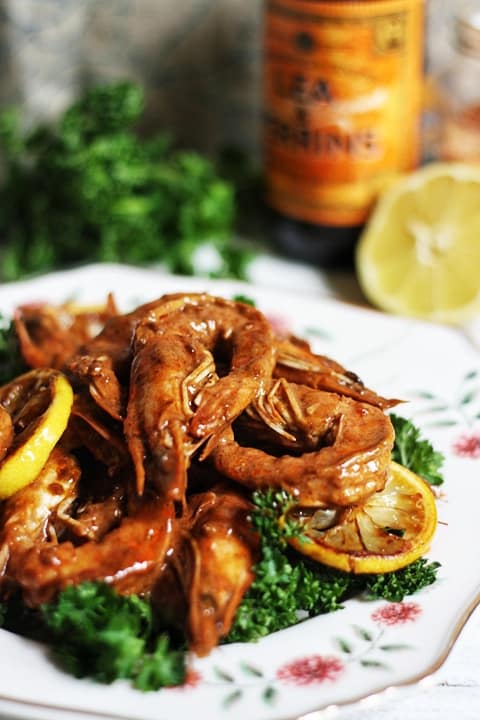 New Orleans' Barbecued Shrimp
Inspired by Mr B's Barbequed Shrimp
Serves 2
20 tiger prawns
120ml Worcestershire sauce
3 tbsp lemon juice
2 tsp ground white pepper
⅛ tsp cracked black pepper
2 tsp creole seasoning (see below)
2 garlic cloves, crushed
Good pinch of salt (feel free to use bacon salt like me)
150g unsalted butter, cubed
3 tbsp double cream
Prepare the prawns as described above by snipping along the back of the shell and remove the intestinal tract. Remove the body of the shell and also snip off the long dangly tentacles as they are just messy. Set aside.
Whisk together the Worcestershire sauce, lemon juice, peppers, creole seasoning, garlic and salt. Then pour into a large saucepan and heat over a medium heat.
When just about to boil, add the prawns and cook until just pink. Remove the prawns with a slotted spoon and set aside.
Turn the sauce down which should be reduced and syrupy and add the butter, once cube at a time whisking all the while.
Once the butter has been completely emulsified into the sauce add the cream and check for seasoning.
Once the cream has been incorporated, add the prawns back in for a minute or so until it's all nice and hot.
Serve immediately with hunks of crusty bread and eat greedily with your hands.
Creole Seasoning
Adapted from Emeril Lagasse's recipe on the Food Network
2½ tbsp. sweet paprika
1 tbsp salt
2 tbsp garlic powder
1 tbsp ground black pepper
1 tbsp onion salt
1 tbsp cayenne pepper
1 tbsp oregano
Add all the ingredients into a clean jar and shake around. That's it.