If you're looking for an energising delicious breakfast shake which is gluten-free, sugar-free and vegan then this Matcha Protein Breakfast Shake has your name all over it. Guaranteed to motivate you and your body.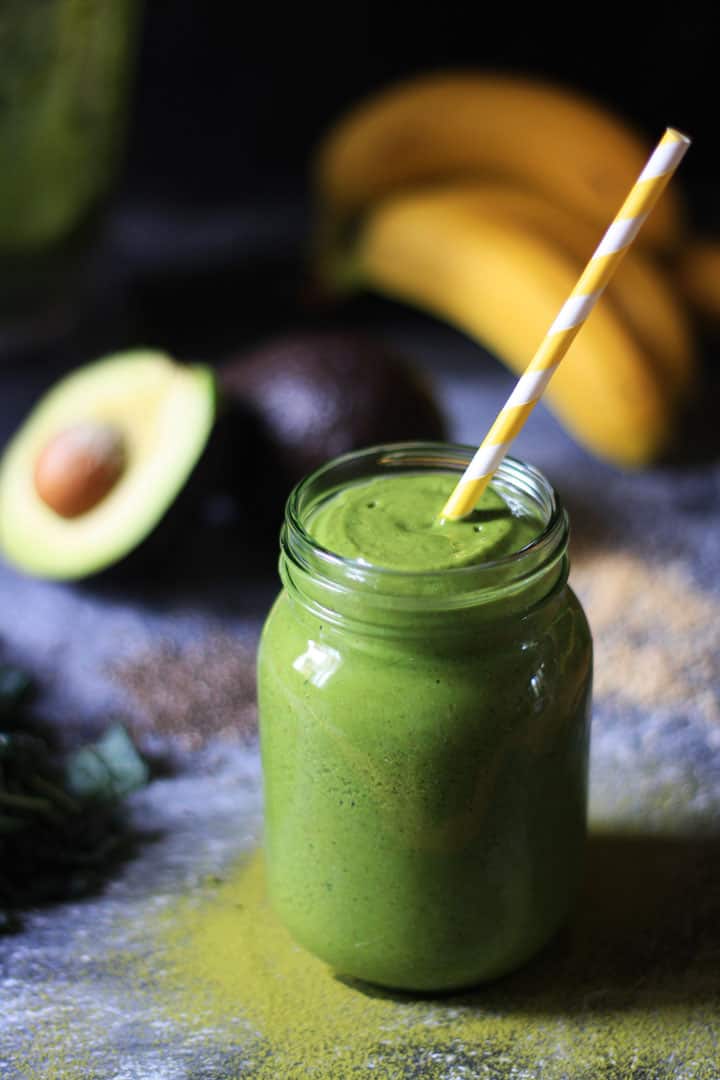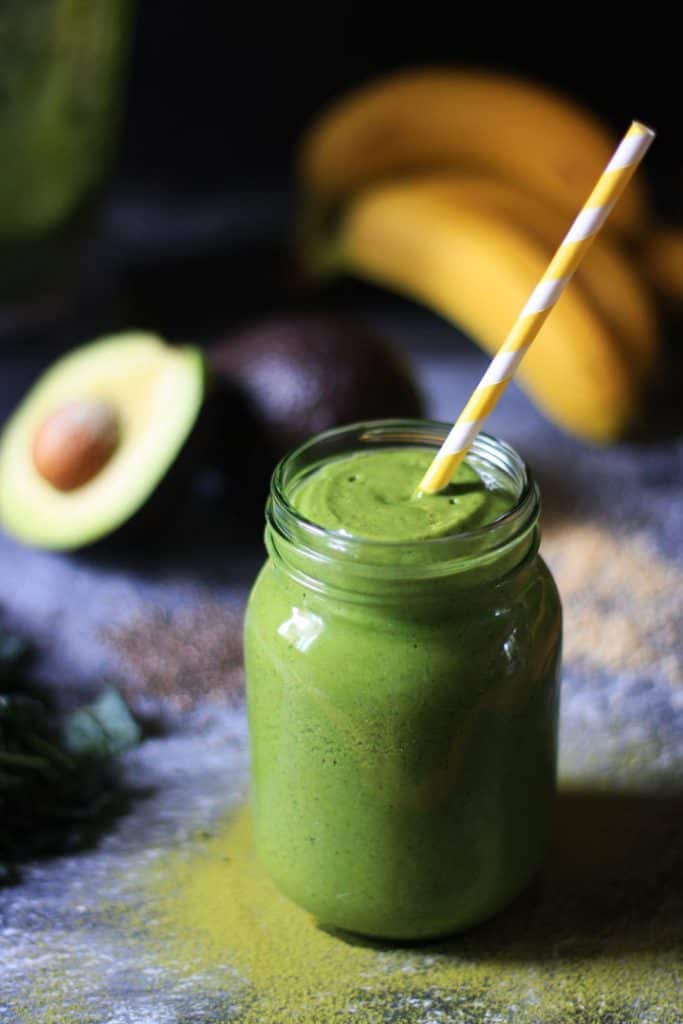 I like to think of myself as a pretty easy eater. 'I will pretty much eat anything' I will self-righteously declare to all and sundry. But if you dare to serve me breakfast then you'll generally find I throw a sudden and unpleasant temper tantrum.
You see in my opinion breakfast is the worst. An amalgamation of all my least favourite things to eat; some because I am intolerant – gluten, oats and to a lesser extent dairy and some because I outright think they are heinous devil foods – eggs, mushrooms and baked beans.
So I have this horrid dichotomy of always waking up starving but delaying my body food until a more palatable meal comes my way, say lunch (although I am not averse to having lunch or even dinner for breakfast if I am feeling especially wanton).
The Ultimate Fast Food
Then, as the adverts say, I discovered protein shakes. Not smoothies, with endless helpings of fruit which dive me headlong into a sugar crash before 9am, but a less sweet and more nutrient packed shake.
These take mere moments to prepare, just slam everything into the blender and whizz up, which I then consume whilst feeding Cole, clearing up his breakfast and getting him dressed. They are the ultimate fast food and don't contain any ingredients that make my body want to heave – which can only be a good thing.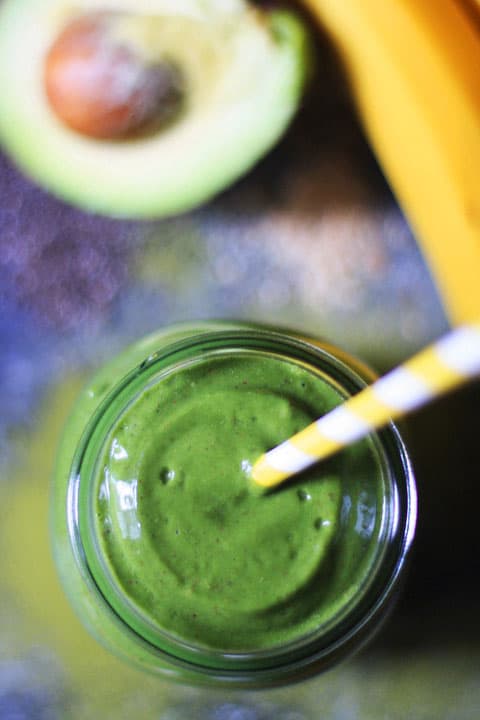 What ingredients to put in a protein shake
There are so many delicious and healthful choices to include in a protein shake. I prefer to keep mine dairy-free but there are several substitutions you can make here.
Avocado – makes the shake deliciously creamy
Banana – gives the shake sweetness and thickness
Almond butter – excellent source of protein (you can sub with cashew butter)
Kale – for our vitamins and iron
Chia seeds – more delicious protein
Flaxseed – and even more protein
Hemp powder – plant based protein powder
Matcha – for flavour and calming properties
Coconut water – thinning down our thick shake with flavour (you can use tap water)
The result is creamy, refreshing and satisfying. The perfect start to the day.
Matcha
The star ingredient in this breakfast shake though is the matcha green tea powder which I have been experimenting with as an ingredient, mainly in my baking, for a while now. It has such a unique grassy flavour that becomes quite addictive.
How much Matcha to use
Various brands of matcha have different strengths so if you are unsure how the strength of your matcha holds up to other brands then being by using only 1 teaspoon. Give the shake a try and if it seems a bit light on the delicate earthy grassy notes matcha is renowned for then add another.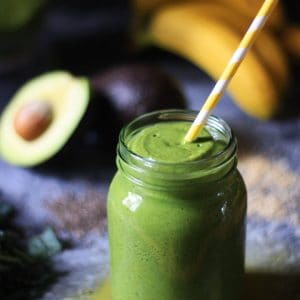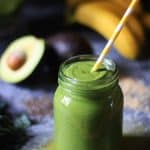 Print Recipe
Matcha Protein Breakfast Shake
An energising delicious breakfast shake which is gluten-free, sugar-free and vegan. Guaranteed to motivate you and your body.
Ingredients
1

banana

½

avocado

25

g

kale

1 large handful, blanched

1

tablespoon

almond butter

1

tablespoon

chia seeds

2

teaspoons

ground flaxseed

3

teaspoons

hemp protein powder

1

teaspoon

matcha green tea powder

250

ml

coconut water

3

ice cubes
Instructions
Bung it all in the blender, blitz until smooth and away you go!
Notes
The recipe specifies to blanch the kale which makes it easier to digest. However, if you don't have the time then you can add it in de-stemmed and raw.
You can swap the almond butter for cashew butter or peanut butter to mix up your morning flavours.
I use a very high quality grade matcha tea which is a clear bright green colour. The brighter the green the better the tea quality.
The finished shake is quite thick. You can thin it down by using more ice cubes and coconut water. If you go down this route then the shake would probably serve 2 people.
Nutrition
Calories:
542
kcal
|
Carbohydrates:
58
g
|
Protein:
17
g
|
Fat:
31
g
|
Saturated Fat:
4
g
|
Sodium:
287
mg
|
Potassium:
1826
mg
|
Fiber:
21
g
|
Sugar:
23
g
|
Vitamin A:
2920
IU
|
Vitamin C:
56.3
mg
|
Calcium:
251
mg
|
Iron:
4.9
mg