Since the New Year I have been laid low by a horrible bug.  Sickness is no fun when you enjoy guzzling yourself silly three or more times a day, especially when you are used to food being the comforter and not the antagonist.
A recipe was called for to nurse myself back to health and there was no other ingredient to turn to than ginger.  Although scientific research is on the fence over the actually proven combative results of ginger, I am a sworn believer that a few matchsticks of fresh ginger can settle the stomach and promote general well being in the face of any adversity, especially poorliness.
The refreshing zing required a soothing background of tender lemon chicken and rice.  The vegetables needed to be cut small so they practically melted into the rice and the patient doesn't pick out their nutrients.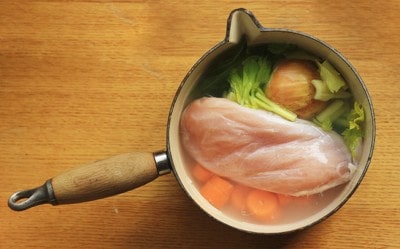 The chicken breast poached in stock and a dash of lemon juice adds a light protein to the dish, perfect for rebuilding energy.  I have specified below that using bouillon in this instance is fine but typically I didn't have any so I poached my chicken with some ends of veg and herbs to impart a bit of flavour.  A stock on the go if you will.
Lemon Poached Chicken with Gingery Rice
Serves 2
1 chicken breast
Stock for poaching, bouillon is fine to use
Juice of ½ lemon
1 bay leaf
2 sprigs of thyme
1 tbsp olive oil
1 small onion, finely diced
½ courgette, finely diced
1 carrot, finely diced
30g root ginger
½ chilli, seeds removed, finely diced
1 garlic clove, finely diced
300g cooked basmati rice
1 tsp sesame salt
Place the chicken breast with the lemon juice, bay leaf and sprig of thyme in a small saucepan and enough hot stock to cover. Bring to a simmer then put the lid on. The chicken should take about 10 mins depending on the size of the chicken breast.
Meanwhile, heat the olive oil with the onions for 5 mins until soft.
Add the courgette and carrot and stir-fry on a medium-high heat.
Peel then grate in almost all the ginger, leaving some to cut into small matchsticks for later.
Add the chilli and garlic and stir for 3-4 mins until the veg is starting to brown.
Add the rice and sesame salt and stir until the rice is piping hot. You might need to add a dash more olive oil if the rice is sticking.
Take off the heat and serve with the poached chicken, lemon slices and the ginger matchsticks.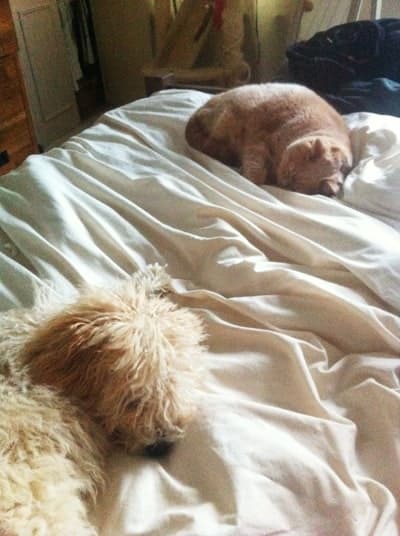 Even though puppy and my little tiger make excellent companions sleeping on my sick bed none of them have yet learnt how to whip up a chicken soup.