These Coconut Lime Energy Balls are the perfect snack when you need a boost. There is no sugar in them at all, refined, fruit or fake but instead loads of plant protein and of course plenty of yumminess.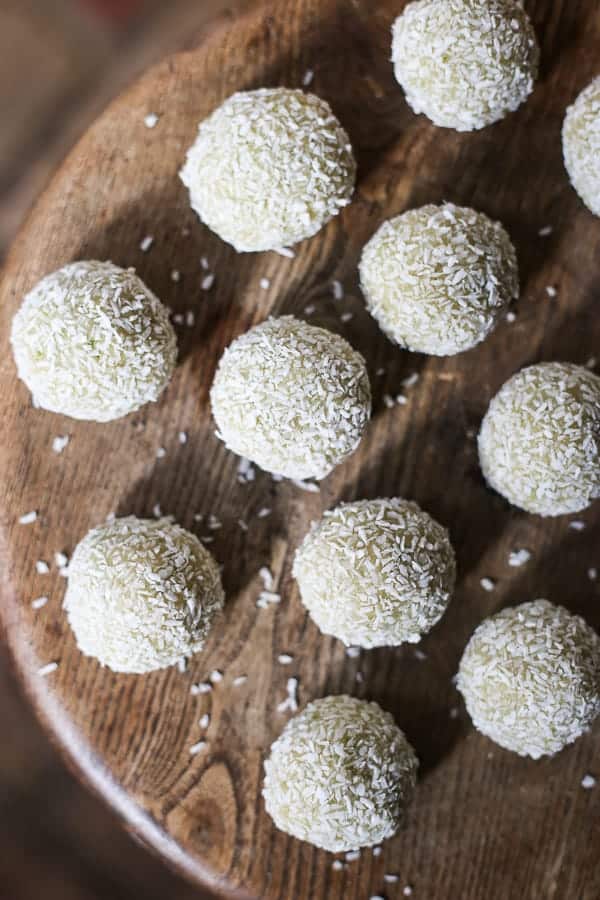 Billy Buddy is on strict bed rest for two months. We've been through this before a couple of years ago when he tore his cruciate ligament on his left leg and it was hard enough then. Looking back though I was being a complete drama queen about it. It couldn't have been a better time to care for a sick dog, I was in the late stages of pregnancy so had all the time in the world to sit on the sofa with my poorly dog, encourage him to eat, drink, go to the loo, take his medication and watch re-runs of Jamie's Fifteen Minute Meals with me.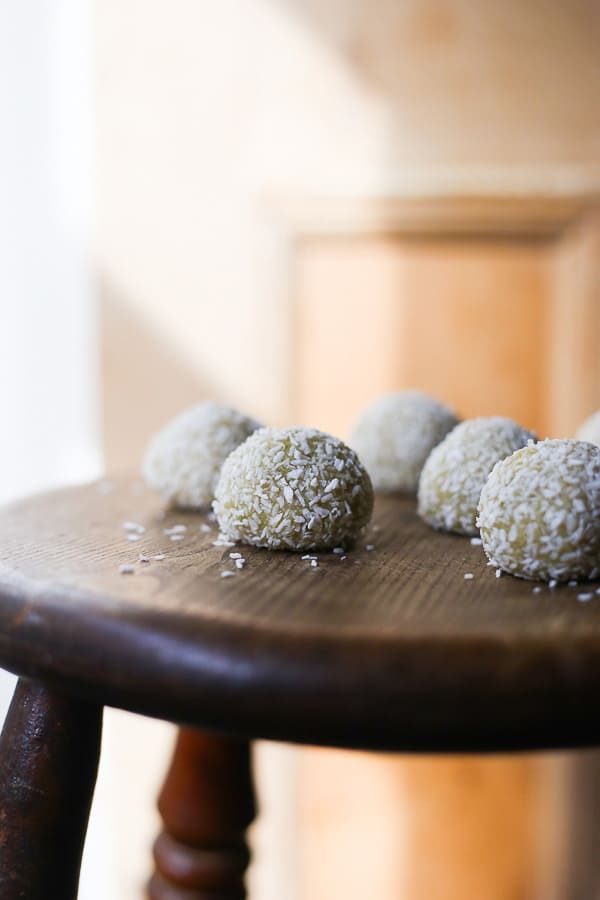 This time round, having torn his right cruciate this time, both Billy Buddy and I don't have the same luxury of leisure. Since I'm keeping a main eye on a danger driven toddler I can't afford to worry about Billy as well so he's been resting in his crate most of the time, which to be honest is where the vet says he should be. Cole doesn't quite appreciate our furry patient's predicament though and keeps trying to shake the crate to smoke his best friend out or stick his little toy wooden bus through the bars for Billy Buddy to play with, dropping it unceremoniously on his head. Yesterday when we were getting our coats and scarfs on for our afternoon walk Cole dutifully fetched Billy's lead and brought it to his crate. All three of us were very sad that the lead was put back. Not all of us threw a heaving tantrum though and had to be pulled out of the house kicking and screaming. Sorry Cole, I'll behave better next time.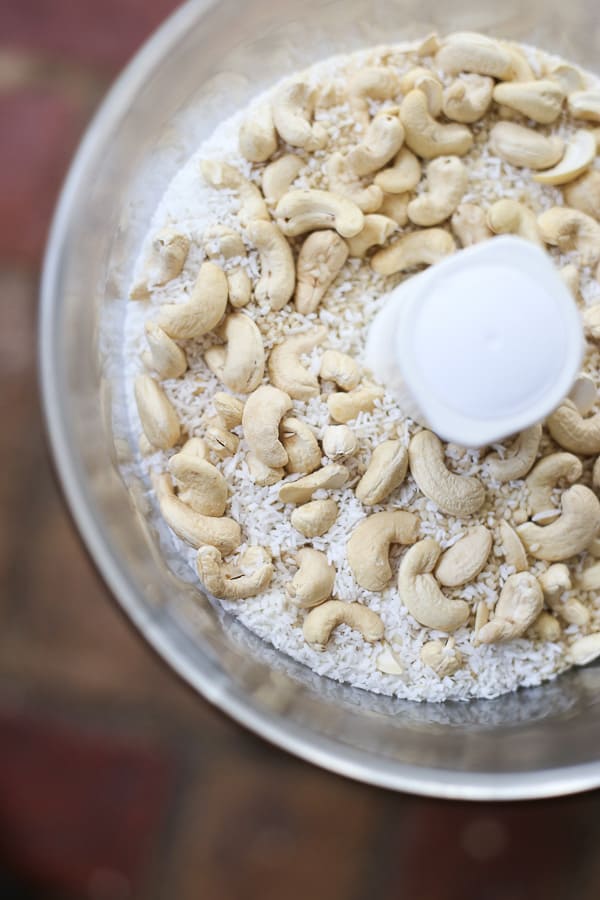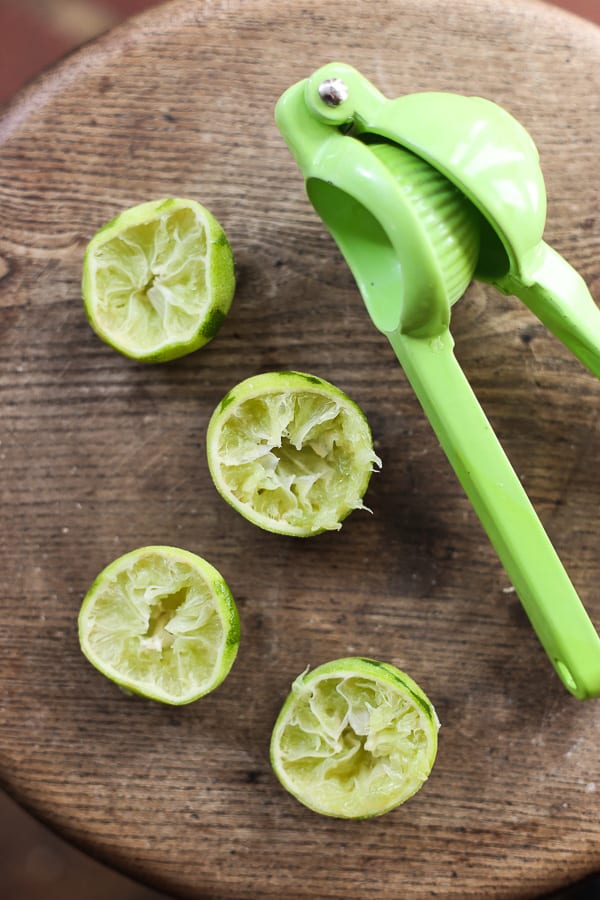 Strict bed rest means Billy Buddy is not allowed to run, jump or be left alone with any type of furniture where this might be an option. Basically he's not allowed to be a dog which is causing a bit of an identity crisis. We tried for years to convince him he wasn't a cat and now we're trying to tell him to be more like his lazy feline housemates who love nothing better to be left alone to snooze all day.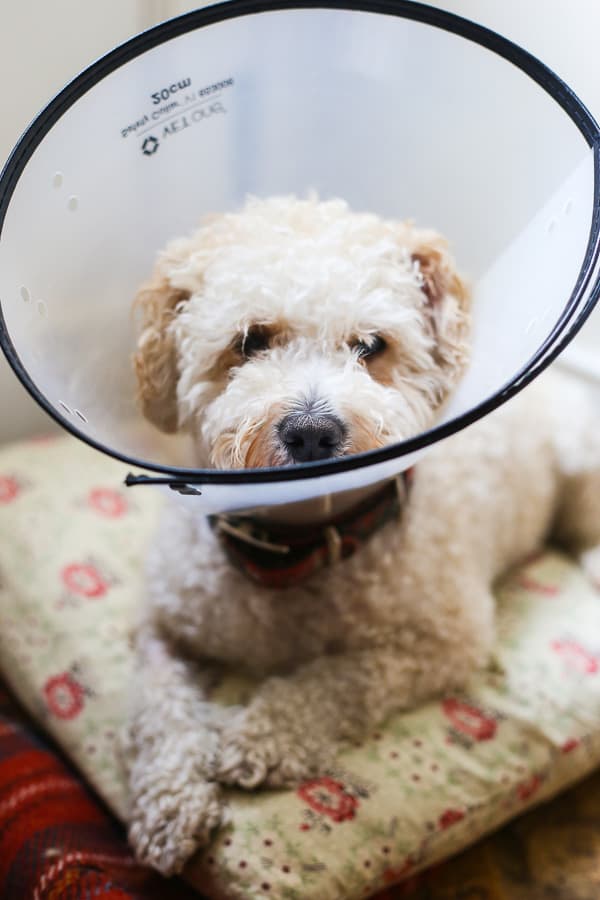 But the real kicker is that Billy has to wear the cone of gloom, when all he really wants to do is itch and scratch the stitches in his leg. Earlier today it took him a good few attempts before he worked out how to pick up one of his toys with this monstrosity around his neck. He proceeded to throw Stick Man up in the air with glee, only to lose his balance, land on his bad leg, have his toy taken away and was then relegated back to his crate. Albeit with a bit of tripe, although only a small bit as since he's not getting any exercise Billy is also not allowed to eat very much. I know, it gets worse. Well, we're one week down, only seven more to go. How many is that in dog weeks?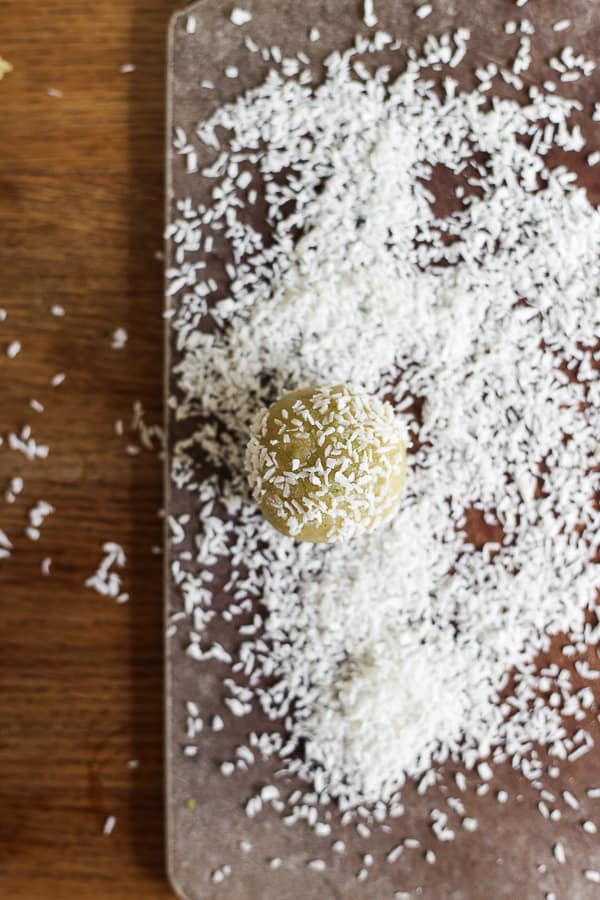 So what with my Florence Nightingale routine, vet appointments, hourly toddler life saving and my cake stall having resumed my meals are not as regular as I keep promising myself they will be. Organised food is such a bother. So I've turned to snacking.
Now, I could quite happily snack on cake all day long. Believe me there is enough hanging around the house all the time since recipe testing is my favourite pasttime. However, I'm struggling with all the sugar crashes, let alone the extra few pounds. So I wanted to create a snack that could be incorporated as part of my Sunday meal prep, would last all week, had loads of protein and no sugar. Not even dates, coconut sugar, honey or brown rice syrup.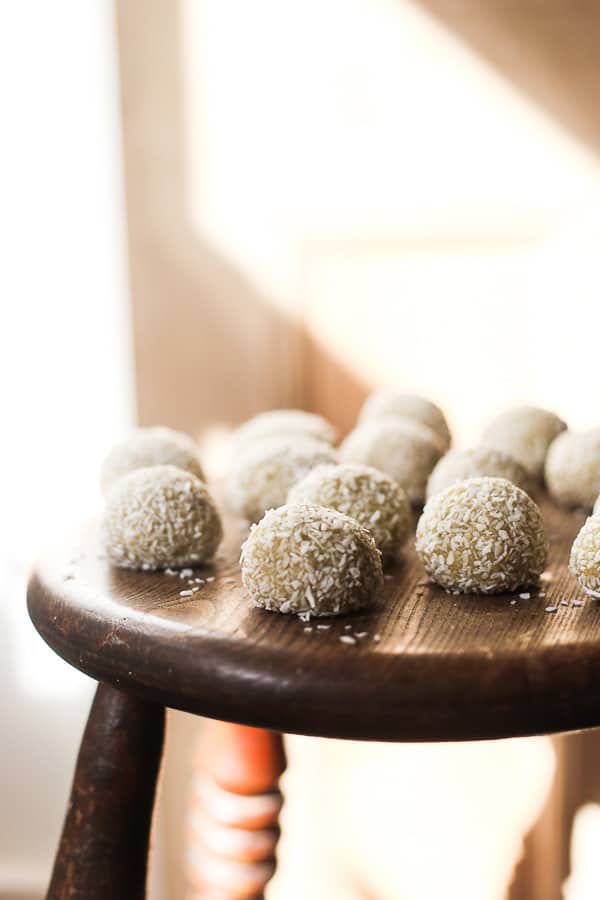 So these Coconut Lime Energy Balls are the end result and they are brilliant. I based them on Bounce Balls, which I love but are nearly £2 per ball. My balls are so much cheaper to make, about 30p per ball if my maths is right, which it never is I am dreadful at sums.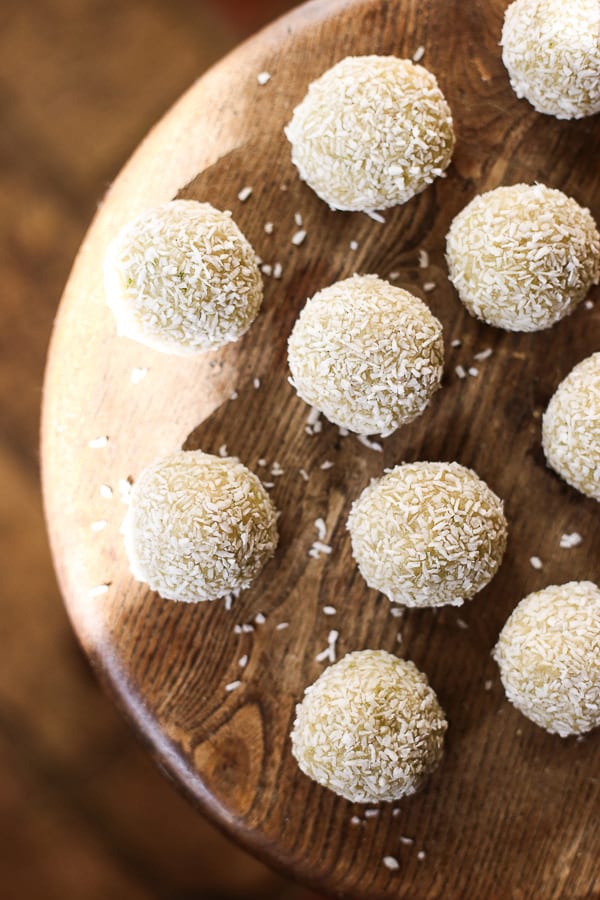 There is sweetness here though, despite the lack of sugar. Coconut is naturally sweet and there is a hint of vanilla here to amp it up a bit. The combination of coconut and lime is ever glorious and the vitality of the citrus saves these balls from being too heavy what with the protein richness of all the cashews and hemp.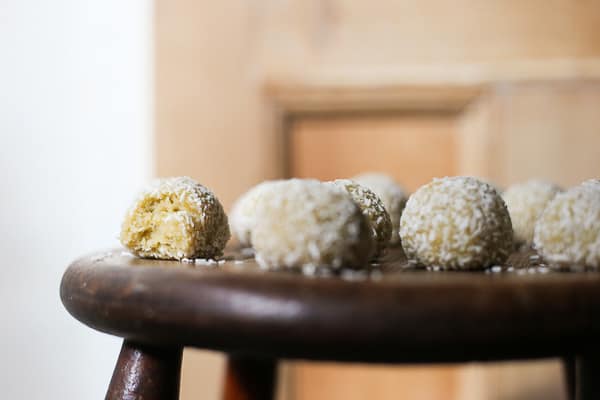 I am really loving these balls and not to brag but they are also vegan, gluten-free and paleo. They are giving me bags of much needed energy and I'm just trying not to eat too many of them in front of Billy who just looks at me balefully through his prison walls longing for treats. Only seven weeks to go my friend. Here, watch me eat another ball.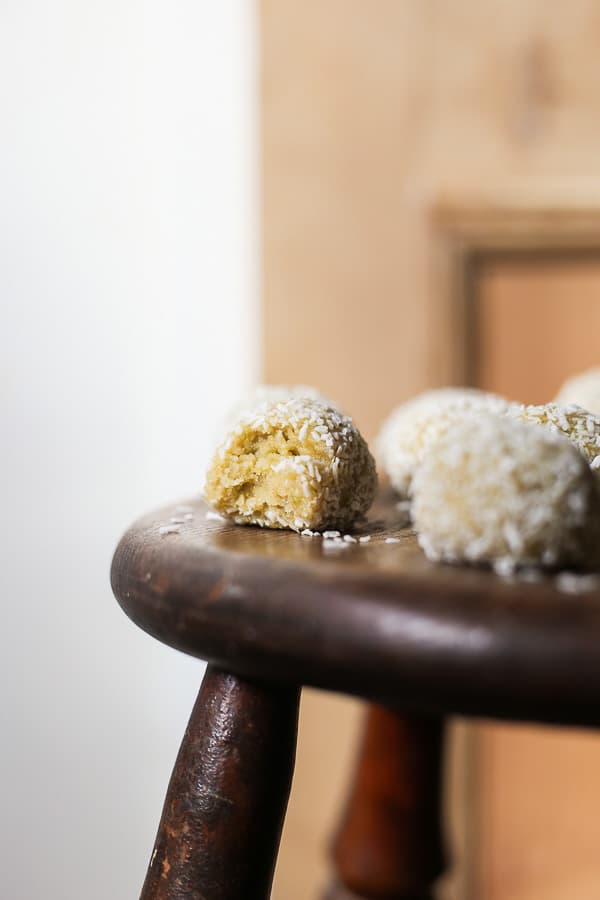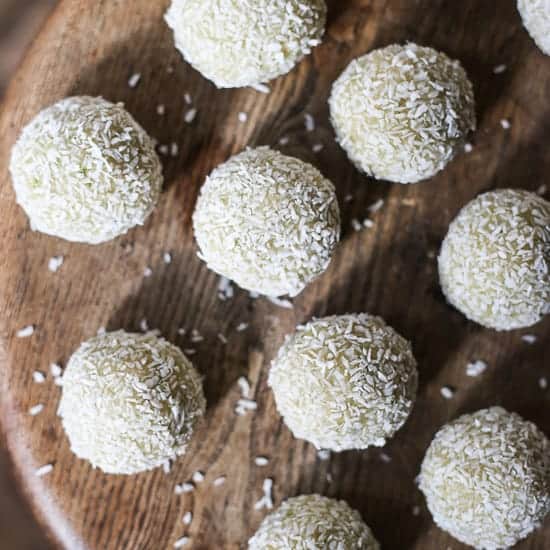 150

g

cashew nuts

150

g

unsweetened desiccated coconut + 50g extra for rolling

50

g

sesame seeds

Juice and zest of 2 limes

2

tablespoons

hemp protein powder

½

teaspoon

vanilla extract

¼

teaspoon

sea salt
150

g

cashew nuts

150

g

unsweetened desiccated coconut + 50g extra for rolling

50

g

sesame seeds

Juice and zest of 2 limes

2

tablespoons

hemp protein powder

½

teaspoon

vanilla extract

¼

teaspoon

sea salt
First scatter the cashew nuts on a baking tray and roast in the oven for 10 minutes at 170°C.

Then place the roasted cashews in a food processor with the desiccated coconut and sesame seeds and blitz for about 10 minutes or until nice and runny.

Pour into a large mixing bowl and stir in the lime zest and juice, the hemp protein powder, vanilla extract and sea salt until the mixture thickens.

Leave to stand for at least ten minutes then roll into 15 x 30g balls, then roll in the extra desiccated coconut to coat.

They can be eaten immediately or stored in the fridge for about a week.

Energy Boosting Snack Ideas – FREE PDF!
If you need more inspiration of energy boosting snacks to get your through your in between meal slumps then you can download my free PDF with 9 more ideas featuring exclusive content and also my favourite energy boosting recipes from the website. To access this amazing PDF you just need to click the link below!!