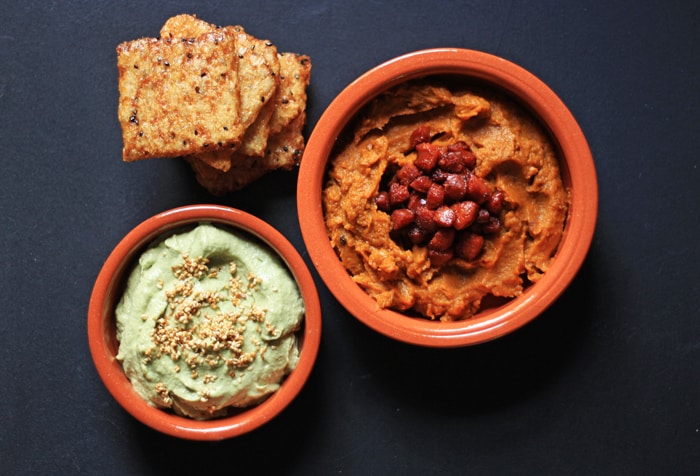 I wonder sometimes if my body is made up of mostly houmous. I eat it by the bucketload and there is usually more than one variety in my fridge just so I have a choice between smooth or course. I count myself very lucky that I live in Haringey where Turkish food is prolific, although that certainly doesn't help my addiction. I read recently in the Guardian that more than 40% of Britons have a pot of houmous in the fridge and it is now seen as a grocery staple. So that makes me feel much better that I am not alone in my affliction.
It was whilst I was stuffing my face with houmous last night that I considered whether there may be an alternative. Dinner parties at home, Christmas morning, late night board games are always accompanied by a pot of houmous and it's not that I'm getting bored of it. Never!!! But perhaps those around me might. So, keeping in mind the bunches of parties coming up, I am challenging myself to have a houmous free existence for the next few months so I have had to come up with some different options. After all, dips are still a necessity, aren't they?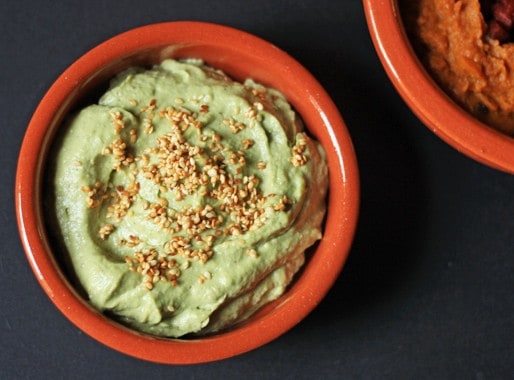 So, at the end of an afternoon filled with chopping, whizzing, spicing and tasting I actually think I have cracked it. These dips are not only much more attractive than the rather dour chickpea beige but they are also sublimely moreish which is exactly what you want when trying to polish off a bag of kettle chips. Although technically one of the recipes isn't mine and belongs to the divine Silvena Rowe and don't worry that one contains tahini, lemon juice and garlic so it's practically houmous anyway.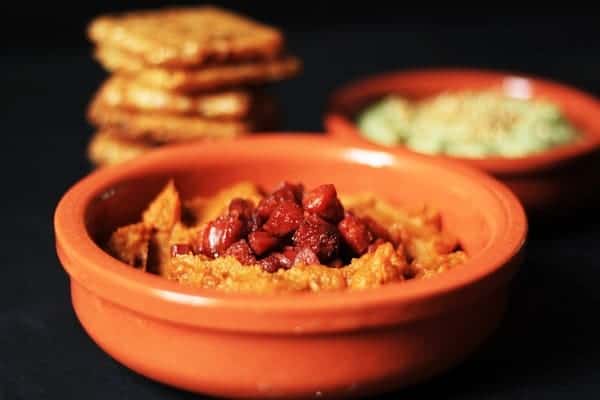 The butternut squash dip is made by roasting the lovely orange flesh with lots of spice which makes it deliciously rich. The chorizo is by no means essential, you can quite happily make a veggie version and you won't be missing out at all. Or you could pair the butternut squash with some lamb chops to make a wonderful accompaniment as part of a main meal.
I will usually devour dips indefinitely with a packet of Clearspring's sticky rice crackers assisting me in the task which I think you can get in most supermarkets now. They are a slightly healthier alternative to those kettle chips.
Butternut Squash with Chorizo Dip
60ml olive oil
1 x butternut squash, peeled and chopped into 1 inch chunks
1 tsp cumin
1 tsp paprika
Grated zest of ¼ orange
1 tbsp Fino or other dry sherry
Plenty of salt and pepper
2 x chorizo sausages, diced small
In a large baking dish mix together all the ingredients, bar the chorizo, and place in an oven preheated to 180°C. Roast for 45mins – 1 hour, giving it a good turn over halfway through until the squash is soft. Remove from the oven.
Pulse the butternut squash in a food processor until smooth.
Place the chorizo in a small saucepan on a medium heat until it starts to crisp up.
Serve the butternut squash dip with the chorizo piled on top.
Silvena Rowe's Avocado and Sumac Whip
2 ripe avocados
Juice of 1 small lemon
3 tbsp olive oil
4 tbsp tahini
¼ tsp ground cinnamon
¼ tsp ground cumin
½ tsp sumac
3 garlic cloves, crushed
½ tsp salt
1 tbsp sesame seeds, toasted
Scrape the avocados from their skins and blend in a food processor with the lemon juice until smooth.
Add the rest of the ingredients and mix until thick and smooth.
Serve with the sesame seeds scattered on top.