Homemade Cranberry Clementine Sauce is the perfect accompaniment to the festive turkey. The bright shiny flavours are enhanced by a touch of spice.
It's about time that I came clean here on the blog with what my deal is at the moment. A lot of my posts have been late, if they have been posted at all and my Gluten-Free Flour series went on a rather long sabbatical. If you follow my market stall then I basically opted out of late summer/early autumn then upped sticks to a completely different market.
Back in July I was ahead of the game, I had managed to carve out a good amount of time of pure recipe testing, writing and photography and had posts planned for about 6 weeks ahead. I was intending to return to posting twice a week to get through all the recipes I wanted to share and things I wanted to say before the year was out. It was all going swimmingly.
Then I was struck down with both the most amazing news I had been wishing so hopefully for and the most debilitating morning sickness imaginable. Yes, I am expecting again and by goodness this new addition wanted my whole life to be put on hold whilst he settled into his temporary home for the next forty weeks. I could barely raise an arm out of bed, I couldn't eat and when I did it was a huge mistake. All I was fit to do was sleep and my whole body felt wretched. Any ounce of energy I could dredge up from the depths went to ferrying Cole around to family, friends and nursery, anyone who could actually look after him whilst I went into complete hibernation and felt like the worst, most pathetic mother alive.
It took about 16 full weeks until I felt reasonably human. With the aid of my lovely husband I only managed to miss about 6 weeks of cake stalls. I had to change markets though to one much closer to home to suit my new exhausted and sickly state of being. Although this actually has turned out to be a great decision despite having to say goodbye to my lovely market at Tottenham Green. I've now had about a month of being okay, although of course with the next phase of pregnancy comes other challenges. However, I'm now well, eating healthily again and happy to be baking and preserving for all the festive markets on the horizon. Plus if you were reading with intent earlier in the post you'll notice that we're having another boy which fills me with so much excitement. Cole is simply the best little human in the world so to have two of those sounds like a dream. A dream in which the house is filled with double the amount of shouting, troublemaking, carnage, toy cars, fire engines, trains and Paw Patrol paraphernalia and where I am being constantly climbed on, grabbed, poked, pulled and run ragged. Wait, is that a dream or is it something else?
So all this is to excuse why my Cranberry Clementine Sauce recipe is coming the morning of Thanksgiving when anyone celebrating this holiday already has their cranberry sauce well and truly sorted. But hey, it's lucky I live in London as we don't need our cranberry sauce until Christmas Day so with those timings in mind I am super organised.
I had never been terribly bothered about the inclusion of cranberry sauce at Christmas until I began making my own. The syrupy sweet congealed sauce that is dolloped obligingly out of a jar is light years away from the ruby red zesty rich cranberry sauce made with fresh cranberries, a touch of citrus and a whisper of spices.
Homemade Cranberry Clementine Sauce is also one of the easiest ways to take your festive feast to another level. It adds more than just sweetness to your plate as it seems to make everything taste fresher somehow. Since I began making it myself I have become a little obsessed with the stuff and now deem it a non-negotiable accompaniment to most of my meals throughout November and December. This recipe also keeps really well and I load up the fridge with jars so I still have plenty to delve into well into next year.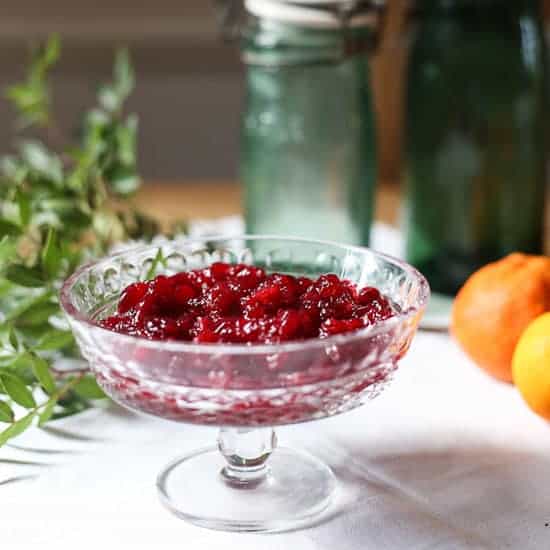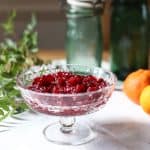 Print Recipe
Cranberry Clementine Sauce
Homemade Cranberry Clementine Sauce is the perfect accompaniment to the festive turkey. The bright shiny flavours are enhanced by a touch of spice.
Ingredients
150

ml

caster sugar

120

ml

water

300

g

fresh cranberries

¼

teaspoon

ground ginger

¼

teaspoon

ground cloves

¼

teaspoon

ground cinnamon

¼

teaspoon

freshly ground nutmeg

zest of 1 clementine
Instructions
Pour the water and sugar into a saucepan and simmer for 5-10 minutes until the sugar has dissolved.

Add the cranberries and simmer for 5-10 minutes, stirring well. Once the cranberries are just beginning to break down then remove from the heat and stir in the spices and clementine zest.

Chill the sauce until needed.
Notes
I find this Cranberry Clementine Sauce keeps for an inordinately long time in the fridge since the sugar syrup preserves the sauce very well. You can easily make this sauce weeks in advance, although there's no guarantee there'll be any left for Christmas Day if you do that.
I have also had great success in canning this Cranberry Clementine Sauce via the water bath method to ensure extra longevity. After all, I still want to be eating my cranberry sauce well into June next year.
This recipe was adapted from a cookery class I attended many years ago at Divertimenti Cookery School in London. I have long since lost any details regarding the original writer of this recipe or which cookery class it was exactly I attended. It's a pretty safe bet it was some sort of a Christmas cookery class though.
Nutrition
Calories:
90
kcal
|
Carbohydrates:
23
g
|
Sodium:
1
mg
|
Potassium:
31
mg
|
Fiber:
1
g
|
Sugar:
20
g
|
Vitamin A:
25
IU
|
Vitamin C:
5
mg
|
Calcium:
3
mg
|
Iron:
0.1
mg
If you like this recipe then you may like…