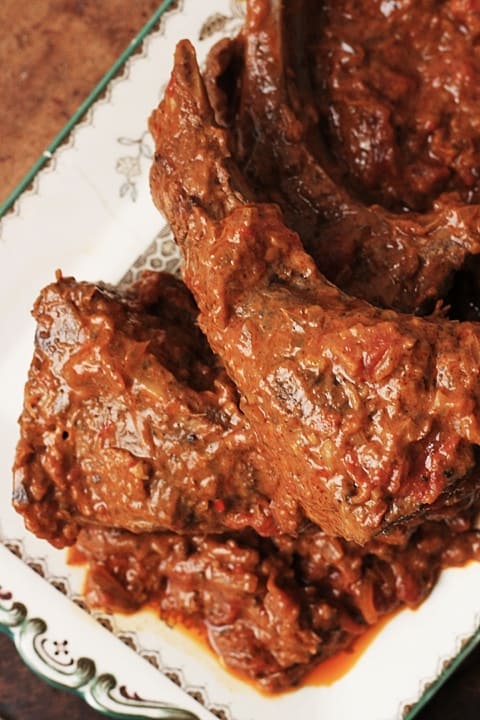 My favourite kinds of Saturday evenings are spent cooking as a family. My husband on gin and tonic and chopping duty and the puppy on getting under the feet duty. One cat is usually spread out as lazily as it can in the middle of the kitchen floor and the other is probably surreptitiously batting around a clove of garlic or pouncing on some devilish coriander. I bring it all together, navigating through the monsters and in prime position stirring the pot. It's a small kitchen but the hustle and bustle of a Saturday night seems to provoke grand imaginations and generate a frisson of excitement for our dinner. This is when we go extravagant, cooking the kind of meals we wouldn't necessarily have time to bother with during the week, perhaps experimenting from a new cookbook and usually involving a lot of different ingredients to juggle.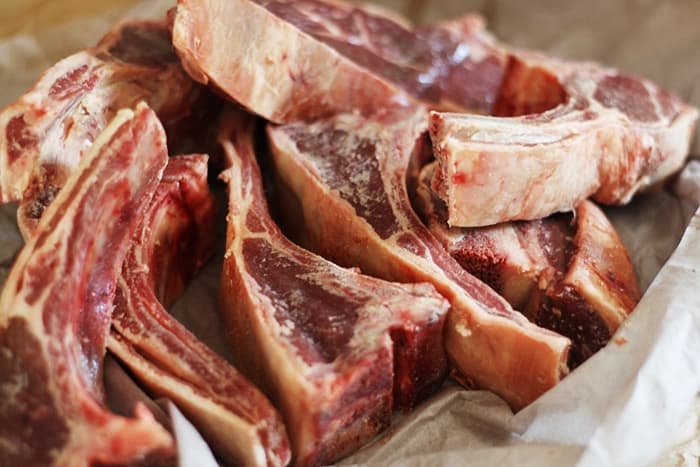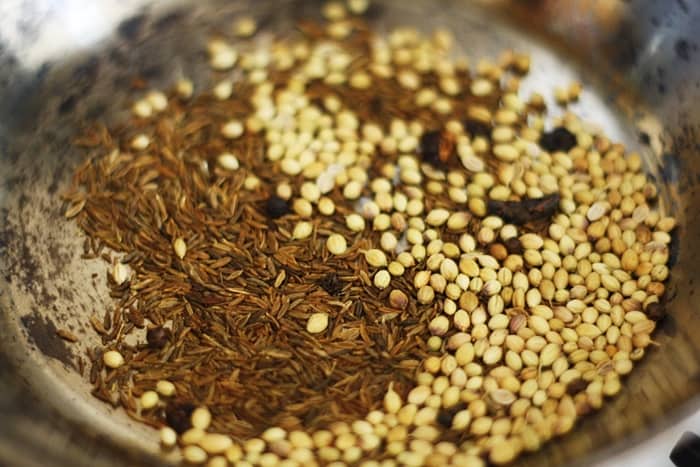 Curries are a favourite Saturday night tradition. Yes, you can whip one up quickly in the weekday and I do so occasionally. However, it's the slow cooked spices, the melting sauce which time has allowed to mature in the cooking pot which result in the truly luxurious curry. By starting the dish in the morning, toasting the spices and infusing the mutton chops with the dry rub, the anticipation for the evening meal is carried through the day. The aromatics permeate the kitchen with promise as you duck in to make a cup of tea mid-afternoon and every hour is a count down to when you consider your chops to be ready for action.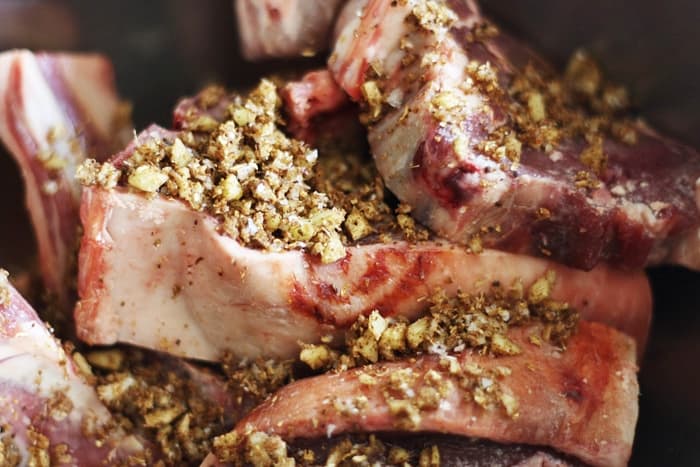 I treat the mutton chops not dissimilar to lamb chops so you can interchange the meat if you find mutton difficult to get hold of. Most butchers will stock it if you ask and it's a much cheaper meat than lamb. The bold flavours of mutton are happy to be included in a curry, standing up to and showing off in front of the spices. The curry is not highly saucy when divvied up between all the chops but it can get a little messy towards the end of your dinner when you decide enough is enough and you need to pick up the chop when all the easy to find meat has been eaten. Don't let that stop you, we are all family and sometimes it's rather good to get down and dirty with your dinner.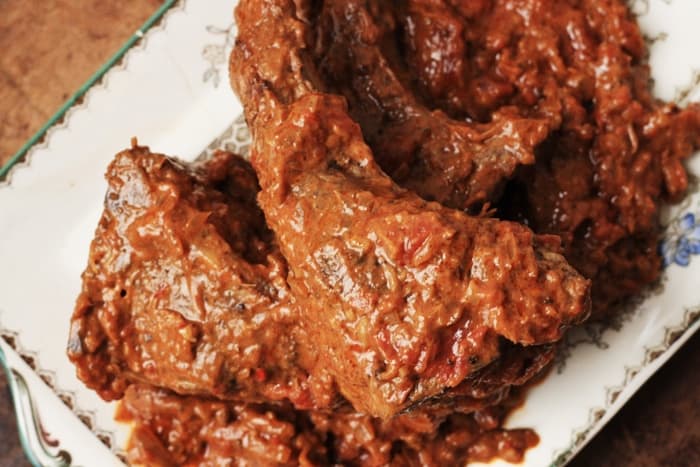 Tomato and Coconut Curried Mutton Chops
Serves 4
1 kg mutton chops
2½ tsp coriander seeds
1½ tsp cumin seeds
2 black cardamom pods, seeds removed
6 black peppercorns
¼ tsp ground cinnamon
¼ tsp ground nutmeg
¼ tsp ground cloves
1 inch fresh ginger, peeled and chopped finely
6 garlic cloves, finely diced
3 tbsp coconut oil
1 onion, finely diced
1 red chilli, finely diced
1 inch fresh ginger, grated
2 cloves garlic, minced
1 tin plum tomatoes
1 tin coconut milk
Place the coriander seeds, cumin seeds, cardamom seeds and peppercorns in a small saucepan and heat gently for 1 minute until the spices are toasted and aromatic.
Pour the spices into a spice grinder and whizz them up, or obliterate them by hand with a good pestle and mortar. Mix these toasted spices in a small bowl with the ground cinnamon, nutmeg, cloves, ginger, garlic and plenty of salt and pepper.
Split the spice mix in half and rub one half all over the mutton chops. Set aside for a few hours or overnight for the chops to take on the flavours.
When you are ready to cook them, heat up the coconut oil in a large casserole pot on the hob. When hot, add the mutton chops and brown them for a couple of minutes on all sides. Remove the chops and set aside.
Add the onion, chilli and ginger and cook slowly for 10 minutes until the onions are turning translucent.
Mix in in the rest of the spice mix and cook for a further minute.
Pour in the coconut milk. Chop up the tinned tomatoes then add them in as well along with the juice. Fill up half of the tomato tin with water and swirl around to dislodge every last bit of tomato then pour all the water into the pot.
Bring up to a boil, then turn down and simmer for 1 hour until the curry is thick and creamy.
Add the mutton chops back in and cook for a further 15 minutes.
Serve with plenty of fluffy basmati rice