So I am finally on my last week of Whole30. I will not lie to you, it has been difficult. It isn't so much the everyday eating which is all well and good as I love a bit of a salad, I am happy to eat my fair share of protein and I will wolf down pretty much any vegetable you put in front of me. However, I have felt a bit out at sea when I plain don't want to cook or am out and about and have to rely on someone else's cooking.
Good luck to you if you want to eat at a restaurant on the Whole30, it's not an easy prospect due to restrictions on carbs, dairy, legumes and sugar but I just about managed it this weekend due to The Maynard in Crouch End's hog roast stall. It was a bit of a palaver as I had to order the two components of my meal separately. I went into the pub to order the side salad off their normal bar menu and then once it had arrived I went out to the front of the pub to the special hog roast stall they had set up that day to order my pork sans brioche burger. It worked well in my favour though as I think he took pity on me for just ordering a pile of meat and served me the biggest portion of pork you can imagine. It ended up being a delicious lunch but it was the third pub we had gone into to try and find food and my hunger was beginning to turn me into the Hulk.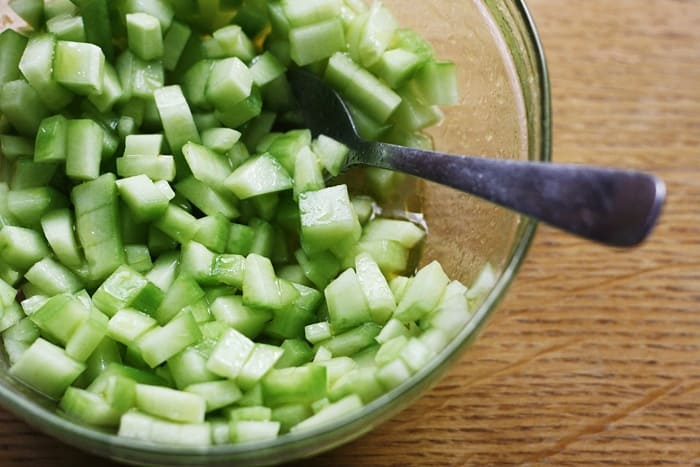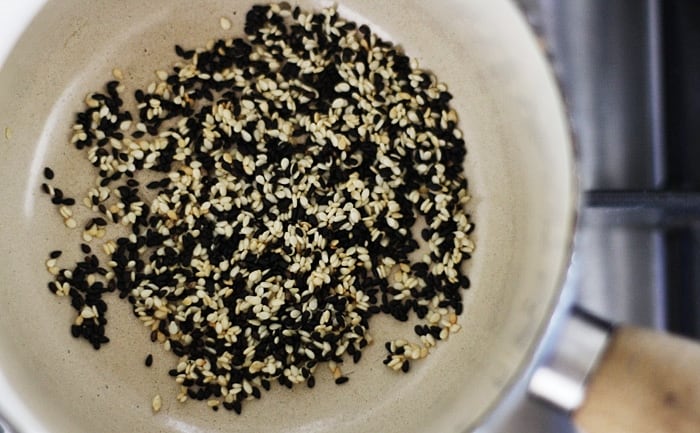 In my normal every day life I eat out at restaurants a lot. I like to try new food, sample the extraordinary dishes of talented chefs and also, since I spend so much time in the kitchen myself, I am always looking for a bit of a break where someone else can cook for me. It is my absolute bugbear, therefore, that when I am trying to watch what I eat there is so little catering for that in the big wide world. So excuse me if I have a mini tantrum; feel free to skip down to the part where I discuss the recipe below if you can't bear it, I have some nice things to say about my new salmon invention. Still reading, okay, you were warned. I look forward to the days, as I know they will arrive soon, when more UK restaurants and pubs understand that you don't need carbs to have an enriching, complex and exciting meal. Salads and vegetables should be celebrated and treated like the main event and not an afterthought or a side dish. I know I can eat like this at home so is it so difficult to eat like this out of home? A few restaurants already understand this kind of cooking implicitly, the Ottolenghi restaurants always have queues stretching out the door and round the corner and it's no wonder, the sheer variety in their ingredients and flavours is outstanding. Bruno Loubet's Grainstore in Kings Cross also prides itself on giving vegetables equal billing, if not the starring role, to the meat and their menu is always fantastic and innovative. However, until these kind of restaurants become more prolific and pubs offer a more diverse menu then we will have to satisfy ourselves at home.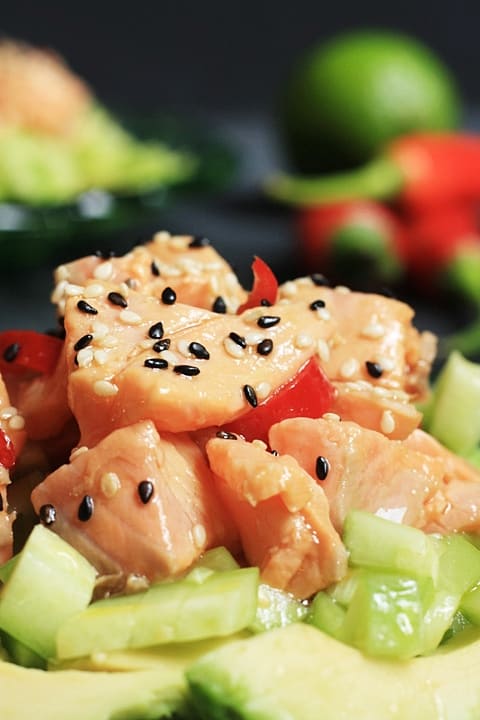 This sesame salmon tartare is a wonderful example of a carb free, sugar free and dairy free recipe which is just so satisfying and bounteous with all kinds of levels of flavour. It seems a bit fancy but it is really just a gussied up salad with no more skill required than just a bit of chopping and stirring. But then you taste it and you come right back to fancy again.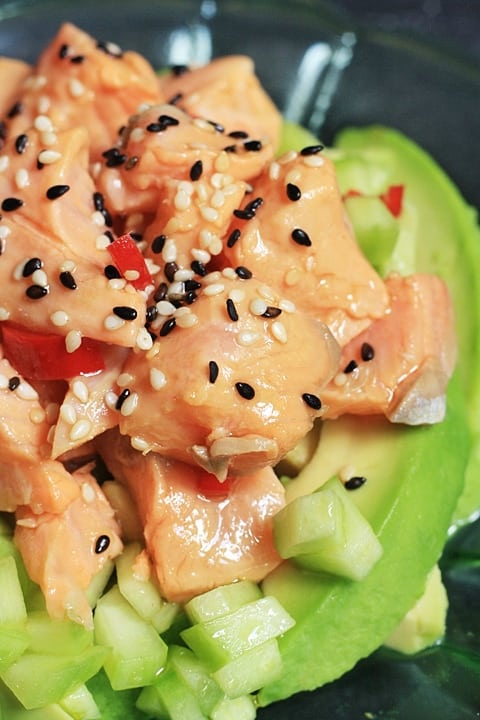 When you mention raw fish you tend to think of sushi or ceviche which can sound a bit clever and terrifying as you are dealing with raw fish. However, just make sure you trust where your fish is coming from and you'll be fine to prepare either one at home. This recipe lies more on the ceviche side than the sushi side as the lime juice in the marinade 'cooks' the fish. The salmon is absolutely delicious on its own with a definite hint of umami but with the addition of lightly dressed cucumber and naked avocado it becomes a proper event. It's the kind of food that requires you to sit at the table and savour every mouthful. Don't skimp on the sesame seed garnish either, if you can't get hold of the black sesames just use the white ones, as they provide such a welcome delicate crunch to compliment the soft salmon and the creamy avocado.
This recipe is perhaps a tad too much for two but if you serve it for four then it's an excellent starter if you are having people over to dinner.
Sesame Salmon Tartare
Serves 2-4
350g salmon fillet, skin removed
Juice of 3 limes
25ml sesame oil
25ml coconut aminos (or soy sauce if you are not Whole30)
1 chilli, sliced thinly
2 avocados
½ cucumber
2 tsp rice vinegar
2 tsp light olive oil
1 tsp black sesame seeds, lightly toasted
1 tsp white sesame seeds, lightly toasted
In a medium sized bowl mix together the lime juice, sesame oil, coconut aminos and chilli.
Then dice the salmon into small cubes and submerge into the marinade. Stir everything together so the marinade can fully absorb into the salmon then put cling film over the top and place into the fridge for 30 minutes.
Meanwhile, peel, de-stone and slice the avocado thinly, arrange it at the bottom of your serving dishes.
Then prepare the dressing for the cucumber by mixing together the rice vinegar and olive oil.
Peel and scoop out the seeds from the cucumber. Dice it very finely then add it to the dressing, mixing it all up thoroughly. Pile the cucumber on top of the avocado on your serving dishes.
Then arrange your salmon on top and sprinkle with the toasted sesame seeds.