These Gluten-Free Scones are made with buttermilk and without xanthan gum but instead a delicious blend of alternative flours for depth of flavour. A perfect afternoon tea served with a quick strawberry jam set with chia seeds and thick clotted cream.
There is nothing more indulgent than going for a proper afternoon tea. The kind you have in a fancy hotel with a proper tea menu, huge fluffy white scones, delicate cucumber sandwiches and mile high slices of sponge cake. I haven't been for ages. Luke and I wanted to go as my last treat before Beau was born but then I was diagnosed with gestational diabetes so that plan was nixed. We should really put it back on the agenda now the newborn days are over. Celebrating the first few months of Beau's life seems a pretty good reason to treat ourselves.
It's the proper presentation of the scones which I find so alluring, perched atop the tier of sandwiches and patisserie, wrapped in clean white linen, waiting to be discovered. I always go for the scones first. If it's a first class establishment then these scones will be warm, fresh from the oven and that is when they are at their absolute best. They must then be layered high with thick golden Cornish clotted cream and vibrant strawberry jam. Whether you slather your scone with the clotted cream or jam first will betray whether you are of the Cornish or Devonshire persuasion.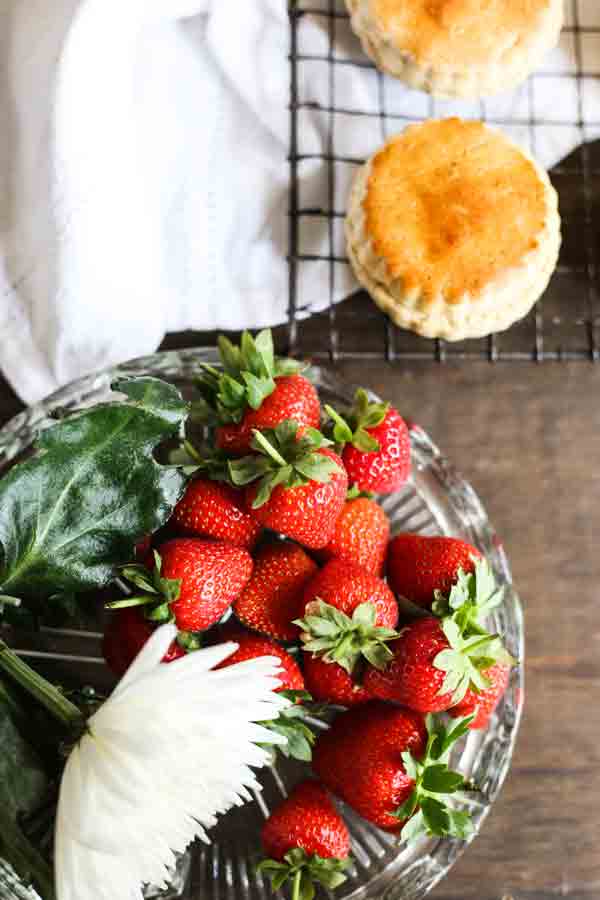 The presence of scones will always elevate an occasion. A pot of tea shared with my mum is suddenly made into a fanciful affair by the inclusion of scones. We might as well be partaking our cream team with the Duchess of Bedford at Woburn Abbey. The proper china must come out, including the teapot, and I feel an unexplained need to set the table properly with a tablecloth and decant the jam and clotted cream into bowls rather than dipping our spoon into jars and tubs.
Yet scones also feel rather homely. They are definitely a comfort to bake. You don't need an expensive food mixer or a specific kind of cake tin. Just a cheap mixing bowl, a wooden spoon and a standard round cookie cutter. You can dive your hands in, rubbing the butter with the flour in your fingertips, feeling the texture of the dough in between your hands as you bring it all together. It's so satisfying and they don't take long at all from start to finish. Within 45 minutes you can go from a faint craving to taking your first bite out of your homemade scone without any fluster.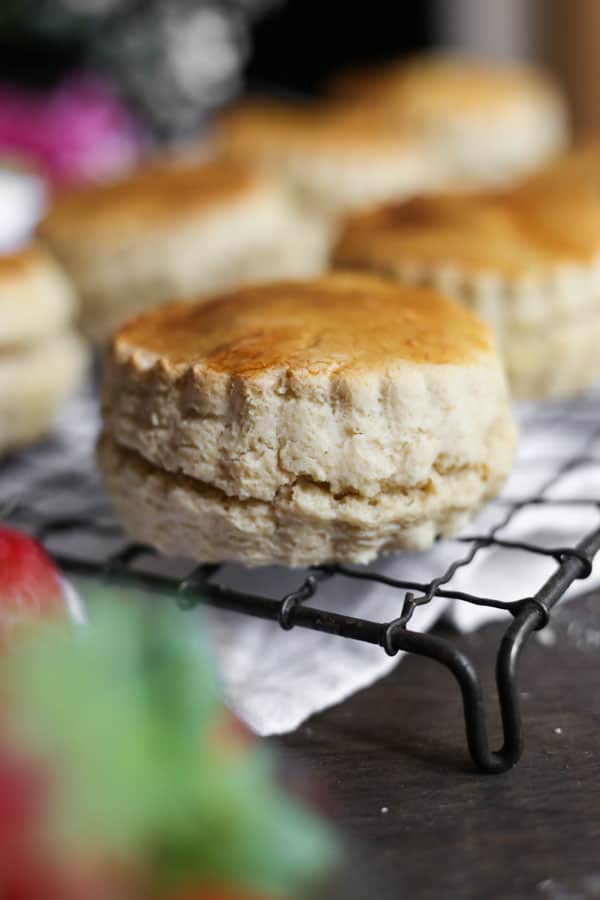 Gluten-Free Scones with Buttermilk
I have a few scone recipes on the blog but no traditional plain gluten-free scones, the kind I turn to frequently when a cream tea is required. This gluten-free scone recipe is made with buttermilk for a tender crumb and a slight tang.
Gluten-Free Flour
For the flour choice in these Gluten-Free Scones I have used a specific home blend of alternative flours. I try and vary my gluten-free baking recipes with ingredients that are easy to find like the plain gluten-free flour blend you can pick up at the supermarket and those that indulge my love of alternative flours. It's not going to suit everyone that this scone recipe uses a mix of five different flours but flour is the main ingredient in a scone recipe and has nowhere to hide amongst the other ingredients. To achieve a very good gluten-free scone the flour choice needs to be right.
I am aware that I have a very particular obsession with alternative flours and it is not usual for a larder to be stocked with every single variation on the market. However a few choice alternative flours are so worth investing in even if you are not gluten-free. Sweet rice flour, oat flour and tapioca flour are my mainstays. To understand the use of every flour in this recipe I urge you to read through my guide to Gluten-Free Flours. The depth of flavour you achieve from specific combinations is surprising and you can aim for a greater control over texture, moistness and fluffiness than just using a plain ready-made gluten-free blend can provide.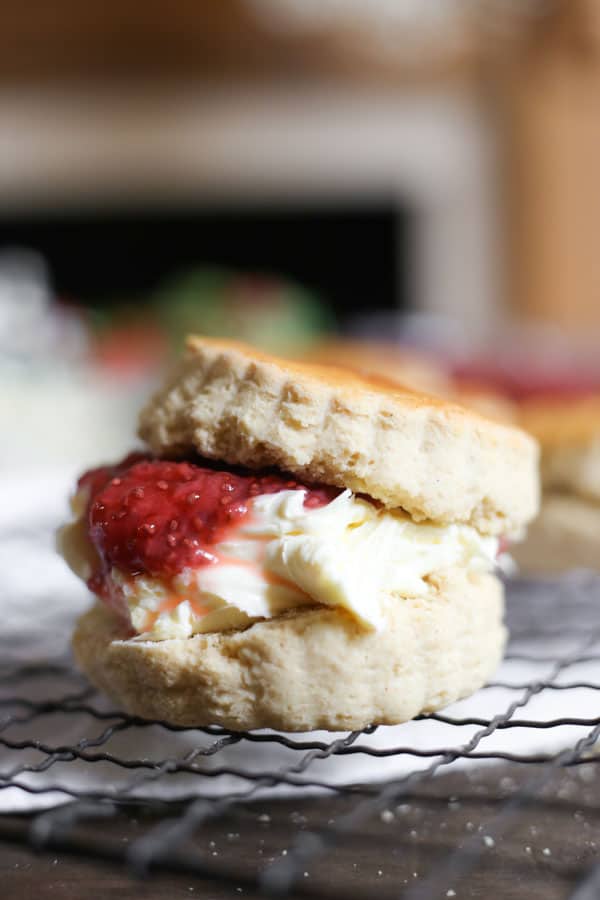 Gluten-Free Scones without xanthan gum
This gluten-free scone recipe is also without xanthan gum, a regular presence in a lot of gluten-free baking. It's often used as a thickening agent or stabiliser to help prevent crumbly and dry gluten-free goods. It's not something I particularly publicise but I never bake with xanthan gum. I don't find I can digest it very well so steer clear. Instead I achieve my texture in baking from the right blend of alternative flours. Again, hence the need for so many.
Quick Strawberry Jam
Of course you can use a good strawberry jam bought from the farmers' market to cut down on your labour but a quick fresh strawberry jam is easy enough and has less sugar. These July strawberries I have been buying recently have been so delicious, absolutely full of flavour. I use lemon juice to perk up the strawberry taste, a dash of caster sugar and chia seeds to create an instant luscious set.
Clotted Cream
Clotted cream is a fabulous ingredient, I could easily eat it with a spoon but the golden hued crust that you have to break through to get there is the real chef's delight. Clotted cream is the only choice for a proper afternoon tea. I remember being served the most delicious homemade scones once in Brighton, utterly ruined by the airy canned whipped cream served with them. It's the clotted cream that really achieves the high end cream team that we all hope for whilst enjoying our fresh homemade scones warm from the oven.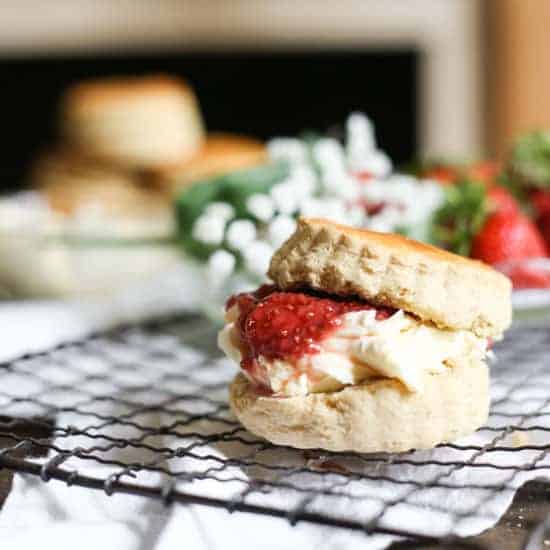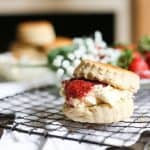 Print Recipe
Gluten-Free Scones with Quick Strawberry Jam and Clotted Cream
These Gluten-Free Scones are made with buttermilk and without xanthan gum but instead a delicious blend of alternative flours for depth of flavour. A perfect afternoon tea served with a quick strawberry jam set with chia seeds and thick clotted cream.
Ingredients
Gluten-Free Scones
175

g

sweet rice flour

125

g

oat flour

100

g

millet flour

50

g

potato starch

50

g

tapioca flour

100

g

cold unsalted butter sliced thinly

115

g

caster sugar

1

tablespoon

+ 2 teaspoons baking powder

½

teaspoon

salt

2

eggs + 1 extra for glazing

200

ml

buttermilk
Quick Strawberry Jam
500

g

strawberries

juice 1 lemon

2

tablespoons

caster sugar

1

tablespoon

chia seeds

250

g

clotted cream
Instructions
Buttermilk Gluten-Free Scones
Preheat oven to 160°C/140°C fan/gas mark 3/320°F.

Whisk the flours together in a large mixing bowl then add the butter, rubbing together with your fingertips to create breadcrumbs.

Add the sugar, baking powder and salt and mix well.

Pour the milk into a jug and whisk in the eggs until just combined then pour into the centre of the scone mixture.

At first stir the liquid ingredients in with a wooden spoon then tip out onto a clean work surface and using your hands bring the dough together, turning and folding, until it is no longer sticky. Use a bit of extra gluten-free flour on the work surface if it is starting to stick.

Once you have brought the dough together into a ball, press it down into an even circle 1 inch thick.

Cut out the scones using 7cm cutter.

Place the scones onto a clean baking tray. Whisk the extra egg with a splash of milk and brush onto the surface of each scone, making sure not to let it drip down the sides, else your scones will not rise evenly.

Bake the scones for 18 minutes. Let the scones rest on the baking tray for 5 minutes then remove and let cool on a wire rack.
Quick Strawberry Jam
Hull the strawberries then place them in a medium sized saucepan with the lemon juice and caster sugar.

Cook for 10 minutes until the strawberries have broken down, then remove from the heat and stir in the chia seeds.

Chill until needed.

Serve the scones split open with the clotted cream and strawberry jam
Notes
These scones are best eaten straight away or a few hours after baking. They go stale rather quickly overnight.
Nutrition
Calories:
562
kcal
|
Carbohydrates:
64
g
|
Protein:
7
g
|
Fat:
30
g
|
Saturated Fat:
17
g
|
Cholesterol:
107
mg
|
Sodium:
175
mg
|
Potassium:
439
mg
|
Fiber:
3
g
|
Sugar:
20
g
|
Vitamin A:
485
IU
|
Vitamin C:
32.9
mg
|
Calcium:
139
mg
|
Iron:
1.8
mg
SHOP THE RECIPE
Although the metal cookie cutters may look a bit more stylish I always use these KitchenCraft Double-Edged Plastic Biscuit/Pastry Cutters with Storage Box (Set of 7) – White
. They are the perfect range of sizes, they are plastic so don't rust and can go in the dishwasher. Anything that can go in the dishwasher makes my life so much easier.
I use this KitchenCraft MasterClass Non-Stick Baking Tray, 35 x 25 cm (14″ x 10″)
 for all my cookies, biscuits, scones. It's a great size and comfortably holds all of these 9 scones so you don't have to bake in batches. It's non-stick so the scones lift off easily from the tray and doesn't require any baking parchment or greasing.
It's not easy to buy sweet rice flour in the UK, but it's a flour I use all the time. It is possible to pick up sweet rice flour in chinatown but it is not certified gluten-free so for the coeliacs among us and those that have a very strong intolerance it is not ideal. But I have finally found a brand which is 100% certified gluten-free and it's fantastic. The brand is yourhealthstore Premium Gluten Free Sweet Rice Flour (glutinous) 1kg
Oat flour can be picked up at most health food shops and if I run out that's where I head to. However, like all alternative flours it can be expensive so I find the most economical way is to buy it online. I go through bags of the stuff as it's the flour I use most regularly so I like to buy in bulk. My favourite brand is Bob's Red Mill Gluten Free Whole Grain Oat Flour 400 g (Pack of 4)
at a reasonable price. Even better if you go the subscribe and save option.
I order my millet flour through Amazon like most of my flours and the brand I like the best is Bob's Red Mill Gluten Free Millet Flour 500 g (Pack of 4)
. It's more economical to buy it this way and I love Bob's Red Mill as it's certified gluten-free.
It's not difficult to get hold of tapioca flour in the UK. You can often find 100g pots of Doves Farm Tapioca Flour in the supermarket but it's quite costly and doesn't give you very much. You can find more varied brands in health food shops in bags of about 500g. The cost depends entirely on the brand you purchase. My preferred brand is Bob's Red Mill GF Tapioca Flour 500 g (Pack of 2)
as it's certifiably gluten-free and I order it through Amazon.
I use chia seeds a lot in chia seed pudding, in my granola bars, sprinkled in my porridge and in smoothies so I buy them in bulk. I like RealFoodSource Whole Natural Dark Chia Seeds 2kg (2 x 1kg bags) with FREE Chia Recipe Ebook
. They are just reliably good.
Some of the links above are affiliate links so if you decide to buy your flour using the link then I will get a small commission from Amazon at no cost to you. To learn more about how the data processing works when using these Amazon affiliate links then please visit my privacy policy page.
If you like this recipe you may like…