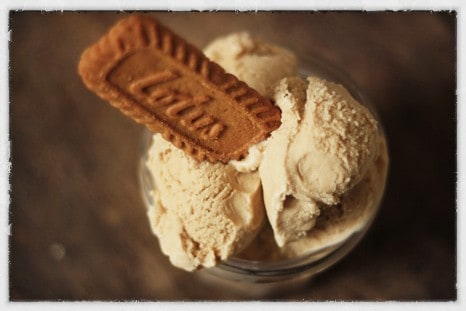 This recipe is not gluten-free
This year I have mainly been baking with my new favourite ingredient.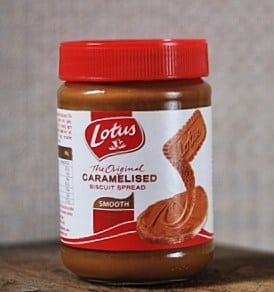 But to be honest, I'm not really sure what to call it. It's a biscuit spread of mystery, called many names but not answering to any one. The confusion began when I noticed on Pinterest that everyone was banging on and on about this Biscoff spread which they were using in cakes, frosting, cookies. Don't care how I wanted it now. I love those Biscoff biscuits, although the only time I have ever had them is on holiday wrapped individually and served with my mid morning coffee.
This spread was really hard to find. I looked for it everywhere online but the only place which sold it was an American supplies shop and it was out of stock but they promised to send me some as soon as it came back in so I was forced to wait. I'm not very patient so that was rubbish.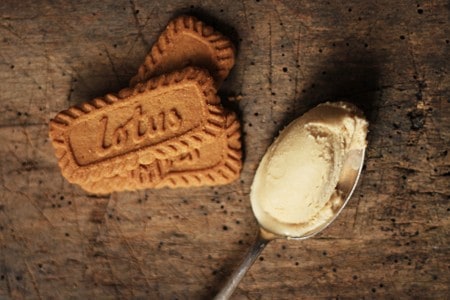 Then, one fateful day I received an email to say some new stock was in and a pot of the good stuff was winging its way to me. I seized upon poor postie the next day like a baking banshee and immediately set about making the luxurious cake frosting recipe I had reverently set aside for this hallowed ingredient and squidged it within the layers of a dark chocolate cake.
The results were all I could have hoped for. The spread is divine, you can eat it straight from a pot with a spoon. Not that I did that. Much. I made the same cake incessantly until the pot had run dry.
Then a few weeks later I was at a friend's house rifling through her pantry, like ya do when I saw she had a pot of this spread. I waggled it in her face, 'Where did you buy this?' I cried out. 'Oh, I just got it from Sainsburys'. She said offhand. I felt cheated. Ruddy Sainsburys all along. However, when I looked a bit closer at the label it was no wonder a thickie like me couldn't find it as for some reason in the UK the spread literally appears to have no name. All that's on the label is the brand, Lotus' and its tagline 'The Original Caramelised Spread' which is pretty confusing.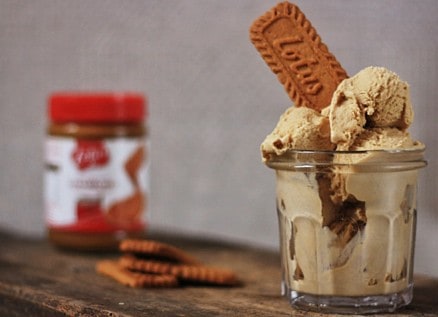 Apparently this spreadable version came about when Els Scheppers from Belgium entered a TV contest called 'De Bedenkers' (The Inventors) and bowled everyone over with her recipe for converting Lotus Speculoos biscuits (which is what they are called in Belgium to add to the branding intrigue) into a spread. She was contacted by the Lotus manufacturers and they got together and released this to the world in 2011. Since then it's pretty much taken the baking world by storm and you can search for recipes which turn this spread into pretty much any type of cake, biscuit or brownie. Still, what I wanted this weekend was ice cream.
I like to stock up on ice cream around Christmas as it makes really quick desserts at a time when there is a lot of other baking going on. This ice cream is perfect as the caramel and cinnamon flavours in the Biscoff spread marry perfectly with the season to be jolly.
Whipping it up takes no time at all, just a couple of short bursts of activity over a couple of days. It is ice crystal free, sweet, cold and creamy. In short, it is a freezer must have.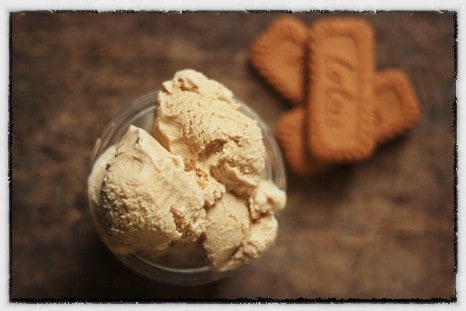 Biscoff Ice Cream
Makes about 1 litre
300ml whipping cream
200ml whole milk
150g soft brown sugar
175g Lotus' The Original Caramelised Biscuit Spread
1 tsp vanilla extract
In a saucepan heat up the whipping cream, whole milk and sugar to just below boiling point.
Remove from the heat. Put the Biscoff spread in a large bowl and pour some of the cream mixture over the spread, stirring together so the spread loosens up. Pour a bit more cream mixture in and again stir together. Repeat this until all the cream mixture has been incorporated by the spread.
Add the vanilla extract and stir in.
Cover the bowl with clingfilm and place immediately into the fridge. Leave overnight to thoroughly chill.
The next day churn in an ice cream machine for about 20-30 mins until it has thickened up to a soft serve consistency. Then transfer into a tub and put into the freezer overnight to set.