This post contains affiliate links. Please read my disclosures.
These Perfect Sweet Potato Fries are crunchy and caramelised on the outside and soft and sweet on the inside. Have you ever wondered how to get the unique crisp on these delectable fries? We've got all the information you need right here to recreate your favourite chip at home.
I fell in love with Sweet Potato Fries when we toured the Southern States of America last year. They were as ubiquitous as normal potato fries and I had them in heaped generously into baskets at a blues club with a ginormous burger. Later on at the Bluebird café, whilst female songwriters and their guitars poured their hearts out to an intimate crowd I scoffed sweet potato fries.
I have made and eaten sweet potato fries many times but nothing compared to those fries I ate in America. At home they generally get a bit soft in the oven, refuse to crisp, stick to the pan and clump together to form more of a sweet potato mess. Delicious but not really ideal for dipping. So it became my mission to perfect my favourite chip and get them as uniquely crispy as I know they could be.
How do you make perfect Sweet Potato Fries?
Soak the cut potatoes in cold water for 1 hour to get rid of all the starch.
Pat dry with kitchen towel and place in the fridge for 1 hour to completely dry out.
Toss the fries in cornflour before you bake to encourage the moisture out of the chip.
Bake on parchment paper or a silicone sheet as well as these fries love to weld to the baking tray otherwise.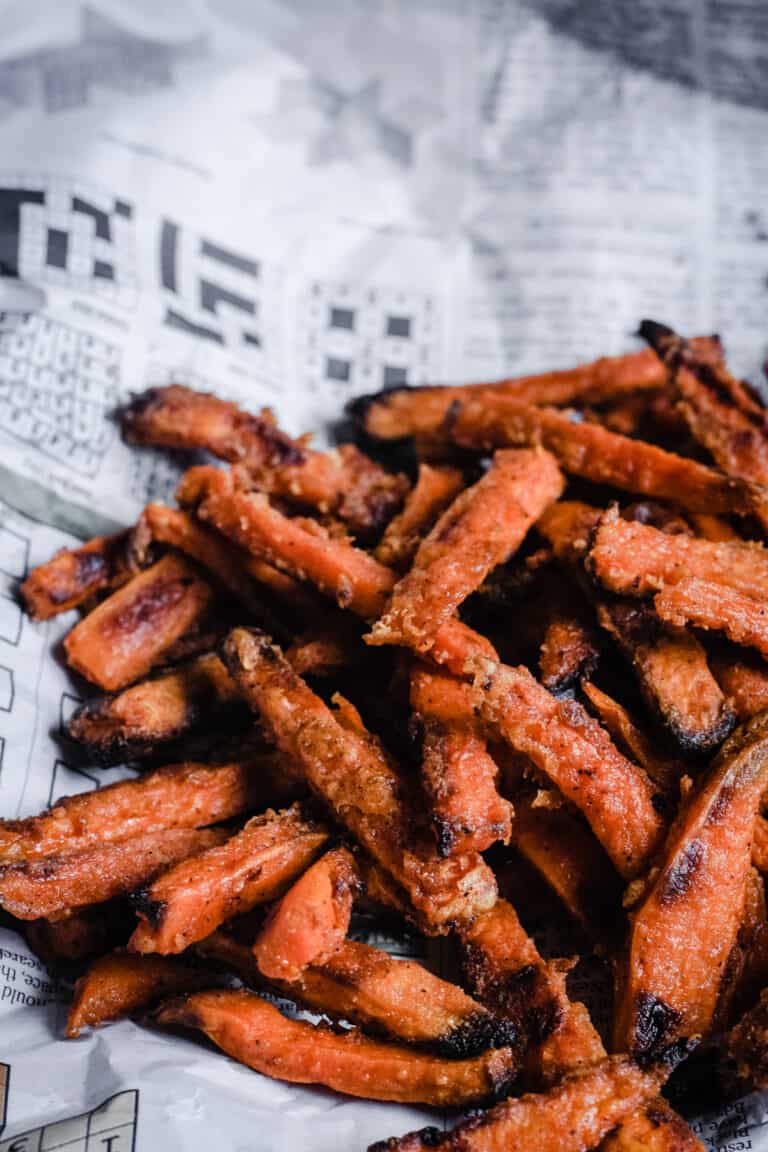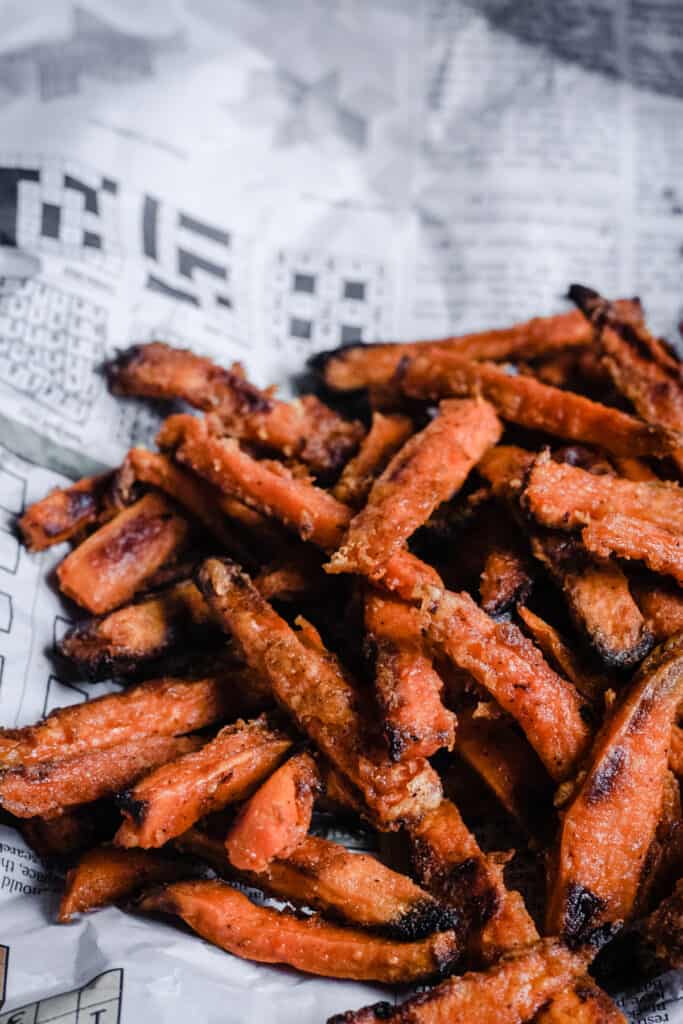 The fries came out crunchy, sweet, mustard warm and excellent for dipping into
Homemade Ketchup.
If you like this recipe then you may like these other sweet potato recipes:
Sweet Potato and Bacon Rosti
Sweet Potato Feta Tortilla
Sweet Potato Chocolate Truffle Torte
If you make these Perfect Sweet Potato Fries then please leave a comment below and give the recipe a rating. If you then go on to use this recipe as a launch pad for a delicious dinner I'd also love it if you'd share it and tag me on Instagram. It is so lovely for me to see your versions and variations of my recipes.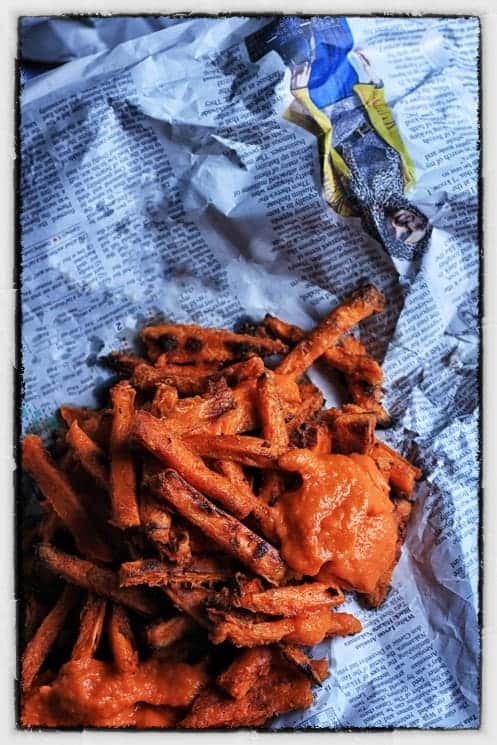 Perfect Sweet Potato Fries
These Sweet Potato Fries are crunchy and caramelised on the outside and soft and sweet on the inside
Ingredients
400

g

sweet potato

-

about 1 large

25

g

cornflour

-

cornstarch

1

teaspoon

sweet paprika

½

teaspoon

mustard powder

¾

teaspoon

salt

¼

teaspoon

ground black pepper

4

tablespoons

olive oil
Instructions
Chop the ends of the sweet potato, peel and cut into thin fries.

Submerge the sweet potato fries in a large bowl of cold water and let sit for 1 hour.

Drain the fries, pat dry with kitchen towel then place on a plate in the fridge for 1 hour until the fries are completely dry.

Pre-heat the oven to 200°C / 180°C fan / gas mark 5.

Mix together the cornflour, paprika, mustard, salt and pepper in a plastic food bag.

Pour the dry fries into the bag and give a good shake so they are well coated with the seasoning.

Place the fries on baking parchment or silicone sheet on a baking tray in a single layer then bake for 30 minutes until crisp and golden, carefully turning once halfway through with a metal spatula so you don't break them up.

Serve hot.
Nutrition
Calories:
473
kcal
Carbohydrates:
52
g
Protein:
3
g
Fat:
28
g
Saturated Fat:
4
g
Sodium:
985
mg
Potassium:
697
mg
Fiber:
6
g
Sugar:
9
g
Vitamin A:
28867
IU
Vitamin C:
5
mg
Calcium:
60
mg
Iron:
2
mg
Have you tried this recipe?
Head to the comment section and let me know what you think!