This post contains affiliate links. Please read my disclosures.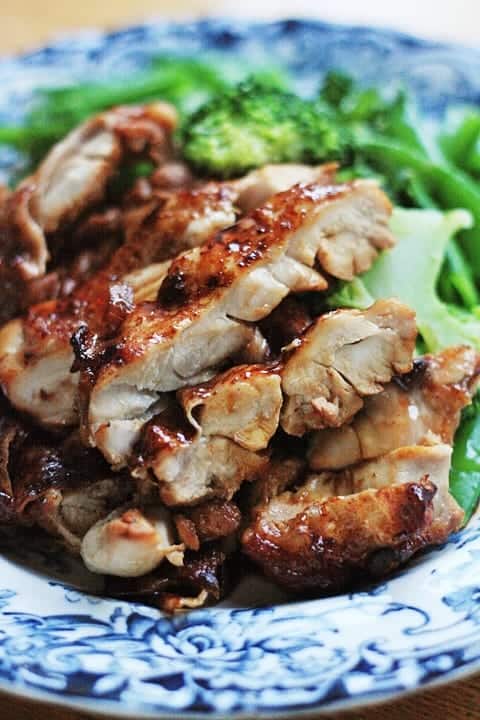 If a recipe has bourbon in the title then you've lost me – I'm already in the kitchen snapping open the lid of my Makers Mark drowning my other ingredients with it whilst also sneaking myself a wee dram. If every recipe could have bourbon in it then I'm sure the world would be a much calmer, more relaxed and happy place. Just like me, after my second wee dram.
I've been really enjoying reading other people's blogs lately, I've shrugged off my inferiority complex which has been green with envy at the rapier wit of their child's first day back to school or the renovations they are doing to their vast farmhouse kitchen somewhere in North Dakota. I'm also now appreciating their stunning photography which plays with light and shade as a chocolate cake peeks beautifully out of the shadows, scattered with delicate flowers, without glaring pointedly at my own Canon, cross that it never does that sort of thing for me. So, yah, I'm like super over this pesky jealousy.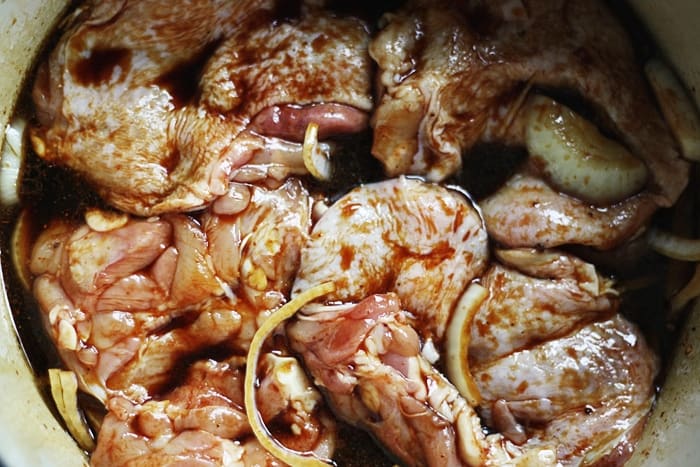 This week I have been enjoying catching up with Pinch of Yum, whom I discovered via Pinterest. I noticed recently just how many of their photos I have been pinning to my boards so I thought I would go and look at their website for realsies. Now, I have to confess, I only looked at one recipe, which I was enjoying immensely, before I was struck by the Bourbon Effect (totally a thing) on the second recipe and I had barely finished reading the other ingredients before I remembered I had some chicken in the fridge. Well my friend, I had cannonballed myself into the kitchen, snatched the chicken out of the fridge and doused it liberally with Makers Mark before you could say SoberTober. It was pretty lucky then that I also managed to locate the rest of the ingredients in my larder which took less than 5 minutes to measure out and add to the mix. Between my first glance at the recipe and getting my version in the oven it couldn't have taken longer than 10 minutes, but I might have made some slight alterations here and there to suit exactly what I was after.
Now, the original recipe asked me to marinate my chicken overnight but there was no time for that, this was a bourbon emergency and not a moment could be wasted. I have no idea therefore how much was lost in translation but honestly it couldn't have been much as boy did this dinner deliver.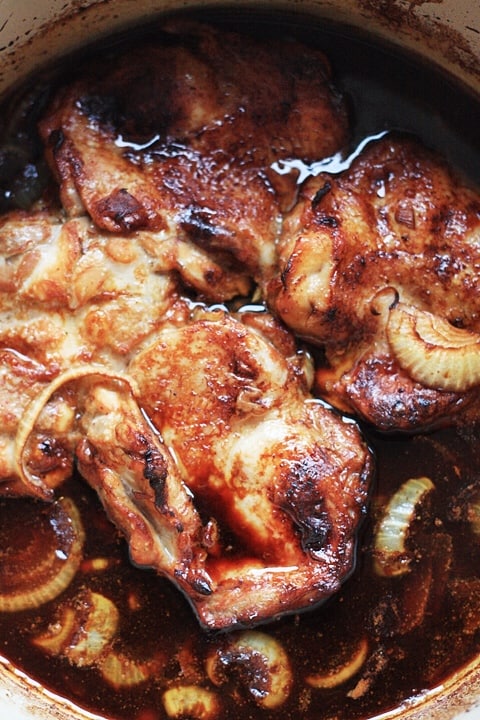 I also swapped out the sugar that was called for with honey, because I am turning into a bumblebee (yeah, I know they make it they don't eat it, and also that it's not bumble bees it's honey bees – what are you the bee police? I want to be a bumblebee and a bumblebee I shall be kind sir). I also added some chipotle to add a bit of smoky heat to the proceedings, and then a pinch of instant coffee for a bit of dark background noise.
I served my version with a giant mound of garlic broccoli and sugar snap peas because after all that bourbon and honey I had to do a cursory nod towards this diet I'm supposed to be on (argh, when will it start – damn you Bourbon Effect).
Now, I might go and read some more of their recipes, I am also prone to the Cinnamon Effect of late so we shall see how far I get.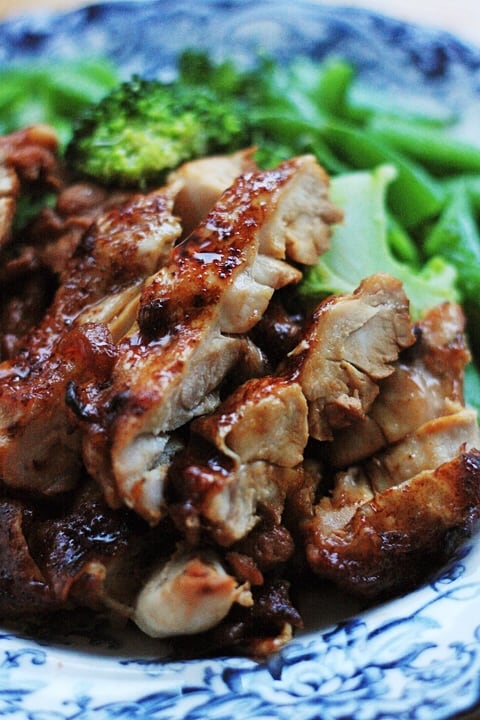 Sticky and Smoky Bourbon Chicken
Adapted from Pinch of Yum http://pinchofyum.com/sticky-bourbon-chicken-rice
Serves 4
4 chicken legs (I always ask for mine boned with skin intact)
1 large onion, sliced thinly
120ml soy sauce or tamari or coconut aminos
60ml very light olive oil
60ml vinegar (rice or cider or white wine)
60ml bourbon
60g honey
1 teaspoon smoked garlic powder
½ teaspoon chipotle powder
A pinch of instant coffee
Mix all the ingredients together and place in a large casserole dish, with the chicken skin side up and poking out of the sauce.
Leave to marinate for a couple of hours, if you have time.
Pre-heat the oven to 180°C, then place the casserole dish, uncovered, in the oven for 45 minutes.
Serve with rice, like the original recipe, or green veg like me.