This post contains affiliate links. Please read my disclosures.
Spiced Roast Squash and Goats Cheese Salad combines sweetly caramelised roasted butternut squash, cream and cooling goats cheese with fruity muscat grapes with a garlicky blackberry vinaigrette. A fully satisfying salad as a main meal or a delicious accompaniment as part of a larger meal.
So the full title of this salad is Spiced Roast Squash and Goats Cheese Salad with Radicchio, Sorrel, Muscat Grapes and Garlicky Blackberry Vinaigrette which would definitely have been the longest recipe title on the blog. Every ingredient is so important in this salad. Oh, and pumpkin seeds. Sorry pumpkin seeds – you know this salad wouldn't be the same without your good time crunch. Oh, and the rocket – but he's used to his time in the sun so I don't feel too guilty about that.
So this is the salad that I have been chowing down on for weeks. I am in the zone. It all started when I chanced upon this year's bounteous crop of radicchio and sorrel at the farmer's market. I am an absolute sucker for the bitterness of radicchio and the lemon twang of sorrel, they both make salads so interesting. It's such a shame that the supermarkets don't stock more salad leaves individually so unless we are able to get to a good farmer's market or grocers we are subject to a boring mix of floppy bland leaves whose fate will only ever be to wither and die in a corner of our fridges.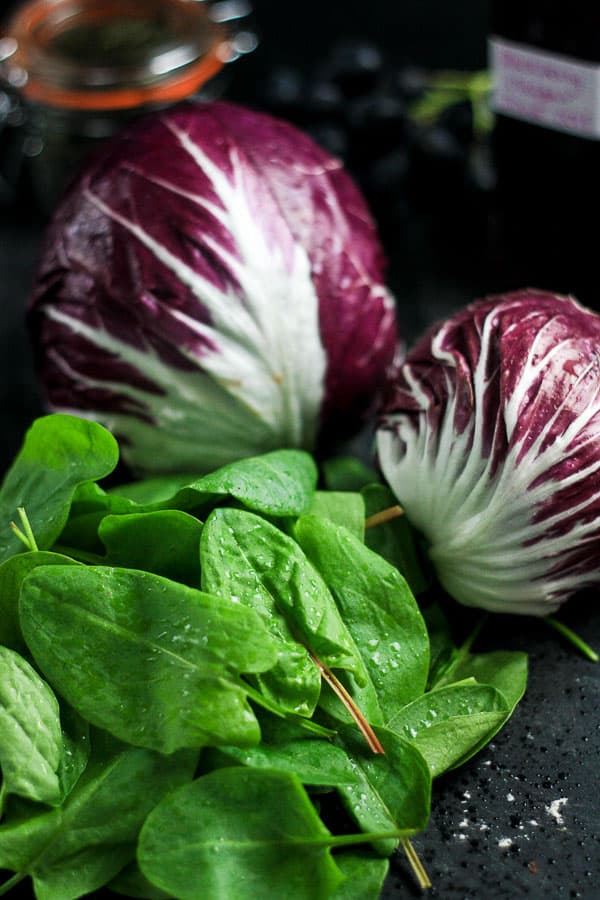 I think the reason this salad has worked so well for me these past few weeks is that it is so quick to put together, an absolute must since I rarely have more than ten minutes to make lunch and shovel it in whilst my eight-month old is amusing himself for a few moments smushing up his own lunch in his little fist and smearing it all over his face.
Since weaning Cole I have made it a thing to have several tubs of pre-roasted vegetables in my fridge so I can feed him quickly and efficiently but this has also proved invaluable for getting me back on track to a relatively balanced diet. As he's eating breakfast or having a rare moment of independent play I will happily peel, de-seed, chop and roast a butternut squash or slam some quartered aubergines or courgettes in the oven. Preparing butternut squashes is one of my kitchen peeves but it doesn't seem so bad if you are not doing it at the beginning of the long road to dinner.
I don't know why I never thought to run my kitchen in such an organised fashion before, it has made tossing a lunch or dinner together so easy. I initially roast the veg without any salt (we're in baby country now) or flavouring and then if I'm preparing my own dinner I can give them a 10 minute blast in the oven with all the spices and seasoning in the world and bob's your bingo they are ready to go. I swear I think I have revolutionised meal prep in my kitchen forever more.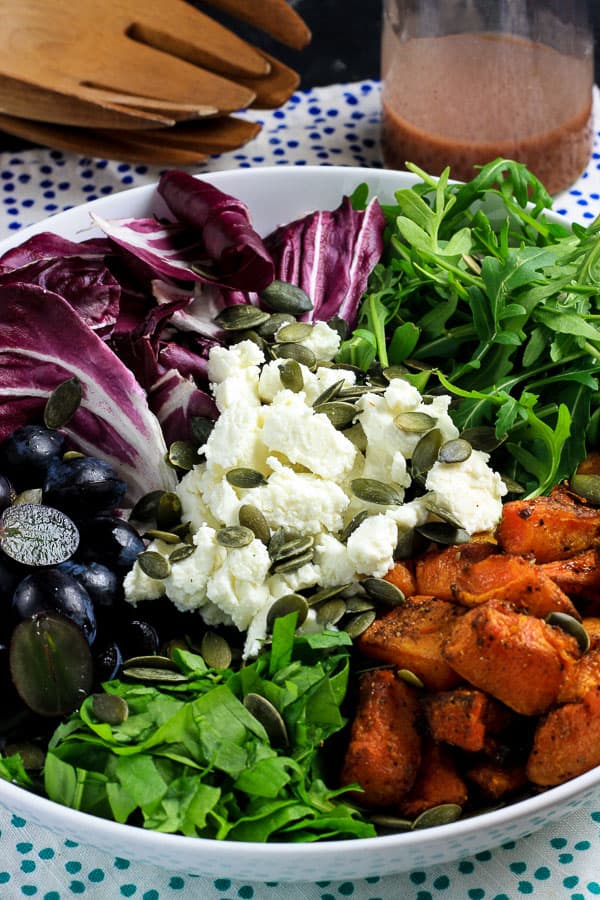 So all the leaves are torn, the goats cheese crumbled, the squash roasted with some shawarma spices, the heady sweet muscat grapes chopped and the pumpkin seeds are scattered so all that is left to do is the dressing.
Now, here's where you're going to feel a bit swizzed with this recipe since the key ingredient of my dressing is homemade blackberry vinegar – a really easy ingredient to source if you spend your late summers bottling vinegars, keeping them under the bed for the rest of the year. However, if you don't do this then you really should. No, what I meant to say is that if you don't do this then you might need to do a bit of a search in some specialist online food shops or beg a bottle off your local preserver. If there's a WI near you, someone will be bottling their own fruit vinegars – guaranteed - and you needn't be too fussy as any fruity vinegar will do in a pinch. The joy of them is that they imbue such a sweetly rounded flavour to the finished dressing so that all you really need to do is whisk in a bit of Dijon, some seasoning, garlic and then your olive oil.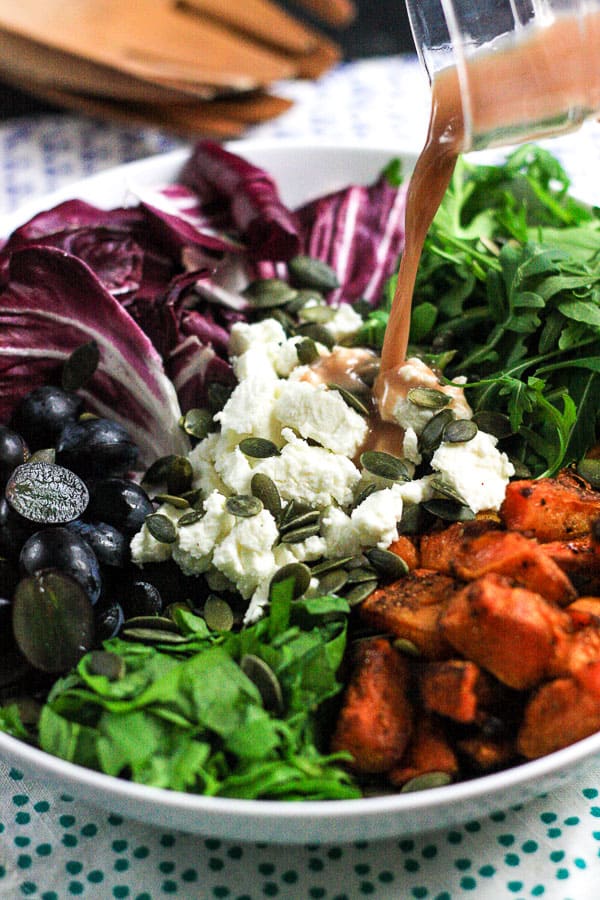 The salad is absolutely lovely on its own and serves a good lunch for two, however if you wanted to use it as a side for a bit of grilled lamb or a roast chicken then you will be seriously pleased you did.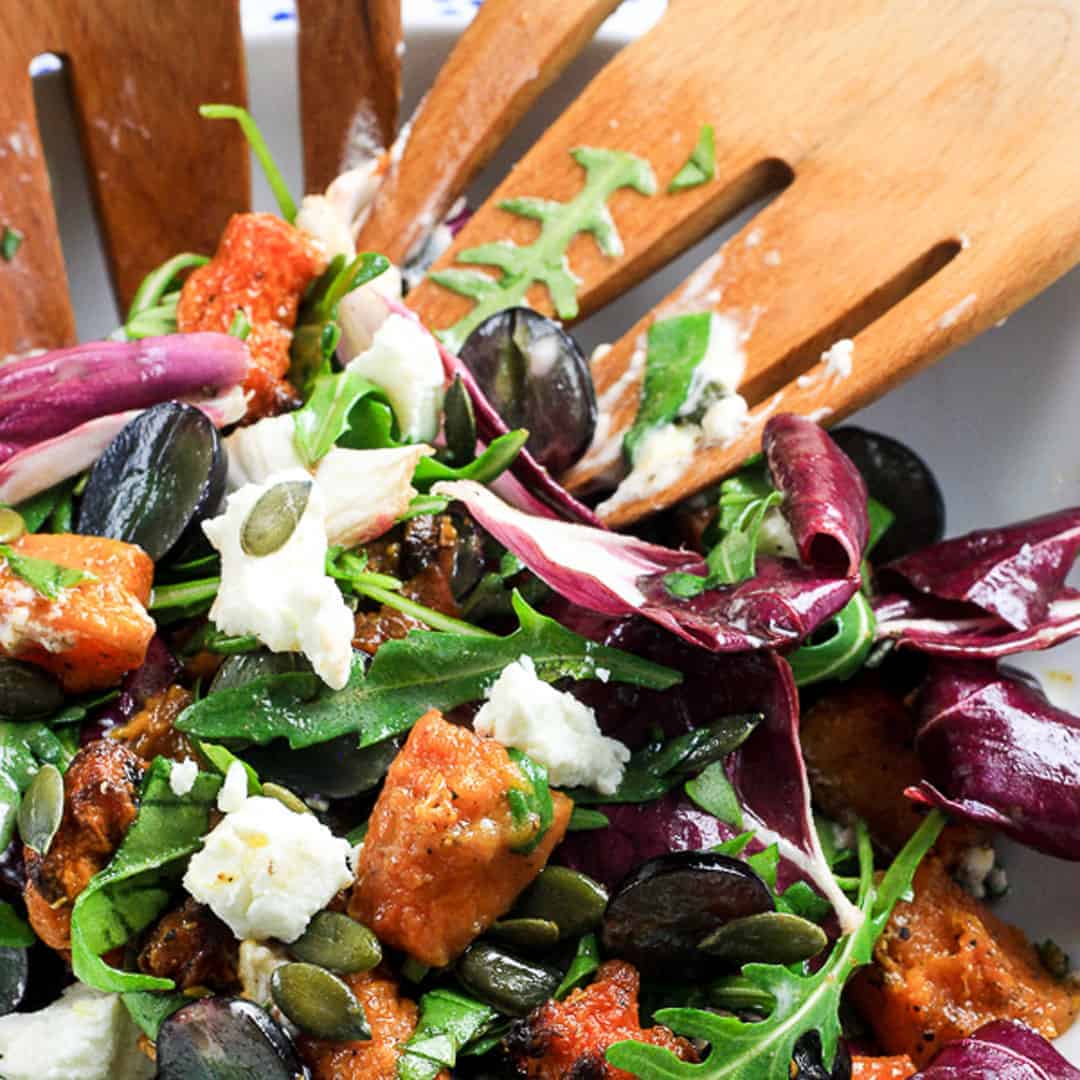 Spiced Roast Squash and Goats Cheese Salad
Spiced Roast Squash and Goats Cheese Salad combines sweetly caramelised roasted butternut squash, cream and cooling goats cheese with fruity muscat grapes with a garlicky blackberry vinaigrette
Ingredients
½

small butternut squash

-

peeled and cubed

½

teaspoon

shawarma spice blend

1

tablespoon

olive oil

100

g

goats cheese

-

crumbled

large handful of radicchio roughly torn

small handful of sorrel

-

roughly chopped

large handful of rocket

small handful muscat grapes

-

halved

small handful of pumpkin seeds
For the dressing:
2

tablespoons

blackberry vinegar

-

or any other fruity vinegar

2

teaspoons

Dijon mustard

½

garlic clove

-

crushed

3

tablespoons

extra virgin olive oil
Instructions
Toss the butternut squash pieces with the spices, olive oil and a bit of seasoning and roast in an oven pre-heated to 170°C for about 20-25 minutes. When ready remove from the oven and leave to cool to room temperature whilst you prepare the rest of the salad.

In a large salad bowl throw together the goats cheese, radicchio, sorrel, rocket and grapes and set aside whilst you prepare the dressing.

Whisk the blackberry vinegar with the mustard and plenty of salt and pepper until smooth then add the garlic clove.

Keep whisking the dressing then drizzle in the olive oil slowly until the dressing has completely emulsified.

Add the butternut squash to the rest of the salad and then pour the dressing over using a judicious hand.

Finally serve, scattering the pumpkin seeds over as you do.
Nutrition
Calories:
440
kcal
Carbohydrates:
14
g
Protein:
11
g
Fat:
39
g
Saturated Fat:
11
g
Cholesterol:
23
mg
Sodium:
247
mg
Potassium:
399
mg
Fiber:
2
g
Sugar:
3
g
Vitamin A:
12570
IU
Vitamin C:
23.8
mg
Calcium:
124
mg
Iron:
2
mg
Have you tried this recipe?
Head to the comment section and let me know what you think!
SHOP THE RECIPE
For the shawarma seasoning blend I use Shawarma Seasoning. Middle East Spices
. Their blends are fresh and flavourful and the shawarma spices work extremely well in this recipe.
The links above are affiliate links so if you decide to buy anything using the links given then I will get a small commission from Amazon at no cost to you. To learn more about how the data processing works when using these Amazon affiliate links then please visit my privacy policy page.
If you like this recipe then you may like...