Last Updated on by Georgina Hartley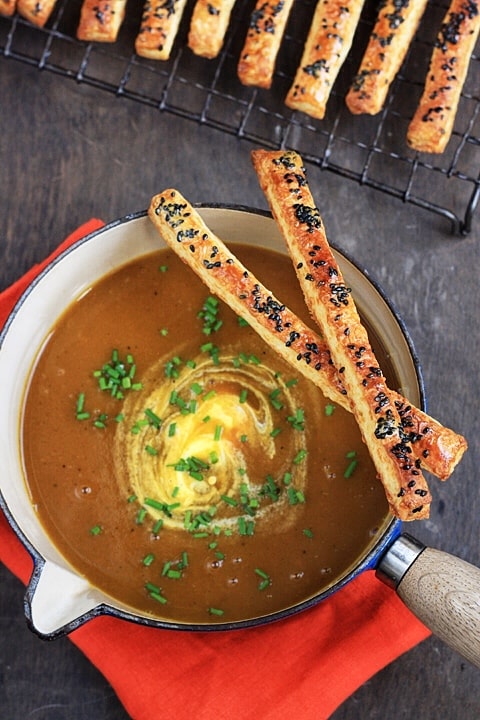 We made this soup as part of our Halloween celebrations the week before last, bringing a huge vat of it to the front of our house and serving to our friends and neighbours. It was a lovely evening and it is extremely comforting to be wrapped up warm whilst out in the cold clutching a mug of spiced hot soup. Well I wasn't wrapped up that warm since I was in a witch's hat with punishing red heels and carrying a broom, my normal Friday night attire.
I do need a bit of something cheesy with this kind of warming autumnal soup. For an every day lunch a round of cheddar cheese sandwiches fits the bill quite nicely but for an event it is rather special to bake some fresh cheese straws, most definitely served warm from the oven.
Although I love pumpkin, by itself it can be a little bland, it doesn't have the same sweetness as butternut squash, which is why you often find most pumpkin recipes stuffed to the gills with spices or chilli. Here, we went one step further to imbue the soup with as much intensely pumpkiny flavour as possible and roasted it up first before adding it into the soup. If you add pumpkin straight into hot water or stock, much like other squashes or even sweet potato, the vegetable would basically turn to mushy water. The pre-roasting captures the flavour and texture whilst also lending a slightly caramelised note to the proceedings.
Then after that we pumped the soup full of cumin, coriander, cinnamon, nutmeg and cloves. A pinch of chilli was added in for depth more than piquancy but if you like your soups super spicy then do add in fresh chillies as well, although that was not what we were looking for here.
You may notice that I have said 'we' a lot in this recipe, that's because I wasn't the only head chef on this one. That honour lies with my husband who did most of the work whilst I just yelled out what spices to add in next as I prepared the cheese straws from my side of the kitchen. Barking orders in the kitchen is one of my non too favourable traits.
I wanted to cram in as much cheese as possible into my straws to make sure the deep savouriness could compete with the soup, so I used both gruyere and parmesan in equal measure. Really any strong cheese would do, even stilton at a push. Just before the straws went into the oven I sprinkled a liberal amount of black sesame seeds over which pair beautifully with the cheese and with the pumpkin. Of course you can use white sesame seeds if that's all your supermarket holds without any impact on the taste.
I think cheese straws are an absolute necessity this time of year, I often make up the pastry a couple of days before guests are due, and often do so in my pre-Christmas preparations so that on the day I can roll them out and throw them in the oven just as everyone is arriving and needs a little something to nibble on. Dunked into this pumpkin soup though gives them even more reason to become a November/December staple.
Spiced Roast Pumpkin Soup
Serves 6-8
2 kg pumpkin
2 tablespoons olive oil + 1 tablespoon olive oil
1 carrot, peeled and diced
1 onion, peeled and diced
1 celery, diced
1 leek, diced
2 cloves garlic, crushed
Pinch dried chilli flakes
1 teaspoon cumin
½ teaspoon ground coriander
¼ teaspoon ground cinnamon
pinch of nutmeg
pinch of cloves
1½ litres chicken or vegetable stock
Crème fraiche and snipped chives to serve
Pre-heat the oven to 170°C, then prepare the pumkin by peeling, removing the seeds and dicing into 1 inch pieces.
Pour 2 tablespoons of olive oil into a large roasting tray and then tip the pumpkin in, coating with the oil. Add seasoning then place in the oven, roasting for about 1 hour until the pumpkin is cooked all the way through and just starting to caramelise at the edges.
Remove from the oven and set aside.
In a large saucepan heat the other tablespoon of olive oil on a gentle heat and add the carrot, onion, celery and leek. Cook for about 10 minutes until the vegetables are just turning transparent.
Add the garlic, chilli and all the spices and stir to coat for 2-3 minutes.
Tip the pumpkin in and the stock and bring up to the boil. Then turn the heat down to simmer for 30 minutes.
Remove the soup from the heat and blend it together until smooth. Check the consistency of the soup, if you feel it is too thick then add some more stock or water and bring back to the boil. If the soup is too thin then boil down until you reach your preferred consistency.
Serve with a swirl of crème fraiche and some snipped chives.
Black Sesame Cheese Straws
Makes 45-50
Adapted from a recipe by Jenny White on the BBC Food website
375g plain flour
pinch of salt
225g butter, put in the freezer for 30 minutes
100g gruyere. grated
100g parmesan, grated
½ teaspoon of English mustard powder
¼ teaspoon of cayenne pepper
2 free-range egg yolks + 2 egg yolks whisked up to make the egg wash
2 tablespoons black sesame seeds
Grate the butter into the flour and salt, then rub with your fingertips until the mixture resembles rough breadcrumbs.
Sprinkle in the mustard powder and cayenne pepper and stir in both cheeses.
Add the egg yolks plus 5 tablespoons of cold water and bring the dough together until smooth. Wrap in cling film and place in the fridge for 30 minutes to chill.
Pre-heat the oven to 190°C.
Roll out the pastry into a 18cm long rectangle, the pastry should be about 5mm thick. Then cut into 1.5cm strips.
Sprinkle the black sesame seeds over, pressing lightly into the pastry strips and brush with the egg wash.
Place on a baking tray and bake for 8-10 minutes until golden brown.
Remove from the oven and leave on the baking tray for 5 minutes, before serving warm.