This post contains affiliate links. Please read my disclosures.
This Smoky Aubergine and Heritage Tomato Ketchup is a sweetly spiced and smoky condiement which is perfect for grilling season.
There is nothing like homegrown produce. This is not something I know from my own home though as I don't so much have green fingers but instead fingers of death. Every chilli plant I lovingly tender, every rosemary bush I dutifully water and bay tree I carefully prune back repay my acts of kindness by withering and dying. I have heard that parsley grows like weeds once it gets started and will slowly but surely take over your whole garden. If only. No matter how hard I try my parsley takes one look at me and dives for cover straight back into the soil never to be seen again. Even the mushroom log which I bought for my husband at Christmas which guaranteed mushroom production as long as it was out of the wind has sat at the bottom of the garden resolutely log like and not at all like the fungus factory we had been promised. In fact the only food that has managed to survive my inadvertent perniciousness is my pear tree and every year I try to make the most of each precious fruit that has deemed me worthy.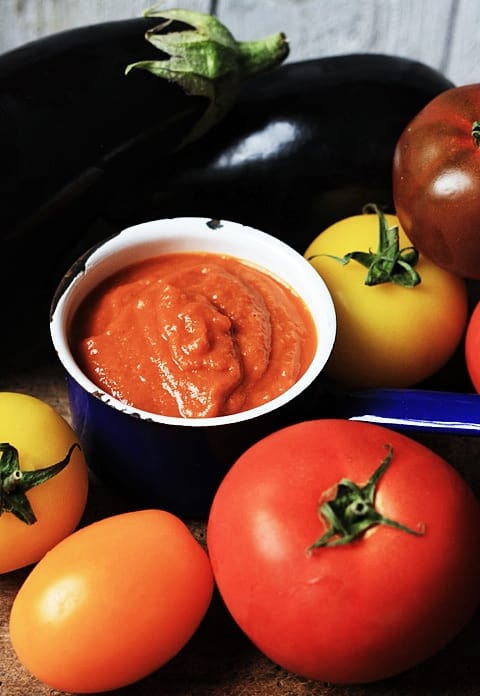 I went to my sisters at the weekend and she has cultivated the perfect urban market garden, grapes hang lusciously from vines ready to be turned into wine, shy cherry tomatoes peek out from their leafy vines, runner beans are biding their time before swinging into life on their trellis and pots and pots of strawberries, gooseberries and blueberries grow side by side with roses and lilies.
It is the tomatoes I am envious of, the scent of the vine is enticing and the taste of a tomato warmed from the sun and freshly picked cannot be denied. My husband and I spoke about trying our hand at tomato bags this year, then took one look at each other and burst into laughter. We would just be inviting more wasteland into our barren soil. So we turn to the farmers' markets (and my sister if we're lucky enough to turn up at the right time) for our produce.
A few weeks ago we couldn't resist a mixed bag of heritage tomatoes from Broadway Market and after eating some for lunch in a salad I knew exactly how to eek out the rest of the bag to maximum effect.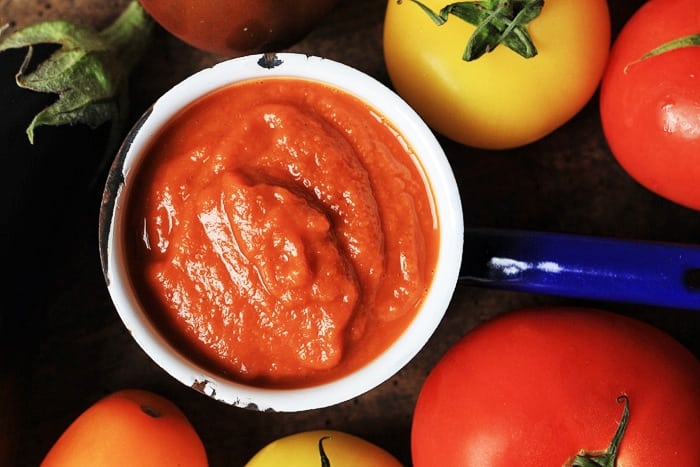 Last year I enjoyed the green tomato ketchup that I made so much and I have been missing having some homemade ketchup in the house since finishing those bottles. I had some aubergines knocking about that I wanted to use up and a penchant for intense Mediterranean smoky flavours so this ketchup was born.
What to serve with Smoky Aubergine Tomato Ketchup
Grilled lamb -  there is something about the smoky aubergine which lends itself so deliciously.
Chips
Bacon Sandwiches
Added to sauces and stews for hidden depth.
Bottles of ketchup don't last long in this house, there always seems to be a reason to dig the sauce out from the fridge and so it won't be long before we need to make some more. Maybe next year we will have a go at those tomato bags, you never know, they might survive the deadly garden of doom and then the ketchup will seem even more precious.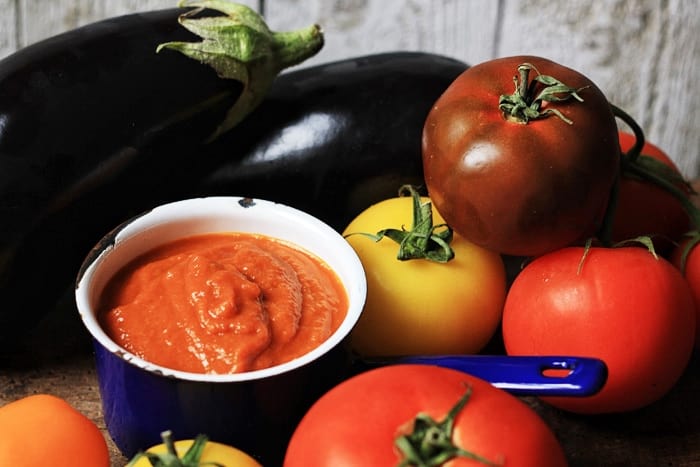 If you make this Smoky Aubergine Tomato Ketchup then please leave a comment below and/or give the recipe a rating. If you then go on to use this recipe as a launch pad for your own baking creation then I'd also love it if you'd share it and tag me on Instagram. It is so lovely for me to see your versions and variations of my recipes.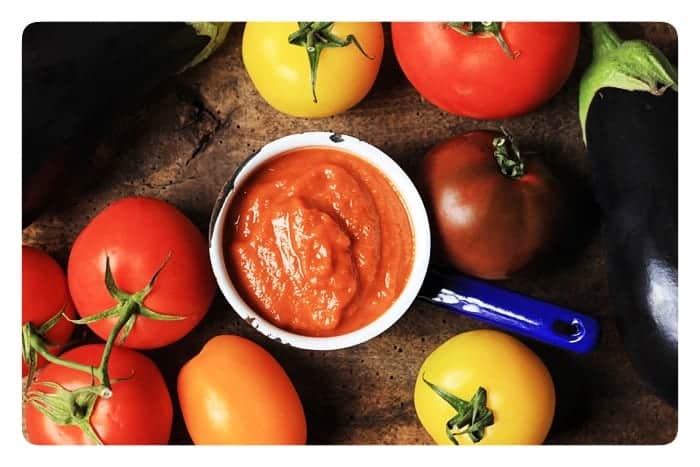 Smoky Aubergine and Heritage Tomato Ketchup
A sweetly spiced and smoky ketchup which is perfect for grilling season.
Ingredients
2

aubergines

-

about 400g worth

1

tablespoon

olive oil

1

large onion

-

diced

1

red chilli

-

seeds removed, roughly chopped

10

g

root ginger

-

roughly chopped

2

garlic cloves

-

crushed

zest of ½ small lemon

1

teaspoon

coriander seeds

-

crushed

pinch

of nutmeg

pinch

of cloves

1

teaspoon

sweet paprika

1.2

kg

tomatoes

150

ml

red wine vinegar

150

ml

light soft brown sugar
Instructions
Insert a skewer through each aubergine and hold over the flame of a gas hob. Char the outside of the skin until it's blistered and blackened and the flesh of the aubergine is soft when pressed. Leave until cool enough to handle then peel off the skin and discard. Set aside.

In a large preserving pan heat the olive oil on a medium heat. Add the onion and cook for about 15 minutes until it starts to caramelise.

Add the chill, ginger and garlic and cook for a couple of minutes.

Then add the rest of the ingredients, including the aubergine and bring to a boil.

Turn the heat down and simmer for 1 hour and check for seasoning.

Pour into a blender and whizz up until smooth.

Pour back into the saucepan and bring back to a boil.  Turn down to a simmer until it's reduced to the desired ketchup consistency which might be about half an hour.

Decant into sterilised jars. You can eat it straightaway or keep in a cool dark place for six months.
Have you tried this recipe?
Head to the comment section and let me know what you think!