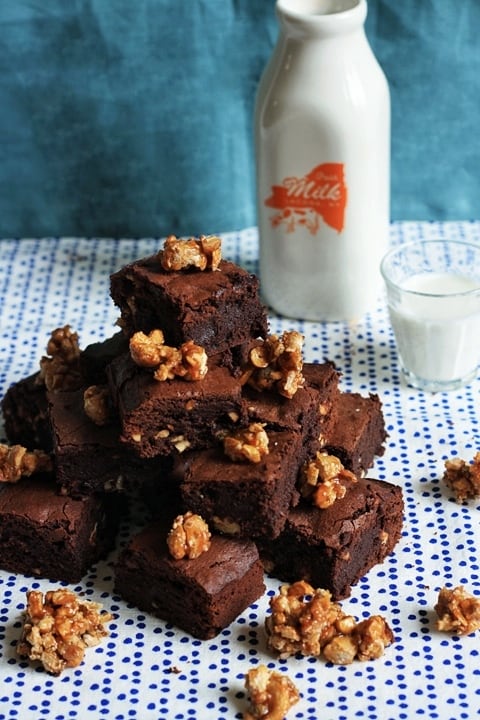 I know that Easter is over and most normal people are sick of chocolate, having gorged themselves silly on mini eggs, crème eggs and Lindt bunnies. I have never been normal though when it comes to food and for some reason Easter has released my Kraken and I just can't get enough chocolate this week. That's assuming that the mythological Kraken also eats a lot of chocolate.  It doesn't help that a quick trip to Sainsburys to buy milk ended up as a mini chocolate spree as their Cadburys Caramel eggs were reduced to just 20p each which seemed too good an opportunity to pass up. I'm nothing if not thrifty. Maybe a bit greedy too.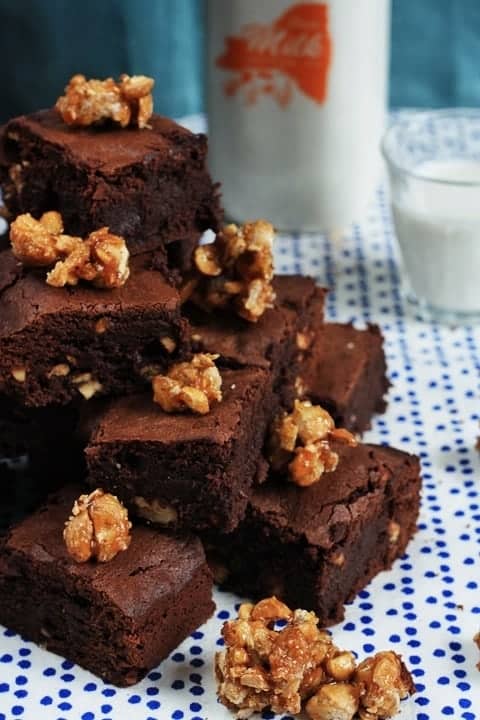 I love these brownies, which my comfy lounge pants which I have just had to change into can testify to, as like any good chocolate recipe they rely on both good dark chocolate and cocoa powder to really hammer home the chocolate hit. They are wonderfully intense with sweet and salty cashew praline hidden inside like buried treasure. If you want to double the amount of cashew praline then you will also have plenty to gild your brownie platter.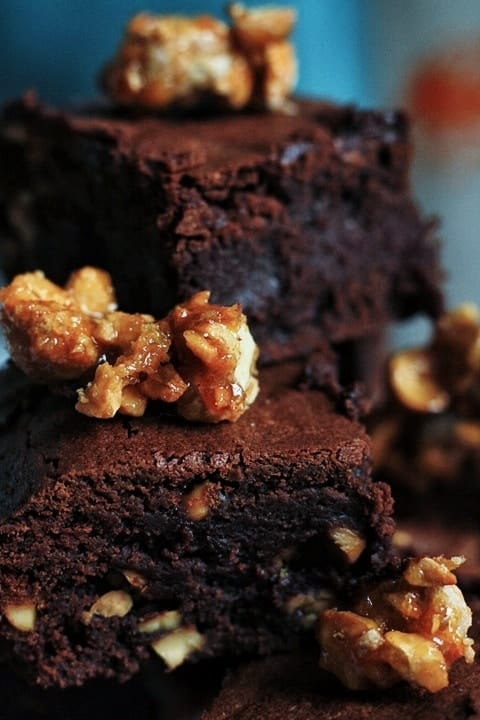 Sea Salt Cashew Praline Brownies
100g cashews
50g caster sugar
a good pinch of sea salt
200g dark chocolate
300g unsalted butter
250g light muscovado sugar
4 eggs
1 tsp vanilla extract
125g plain flour
50g cocoa powder
½ tsp baking powder
Place the cashews on a baking tray and bake in an oven pre-heated to 180°C for 10 minutes until just turning golden. Remove from the oven (leaving the oven on) and cool for a few minutes. Then chop the cashews up very roughly and set aside.
Line and grease a 20cm square cake tin.
In a small saucepan, heat up the caster sugar and salt slowly. Do not stir but you can shake the saucepan occasionally to ensure the sugar melts evenly. Once the sugar has completely melted and has turned golden, then add the cashews to the saucepan. Stir together quickly to completely coat the cashews in the sugar, then turn out the praline onto baking parchment. Work quickly to spread out into a shallow layer. Leave to cool whilst you prepare the brownie batter.
Melt the chocolate with the butter in a bain marie.
Once melted add the muscovado sugar and stir to combine.
Whisk the eggs up lightly with the vanilla extract then add into the chocolate and sugar mixture.
Whisk together the flour, cocoa powder and baking powder, then add to rest of the ingredients. Stir well together.
Chop up the cashew praline roughly, then add to the brownie batter.
Bake in the oven at 180°C for 20-25 minutes so the brownie still has a slight wobble.
Remove from the oven and cool in the tin before removing and cutting into squares.