This post contains affiliate links. Please read my disclosures.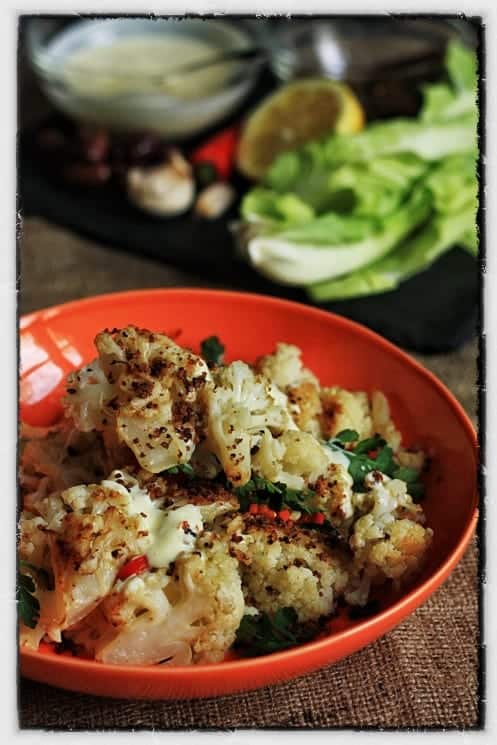 I was reading a food blog recently, I can't remember which one, believe me I read far too many, and the blogger admitted that she lives in a food bloggers' bubble. She meant by this that she is always baking and cooking recipes weeks in advance so she can eventually publish them perfectly timed to coincide with holidays and special events. Easter, for example. Well I am definitely doing something wrong. I only perfected my hot cross cinnabon recipe yesterday which now is so late in the day I can't even bring myself to post it. Don't worry, I'll just rebrand and post it another time to disguise the fact I live in some backward bloggerdom.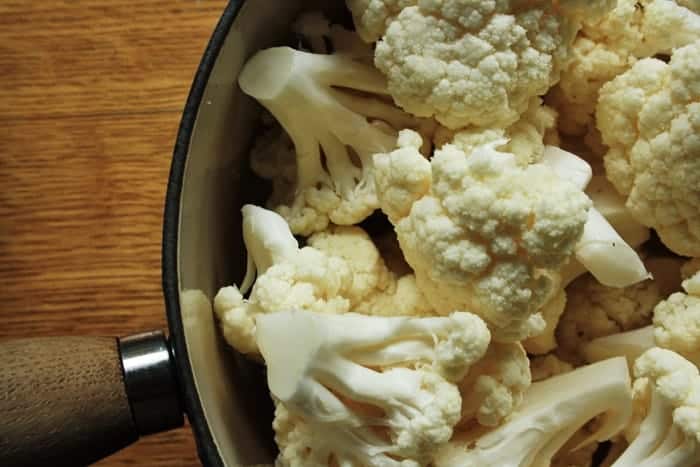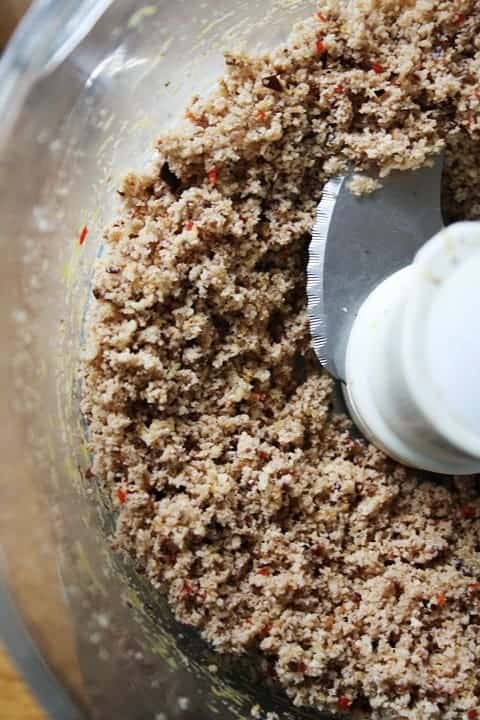 I have been thinking about this a lot today as just this afternoon I have finally got round to making the recipe I wanted to post today. I live in the here and now so much so that I have just put down the camera and am expecting to post this in the next half hour, that is 1 hour exactly after I made this dish. Don't get me wrong, this is no brag, it is a horribly detrimental way to plan, especially if you are a food blogger and want your lovely readers to have the option of making the recipe on the time of year it was intended. But hey, that's what archives are for right?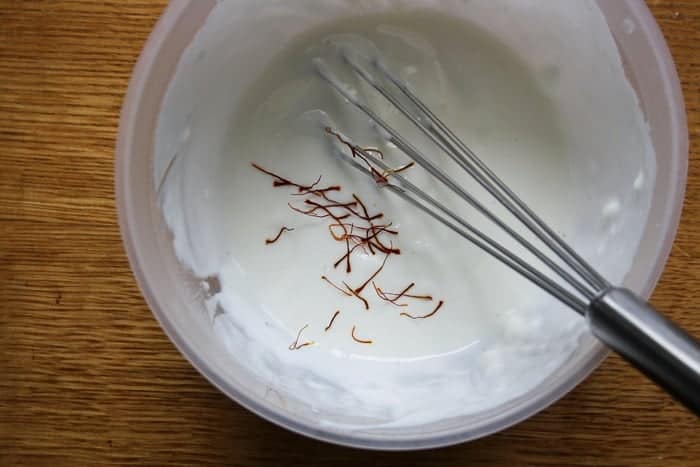 I'm definitely an advocate for making resolutions after Easter once all the chocolate has settled. Just so I can course correct the fine resolutions I make in January. I had two this year; not to procrastinate (If my creative writing tutor is reading this I promise I'll send my two weeks late homework soon) and to forward plan so everything is not last minute. The forward planning I actually have down pat, in fact too well. I am so busy planning things months in advance I fail to see deadlines looming before me, hence the last minute kick bollock scramble that dominates most of my life.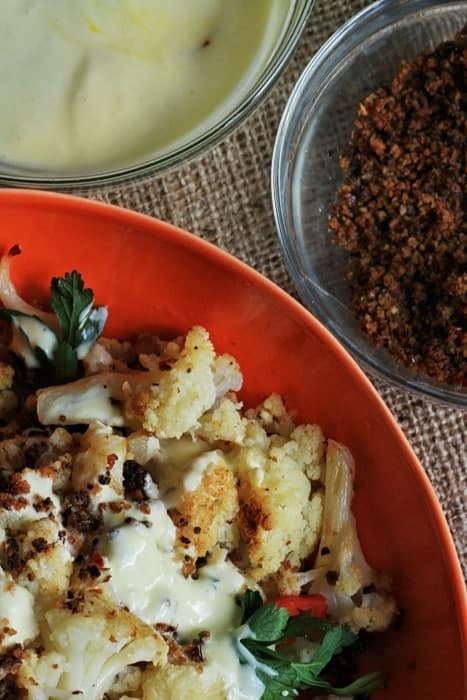 Happily, this recipe worked out just deliciously first time round. It's just as well as if it had failed then you would still be admiring last week's Easter Welsh Cakes. I didn't really doubt it would be a success though as the best parts are cribbed from chefs who know what they are talking about. The saffron buttermilk recipe is adapted, as all good recipes often are in my world, from Yotam Ottolenghi, he uses it without the saffron as an accompaniment to roasted aubergine. The black olive pangrattato is pretty much down to me but inspired by many a Jamie Oliver creation where I've seen him go to the pangrattato well a lot. It sounds impressive but it's pretty much just a fancy term for breadcrumbs. I used gluten free breadcrumbs here, as I mentioned I have been making and eating a lot of hot cross cinnabons this Easter and am feeling a familiar leaden stomach associated with such indulgence. Obviously if you're not of a weak disposition like me then feel free to use fully gluten loaded bread, I think Jamie Oliver advocates ciabatta.
I did scoff most of this directly after I put the camera down but whatever is remaining is going to wait until tonight to sit beside a big juicy pork chop where I know it will be an absolute dream. It would also go equally well with a lovely fillet of salmon or as part of a spring buffet table.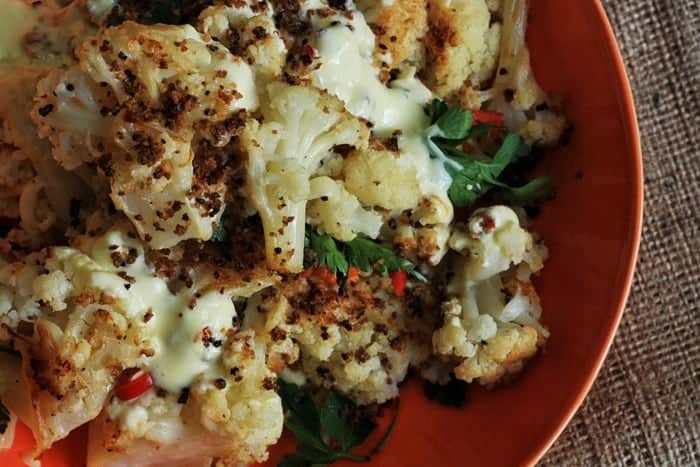 Roasted Cauliflower with Saffron Buttermilk and Black Olive Pangrattato
Serves 4
2 heads cauliflower, about 800g each
2 tbsp olive oil
Saffron Buttermilk
140ml buttermilk
100ml greek yoghurt
1 garlic clove, minced
1 tbsp olive oil
A pinch saffron
Black Olive Pangrattato
Zest of 1 lemon
Fresh chilli
2 cloves garlic, crushed
100g gluten free bread
1 clove garlic
15 pitted black olives
1 red chilli, seeds removed
2 tbsp olive oil
First make the saffron buttermilk as it has to be left for an hour to infuse.  All you need to do is whisk all the ingredients together with some seasoning, then rest it in the fridge for an hour.  Stir through before serving to make sure all the saffron is mixed in.
The next job is to prepare the cauliflower.  Remove the leaves from the cauliflower and break into florets.
Bring a large pan of salted water to the boil and drop the cauliflower florets in. Bring back to the boil then simmer for 5 minutes.
Drain the cauliflower by tipping into a colander then leave to rest for 30 minutes or until the cauliflower has dried.
Pre-heat an oven to 180°C, then warm a roasting pan with 2 tbsp olive oil inside it. Roast cauliflower for 25-30 mins, turning every 10 minutes, until it begins to brown.
For the pangrattato place all the ingredients, except the olive oil, in a food processor and whizz up until everything has turned into fine breadcrumbs.
Heat the olive oil for the pangrattato in a wide frying pan and then when hot add the breadcrumbs. Fry on high for about 10 minutes until they are golden and crisp.
Serve the roasted cauliflower with a drizzling of saffron buttermilk and then sprinkle over the black olive pangrattato and some parsley and extra chilli.