This post contains affiliate links. Please read my disclosures.
Roasted Bone Marrow with Parsley and Sorrel Salad is not only decadently delicious but bone marrow is packed with nutrition so you are also being good to yourself whilst indulging.
My food tastes are ever evolving. I remember the first time we went to Fergus Henderson's St John restaurant years ago and being intrigued by his Roast Bone Marrow and Parsley Salad which was his signature dish and is still on the menu today. At the time I was not adventurous enough to try it. This seems surprising to me to look back on this, as very little food these days intimidates me and the thought of eating bone marrow doesn't seem outlandish as it once did.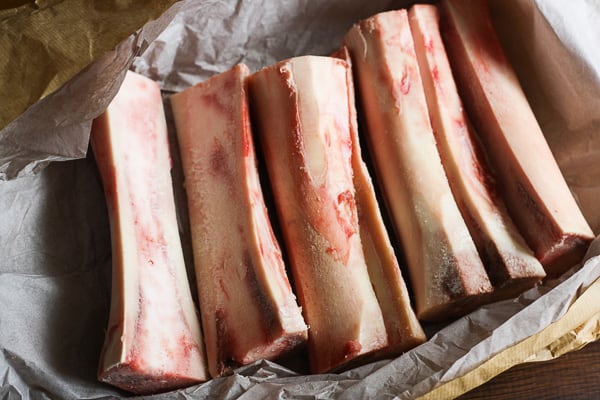 The inclusion of bone marrow on a menu is no longer shocking, most recently I was served a magnificent portion at Oslo in Hackney where they presented six deliciously huge shafts with hunks of bread for scooping out the unctuous melting marrow on a giant wooden board. It has also become very accessible to buy and there was a bit of a fuss when Waitrose started stocking it last year as part of their forgotten cuts range.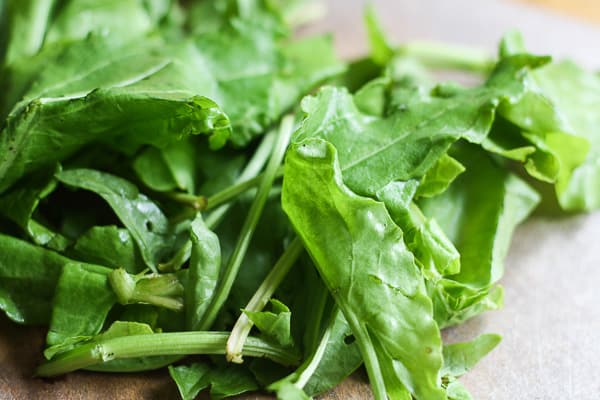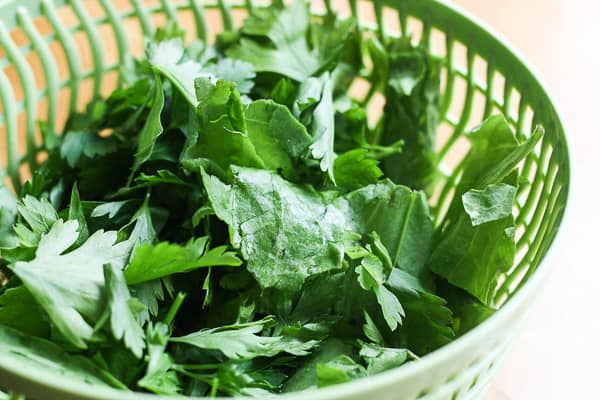 At home, we regularly devote Sunday afternoons to creating wonderful Osso Bucco Milanese which has become one of our favourite family dishes. It is now so prevalent as part of our everyday ingredients that my husband I randomly bought bone marrow from separate vendors over the weekend for our meals this week, so our kitchen this week is bursting with this under appreciated cut of meat.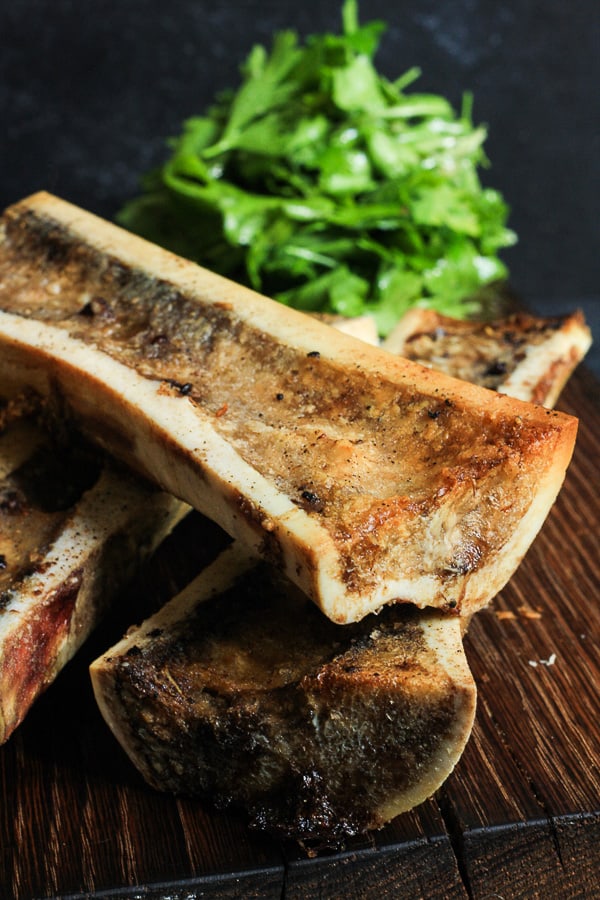 It's encouraging to think that I, along with the rest of the British nation, are becoming more open minded about the food we eat, it's not all shepherds pie, spaghetti bolognaise and roast dinners anymore. Although I do make a mean version of all three. The current food revolution in this country has been long overdue and seems to be picking up more steam year on year as we are embracing, not only our own discarded food heritage, but also launching headlong into discovering the best bits from other countries too. It is like we have been starved for decades living on our continued food rationing, not realising that the world has moved on. Well, in the past 15 years so have we and we're throwing ourselves into every fad with gusto, hence the popularity for food trucks and street food. Let's see which trends stick.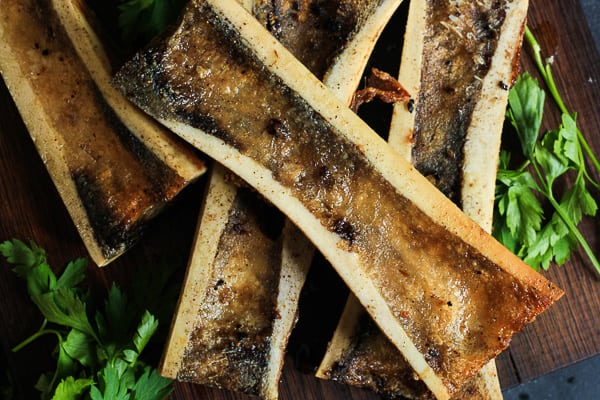 I opted yesterday to roast the bone marrow simply with a parsley salad, the way Fergus Henderson does it, adding citrusy sorrel to the proceedings to freshen it up. The marrow bones only take 15 minutes in the oven so they were quick to prepare for such a joyous treat. Plenty of fat dripped into the roasting dish which I promptly drained into a jar for roast potatoes at a later date. I also prepared more bone marrow than I needed which meant I could scrape out the marrow that I didn't immediately want to put it in the fridge for an instant flavour injection for future meals. The marrow is wonderful for adding to sauces and stews, contributing a unique umami flavour and meaty depth, like the best stock cube you could imagine. I then put the leftover roasted bone shafts in a huge casserole dish with leeks, onions, carrots, bay, thyme and seasoning, filled it with water and simmered for hours to create an unparalleled beef broth.
Bone Marrow is also crazily good for you, nutrient dense and high in protein and the best kind of fats, so although it feels luxurious to eat, you can feel extremely saintly. And if you are still not convinced, it is excellent value. I bought 2kg for £6 which I will reap the benefits from for many meals to come over the next few weeks.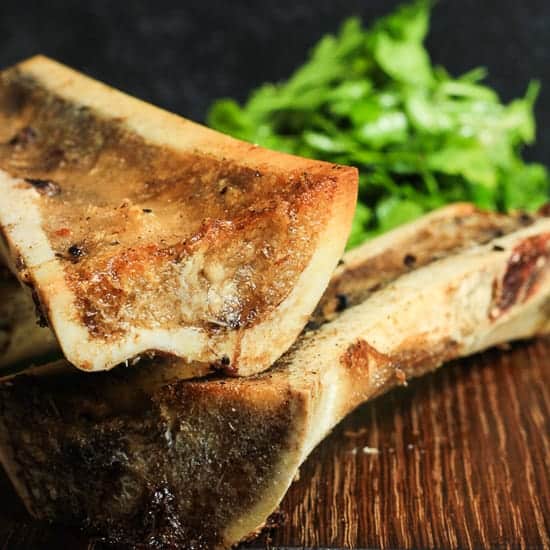 Roasted Bone Marrow with Parsley and Sorrel Salad
Roasted Bone Marrow with Parsley and Sorrel Salad is not only decadently delicious but bone marrow is packed with nutrition so you are also being good to yourself whilst indulging.
Ingredients
4

Bone Marrow Shafts

2

garlic cloves

-

crushed

50

g

sorrel

40

g

parsley leaves

1

teaspoon

Dijon mustard

1

teaspoon

lemon juice

30

ml

extra virgin olive oil

salt and pepper to taste
Instructions
Pre-heat the oven to 200°C.

Place the bone marrow shafts, bone side down into a large baking dish. Sprinkle the crushed garlic and some seasoning along the shaft then place in the oven and roast for about 15 minutes. The bone should just be turning gold at the edges and the marrow glistening. Remove from the oven

Whisk together the Dijon mustard, lemon juice and seasoning and then pour in the olive oil in a slow steady stream, whisking it in until fully emulsified.

Toss the parsley and sorrel together then drizzle the dressing over and serve with the hot bone marrow.
Have you tried this recipe?
Head to the comment section and let me know what you think!