This post contains affiliate links. Please read my disclosures.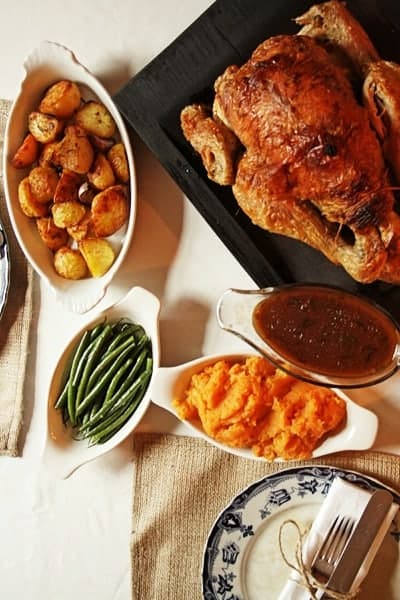 I read a very worrying headline in the Daily Mail yesterday, 'A family dinner? We'd rather eat in front of the telly: How just one in 50 families enjoy once-traditional weekend meal.' Foregoing my usual scoff at the insular sensationalism typically offered by the Daily Mail, this time I felt a pang of recognition at the topic at hand. Last minute conversations before the working day in our house are often desperately trying to organise how we'll be able to eat dinner together. Work events, long hours and the occasional quick drink with friends can severely compromise the two of us sitting down at a table at a reasonable hour for dinner. Supper on the sofa happens all too frequently.
The one meal we can always rely upon as a family to both cook together and eat together is our Sunday Lunch. It is absolutely sacrosanct. If we don't have it at home then we will have it out and we are constantly grading our pubs and nearby eateries with whether they do a decent Sunday Lunch. The conversation always ends the same way though as they might do an okay one, but it is never as good as at home. Roast potatoes can be hard, gravy can be too thin and Yorkshire puddings merely crisp clouds, nice to look at but lacking the necessary pudding.
This Sunday we had something extra special to celebrate as we have a new furry sidekick in our midst. A little bundle of trouble whom after only a few hours of being in our family had already joined in, nestling down between our feet as we ate at the dining table. At least he didn't jump onto the table and insist on sleeping between the cabbage and potatoes like Willow.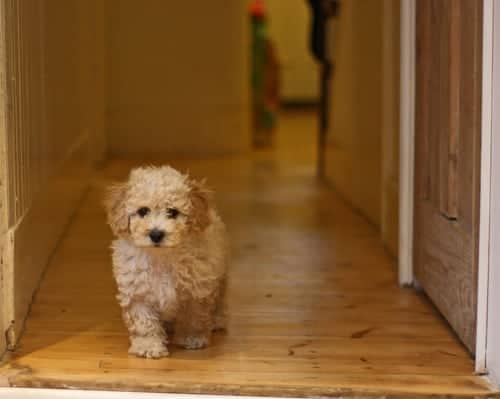 Unlike the meals we have in the working week, we take pleasure in making lunch on a Sunday centre stage. Today it was the turn of the chicken which I think of as the easiest roast. There are only two things to remember when cooking a chicken; if it's a small bird it takes 1 hour 15 mins, if it's a large one it takes 1 hour 30 mins. Any further information is just fancy talk. But I do like to talk fancy. For our classic roast chicken we stuff the cavity with half a lemon, a handful of parsley stalks, a few sprigs of thyme and rosemary and a couple of garlic cloves still in their skins. We rain down salt and pepper like a heavy thunderstorm and finally drench it in olive oil.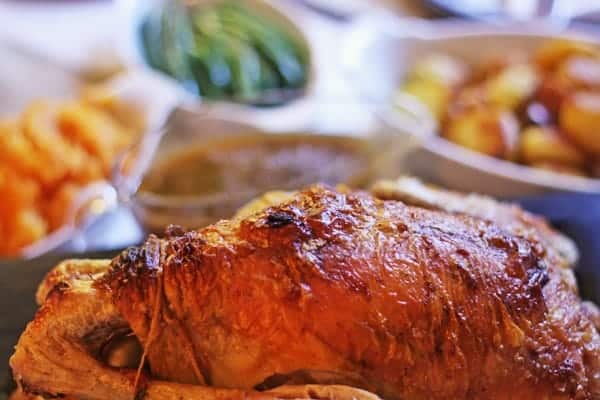 A roast dinner in our house is not complete without carrot and swede mash. I grew up with my grandmother insisting on calling it carrot and turnip probably to annoy my father who was constantly correcting her but I knew what I was getting and now I would never think to let the week end without it. It is one of my top five foods of all time. I give you a few weeks before you discover the rest of that list. It won't be difficult, the things I like, I tend to have immoderately. Carrot and Swede mash just requires you to peel, then chop the swede into large cubes, chuck it in a large saucepan with the same volume of carrots, peeled and chopped into large circles. The veg is brought to a boil then turned down to a simmer for at least 45 mins. Any less and it just doesn't mash the same. This is no time for al dente, save that for your baby veg. As soon as a knife can fall through a cube of swede like butter then you can add copious amounts of… butter… and nutmeg and salt and pepper. Jazz it up. The time will come soon when I will beckon you to add crème fraiche but not today, today the butter will be all the dairy you need.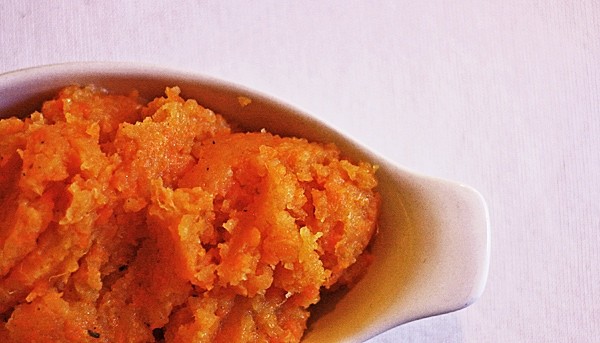 Roast Potatoes! Peel, chop in half, par-boil for 10 mins, drain, bash around in the colander, then throw into a baking tray with hot olive oil, garlic cloves and rosemary and roast in the oven for 45 mins at 180°C. I'm sure you've heard it all before.
The gravy, though. Oh, the gravy. Please please tell me you don't use Bisto? This is the one part that I'm afraid I can't take any shortcuts on. I think of the gravy for my next roast the moment I am clearing away the one before. The essential ingredient is fresh stock and the sticky bits from today. Since I like all the components of my roast to be ready at the same time, I save the sticky bits from the bottom of the meat, put it in Tupperware and save for the next roast. The same goes for my stock, which is always simmering away on a Sunday night during Downton Abbey whilst we are gorging on pud.  This means today all I had to do was remove my sticky bits from the freezer, heat in a saucepan, add flour, a glug of Marsala, then the stock, a bay leaf and some thyme. If I start cooking this halfway through my chicken time then the gravy is rich and flavoursome by the time the chicken is taken out of the oven. This is never something I regard as a faff because as I said, in my household the Sunday Lunch is absolutely sacrosanct.