This Blueberry Ricotta Coconut Crisp is a quick gluten-free dessert to throw in the oven. Layered with plump juicy blueberries, creamy ricotta then topped with crunchy clusters of coconutty oats.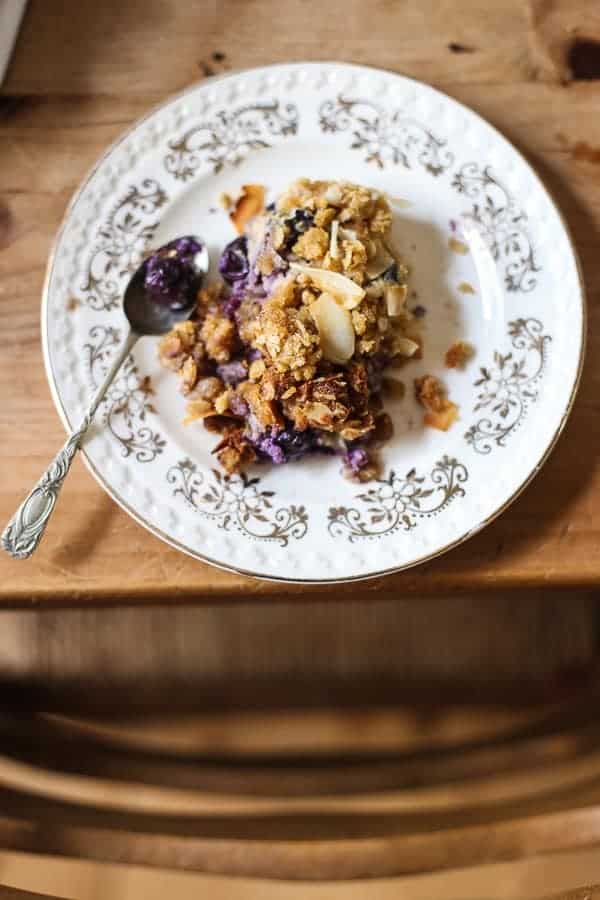 If you think you are experiencing a bit of deja-vu, then you may be right. To go hand in hand with my blog re-design I am also doing a bit of an audit, revisiting old recipes and seeing how they have fared over the years and what I might do to encourage the wee stragglers. I first posted this recipe in October 2014 with some pretty dreadful photos attached. I remembered how delicious it was so I made it again and agreed that yes I was right the first time, this was really delicious and by gum I need the world to know.
I didn't want to just get rid of my old post entirely though, so what follows below is the original post, just with much better photos.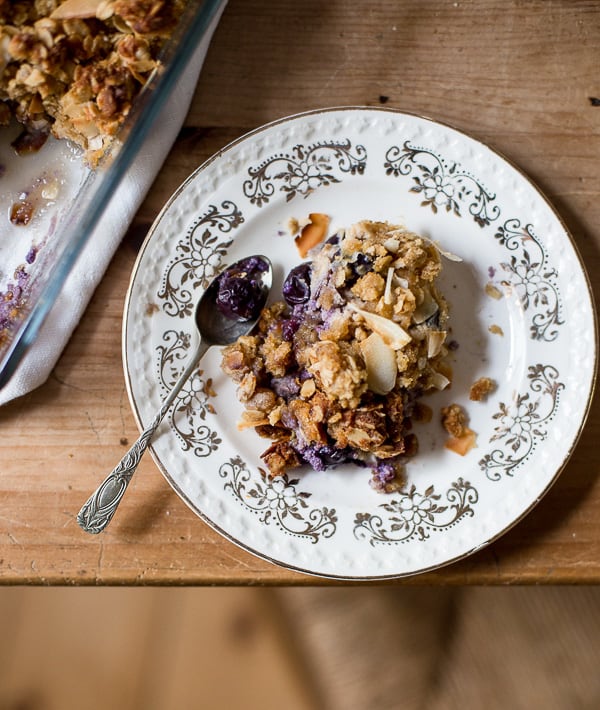 These past two Sundays since I begun my market stall have diverted us from our traditional lazy Sunday lunches due to the utter pandemonium of cake carrying boxes and cake stands and plates to be washed up on our return. We have eaten on the hoof, our giant roasts of meat which would always do us through Monday and Tuesday have recently been foregone for quick suppers before we succumb to the sofa.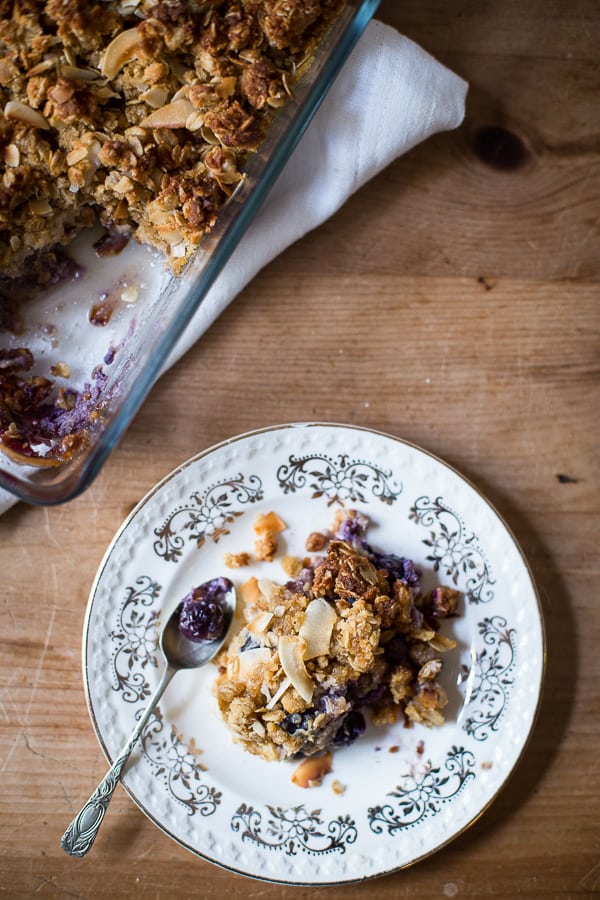 Sunday nights have always been pudding nights in our house, for me they don't seem right on any other evening. When I was a child I remember sitting down to the Darling Buds of May on a Sunday evening with a bowl of sticky jam sponge and hot custard so thick the spoon could stand upright in the bowl. There is something about Sunday night television which calls for the comfort of the old fashioned Pud. As the opening piano music for Downton Abbey is starting I am often spooning a steaming sponge into our glass dessert bowls, yelling into the other room for the TV to be paused so I don't miss a moment.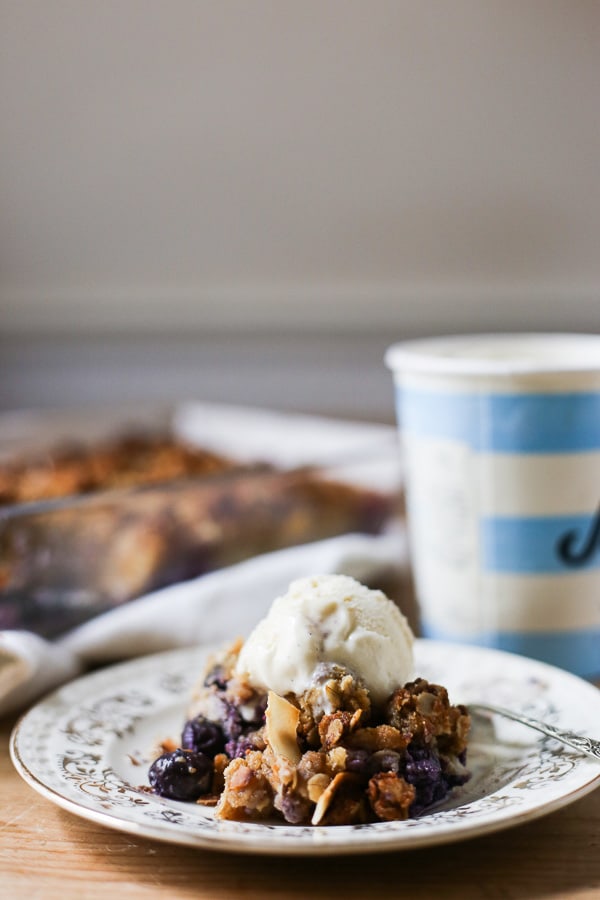 This hot pud was perfect then for our new busy Sundays, it had to be a quick throw together dessert which didn't feel like an effort and could be done whilst I was waiting for our burgers to grill (I know, a bit of a comedown from roast beef and yorkshires). Like any good idea, the inspiration came all at once as I knew precisely that it had to be a combination of blueberries, coconut and oats. Something hot but that felt full of light goodness; despite the change in the weather I am not quite ready for a treacly syrup sponges just yet. The fact that I had ricotta in the fridge was an absolute boon and brought the rest of the ingredients together in sweet harmony. The best thing about this pudding is that it takes no more than 10 minutes from all your ingredients being in the larder or the fridge to them being assembled and tucked into the oven for a 30 minute bake. It isn't the grand affair pudding that you would necessarily present to guests, it doesn't have the sophistication for that. However, it's exactly the sort of pudding that brings your family together at the end of a weekend, squished up on the sofa, slippers on, a pot of tea on the go and Downton Abbey pride of place.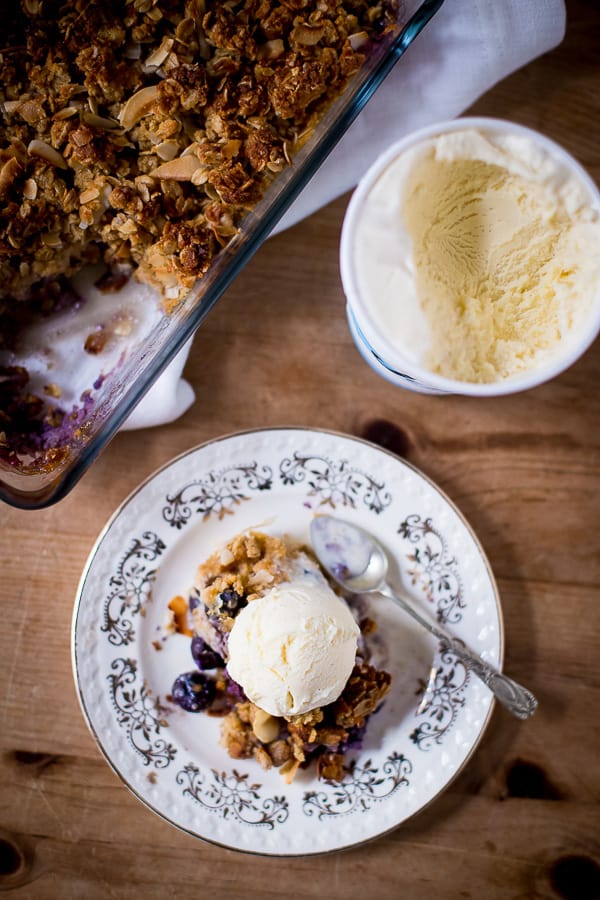 These photos were taken in collaboration with Tara at Fork and Dram. She has been a huge inspiration to me lately, assisting in the direction of my blog, cake stall and photography and has been marvellous to work with.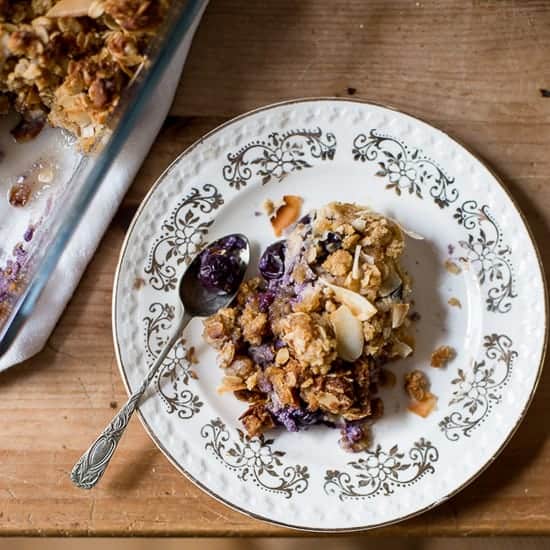 100

g

porridge oats

40

g

coconut flour

100

g

unsalted butter at room temperature

25

g

coconut flakes

300

g

blueberries

300

g

ricotta

225

g

soft light brown sugar

zest of 1/2 lemon
100

g

porridge oats

40

g

coconut flour

100

g

unsalted butter at room temperature

25

g

coconut flakes

300

g

blueberries

300

g

ricotta

225

g

soft light brown sugar

zest of 1/2 lemon
Pre-heat the oven to 160°C.

First make the coconut crisp by mixing together the oats, coconut flour and 75g of the sugar. Rub the butter into the dry mixture, using your fingertips until little oaty coconut clumps have formed and there are no big lumps of butter left. Mix in the coconut flakes then set aside for a moment.

Take a medium sized baking dish (the one I used was 7"x10") and grease the inside. Then pour the blueberries into the bottom so they are in an even layer.

In a separate bowl beat together the ricotta, the rest of the sugar and the lemon zest for a few moments until fully combined and then pour on top of the blueberries.

Scatter the coconut crisp on top of the ricotta.

Place in the oven and bake for 25-30 minutes when the coconut crisp has toasted and the blueberries are bubbling up from within.

Serve warm with ice cream.