I turn to this traditional coleslaw time and time again and have to admit that for my money it really is the Best Homemade Coleslaw.
I had been perfecting the recipe throughout November, tweaking it here and there, mixing up the veg, switching out the type of mustard but then this particular recipe culminated on Christmas Eve when I prepared a huge bowlful to be served alongside our Glazed Spiced Ham and the cheeseboard I usually lay out for all the family who drop in. My mother and my sister were the test as they are also both keen fans of The Slaw and they both decreed this version an absolute winner. I heartily concur and from now on will make all my coleslaws in this way evermore. Until I get bored and need to ring in some changes around March.
Coleslaw or just 'slaw' if you're being ultra casj (don't whatever you do get sucked down a half hour rabbit hole like I just did about how you should spell the abbreviation of casual – the outcome was that the internet has no ruddy idea) can be eaten with anything. It's a plain fact. Barbecues: check. Jacket potato: check. Chicken and chips: check. And I cannot abide pizza without a hearty dollop of slaw smothering the whole affair, no matter the provenance of said pizza.
You many encounter many chefs advocating how you can stick any veg whatsoever into your slaw and it'll be grand but this is simply not the case. I have been burned by trying to substitute the compulsory cabbage with a bit of savoy and my gut regretted that decision for the rest of the day. If you must substitute your white cabbage then chinese leaf or green cabbage are okay but lack the crunch.
I am a big fan of Leon, the overpriced fast food chain that seems to dominate Soho. Their Chargrilled Chicken Aioli Hotbox is a brilliant lunch and one I am happy to eat regularly when I'm in town. Except for one fatal flaw. For the love of God, they put peas in their slaw. What the hell is that about? If we ignore the fact that I think peas are evil rabbit droppings anyway, their icky flavour is far too dominating and the pop of pea completely disarming when you think you are getting a nice mouthful of crunchy slaw. Unacceptable.
The triumvirate of a classic coleslaw is cabbage, carrot and onion. I'm not an advocate of red cabbage (see savoy above) and beetroot is nice but makes it go an unsavoury pink. I do quite like though, a bit of fennel in mine but only if it's going to be sliced as wafer thin thin thin as you possibly can. Recently, however, I have been throwing caution to the wind and shredding some green pepper into the mix. Now, green pepper may not be to everyone's taste as it can be a little sour but that is why I think it contrasts so perfectly with the creamy dressing, cutting through the richness of the mayo and adding piquancy to the finished result. If you don't like green pepper then just leave it out, but by no means substitute it with red or yellow or orange as they would lend an unnecessary sweetness. Carrot is there for that.
To prepare the carrot there is one key instrument that you definitely need at your disposal and that is the julienne grater. By all means mess around with the attachment on your food mixer or your mandolin but this grater is so easy to whip out of the drawer and grate away in moments. It invokes minimal mess and is very easy to dash under the water for a quick clean afterwards. They are inexpensive to buy and I have found mine invaluable, using it almost everyday to julienne one bit of veg or another.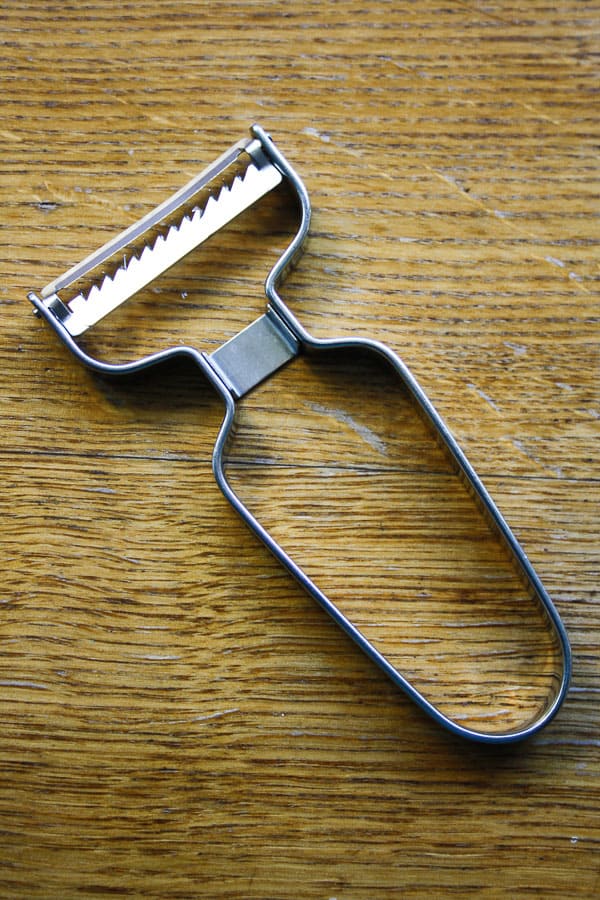 The final component is the onion. Now you might be tempted to bung any old eye shredding white onion which has been languishing in your veg box all week but step away my friend as that baby is far too pungent. Instead I go for a milder red onion. Now this is a job that under no circumstances do I give to my husband who despite my instructions will insist of cutting the onion up into finger sized wedges, which only leads me to picking it all out when it gets to my plate. If you are too heavy handed with the onion then the whole thing is ruined. The onion should be sliced so that it barely resembles a piece of onion at all but rather a delightfully transparent spider web. This way it can be mixed more thoroughly into the coleslaw so that each bite has a hint of onion tang instead of smacking us around the face with it. If you must substitute the red onion for spring onion then so be it but do make sure you slice into ribbons lengthways. I am a stickler for all of the veg being uniformly cut.
The dressing of one's coleslaw also requires a bit of thought. Traditionally you might choose to slather the vegetable ensemble with copious amounts of Hellman's. However, I think that is a mistake as it weighs the ingredients down. Other slaw recipes might just add a bit of and oil and vinegar dressing but I am like Hannah Montana and also like the best of both worlds. I mix up a small amount of mustard, oil and vinegar into a thick emulsion then spoon in not just a tablespoon of mayonnaise but also a tablespoon of sour cream. Just because sour cream is the best thing in the world and lightens the mayo no end. I have also used greek yoghurt for the same effect and it is just as good but it's not sour cream so by default it didn't make the cut.
Now, the controversial part which my Mum was a little unsure about when I went to use it – the mustard used in the dressing. I could see her Britishness struggle for air inside when I reached for the Frenchie's yellow mustard. In her words, she sees it as a mere burger mustard, only to be brought out at barbecues and used with irony. She is right that it doesn't have the sophistication of Dijon or the pomposity of Coleman's English Mustard but it does have a unique tang which isn't dominating or too heady on the nose. Here it happily bunks down with the other ingredients to achieve the lightness and flavour we are aiming for.
So once all our ingredients are ready then there's nothing more to do than mix them all up into one gloriously creamy mess. I'd recommend leaving the coleslaw for about an hour after you've tossed it as it just gives the vegetables time to take on each other's flavour and become more of a cohesive whole than a ragtag assembly.
This makes a whole bunch of coleslaw, suitable for at least 8-10 if you're having it as an small accompaniment, but I quite often am happy to have a bowlful of coleslaw with some grilled chicken arranged artfully on top and this version is light enough that you can do that and if so then it will serve 4.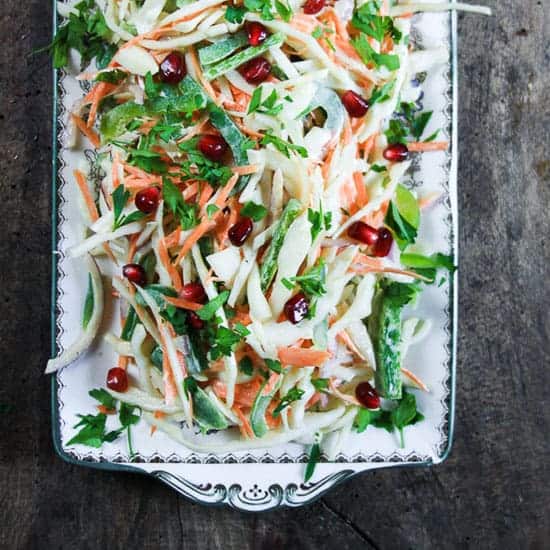 ½

small white cabbage

sliced very very thinly

2

carrots

julienned

1

red onion

sliced very very thinly

1

green pepper

sliced very very thinly

1

teaspoon

Frenchie's mustard

1

teaspoon

white wine vinegar

½

teaspoon

salt

1/8

teaspoon

ground white pepper

1

tablespoon

olive oil

1

tablespoon

mayonnaise

1

tablespoon

sour cream

pomegranate seeds

optional

small handful parsley leaves

chopped roughly (optional)
½

small white cabbage

sliced very very thinly

2

carrots

julienned

1

red onion

sliced very very thinly

1

green pepper

sliced very very thinly

1

teaspoon

Frenchie's mustard

1

teaspoon

white wine vinegar

½

teaspoon

salt

1/8

teaspoon

ground white pepper

1

tablespoon

olive oil

1

tablespoon

mayonnaise

1

tablespoon

sour cream

pomegranate seeds

optional

small handful parsley leaves

chopped roughly (optional)
In a large bowl toss together the sliced cabbage, onion, green pepper and julienned carrot and set aside whilst you prepare the dressing.

In a small bowl whisk together the mustard, white wine vinegar and seasoning until thoroughly combined and the salt has dissolved.

Drizzle in gradually the olive oil, whisking all the while until it has reached a thick emulsion.

Add the mayonnaise and sour cream and again whisk in until completely combined.

Pour the dressing over the vegetables and toss together until the dressing is evenly dispersed throughout.

Serve with a scattering of pomegranate seeds and chopped parsley.
SHOP THE RECIPE
The julienne peeler which I have had in my kitchen for years is the Lakeland Sharp Peel Julienne Y Peeler (Perfect for Coleslaw & Stir Fries)
. As I said above, it's quick and easy to use without messing around with bigger equipment like graters, mandolins or attachments on food processors.
The link above is an affiliate link which means if you decide you want to click through to buy then Amazon gives me a small commission at no cost to you whatsoever. I will only recommend products I use in my kitchen and love. It's just a way for me to fund the blog so if you do click through then many thanks!!