This post contains affiliate links. Please read my disclosures.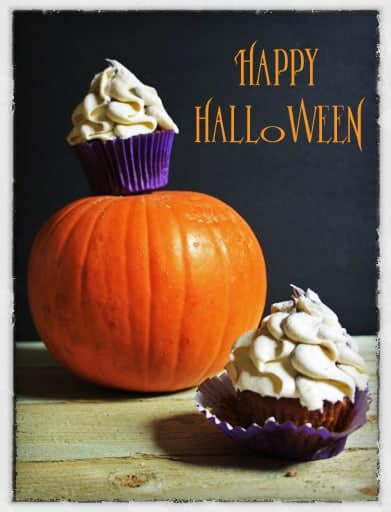 I hate those recipes that ask you to use a bit of this and a bit of that. If I'm buying a tin of pumpkin puree I want to use the whole thing otherwise it will sit in my fridge for a week whilst I try and decide what else I can do with it. By the time I have come to a decision it is not fit for eating. Both the cupcakes and the frosting  here require you to buy stuff that you may not have in your store cupboard, pumpkin puree and marshmallow fluff, but don't worry you will need to use the whole darn lot. Good for fridge space and good for your tummy.
I experimented with a few recipes to come up with the perfect pumpkin cupcake but then I realised it was all for naught as Martha Stewart has already cornered the market in the recipe below. I couldn't better it and they are one of the tastiest, moistest cupcake sponges I have ever had. The frosting recipe makes a lot of marshmallowy goodness but if you are ruffling it onto the cupcakes like I did in the photos then that means you do need all of it.
I have loved coming up with Halloween inspired recipes this past week and I hope you have enjoyed the posts. Tomorrow I am making a last ditch attempt to get healthy before indulging in the upcoming excesses of the Christmas season with a month of gluten free recipes. I'm just telling you so you know you need to have a huge blow out tonight. Eat all the cupcakes! I'm gonna!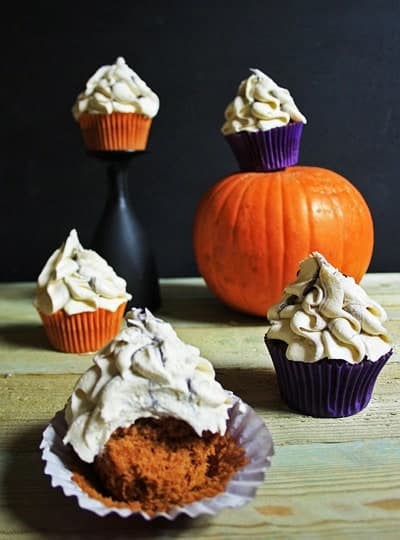 Pumpkin Cupcakes with Marshmallow Buttercream
Adapted from a recipe by Martha Stewart
Makes about 18
400g light brown sugar
225g unsalted butter, melted then cooled
4 eggs
1 tin of pumpkin puree (about 400g)
1 tsp vanilla extract
250g plain flour
1 tsp bicarbonate of soda
1 tsp baking powder
1 tsp salt
1 tsp cinnamon
1 tsp ground ginger
¼ tsp ground nutmeg
¼ tsp ground allspice
Preheat the oven to 180°C
Blend together the sugar and butter until pale and well combined.
Add the eggs one at a time, then the vanilla extract.
Pour in the pumpkin puree and mix well.
Sift together the rest of the dry ingredients, then add to the pumpkin mixture until just combined.
Pour into cupcake cases and bake for 16-18mins.
Marshmallow Buttercream
400g unsalted butter
500g icing sugar
2 tsp vanilla extract
2 x jars marshmallow fluff (about 400g in total)
Whizz up the butter and the icing sugar on a high speed in the mixer for 5-10 mins until very light and fluffy.
Add in the vanilla extract and mix well.
Add the marshmallow fluff a spoon at a time whilst your mixer is on a slower speed until fully incorporated.