This post contains affiliate links. Please read my disclosures.
Pomegranate Iced Tea Lollies are easy to make and totally refreshing.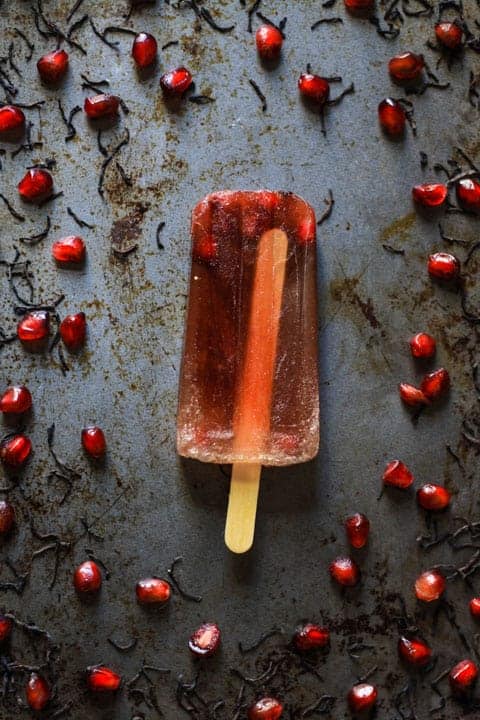 Iced tea is not a big thing in the UK which baffles me considering we are a nation of avid tea drinkers. I, on the other hand, am a staunch advocate of iced tea and I shall hereby declare it an imperative part of my British summertime.
Last year a cold jug of iced tea stashed in the fridge became my lifeline during the June heat wave, which I can recall so precisely as it coincided with both the first week of Wimbledon and the first week the care of my two week old son was solely entrusted to me when Luke had the gall to return to work. It was a scary scorching time. I got through the stifling temperatures by holing Cole and I up in our breezy bedroom, windows open, multiple desk fans blazing and guzzling my ice cold tea to the gentle sounds of tennis balls popping back and forth via my laptop at the end of the bed.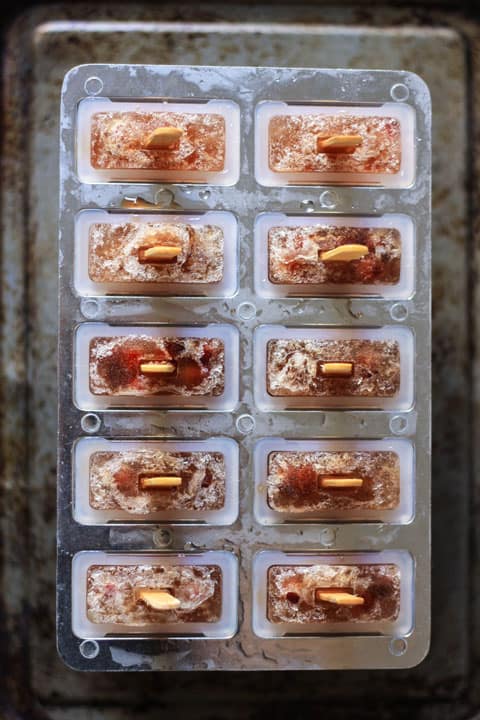 This year though I have absolutely nailed the iciest tea around by sticking it in the freezer in lolly form. I couldn't have chosen a better time either as the temperature shot up yesterday in London quite unannounced. I bought my ice lolly mould at the beginning of summer last year but after bunging it on top of the fridge and forgetting about it whilst I sorted out having a baby I have only just begun to experiment with it. I bought one on a nostalgic whim remembering when I was young how we would pour fresh orange juice into the moulds on sultry evenings ready for as soon as the summer sun rose the next day. Such an amazing treat as a child and since Cole has just begun to steal ice cubes whenever I open the freezer door in his presence I think I need to think about more baby friendly ice lollies to play around with.
I would say though that these pomegranate iced tea lollies appeal more to an adult sensibility. They contain caffeine for a start which I understand isn't the best thing to give your one year old but they are also not too sweet, as this recipe eschews any sort of refined sugar. Instead I have plumped for the sour sweetness of pomegranate molasses rounded out with a touch of honey. These flavours are completely in my zone. I bought my pomegranate molasses back when it became trendy a few years ago and dashed a bit in this and that, not entirely convinced. Now, though I am going through bottles of the stuff every month as I drizzle it over salads, include it in any of my current marinades and use it to flavour buttercreams. It's sweet but not sweet and that is definitely my favourite kind of sweet.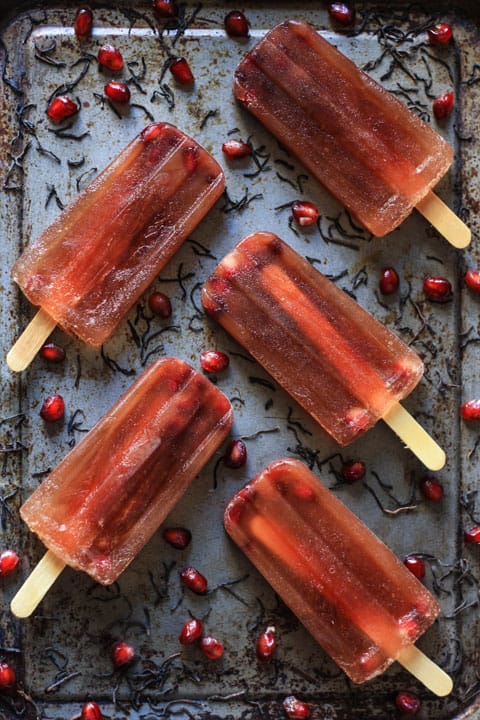 These pomegranate iced tea lollies are the perfect antidote to the summer heat and definitely take iced tea to the extreme.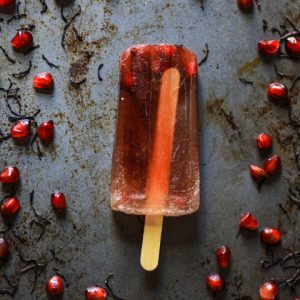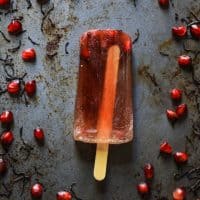 Pomegranate Iced Tea Lollies
Pomegranate Iced Tea Lollies are easy to make and totally refreshing.
Print
Pin
Rate
Ingredients
1

tablespoon

black tea leaves

1

litre freshly boiled water

3

tablespoons

pomegranate molasses

1

tablespoon

honey

handful of pomegranate seeds
Instructions
Place the tea leaves in a large jug and pour over the freshly boiled water. Let stand for 5 minutes.

Strain the tea into another large jug, discarding the leaves and stir in the pomegranate molasses and honey until completely dissolved.

Place the jug in the fridge and leave for at least 2 hours until the tea has completely chilled.

Sprinkle the pomegranate seeds evenly into the bottom of your ice lolly moulds then pour the tea over the top. Place the wooden lolly sticks into your moulds and secure the top on then place in the freezer for at least 24 hours for the lollies to completely freeze before removing from the moulds.
Nutrition
Calories:
22
kcal
|
Carbohydrates:
5
g
|
Sodium:
1
mg
|
Sugar:
4
g