This post contains affiliate links. Please read my disclosures.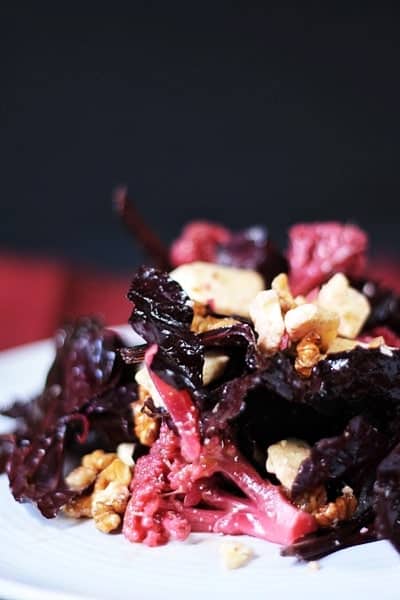 I lucked out in an obscene manner at the farmers market at the weekend. It's as if all the produce had got together and artfully arranged themselves adjacent to each other so I didn't have to use my imagination at all. The purple cauliflower sang out immediately. Of course it would – it was purple. Purple veg are actually the best, they make everything a lot more fancy. I am absolutely addicted to purple carrots at the moment. But then carrots are complete rock stars in my eyes anyway and can do no wrong, the purple is just an added bonus.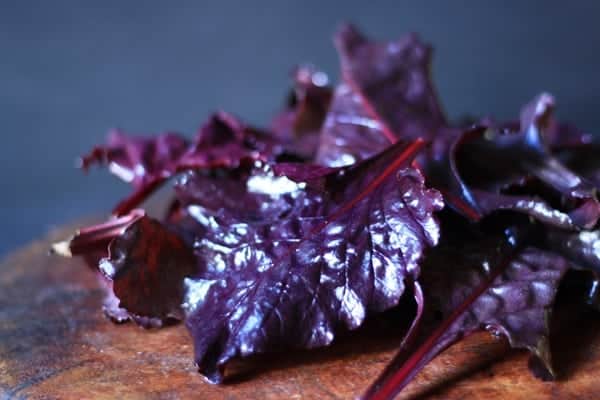 So, the purple cauliflower was in my bag and I immediately knew I wanted to pickle it which would keep the cauliflower as raw as possible so as not to lose any of its vital colour. Then, just as I was wondering how to incorporate it into a salad, what should be sitting next door to Ole Purple Brains, but bulls blood leaves. That's right, an unassuming salad leaf handily named something gruesome – perfect for my Halloween week. I hadn't heard of bulls blood leaves before but they are from the beetroot family and these ones had been organically groomed to take on the beetroot's purple hue which makes them sweeter. So, in the bag they went.
Now what goes the bestest with cauliflower? If you said cheese then you are completely correct. My husband point blank refused to eat cauliflower at all when we first got together but once he had tried homemade cauliflower cheese suddenly it all made sense to him. In fact a lot of things can make sense with just a spoonful of cauliflower cheese, it really makes you think clearer.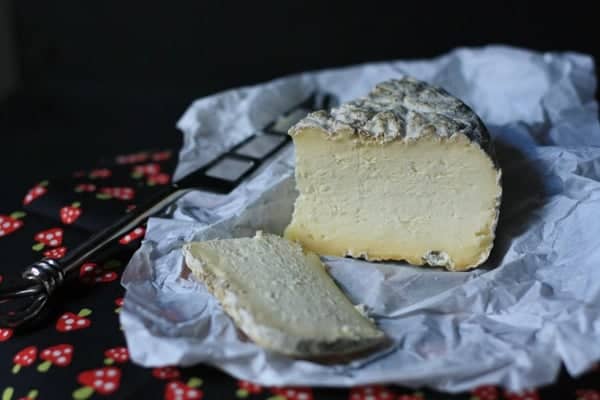 Anyhow, the farmers market. So next door… Next Door!..to the veggie man was the cheese stall. Wildes Cheese are a self proclaimed urban cheese makers who make the most wonderful artisan cheeses from their micro dairy in Tottenham. They recommended The Howard to go with my haul, a softer cheese but with a slight blue note to it which would lend its robust flavours to the sweetly pickled cauliflower and the strong slightly bitter bulls blood leaves. The final ingredient to this wonderful array of ingredients was the walnuts which I wish I could tell you I foraged on the way home along the Parkland Walk but no, I just stopped off at Sainsbury's.
The thing is with this salad is that you might not be able to get hold of bulls blood leaves but you can easily substitute it with any salad leaves. Radicchio would go very nicely. The same with the cheese, if you live in North London then I would definitely recommend sourcing from Wildes Cheese but if not, then any soft light British blue would go just as well. The pickled cauliflower is just as lovely if you can only get white cauliflower. The purple one just makes it prettier. The pickled cauliflower can be kept in the fridge for a few weeks and makes brilliant snacking if you are standing in front of the fridge at 10pm on a Tuesday night.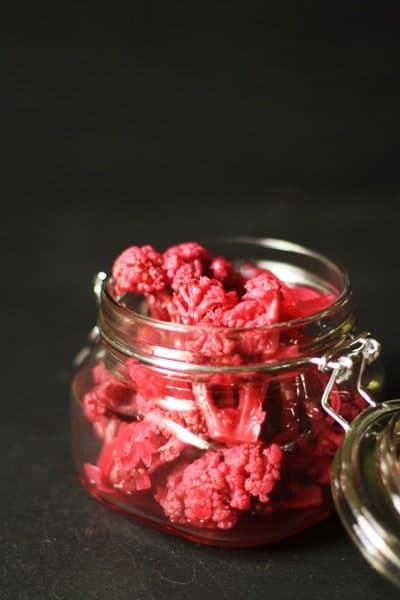 Pickled Purple Cauliflower
Makes about 2 x 500ml jars
2 tsp coriander seeds
1 tsp cumin seeds
2 tsp yellow mustard seeds
½ tsp celery seeds
1.5 tbsp salt
400ml cider vinegar
180g caster sugar
1kg cauliflower florets
1 large onion, halved then sliced thinly
In a large saucepan toast all the spices for a minute or so.
Add the salt, vinegar and sugar and boil for around 10 mins.
Add the cauliflower florets and onion and bring back up to the boil, then boil for around 3 mins.
Remove from the heat and bottle into jars.
Leave for a day or so for the flavours to come together.
For the salad
A large handful of salad leaves
A chunk of cheese, crumbled
A handful of walnuts, toasted in the oven then cooled
A couple of spoonfuls of pickled cauliflower
Dressed with the dressing below
Salad dressing
1 tsp red wine vinegar
salt and pepper
2 tsp honey mustard (I used Maille's honey dijon)
1 tbsp olive oil
Whisk the vinegar, seasoning and mustard together, then drizzle in slowly the olive oil, whisking all the while until it emulsifies into a thick dressing.