This post contains affiliate links. Please read my disclosures.
The current heatwave in London necessitates the need to cool down by whatever means. We Brits may not built for this weather, but that's when these Mango Turmeric Coconut Smoothie Pops come into play.
I love it when a recipe is as intuitive as this one was. I spend ages deciding over which one of my recipes I should post here next. Too long. In fact I spend more time fluctuating between whether I should post my new layer cake, or maybe that granola bar recipe which I have been slaving over this past week than actually making, photographing or writing about any of my recipes. Haven't I just posted a layer cake last week. Is it really granola bar season? I need to just pick one and go with it.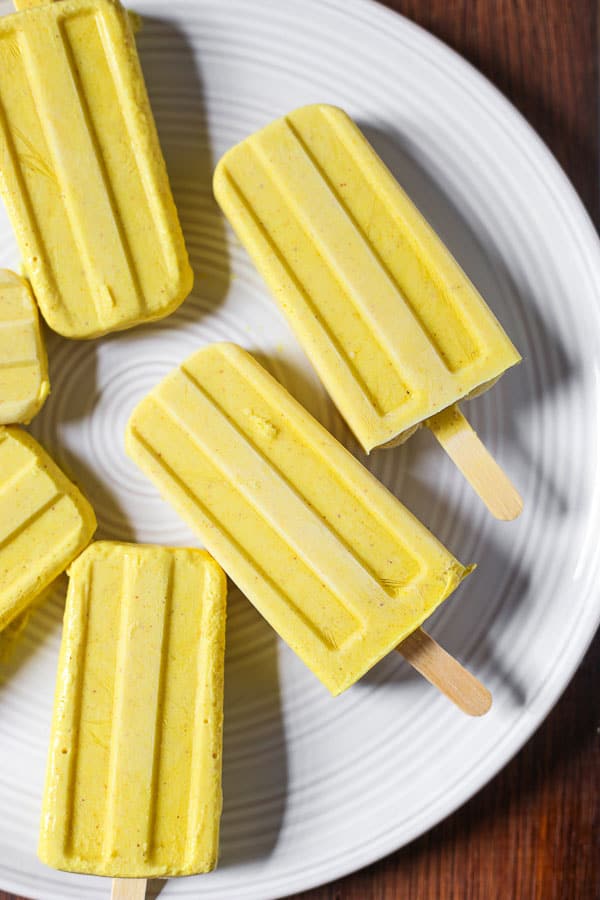 Or just let the recipe choose me. Yesterday morning Cole and I made these Mango Turmeric Coconut Smoothie Pops (Ice lollies? Popsicles? I spent a good half hour deliberating over that one too) in 10 minutes as he sat on my kitchen top repeating, "Whatssat?"
"Mango, darling."
"Mango Mummy…..Whatssat?"
"Mango, darling"
"Mango Mummy…..Whatssat?"
You get the picture.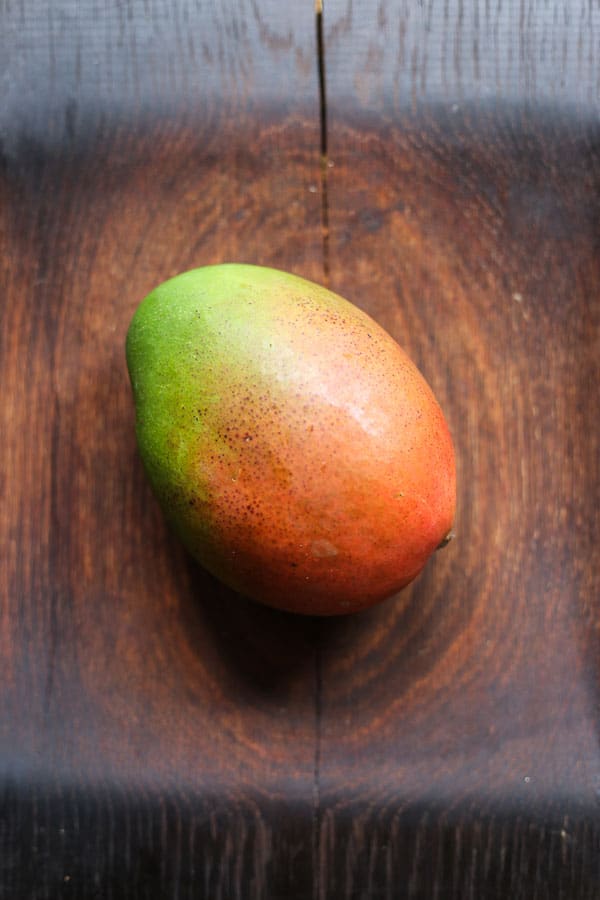 I had been wanting to make ice lollies for days to cool us both down in this incessant heat. Our tiny victorian railway cottage has taken on the form of a casserole pot, trapping all the heat in and braising us in our own juices. By 3pm after Cole has woken up from his lunchtime nap and I have calmed him down from the injustice of being cooked in his sleep, then spending any time actually doing anything rather than chucking ourselves into the nearest paddling pool is inconceivable.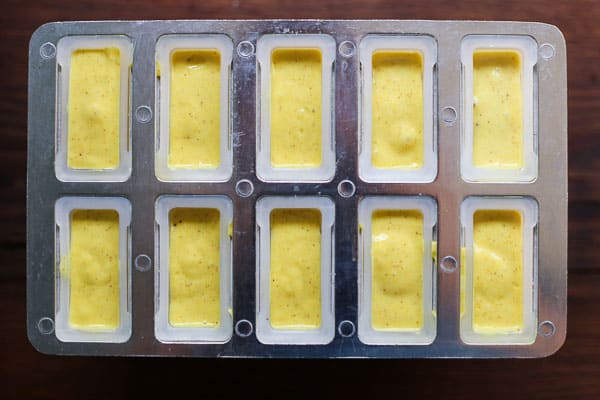 Yesterday morning though, as I scoured the fridge for breakfast food I came across a long forgotten mango which still looked pretty good. Not a moment later I declared lolly time and with glee Cole watched as I dragged the blender over. He loves helping with the smoothies so blenders get a fine welcome in our kitchen.
I peeled and chopped the mango, prompting the above conversation, threw the flesh into the blender along with a tin of coconut milk for healthy fats, a bit of almond butter for healthy protein and a teaspoon of turmeric, thereby warding off any form of horrible disease which may be winging its way in our future direction.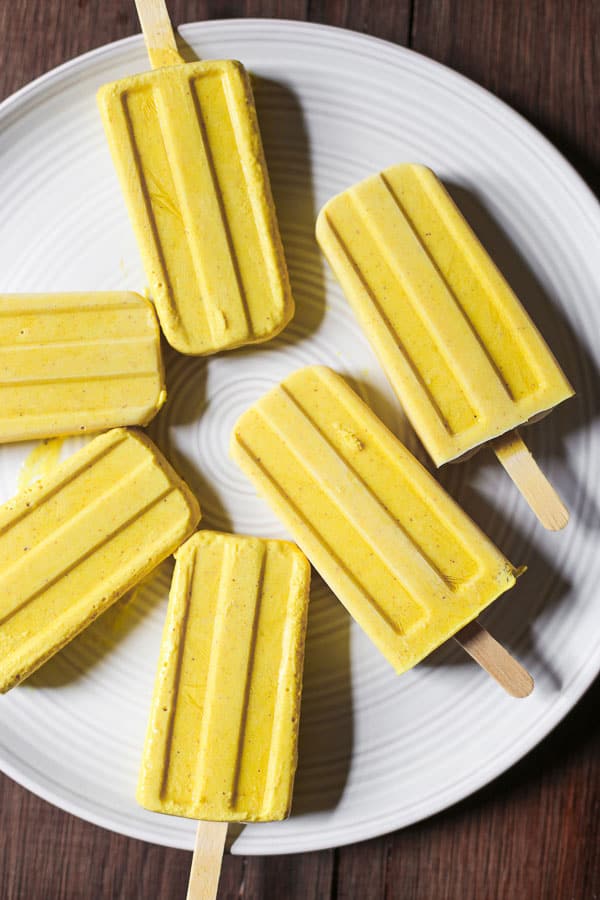 I forgot momentarily that toddlers don't understand the concept of patience so Cole was quite indignant that we couldn't enjoy them right away, and I realised my mistake over making such a hoopla about making lollies, the indignance threated to topple into something more when I extracted his sticky little hands from inside the filled lolly mould. However it was all made better when I poured him out a little leftover smoothie mix into a cup and he could stick his hand into that instead. It was a fine choice making them in the morning though as it meant that by yesterday afternoon when Cole awoke from his nap I earned Mother of the Year by presenting my grumpy little gnome with the perfect icy treat for surviving this blistering heat. I had one too, and we enjoyed them whilst splashing around in the paddling pool.
Shop the Recipe - Ice Pop Maker, Blender
I urge you to give these Mango Smoothie Pops a try. If you do then please leave a comment below and give the recipe a rating which helps others find the recipe on Google. If you then go on to use this recipe as a launch pad for your own culinary creation then I'd also love it if you'd share it and tag me on Instagram. It is so lovely for me to see your versions and variations of my recipes.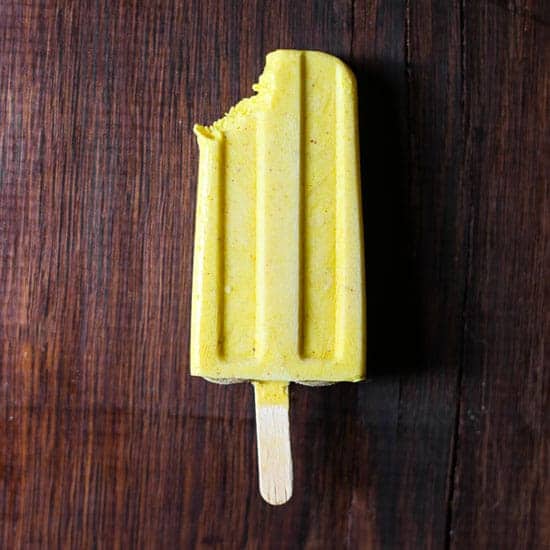 Mango Turmeric Coconut Smoothie Pops
These deliciously cooling smoothie pops are full of good fats, protein and a teaspoon of turmeric.
Ingredients
1

mango

400

ml

coconut milk

2

tablespoons

almond butter

1

teaspoon

turmeric
Instructions
Peel the mango and cut the flesh into rough cubes.

Place in a blender with the rest of the ingredients and whizz until smooth.

Pour carefully into ice lolly moulds and freeze overnight or at least 8 hours.
Nutrition
Calories:
136
kcal
Carbohydrates:
5
g
Protein:
2
g
Fat:
13
g
Saturated Fat:
10
g
Sodium:
7
mg
Potassium:
181
mg
Fiber:
1
g
Sugar:
3
g
Vitamin A:
225
IU
Vitamin C:
8
mg
Calcium:
25
mg
Iron:
1.9
mg
Have you tried this recipe?
Head to the comment section and let me know what you think!