This post contains affiliate links. Please read my disclosures.
I had never made my own jelly before. My only experience of it up until now had been from childhood or when I was dieting in my early twenties and it was the only dessert allowed. I have been spoiled by the saccharine sweetness of these packaged cubes.
After trying my hand at jelly two weeks ago I am hooked. My January drizzle has met its match with these intense fruity delights. I am entranced by the beauty of the jeweled colours shimmering as the shy sun catches a slight wobble.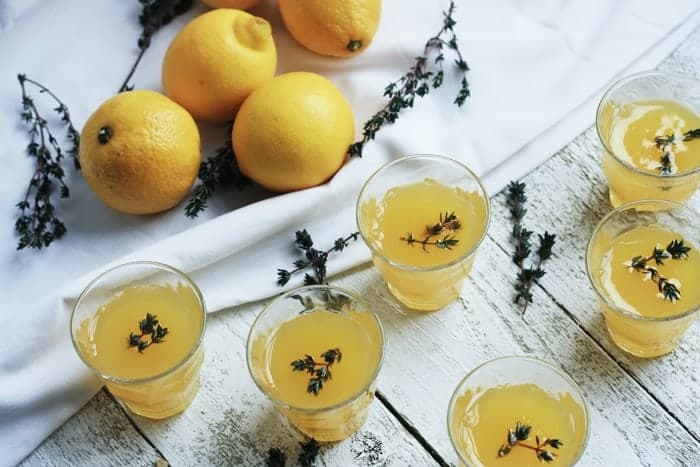 My favourite jelly I have made so far has been these bouncy pots of lemon and thyme. Bompas and Parr, the fine connoisseurs of all things wobbly explained that the acidity of the pure lemon juice would counteract the gelatine so shots of orange are also needed to help it out. This does give the jelly a more rounded citrus flavour without losing the desired lemon tang and the thyme adds just a touch of herbal earthiness.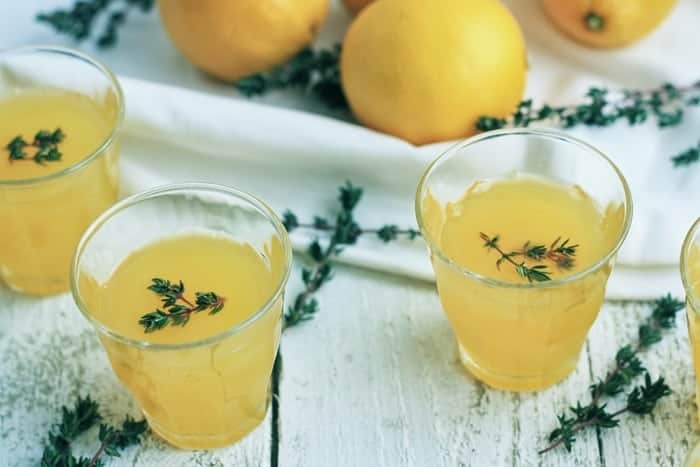 This week I have been out too many times in the evening, too much wine, too many late nights and early mornings. I can feel my head quietly pulsing. As I reach for the refreshing sunshine burst of jelly I can feel my head clearing, the slight sharpness sending an awakening spark down my back and I feel rejuvenation is a mere weekend away.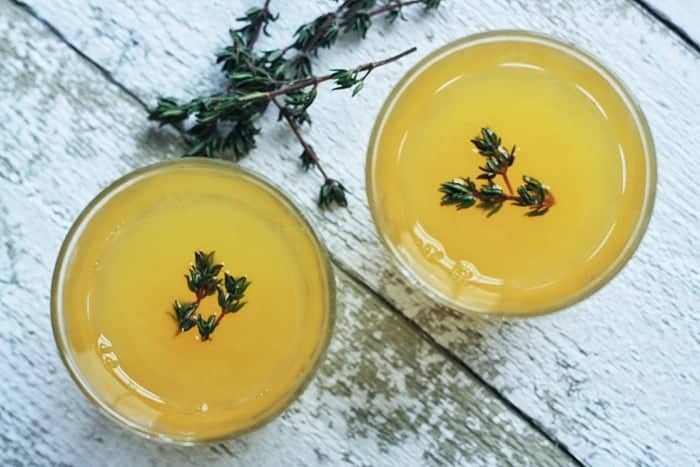 Lemon and Thyme Jelly
300ml lemon juice (6-7 large lemons)
200ml orange juice (about 3 oranges)
150g agave nectar or honey
2 sprigs thyme
4 leaves gelatine
In a medium sized saucepan heat the lemon juice, orange juice, agave nectar and the 2 sprigs of thyme until just under boiling.
Remove from the heat and let stand in the saucepan for 1 hour for the thyme to infuse.
Strain the juice and pour back into the saucepan.
Soak the gelatine leaves in cold water for 5 mins, then squeeze out the excess water.
Add the gelatine to the juice in the saucepan and warm gently until the gelatine melts, do not let boil, it should only take a couple of mins.
Pour into glasses and leave to cool for a couple of hours.
Add a couple of small sprigs of thyme to the tops of the jellies, pressing down slightly to submerge.
Put the jellies in the fridge to set overnight.