Last Updated on by Georgina Hartley
These Korean Braised Beef Short Ribs are a new favourite. The sweet, sour and tangy marinade is pulled together in seconds in the blender and just relies upon 4-5 hours of slow cooking in the oven. Then you're done!
Short ribs are a bit of a modern classic in our house.  We discovered them a couple of years ago thanks to our exhaustive efforts in trying to recreate the American BBQ experience at home.  Beef short ribs were the standout summer hit for us in 2011 and we have been rolling them out several times a year between July and August ever since.  The only issue is that we have been pretty much forgetting that beef ribs still exist at any other time of the year.  So when we saw the short ribs sitting pretty on a stall at the farmers market recently it made me want to look at them in a new light.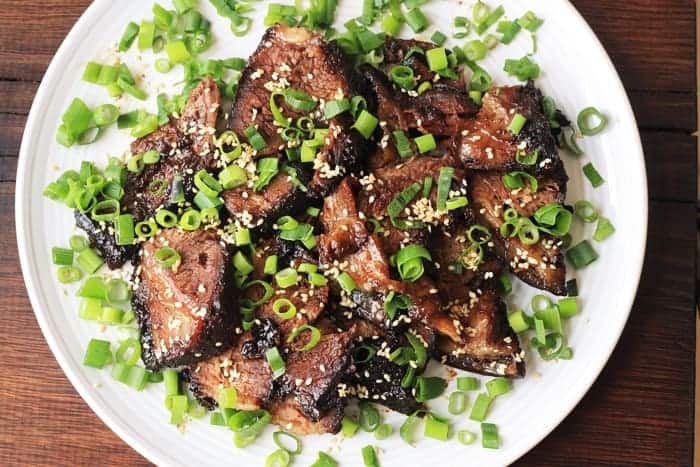 I immediately disregarded anything involving red wine as this was going down the traditional beef stew avenue which was not what I wanted here.  You can make a good stew with any tough bit of beef.  I think these particular short ribs needed something a bit more special.
At this point I turned to my favourite ribs in London for inspiration which are the pork ribs they frequently have on the menu at Bone Daddies in Soho.  They are wonderfully sticky, sweet and spicy and studded with sesame seeds.  Although Bone Daddies is primarily a ramen bar they have absolutely nailed their rib recipe and I return again and again just to wolf down a few platefuls with a cold glass of sake.  So I turned to the Asian influence for my ribs and Korea seemed to be the closest fit to recreate my Bone Daddies ribs at home.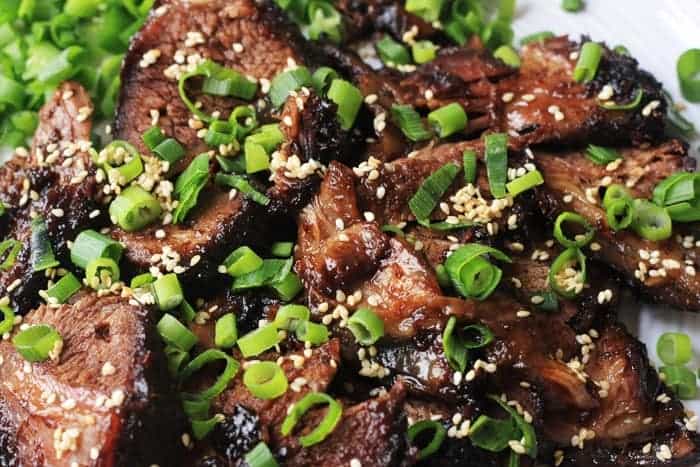 A lovely way of doing short ribs, and is the method we use for our BBQ recipe is to cook them long and slow for around 6 hours at 140°C so the melting meat can be pulled gently off the bone.  Here I wanted something more substantial so I cooked them for slightly less time at a fractionally higher heat.  The fat is still given enough time to render but the meat remains firmer so you can cut it into definite slices.  If you do want to cook it the former way then please do so but you will need to top up the meat with water throughout cooking so as not to burn the marinade.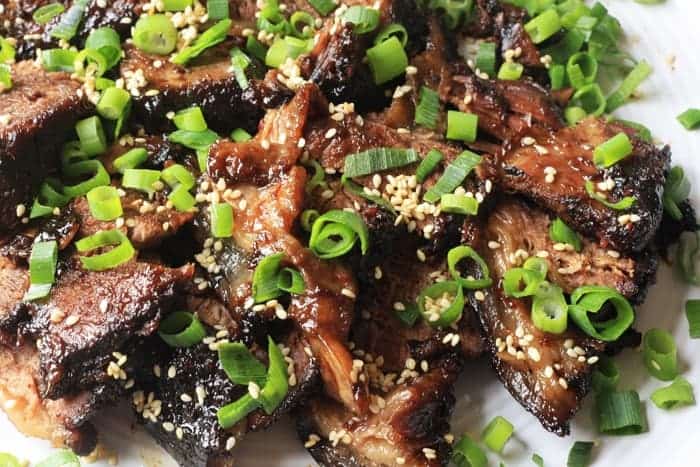 Korean Braised Beef Short Ribs
1.5 kg Beef short rib
For the marinade:
2-3 ripe pears (about 300g)
8 garlic cloves
2 red chillies, remove the seeds of one of the chillies and save the rest
15g fresh ginger
200ml tamari
150g soft light brown sugar
1 tablespoon sesame oil
2 tablespoons olive oil
1½ tablespoons rice vinegar
1½ tablespoons gluten-free hoisin or plum sauce*
To serve:
A handful of spring onion greens
1 tablespoon sesame seeds, toasted
In a food processor whizz up all the ingredients for the marinade until smooth.
Pour the marinade into a large bowl and submerge the short rib, massaging the marinade into the meat. Cover with cling film and leave overnight.
Pre-heat the oven to 150°C.
Remove the ribs from the marinade and place on a deep baking tray, brushing over as much marinade as possible.
Put the ribs in the oven and baste generously every half hour for 4½ – 5 hours or until all the marinade has been used up. After the first hour add a small cup of water directly to the pan which will deter the sugar in the marinade from burning on the bottom of the pan.
The beef is ready when the meat is tender and the connective fat has broken down.
Serve with a scattering of spring onion greens and plenty of toasted sesame seeds.
*I used my homemade Chinese Damson Sauce