This post contains affiliate links. Please read my disclosures.
So this week I finalised my Christmas menu for what I'm going to be cooking for all the family when they arrive from Christmas Eve onwards. It wasn't that hard to be honest, as I took the menu I made for last Christmas and merely changed the header from Christmas 2013 to Christmas 2014. Gone are the days of festive experimentation, that is now what my blog is for.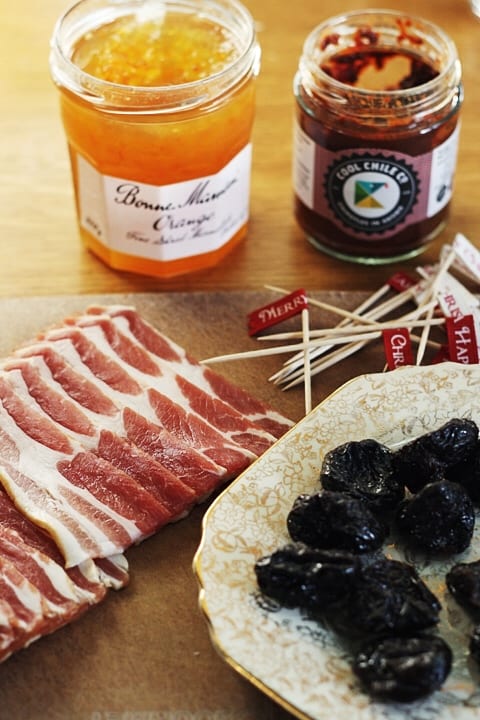 Like any family, mine is picky and I have to cater across the board. Some don't like smoked salmon, some can't imagine Christmas without it. For those that hate the sight of Christmas Pudding, not to fear, there is trifle on hand. Then of course I have the usual brussel sprout debate, shall I bother with them when only a couple of people eat them? There is no question, unless I want sulks over the lunch table. A couple of years ago I broke from tradition and made a Ham Hock and Chicken Pie on Christmas Eve instead of the usual Honey Glazed Ham and there were definite murmours of discontent despite the pie being one of the best things that has come out of my kitchen. Lo and behold when I visited a certain member of my family over New Year a Baked Christmas Ham was presented for supper. The hint was duly noted.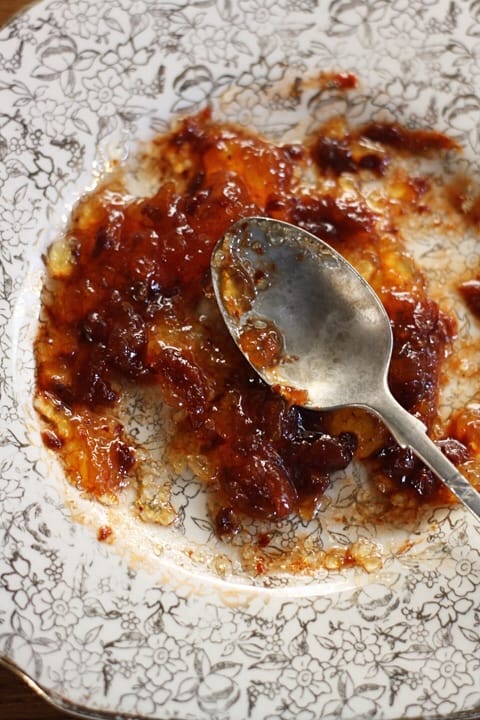 I don't know how it came to pass that Devils on Horseback have to make an appearance by about 11am on Christmas morning just after we have finished opening our presents, especially since we've been stuffing ourselves with bacon rolls all morning. But then, there is always room for more bacon. I hate to admit it but I was getting a little tired of them each year so this time round I have jazzed them up a bit and I have to say that it has reinvigorated my love for them. They were missing a bit of oomph for me so I have mixed in some hot and smoky chipotle in adobo with a generous amount of citrusy marmalade and spread it on the bacon rashers before rolling them up with the prunes. Now, they have bite, a Chrismas kick with the marmalade and to finish it off I have given them a glaze of marmalade after they emerge from the grill to avoid the bacon going dry if they are going to be sat on a plate for a bit. Not that they will as they are usually wolfed down within seconds.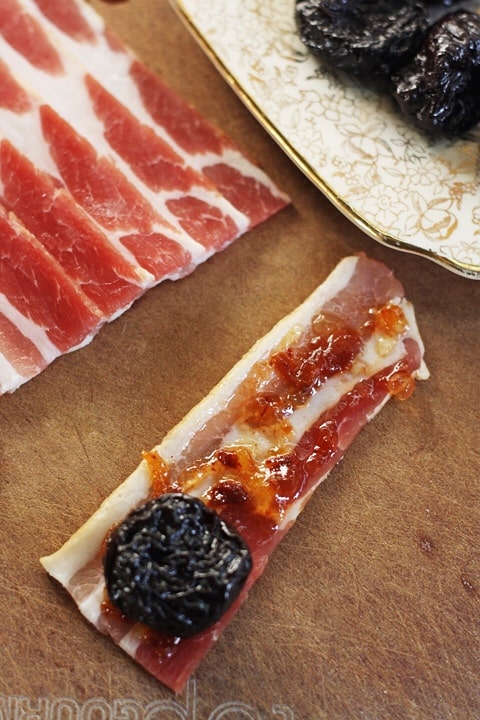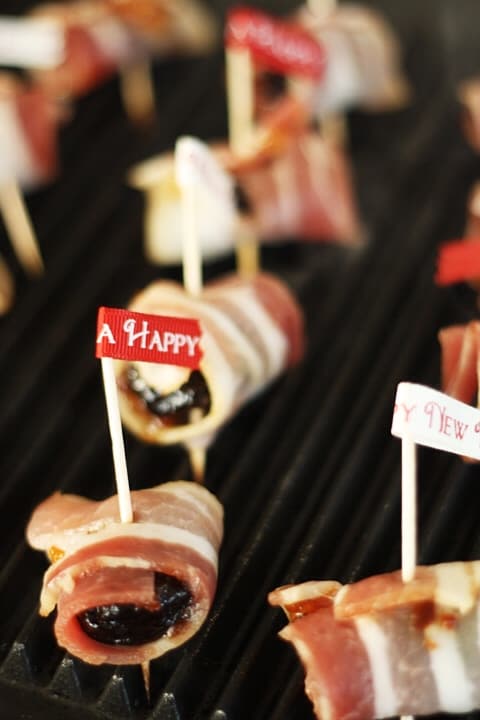 Just make sure you use good bacon and freshly opened sticky prunes.
The Devils on Horseback go down well with everyone, except of course for Mum who balks at the idea of sweet and savoury things together and wouldn't touch them with a bargepole. Oh well, you can't please everyone.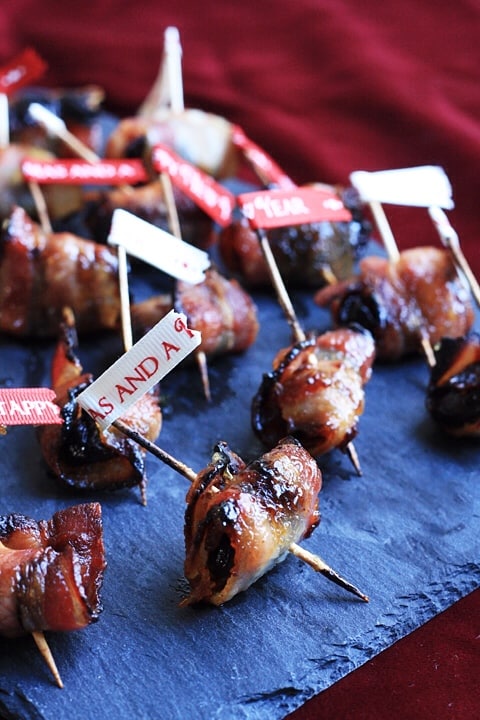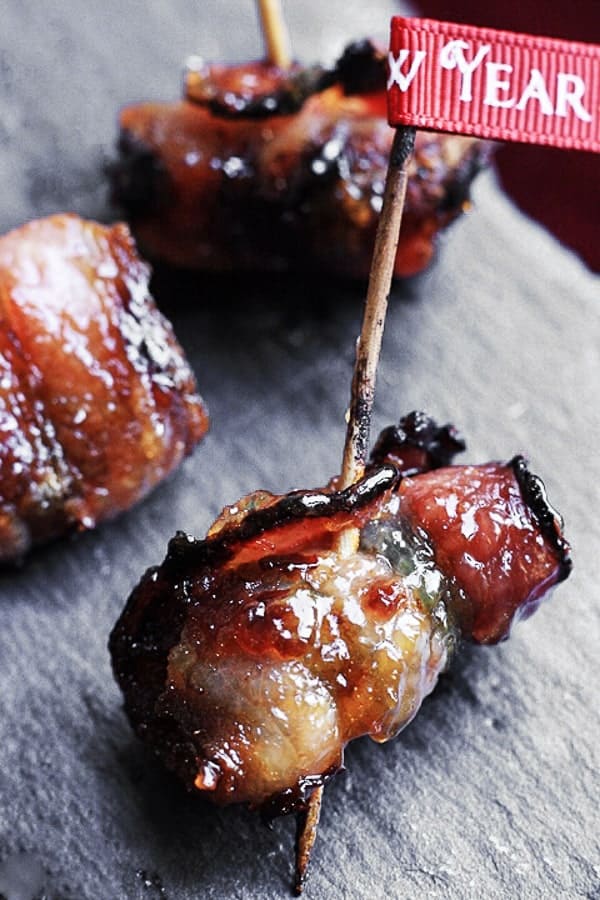 Devils on Horseback
Easy Devils on Horseback are given a sweet hot and smoky twist.
Ingredients
90

g

marmalade

1

tablespoon

chipotle in adobo

200

g

stoned prunes

-

about 24

12

rashers smoked streaky bacon

-

halved widthways
Instructions
Turn the grill onto its highest setting.

Mash up 60g of the marmalade with the chipotle until evenly mixed.

Spread about ½ teaspoon of the marmalade and chipotle mixture on one side of the bacon rasher.

Place a prune at one end of the bacon rasher and roll up, securing with a cocktail stick.

Repeat with the rest of the ingredients.

Place the devils underneath the grill and cook for 3-4 minutes each side.

Meanwhile melt the remaining 30g of marmalade in a small saucepan until runny.

Once the devils are ready, remove them from the grill and brush with the marmalade to glaze.

Serve immediately.
Nutrition
Calories:
77
kcal
Carbohydrates:
8
g
Protein:
2
g
Fat:
4
g
Saturated Fat:
1
g
Cholesterol:
7
mg
Sodium:
82
mg
Potassium:
86
mg
Fiber:
1
g
Sugar:
5
g
Vitamin A:
100
IU
Vitamin C:
0.4
mg
Calcium:
5
mg
Iron:
0.2
mg
Have you tried this recipe?
Head to the comment section and let me know what you think!