This post contains affiliate links. Please read my disclosures.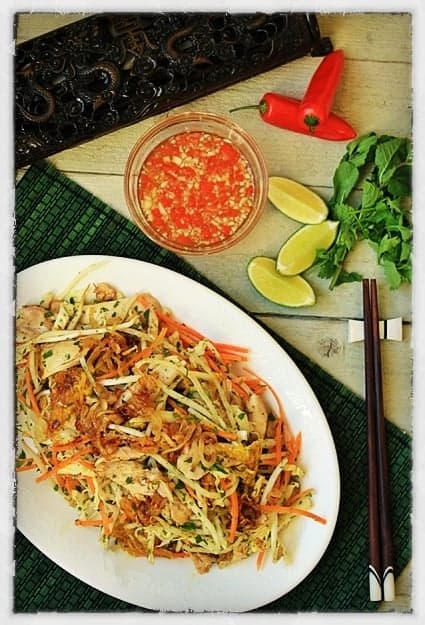 There are some days when nothing goes right. More often than not these days are one off instances where you can wake up the next day, brush yourself off and start anew. This week that did not happen. I am having an unprecedented run of bad luck days. Recipes haven't worked, food has been burnt and binned and photos have looked plain bad. Never mind the time that I turned my back for one minute and my darling cat jumped on the table, upending a huge bowl of salad and garlicky dressing all over the carpet. Bless.
Food and I are in a funk. This isn't particularly helpful if you trying to document your kitchen adventures. Here everybody, here's a picture of my bin overflowing with half baked quinoa gluten-free biscuits soldered onto greaseproof paper. (Don't worry, that recipe will come good one day, quinoa and I just need a time out at the moment).
There really was only one way to lift me out of the doldrums and put me back on top, by treating myself to a tried and tested recipe. A salad which I know will set me on the right course again.
This salad has known many incarnations in my life. It reminds me of our trip to Vietnam a couple of years ago where every restaurant had their own version, we even spent a brilliant day in Hoi An learning exactly how it's supposed to be made at the Redbridge Cookery School which I cannot recommend enough the next time you are popping by Hoi An. Regularly I'm sure.
The salad also reminds me of the time I was suffering from a broken foot, I was woefully unable to stand or place any weight on the severely bandaged appendage and a wonderful friend schlepped up from Clapham laden with the ingredients to make her own version of it for me.
It has also been the feature of recent hazy nights out on the Kingsland Road, dropping into one of the Vietnamese cafés for a cheap plate of zingy salad and a bowl of rice noodles to soak up the alcohol.
Safe to say, this salad holds a special place in my heart. It also doesn't mind if you muck around with some of the ingredients as you can substitute in whatever you have to hand, a bit of pak choi, some sugar snap peas or red peppers. You can swap the chicken for duck or beef or just plain leave it out. I would normally add a few dry roasted peanuts crushed up on top but I didn't have any on stand by today, but do add some in if you like.
Now, I'm not really one for kitchen gadgets but there is one that I picked up from Lakeland which has slowly become invaluable and makes a bit of an appearance today. A julienne vegetable peeler. Sounds a bit fancy but it is whipped out if I want to make a quick coleslaw or grate some carrots or courgettes. If I use a normal grater I often find the vegetables turn to pulp. This is quick to use, quick to wash and only about £3. So I use it here to juilienne the carrots and the mooli but if you can't get hold of one then you can just grate them.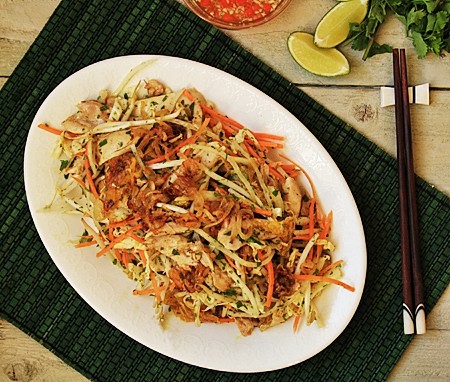 Goi Ga (Vietnamese Chicken Salad)
4 chicken thighs with skins
2 tsp 5-spice powder
2 tsp olive oil
1 onion, sliced
½ small mooli, julienned
2 carrots, peeled and julienned
3 leaves of chinese leaf, cut into very fine strips
2 handfuls of beansprouts
2 tbsp coriander leaves, roughly chopped
2 tbsp mint leaves, roughly chopped
1 tbsp chopped dry roasted peanuts
for the dressing
2 tbsp lime juice
2 tbsp caster sugar
2 garlic cloves, crushed
2 tsp fish sauce
½ red chilli, seeds removed and diced
Coat the chicken thighs with the 5-spice powder and the olive oil and roast on a roasting tray in a pre-heated oven at 180°C.
Put the onion in a small saucepan and cook on a low heat for 15 mins until crispy and caramelized, set aside.
Mix together the mooli, carrots, chinese leaf, beansprouts and herbs in a large bowl and set aside.
When ready, remove the chicken from the oven and leave for about 5 minutes until cool enough to handle.
Meanwhile you can make the dressing. Just add all the ingredients together and give a good stir. Set aside whilst you finish off the salad.
Tear the meat and the skin off the chicken into chunks and tip into a bowl, pour over the sticky bits from the roasting tray and mix it all up which will add a bit of juiciness to the salad. Then mix all the chicken into the salad ingredients until the meat is evenly dispersed and pour over the dressing. Serve with the crispy onion and the peanuts scattered over the top.