This post contains affiliate links. Please read my disclosures.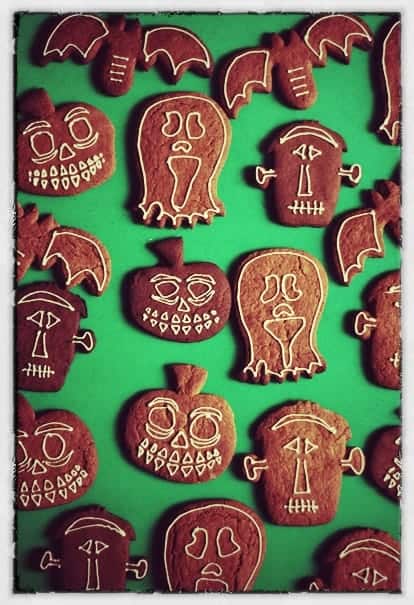 Do you know what I love? Gingerbread men. They are delicious. I could eat a mountain of the chirpy little fellows. Are they strictly adult food? Maybe not but do I have to feel slightly embarrassed that I spent a wonderful afternoon baking and decorating these without a child in sight? No, I don't.
I did, however, in a very grown up and scientific way conduct very thorough research on this humble biscuit and made two different recipes. For science. One was the biscuit I grew up on, flavoured with golden syrup and ground ginger. The second was a more adult version from Dan Lepard which had a lot more spice, treacly muscavado sugar and cocoa powder creating a darker, smoother, snappier biscuit with deep flavour. They were very good but I am a fool for the old school slightly soft texture, subtle ginger taste and shabbier looking biscuit from my youth. Don't worry, both of these recipes were put through very rigorous taste tests to make ultra sure of my decision.
There is something ever so slightly sinister anyway about gingerbread men. At least with these gingerdead men you don't have to feel so guilty, I mean they are already dead. You could even hash out a quick game pretending you're Buffy, slaying the monsters and stuff. Not that I did that. At all. But some biscuits did get slayed. For science.
By the way, before you think I'm incredibly witty I may have unashamedly cribbed the name 'gingerdead', from far clever bloggers than me.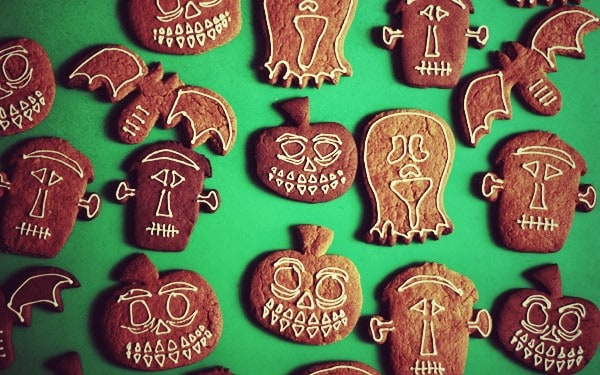 Gingerdead Men
Adapted from The Good Housekeeping Step by Step Cook Book
350g plain flour
1 tsp bicarbonate of soda
2 tsp ground ginger
100g unsalted butter, cubed
175g soft light brown sugar
4 tbsp golden syrup
1 egg
Preheat the oven to 180°C.
In a large bowl, mix together the flour, bicarbonate of soda and ground ginger.
Rub the butter into the flour mix with your fingertips until it resembles breadcrumbs.
Add the sugar and mix well
Warm the golden syrup slightly in a saucepan to make it runny and easier to use. Finally pour the golden syrup and the egg into the rest of the ingredients. Bring the dough together with your hands until everything is incorporated and is a nice smooth ball.
Roll out the dough and cut out your ghouls.
Place on a baking tray and bake for between 8-10 mins. They spread out ever so slightly in the oven so make sure you give each biscuit a bit of room on the tray.
Dan Lepard's ginger biscuits recipe can be found on the Guardian website. I do recommend if you make the above recipe you should also make his. For science.